Nationals vs. Cardinals: Live Coverage of NLDS Game 2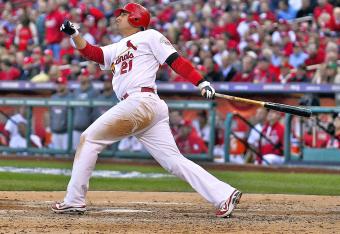 Nationals 4 Cardinals 12 Final
The Washington Nationals' pitching didn't show up on Monday night, as the team was hammered for 12 runs on 13 hits and made two costly errors in the field.
Cardinals' manager Mike Matheny made a wise pitching swap to begin the third inning that proved to be the difference in Game 2. Other than back-to-back homers by Zimmerman and LaRoche in the 5th inning, the Nationals' offense was quiet. Bryce Harper struck out four times and had a base running blunder that potentially killed a rally for Washington.
For more information on tonight's game, visit B/R's MLB page.
Follow me on Twitter: Follow @Pete_Schauer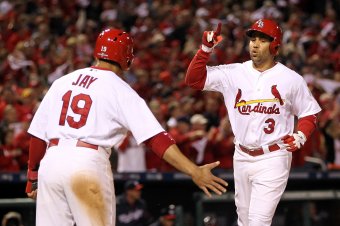 Jamie Squire/Getty Images
That'll do it, folks. The St. Louis Cardinals take Game 2 and tie this series at 1-1.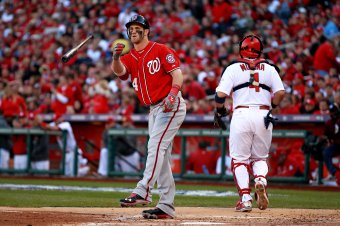 Dilip Vishwanat/Getty Images
And there's the golden sombrero for Bryce Harper!
Last licks coming up for the Nationals.
The hits and runs just keep coming for the Cardinals. That's now 12 runs on 13 hits for St. Louis.
Aaaaand another dinger for Beltran. This time it's a two-run shot and now the Cardinals lead 11-4. I can't get over just how bad Nationals' pitching has been tonight.
Jon Jay having himself a day! Mark that down as an RBI triple for Jay, putting St. Louis up 9-4. I think Washington is cooked.
Washington down to just three outs as they falter in the 8th. It's not looking good for Nationals' fans.
Nationals not dead yet. They've got runners on first and second with one out against Mitchell Boggs in the top of the 8th.
Ryan Mattheus now on for the Nationals. Davey Johnson hoping Matthews can stop the bleeding and get his offense back at the plate.
Unluckily for Matthews, the first hitter he faces is Craig.
Not sure what happened to Holliday on that throw but nonetheless, Harper CAN NOT get thrown out in that situation. Nationals get one back but that's a rookie move by the teenager right there.
That had the opportunity to be a big inning for Washington. Instead, they get one run and still trail by four with two innings remaining.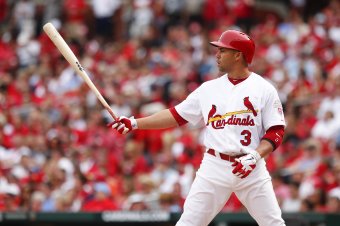 Kyle Rivas/Getty Images
Beltran drills a changeup off the third deck in left field to tack on another run for the Cardinals. That was a no-doubter off the bat.
Reliever Mike Gonzalez served that one up. Nats' pitching pretty ugly tonight.
Meanwhile, ESPN Stats & Info updates us on Beltran's postseason dominance.
Carlos Beltran hits his 12th career postseason HR ... 1st since 2006 while with Mets (against the Cardinals)

— ESPN Stats & Info (@ESPNStatsInfo) October 8, 2012
Quick and deflating inning for the Nationals after being robbed of a run by Jay at the wall.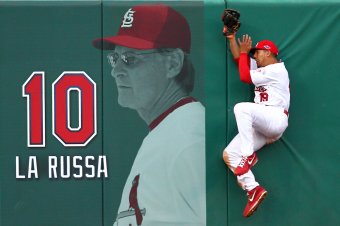 Dilip Vishwanat/Getty Images
Jon Jay begins the top of the 6th by robbing Espinosa of a solo HR off of a Joe Kelly pitch sent to left field. Jay has this crowd back in it and on their feet after that sensational grab that saw him crash into the wall. Jay even impressed Matt Kemp with that grab.
Wow! Jon Jay what a play!

— Matt Kemp (@TheRealMattKemp) October 8, 2012
Garcia does a nice job of keeping St. Louis at bay in the bottom of the 5th as the Nationals attempt to make a major comeback to take control of the series 2-0. Only 12 more outs to work with for Washington.
All the walks are not helping the pace of this game. That was the eighth walk surrendered tonight.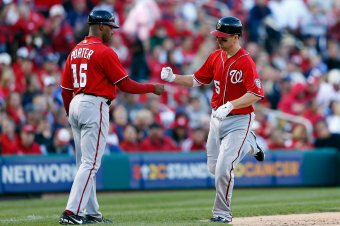 Jamie Squire/Getty Images
There were some big home runs and loud outs for the Nationals in that 5th inning. It could be a sign that they're starting to wake up. We'll see if Washington can hold the Cardinals in the bottom of the inning next.
Just as I called out Zimmerman and LaRoche, they smack back-to-back home runs and now have Washington trailing by just four runs. Lance Lynn's time is fading in this game.
There's some noise from Ryan Zimmerman! He goes deep off of Lynn to cut the Cardinals' lead to five. That HR was hit off the end of the bat and still cleared the fence in left field. That's straight power.
Dilip Vishwanat/Getty Images
Does anyone else think of the Hopper commercials when saying Bryce Harper's name? Maybe try saying it with a Boston accent and you'll know what I mean.
Anywho, Harper has three strikeouts today and has a shot at the golden sombrero next AB.
Christian Garcia comes on in relief and sets down the Cardinals but Washington still trails by six halfway through this one. The big bats of Zimmerman, LaRoche and Morse have been absent thus far today. Nationals need those guys to get going if they're going to have a shot in this one.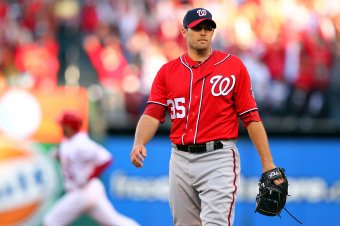 Dilip Vishwanat/Getty Images
Stammen's day is over as he leaves with runners on first and second, having surrendered two earned runs and two walks in just 1/3 IP. Nationals' pitching has been extremely ineffective today, as Jayson Stark notes:
Since Zimmermann's 13-pitch first inning, Nationals have thrown 70 pitches and gotten 7 outs.

— Jayson Stark (@jaysonst) October 8, 2012
Big error by Espinosa at 2B leads to another run for St. Louis. Pretty surprising to see an error like that by the usually sure-handed second baseman. Perhaps the rout is on?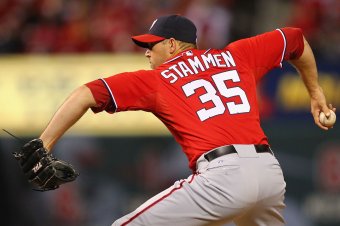 Dilip Vishwanat/Getty Images
Craig Stammen comes on in relief of Jordan Zimmermann and gives up a home run to Descalso on the third pitch he threw. Both Washington pitchers have been missing their spots today.
Lance Lynn is doing the opposite of what Jaime Garcia was doing. Lynn is striking hitters out and not allowing BBs. That's now four strikeouts in two innings of work for the starter turned reliever.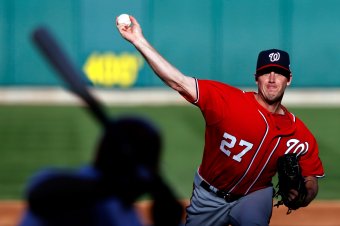 Jamie Squire/Getty Images
That should be it for Zimmermann, who was rocked by the Cardinals in just three innings of work to the tune of five earned on seven hits.
This article is
What is the duplicate article?
Why is this article offensive?
Where is this article plagiarized from?
Why is this article poorly edited?