Yankees vs. Orioles: Team Grades from ALDS Game 2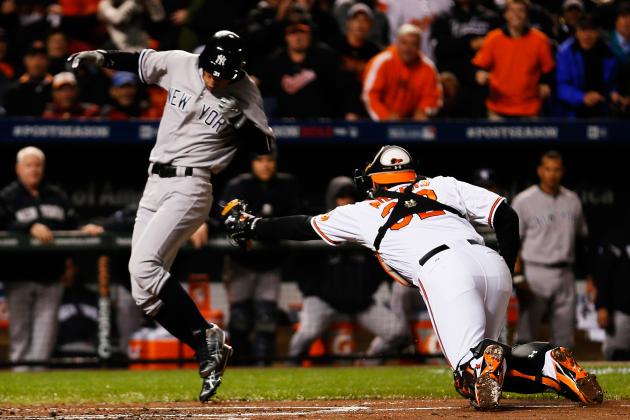 Rob Carr/Getty Images

After a 7-2 victory by the New York Yankees in Game 1 of the ALDS, fueled by a five run ninth inning against Baltimore Orioles' closer Jim Johnson, Baltimore fought back at home to send the series to New York tied at 1-1.
Facing Andy Pettitte, the Orioles were able to score three times to sneak past the Yankees for a final score of 3-2.
Aside from solid pitching on both sides, neither team brought their A-game in terms of offense or defense in this contest.
After an off-day on Tuesday, the series will continue on Wednesday at Yankee Stadium.
Without further adieu, onto our Game 2 grades for each team...
Begin Slideshow

»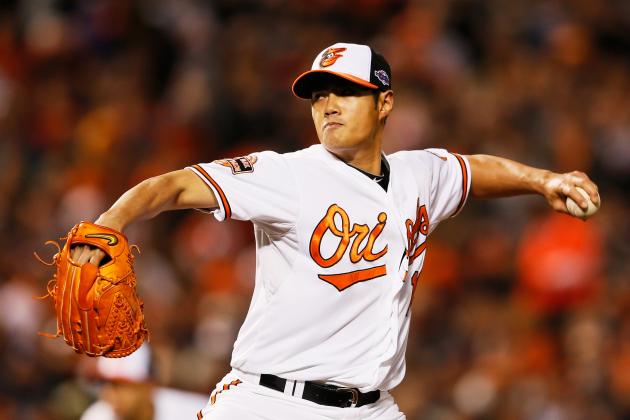 Rob Carr/Getty Images

The Baltimore Orioles sent 26-year-old rookie Wei-Yin Chen up against postseason legend Andy Pettitte in Game 2 of the ALDS.
Both pitchers turned in solid performances for their clubs before turning the game over to their respective bullpens.
For his part, Chen allowed just two runs—one earned—on eight hits in 6.1 innings of work. He walked just one batter and struck out three.
Chen's line would have been even better were it not for an agile base running play in the first inning by Ichiro, who danced around the tag at home on a double by Robinson Cano. Ichiro finally tagged the plate after dodging a couple of attempts by Matt Wieters.
Chen's earned run came when Derek Jeter singled in Eduardo Nunez in the top of the seventh inning.
Andy Pettitte turned in seven solid innings of his own, allowing seven hits and three earned runs while striking out five and walking just one.
Pettitte was likely deserving of a better fate, but the Yankees defense committed a pair of errors, forcing him to record extra outs in the effort.
Final Grade for New York's Starting Pitching: B

Final Grade for Baltimore's Starting Pitching: A-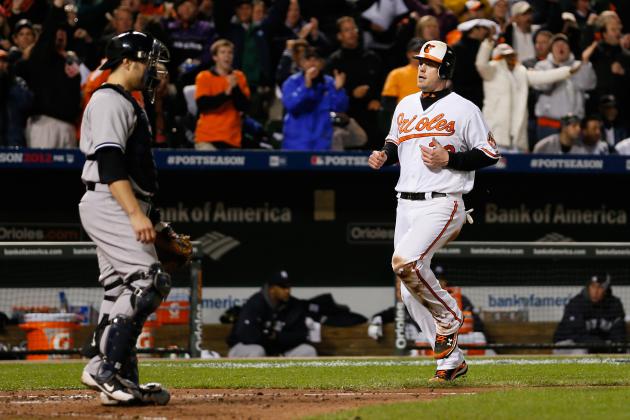 Rob Carr/Getty Images

The Yankees got the scoring started early in the first on what should have been an out at home before Ichiro did his best dance routine to avoid the tag by Matt Wieters.
New York was only able to score once more on an RBI single by Derek Jeter that scored Eduardo Nunez in the seventh inning.
The Yankees managed nine hits for the night. Jeter and Mark Teixeira each had a pair of hits in the contest.
New York left 10 runners on base.
The Orioles, on the other hand, were able to squeak out three runs against Andy Pettitte. Chris Davis picked up a pair of hits and also had two RBIs for the Orioles.
The big play for Baltimore was a single by Davis in the third inning that scored Robert Andino and Nate McLouth.
Baltimore left six runners on base.
Final Grade for New York's Offense: C

Final Grade for Baltimore's Offense: B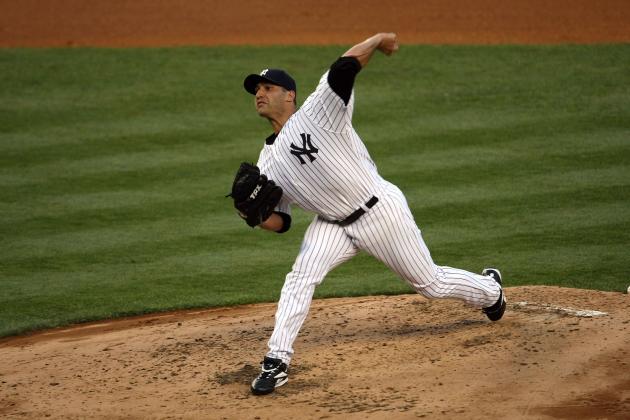 Chris McGrath/Getty Images

With the already daunting task of having to overcome a power-packed Yankee lineup for the Orioles pitching, the Orioles lineup was dealt an even larger hurdle in having to face a man with 42 postseason games to his credit.
Having skipped the 2011 season, Andy Pettitte returned from retirement this season and logged 75.1 innings for the American League East Champions. He managed a 5-4 record to go along with his 2.87 ERA in his abbreviated 17th Major League season.
Pettitte's postseason resume boasts a 19-10 record and 3.83 ERA, with a 2.4 K/BB ratio for his career.
After getting off to a quick start in Game 2 by retiring the first eight batters he faced, he faced adversity for the first time this postseason by allowing back-to-back singles by Robert Andino and Nate McLouth for the first Orioles' hits of the game. J.J. Hardy followed with a walk to load the bases before Adam Jones singled to bring home both Andino and McLouth, giving Baltimore a 2-1 lead.
Pettitte wound up allowing one more run in his seven innings of work. He finished his night with three earned runs on seven hits and one walk; he struck out five batters.
It was a solid performance, he was just out dueled by Wei-Yen Chen, who kept the Yankees lineup in check.
Andy Pettitte's Final Grade (on living up to his reputation): B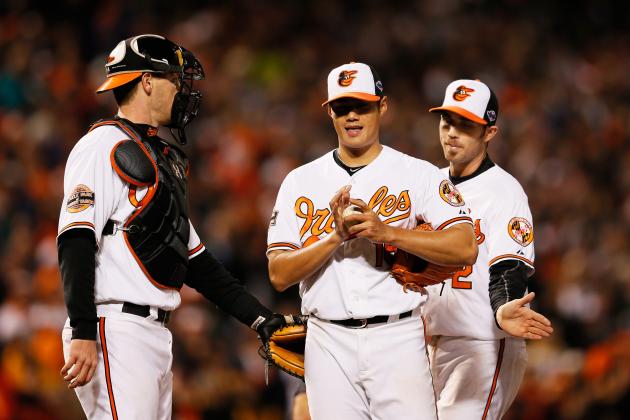 Rob Carr/Getty Images

If New York was going to make a comeback in this game, it was going to be against the Orioles bullpen.
After a strong start by Wei-Yin Chen, Baltimore turned the ball over to three relievers to get them through the seventh through ninth innings.
Darren O'Day was the first out of the 'pen and retired the only batter he would face to earn a hold. Next on was Brian Matusz, who walked a batter and allowed a hit in his inning and a third, but also struck out two and didn't allow a runner to score.
Finally, it was up to closer Jim Johnson, who worked a perfect ninth inning to record his first save of the postseason.
Baltimore Bullpen's Final Grade: A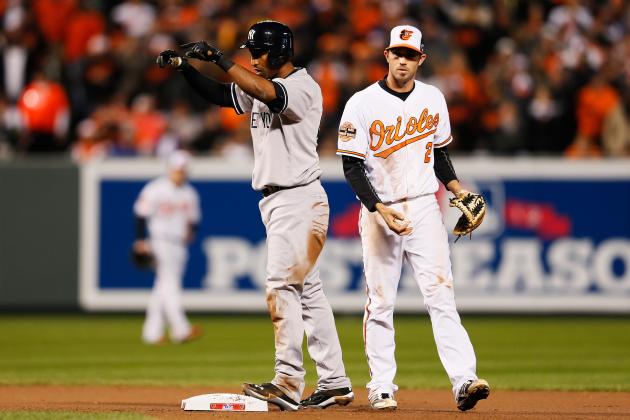 Rob Carr/Getty Images

Neither offense was able to muster much run support for their starting pitching in this game, but it wound up being the Orioles who made the most of their efforts.
The starting pitching, for both teams, was as good as you could have asked for, and the bullpens were equally solid.
Both teams wound up with a pair of errors in the contest.
The series now will head back to New York for Game 3, with the series tied at 1-1.
New York's Final Grade for Game 2: C
Baltimore's Final Grade for Game 2: B