Week 6 NFL Picks: 7 Players Who Will Shine in Marquee Matchups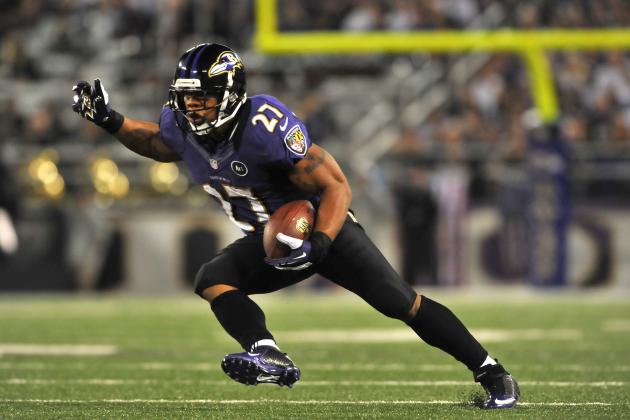 Larry French/Getty Images

Week 6 in the NFL features several marquee games. These matchups include bitter divisional rivalries between the San Diego Chargers and the Denver Broncos, must-win games for the Kansas City Chiefs and the Tampa Bay Buccaneers and a top-flight clash between the Baltimore Ravens and the Dallas Cowboys.
Each game features some of the NFL's top talent, and some these players will likely star come Sunday.
Begin Slideshow

»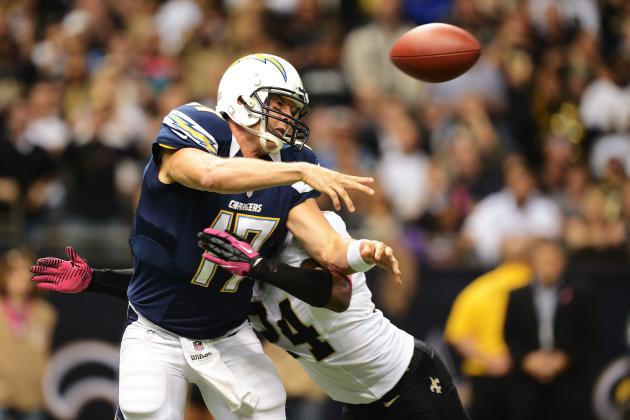 Harry How/Getty Images

The two meetings between AFC West rivals San Diego and Denver will likely decide who wins the division.
Tom Brady picked apart Denver's pass defense last week. While he did not put up huge numbers, Brady was able to complete 23 passes, mostly for short yardage.
This is the type of play that Phillip Rivers has perfected throughout his career.
In their loss against the New Orleans Saints, the Chargers brought out several newly-designed screen plays to Ryan Matthews, Ronnie Brown and Eddie Royal.
If Rivers can hang in the pocket long enough, these screen plays and short routes should pay huge dividends against the Broncos.
The Chargers can draw one positive from their recent loss in New Orleans: the offensive scheme is much more creative than last season. Instead of an off-tackle run on every first down, offensive coordinator John Pagano is trying new things.
With Pagano's new schemes opening up more options, look for Rivers to find receivers in the end zone at least twice.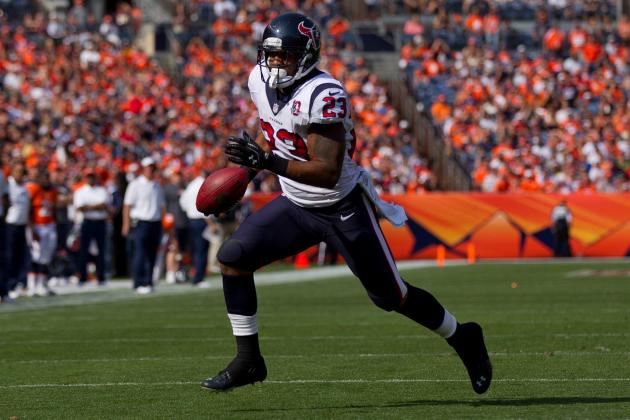 Justin Edmonds/Getty Images

Arian Foster has been sensational to start this season.
Through four games, Foster has run for 380 yards on the ground and has scored four touchdowns.
In Week 6, Arian Foster faces a Green Bay defense that has allowed 114 rushing yards per game this season.
Foster will benefit greatly from his sensational offensive line, who will look to dominate Green Bay on the line.
A win against the Packers will solidify the Texans' spot as one of the NFL's best teams. To do this, they will need Foster to have a great game.
Look for Foster to run for over 150 yards and find the end zone at least once.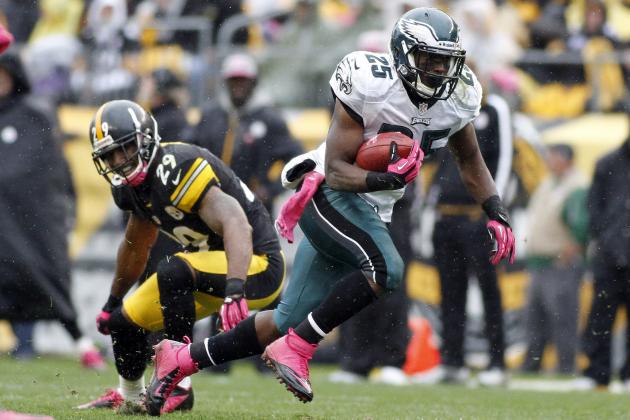 Justin K. Aller/Getty Images

LeSean McCoy has been a man possessed this season.
McCoy ranks sixth in the NFL with an average of 87.4 yards rushing per game. He has rushed for a total of 437 yards against tough defenses such as Baltimore and the New York Giants.
McCoy will be facing a Lions defense that has already allowed five rushing touchdowns.
With the Lions' defense focused on containing Michael Vick, look for McCoy to run rampant on the Lions' linebackers.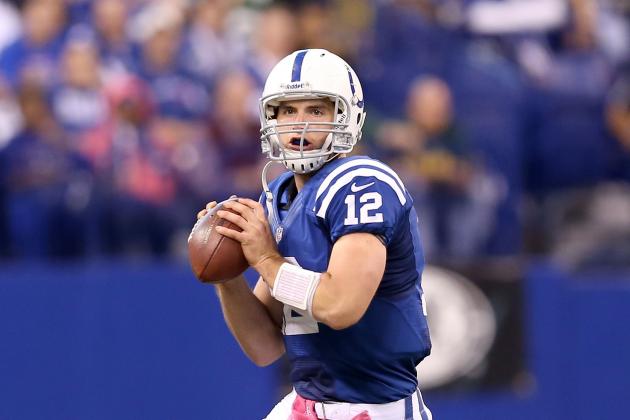 Andy Lyons/Getty Images

Andrew Luck is coming off the best game of his career.
He threw for 362 yards and two touchdowns in Indianapolis' upset of the Green Bay Packers.
In five weeks, Luck has thrown for 1,208 yards and seven touchdowns.
Luck will look to build on his success against the Packers against the New York Jets.
New York only allows 197.5 passing yards per game. However, this number is soft as it comes against quarterbacks such as rookie Ryan Tannehill and Alex Smith.
Luck will need to prove himself in New York's limelight to keep the Colts competitive moving forward this season.
Look for Luck to have success in New York against a struggling Jets team.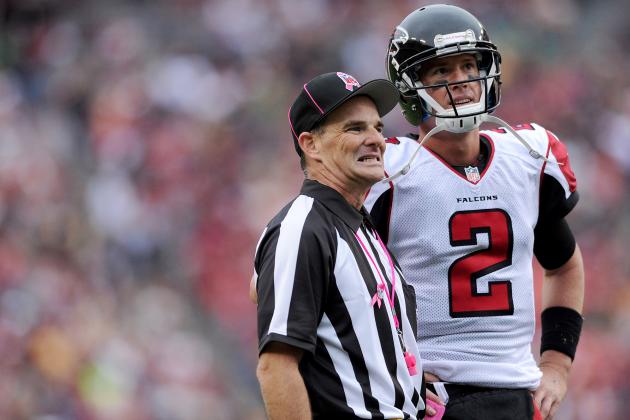 Patrick Smith/Getty Images

Matt Ryan is an early favorite to be this season's MVP for the Atlanta Falcons.
Ryan has thrown for 1,507 yards and an incredible 13 touchdowns in his first five games this year.
Ryan and the undefeated Falcons will come up against a subpar Raider's pass defense that allows an average of 283 yards through the air.
Matt Ryan should have no problem picking apart the Raiders defense and should put up incredible numbers.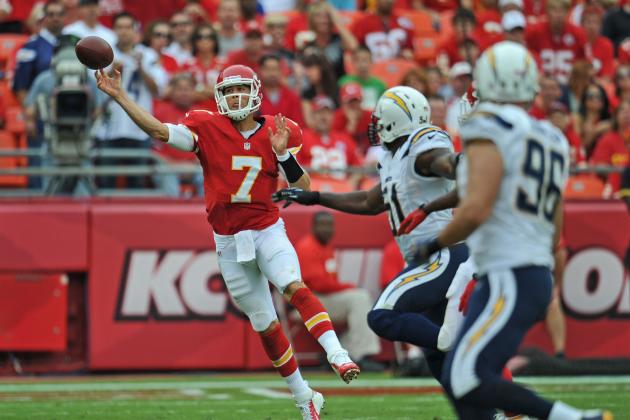 Peter Aiken/Getty Images

The Chiefs are coming off a touch 9-6 loss to the Baltimore Ravens.
Once considered early favorites to win the AFC West, the Chiefs must win on Sunday to keep their playoff hopes alive. Falling to 1-5 would be devastating.
The Chiefs will rely on quarterback Matt Cassel against a Tampa Bay Buccaneers defense that allows a league-worst 345 passing yards per game.
Cassel, who was knocked out of the Chiefs loss against Baltimore, is questionable for the game. If he can go, though, he has the skills to best Tampa Bay's poor pass defense.
The Chiefs will need to rely on Cassel and the passing game as Tampa Bay has the NFL's fourth-best rush defense.
Cassel has thrown for 1,150 yards and five touchdowns this season.
Watch for Cassel to throw early and often against the Buccaneers defense, and don't be surprised if he finds the end zone multiple times.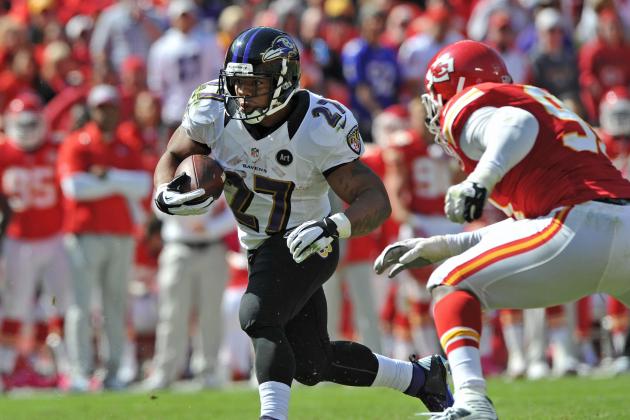 Peter Aiken/Getty Images

Ray Rice will look to run over the Cowboys defense in a game that will show if Baltimore is a serious contender this season.
Rice has already rushed for 419 yards and three touchdowns. Rice's numbers are only made more impressive by the fact that Baltimore is a pass-first team.
Rice will be up against a middle-of-the-road Cowboys rush defense that allows an average of 108 yards per game on the ground. The Cowboys rank first in pass defense behind excellent corners and secondary play.
Rice will need to come up big to draw linebackers' and safeties' attention away from Flacco and the receiving corp.
Look for Rice to rush for at least 100 yards and find the end zone at least once.