Tigers vs. Athletics: Team Grades from ALDS Game 3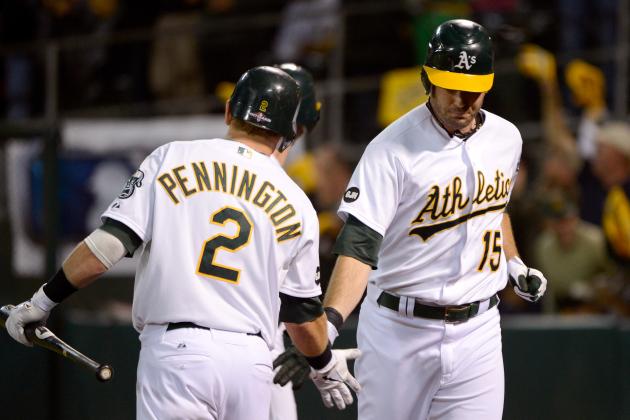 Thearon W. Henderson/Getty Images

The A's were on the brink of elimination going into Game 3 of the ALDS and turned all naysayers away with a huge 2-0 victory at home.
Oakland was outstanding in every aspect of the game: offensively, defensively and on the mound.
They kept Detroit from getting anything going at any point in the game and also scored runs when they needed to. It may not have been the biggest game in terms of runs on the scoreboard, but a win's a win, and the Oakland A's needed a win.
The series now goes to 2-1 in favor of the Tigers, with the A's playing at home for the remaining two games, if necessary. Now, Oakland has to come up with a big win in Game 4 to move the series to an enormous Game 5 to decided who goes on to the ALCS.
For now, though, let's take a look at the grades for each team during Game 3.
Begin Slideshow

»
Before we get to the grades, though, check out the highlights of Game 3 in Oakland.
Watch as A's starter Brett Anderson goes six shutout innings, and the bullpen holds on to give Oakland a crucial 2-0 win, extending the series to a fourth game on Wednesday.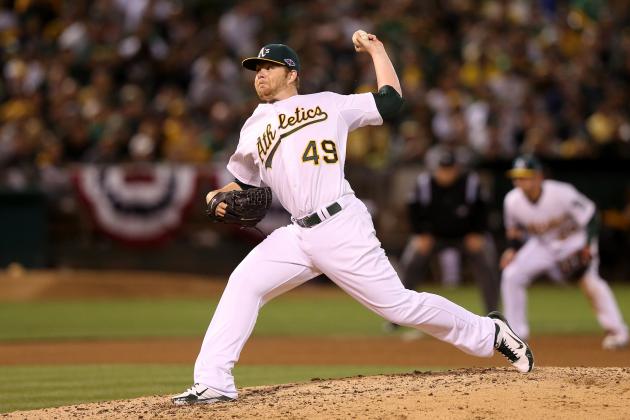 Ezra Shaw/Getty Images

Detroit Tigers
Anibal Sanchez came into this game with a two-game cushion, but he still pitched well enough to win. Sanchez threw 6.1 innings of two-run baseball, while striking out three and walking two. He really only had two "bad" innings, one coming in the first when he allowed his first run of the night after allowing the first three runners to reach.
The other "bad" inning came in the fifth when Seth Smith homered off of him. Other than that, Sanchez threw a good game, retiring seven straight through the middle innings. Unfortunately for him, his offense couldn't put anything on the board, and he picked up the loss for the Tigers.
Grade: B-
Oakland A's
Brett Anderson came into Game 3 of the ALDS not having pitched in the last 20 days, and he ended up pitching the game of his career. Anderson was virtually unhittable over the course of six innings, inducing 10 groundouts and striking out six.
Anderson departed with only 80 innings and probably could've gone an inning or two more, but manager Bob Melvin decided to let his bullpen try and preserve the two-run lead that he left with. Anderson came into this game in a must-win situation and came up big for the A's.
Grade: A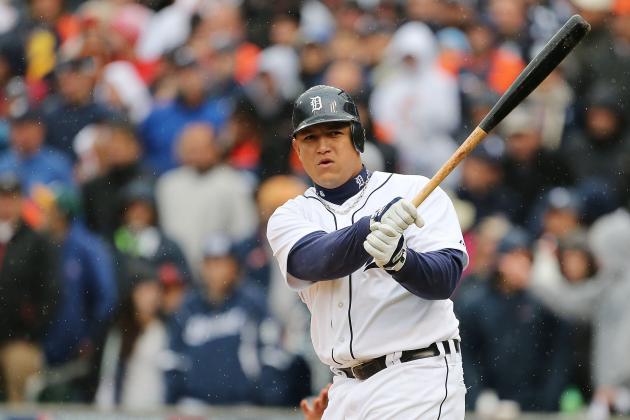 Leon Halip/Getty Images

Detroit Tigers Lineup
1. Austin Jackson, CF (0-3, 2 K)
2. Omar Infante, 2B (0-4, 3 K)
3. Miguel Cabrera, 3B (1-4)
4. Prince Fielder, 1B (0-4)
5. Delmon Young, DH (1-3)
6. Jhonny Peralta, SS (2-2)
7. Andy Dirks, LF (0-3)
8. Avisail Garcia, RF (0-3)
9. Gerald Laird, C (0-3, 2 K)
Detroit had an extremely tough time getting anything going against the Oakland pitching staff. They only managed to get three hits during the game and rarely were able to put anything together that could lead to a run.
The one exception out of the Tigers' lineup was Prince Fielder, who was robbed of a home run and double during the game. He himself could've turned the game around if it weren't for the Oakland outfielders playing out of their minds.
Grade: D
Oakland A's Lineup
1. Coco Crisp, CF (1-4, R)
2. Stephen Drew, SS (0-2)
3. Yoenis Cespedes, LF (1-4, RBI)
4. Brandon Moss, 1B (0-3)
5. Josh Reddick, RF (0-3)
6. Josh Donaldson, 3B (2-3)
7. Seth Smith, DH (1-3, HR)
8. Derek Norris, C (0-3)
9. Cliff Pennington, 2B (0-2)
Oakland had a good game offensively but couldn't put the game out of reach. The first-inning run coming off the bat of Yoenis Cespedes got the scoring started, but they couldn't squander anything until Seth Smith homered in the fifth.
A two-run lead in the playoffs is never safe, but the A's got lucky on Tuesday. They are going to have to produce more in the upcoming game if they plan on winning this series.
Grade: B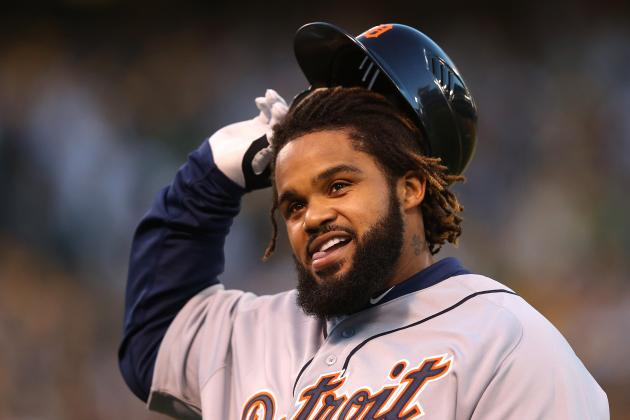 Ezra Shaw/Getty Images

Most playoff teams have that one big inning where they can score a couple of runs and potentially put a game out of reach. That never happened for the Tigers in Game 3.
Detroit never got a hit when having runners in scoring position the entire, granted that they only had four opportunities.
No one could hit any of the Oakland pitchers which was also a major reason of why they lost. In order to score runs, a team has to have runners on base and be able to bring them in with the following hitters.
The A's pitching staff and defense was just too much for Detroit in Game 3, and it cost them.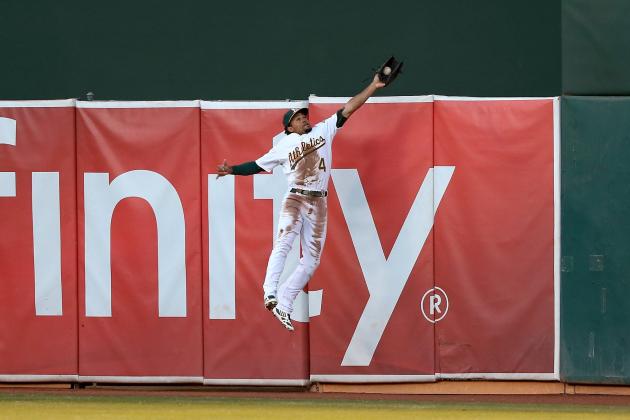 Ezra Shaw/Getty Images

The Oakland defense in Game 3 couldn't have been any better, and it all started with Coco Crisp in the second inning.
Prince Fielder hit a bomb to dead center field that Crisp sprinted over and timed perfectly to rob Fielder of a solo shot that would've tied the game at the game.
Other impressive defensive plays include Derek Norris behind the plate on a passed ball, strike-three call as well as an outstanding catch to rob Fielder of extra bases on a play made by Yoenis Cespedes.
The A's only turned one double play on the night but had a couple opportunities and also made plays up the middle and to a side look easy.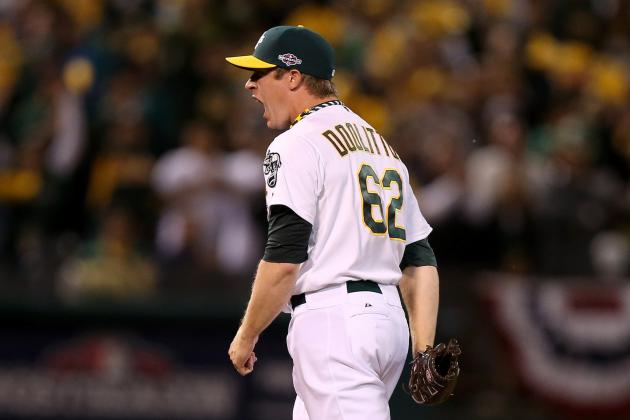 Ezra Shaw/Getty Images

Detroit Tigers: C
Although the Tigers didn't have to win this game, it was important for them to end the series early and get a little time off before the ALCS. That didn't happen.
The offense went cold and couldn't get anything going whatsoever. The Oakland defense didn't let the Tigers come away with any cheap hits, and they took a couple of hits away from them.
It's not Anibal Sanchez' fault that they lost this game because he did the best job that he could. He had little support on offense and deserved to pick up the win instead of the loss. On a regular night, allowing two runs wouldn't be so bad. But, tonight was a regular night, and those two runs were the difference.
The momentum is now in the hands of the A's, and the Tigers can't allow to blow these next two games that would end their season.
Oakland A's: A
From the starting pitching to the bullpen to the A's lineup, they were on top of their game in Game 3 and determined to extend this series at least one more game.
Brett Anderson was untouchable on the mound, and the pen did an incredible job holding the two-run lead that he left with.
On the offensive side of the ball, Oakland wasn't too impressive but scored enough to win, and that's all that matters. Oakland got a huge run early, and the late home run by Seth Smith really propelled the A's.
The A's had to win this game, and that's exactly what they did.