Michael Bisping vs. Chris Weidman: Head to Toe Breakdown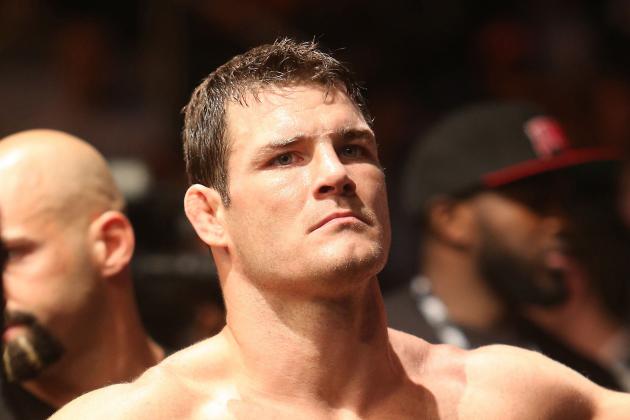 Tom Szczerbowski-US PRESSWIRE

Anderson Silva is back in action on Saturday night, but it will not be to defend his UFC Middleweight Championship. It is unlikely that he defends the belt again until the spring of 2013 or later. There is also the possibility of a superfight with Georges St. Pierre that could push a defense back further.
Standing at the top of the list of contenders are Michael Bisping and Chris Weidman. Depending on how the schedule plays out, and if Weidman defeats Tim Boetsch in December, these two men may have to meet in a title eliminator.
Bisping is coming off of a victory over Brian Stann at UFC 152, and Weidman continued his undefeated record versus Mark Munoz in July.
Both men want a title shot, but with Silva unavailable to defend, that could force them into the Octagon against one another to determine the absolute No. 1 contender.
Here's a look at the potential title elimination matchup.
Begin Slideshow

»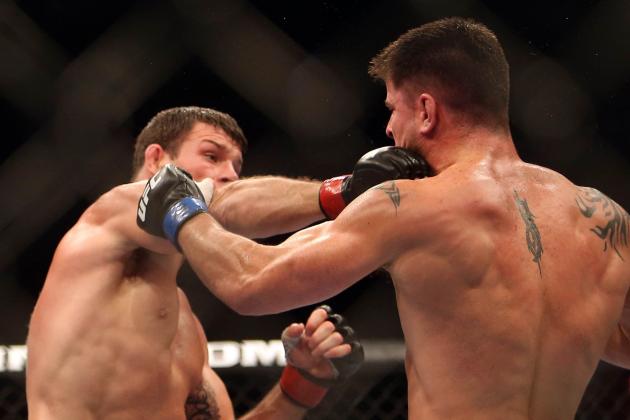 Tom Szczerbowski-US PRESSWIRE

Weidman continues to improve his striking, and the growth has been visible from his first UFC outing to now. Yet Bisping is the still the better of the two on the feet.
Bisping has put his stand-up on display against some of the best strikers in the division for years and has often come out on top.
Weidman is still learning. That is what makes him dangerous. Every time he steps in to the Octagon, he is a better version of himself, and it is an unknown how much he has improved since his last outing. It is possible he becomes, or surpasses, Bisping in the striking department if they meet in 2013.
But, until we see it manifest itself inside the cage, the edge still lands with Bisping.
Edge: Bisping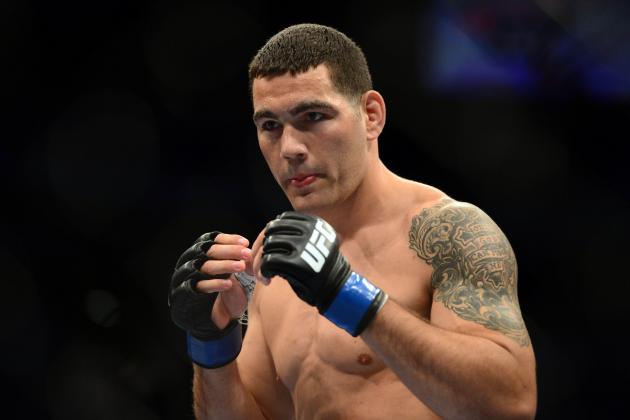 Kyle Terada-US PRESSWIRE

Bisping's wrestling has improved by leaps and bounds since making his MMA debut back in 2004, but he is no match for Weidman.
Weidman is a two-time NCAA Division 1 All-American. Perhaps only Chael Sonnen is a better wrestler in the division.
How Weidman's wrestling would work against former NCAA champion Mark Munoz was a big question entering that fight. Weidman dominated Munoz in that department to the shock of many. He showed that he has adapted his wrestling ability to MMA better than most. There is no reason he would not put Bisping on his back if he chose to do so.
Edge: Weidman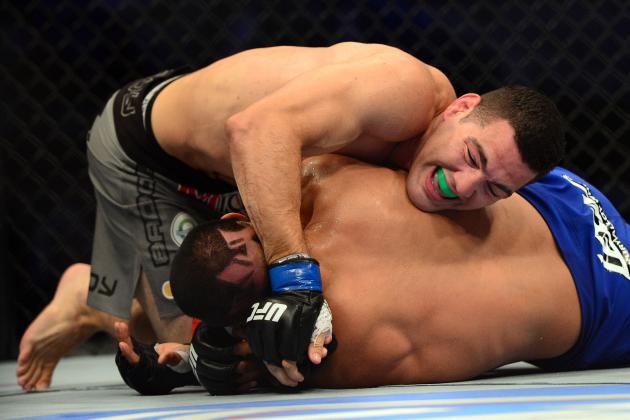 Kyle Terada-US PRESSWIRE

Weidman's ground skills have been on display throughout his UFC career. Under Matt Serra and company, his jiu-jitsu has become as dangerous as his ground and pound.
Bisping, however, is not a steep underdog on the mat. Against Chael Sonnen he was taken down numerous times, but used his skill on the ground to instantly pop back to his feet, something not many have been able to do against Sonnen.
His ability to quickly get back to his feet will be vital against Weidman.
In conjunction with his wrestling, Weidman's grappling and positioning ability on the mat should be able to keep Bisping down. That will look good in the eyes of the judges and give him more opportunity to work for submissions.
Edge: Weidman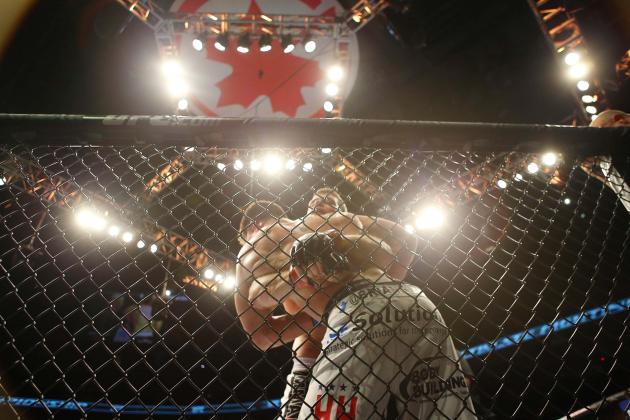 Tom Szczerbowski-US PRESSWIRE

Bisping: Experience
Bisping has just about done it all in his UFC career. He has headlined cards and fought some of the best MMA has to offer. Weidman has only headlined one card, and that was aired on Fuel TV.
Bisping knows how to handle the big-fight pressure. It is still a question mark for Weidman. Bisping performs under the bright lights, and that could come in to play if and when these two top-ranked middleweights meet.
Weidman: Cardio
While the excuse for his poor cardio against Demian Maia was that he accepted the fight on short notice, we still have not seen him pushed in a three- or five-round fight. Bisping has, and he could be the one to push a tired Weidman into the later rounds.
Bisping always brings a fast pace to his fights, and that pace might be a huge factor in the outcome of the fight if Weidman cannot keep it up.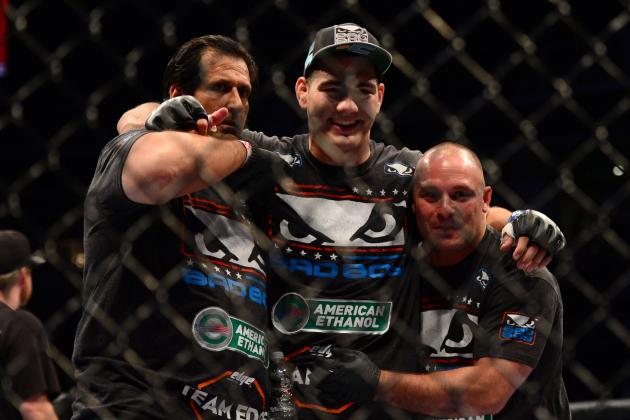 Kyle Terada-US PRESSWIRE

Bisping could be just what Weidman needs to prove he is ready for Anderson Silva.
He is continually improving and looking to be a potential future champion at 185 pounds, but Bisping will definitely have something to say about that. He can not be counted out in the fight.
The deciding factor in this fight is Weidman's ability to keep the fight on the mat and his rapid rate of improvement. He could already be surpassing Bisping, and by the time they meet, the outlook may look even worse for the Brit.
Weidman will be able to dole out punishment on the mat and eventually have the referee step in to peel him off Bisping in the second frame to earn a title shot.
Prediction: Weidman defeats Bisping by TKO in the second round.