Ivy League Football: Week 5 Conference Power Rankings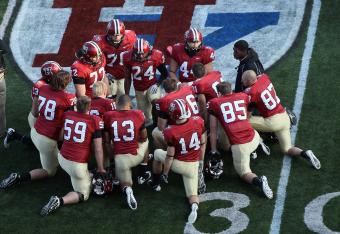 Elsa/Getty Images
While this week wraps up the end of non-league play, all the members of the Ancient Eight are prepping for the crux of conference play.
Although Harvard has established itself as the key favorite in the conference, there is still a lot of football left to be played.
Here are the Week 4 conference power rankings:
1. Harvard (4-0, 2-0) (Last Week's Ranking: 1)

Dismantling Cornell 45-13 last weekend, the Crimson looked like Ivy League champions on both sides of the ball. Now with a large target on its back, Harvard will have to remain poised in its remaining games if it hopes to continue with back-to-back undefeated seasons within the conference.
2. Brown (3-1, 0-1) (Last Week's Ranking: 3)

After Cornell fell so dramatically to Harvard, Brown's 45-31 loss to the Crimson seems almost insignificant. Brown took the Governor's Cup this weekend against Rhode Island and looks to add its first conference win if it can stop the surging Princeton.
3. Cornell (2-2, 1-1) (Last Week's Ranking: 2)

With an opportunity to surprise the defending Ivy League champions, the Big Red had no answer to Harvard in a 45-13 defeat. Jeff Matthews will have to help his squad rebound if they intend to pressure an incredibly consistent Harvard squad to make an error.
4. Dartmouth (3-1, 1-1) (Last Week's Ranking: 5)
Which team in the Ivy League is underrated?
Despite falling to Penn in its first conference game, the Big Green looked flawless in a 34-14 rout of Yale. Dartmouth will rely on its rushing attack in most conference match-ups this season, but it may prove to be a team to keep an eye on.
5. Penn (1-3, 1-0) (Last Week's Ranking: 4)
Penn does not seem to have any luck with non-league play as falling to William & Mary 34-28 puts the team at 0-3 on the year. The win against Dartmouth, however, is a nice addition to its resume. If they can start well in conference games, they have the potential to win a nice handful of Ivy League matchups.
6. Princeton (2-2, 1-0) (Last Week's Ranking: 7)
Where did Princeton come from? The Tigers are riding an impressive two game winning streak that includes a determined win over Columbia and a slaughter of a solid Lafayette squad. This week's test against Brown will help determine if Princeton is primed for an Ivy League comeback.
7. Yale (1-3, 0-2) (Last Week's Ranking: 6)
Ever since they beat Georgetown to start off the season, Yale has been absolutely horrid. Dartmouth dismantled the Bulldogs 34-14 over the weekend, which adds on to their list of defeats, which includes a crushing loss to Cornell. Considering Harvard's strength this year, the "Game" looks less and less like a good game.
8. Columbia (1-3, 0-1) (Last Week's Ranking: 8)
The Lions had hoped a win in Week 1 would redirect their aspirations this season to the top half of the conference. Following Princeton was definitely not the route they had in mind. If Columbia intends to turn its season around, the team needs a conference win under its belt first.

This article is
What is the duplicate article?
Why is this article offensive?
Where is this article plagiarized from?
Why is this article poorly edited?