The 25 Hottest Tailgating Pictures in College Football
Image via jerseygirlsports.com
Tailgating and college football go together like peanut butter and jelly. You can't love one without the other.
In my life, I have been to more than 50 tailgating events from Florida to Arizona. I have seen people dancing, partying, singing, playing beer pong, debating over which company makes the best waffles and more keg stands than I can count. It is truly a fantastic time, and I cannot think of any other way to spend my Saturdays in the Fall.
Did I forget to mention the beautiful women? Oh yes, the beautiful women are everywhere in America and most of them attend the same tailgates you have been going to the last four years. They are all over the place and they look good.
Here are some of the hottest tailgating pics in college football. Enjoy.
Begin Slideshow

»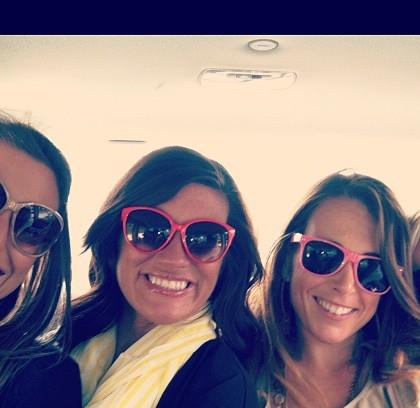 Image via twitter.com
Have you ever been to a tailgate at any college or university and not run into a group of people rocking the brightly colored shades?
I haven't. And neither have these beautiful babes as they headed to the game in "frat boy" style.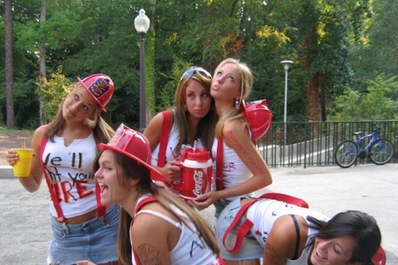 Image via coedmagazine.com
In North Carolina, college football is a small thing. To the South, however, it's a huge part of life.
That shouldn't discourage the lovely ladies from heading to the stadium for some pregaming like these Duke fans.
No matter what your team does in football, you should never give up on a chance to party.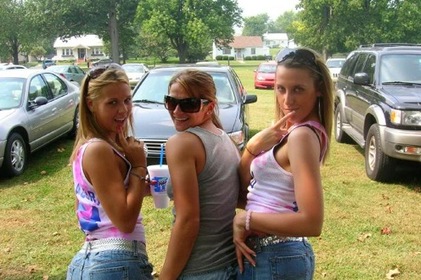 Image via coedmagazine.com
For a moment there, I had to double check the team these ladies were rooting for. I didn't even know Indiana State was a real thing.
No offense to the school, I knew it existed thanks to Larry Bird. I just didn't know about the football program until now.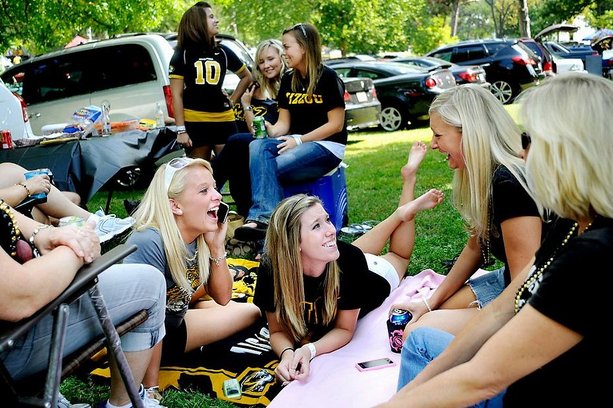 Image via columbiatribune.com
Now that Mizzou is in the SEC, I will have my chance to tailgate with the Tigers in Columbia, Mo. I just have to wait for LSU to schedule them, then I am off to the plains of Missouri for some fun tailgating.
Unless it looks as posed as this photo. The ladies are smoking hot, but this just might be the most posed photo of any tailgate ever.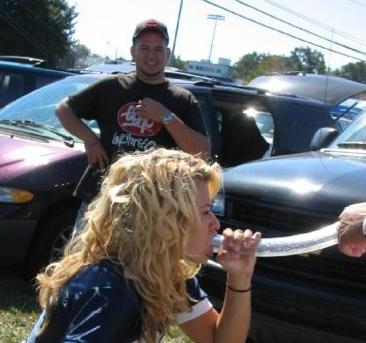 Image via drunkentailgate.com
I was never a fan of banning a college football team from postseason play because all it does is allow Penn State a season to play spoiler much like it did after beating Northwestern.
As for the tailgating in Penn State, it still looks fine to me.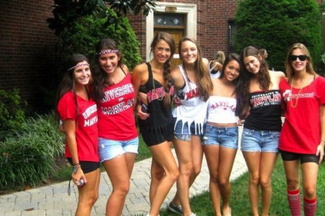 Image via usatodayeducate.com
When was the last time you went to a college football tailgate party and had trouble weeding through the beautiful ladies?
As a frequent LSU tailgater, I find that it is nearly impossible to go to any tailgate and not see at least one group of hot women like the ones pictured above. You have to be blind to miss them.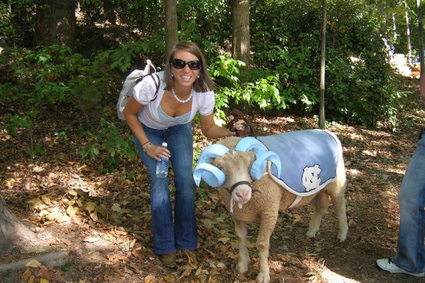 Image via drunkentailgate.com
Nope, that isn't photoshopped. That is a real life ram dressed up in Tar Heel blue.
I only have one question to the UNC fans out there, why is the mascot a ram? It's not like it has anything to do with a Tar Heel.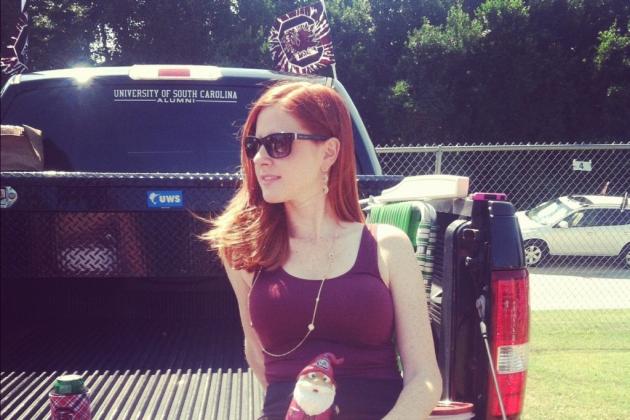 Image via twitter.com
Remember when no one said Yolo? Or before flash mobs, planking, Tebowing or Griffining? Those were the good old days.
Now I have joined the craze and come up with another one, Gamecocking. It is when a South Carolina fan, preferably female, strikes a pose with a gnome in the back of a truck on game day.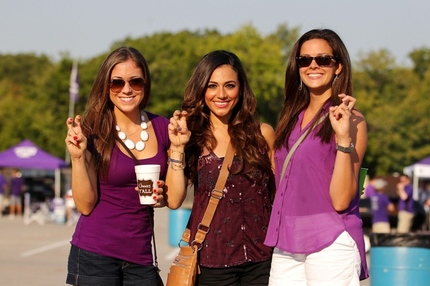 Image via barkingcarnival.com
Now that the TCU Horned Frogs are in the Big 12, we can expect to see much more of them winning games and playing for a BCS title. Mark my words.
As the team grows in popularity, so will the fans and especially the sexy ladies. You can thank me later.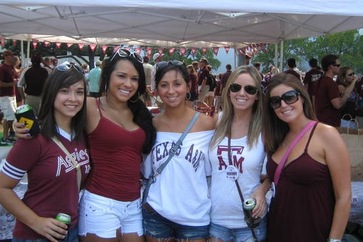 Image via drunkentailgate.com
In a few weeks, I will be in attendance for the LSU vs. Texas A&M matchup in Aggie Land. And there is nothing I am looking forward to more than partying with those crazy fans.
I have been told it is worth the drive, and this picture is only underlining that statement.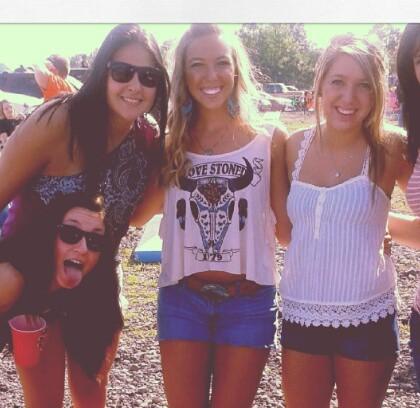 Image via twitter.com
Wherever this tailgate is happening and it appears to be Arizona, one thing is true, the men standing behind the camera are having a good time.
How do I know it is a man taking this photo? Because that is how they wind up online, duh.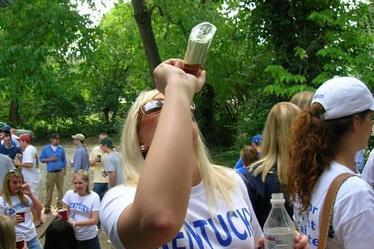 Image via bontheball.com
After a 1-5 start and three consecutive SEC losses, the fans in Kentucky have plenty to drink about.
This is the ending of a tailgate or maybe the beginning. She just might be preparing herself for the game later in the day.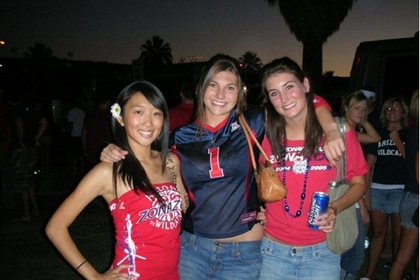 Image via drunkentailgate.com
The Wildcats of Arizona are already well known for partying. However, now that they have begun losing games, the partying before the games might slow down to a crawl.
After the games, that is when you turn it up and party your sorrows away. Right Arkansas fans?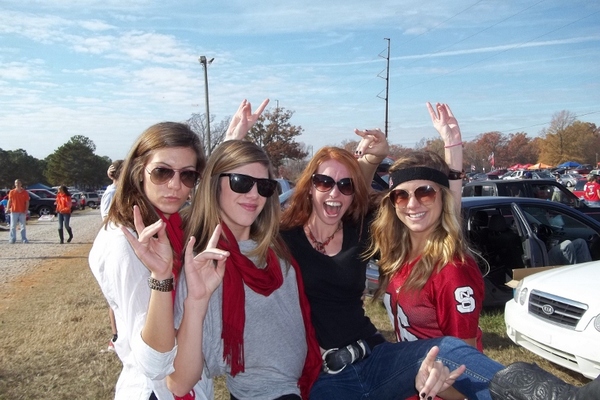 Image via admissions.ncsu.edu
I wasn't shocked to see that North Carolina State had sexy ladies attending their tailgates. Even the school knew what was going on around campus.
This photo was posted on the admissions section of the NC State website. Smooth selling point.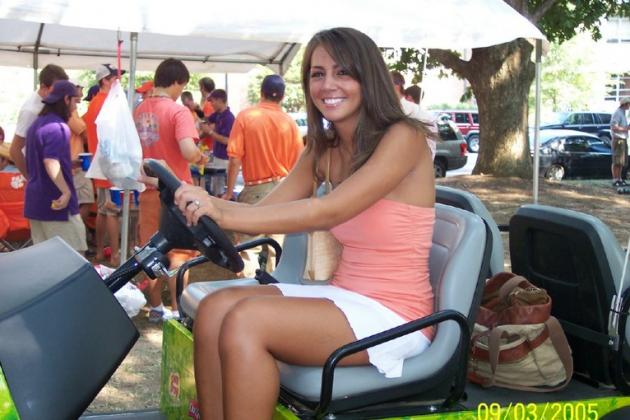 Image indoddwetrust.blogspot.com
This was what a Clemson tailgate looked like in 2005. Short skirts and hot tops.
Nowadays, the tailgates are still happening, but the photos have seemed to stop. Where have all the cameras in Clemson gone?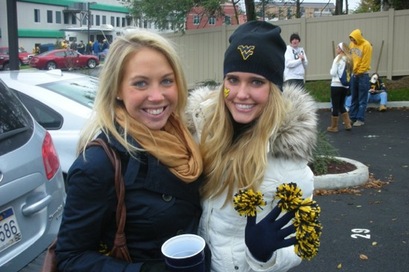 Image via drunkentailgate.com
As you read this article, Geno Smith has thrown for another 450 yards and five touchdowns. That guy is putting up sick numbers and we are only halfway through the season.
Now that the fans finally have a team to root for, they will be having bigger and better tailgates as the season goes on. Check them out to see what I am talking about.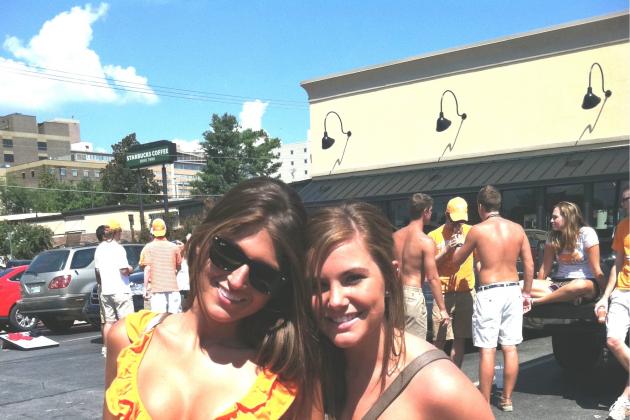 Image via thecollegetownlife.com
Don't forget that the Southern Belles of Tennessee are just as sexy as the vixens in Southern California.
I hope you remember that the next time you swing through the South. Visit a UT tailgate if you don't want to believe me and see for yourself.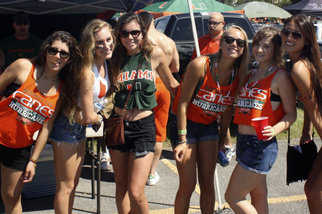 Image via elnuevoherald.com
Whether Miami scores 54 points in a rout or loses by 34 at home, the party will always be in Miami with the fans.
This photo reminds me of a pool party in Vegas run by Playboy. I am totally there!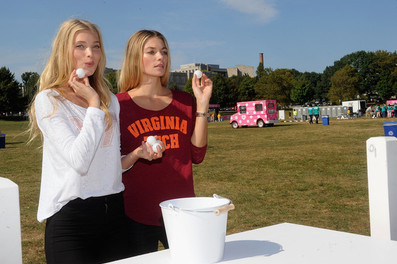 Image via zimbio.com
When do you realize that you have the absolute best tailgate in the entire world?
The moment Victoria's Secret models Jessica Hart and Elsa Hosk show up to run it. I think that defines a new level of awesome tailgating.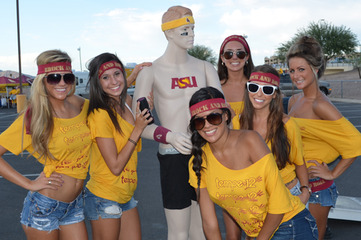 Image via coedmagazine.com
The Arizona State tailgates are on a whole other level. They have defined what it is to party before the big game by adding women who make the word beautiful seem useless.
Am I the only one that thinks they should go on tour? People should pay these women to travel with ASU to all their away games. No one would complain.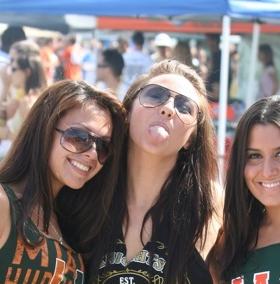 Image via axismag.com
When Miami plays against Central Florida, the world stops spinning briefly because of the overload in hotties in one spot.
If I could chose one spot to be on the last day of my life, it would be a Miami tailgate during the UCF game.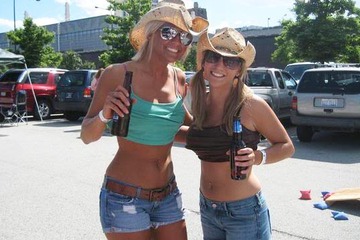 Image via coedmagazine.com
Where? When? Who?
If anyone knows where this tailgate is, who these women are and when we can attend, let me know as soon as possible. Because a beautiful woman in a cowboy hat deserves the proper recognition.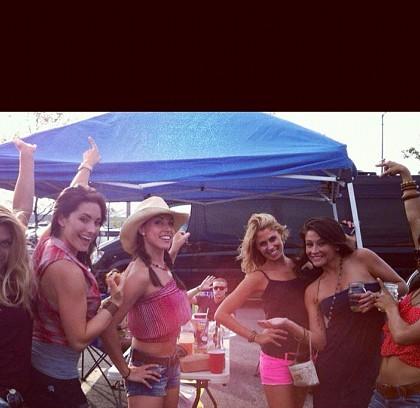 Image via twitter.com
They might not have Jenn Sterger anymore, but the one thing Florida State fans still have are hot women. That isn't an opinion, it is a fact.
Try going to Tallahassee and not leaving with a neck injury of some kind. It is impossible.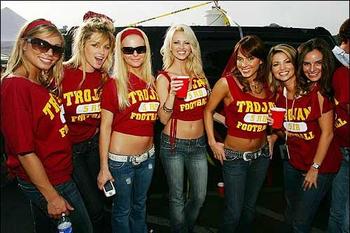 Image via hottestgirlsoncampus.com
Of all the photos and all the websites, this has to be the best example of what USC tailgating looks like in California.
It doesn't matter how many articles I have done, this is truly one of the sexiest tailgating photos I have ever seen.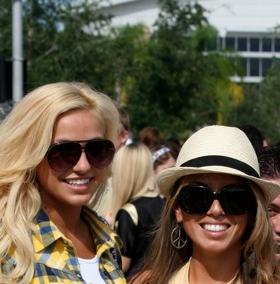 Image via axismag.com
In Florida, hot women honestly do grow on trees. It is tough to turn a corner and not hit a Florida hot bed for beautiful women.
Miami, Tallahassee, Jacksonville, Orlando, Tampa, etc.
So many colleges, so little time.