Philadelphia Eagles Early Awards for 2012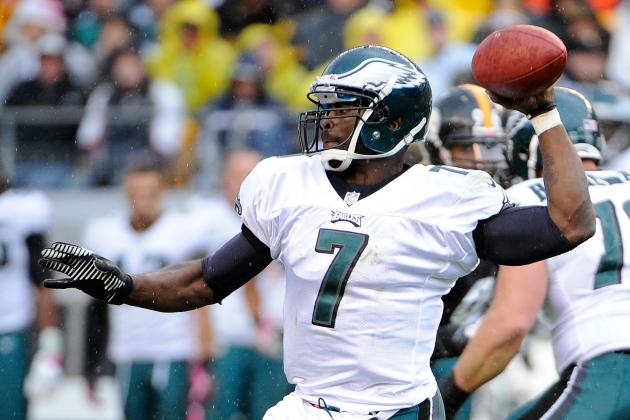 Joe Sargent/Getty Images

It's been five weeks, but it is still unclear whether or not the Philadelphia Eagles are a legitimate Super Bowl threat.
On paper, the talent is there. The Eagles have explosive playmakers all across their offense as well as a loaded defensive line and strong supporting cast on the defensive side. But, although the defense has for the most part held up it's end of the bargain, the offense has turned the ball over an NFC-worst 14 times. No matter how many weapons the Eagles have on their offense, it won't matter if they can't hold onto the football.
After a tough 16-14 loss in Pittsburgh, the Eagles sit at 3-2 and prepare to host the Detroit Lions this Sunday in Philadelphia. It's early in the season, but here are the Philadelphia Eagles team awards through five weeks.
Begin Slideshow

»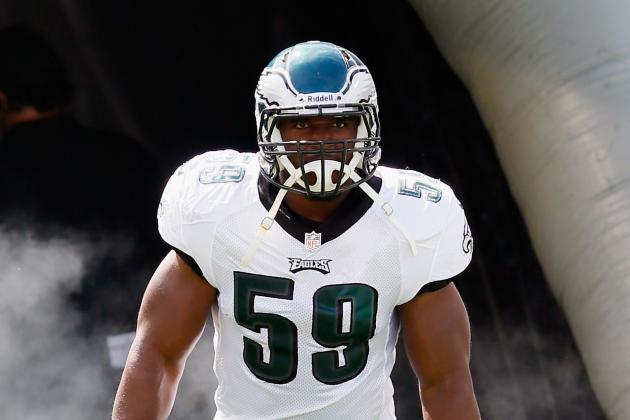 Rob Carr/Getty Images

DeMeco Ryans
The Eagles were badly missing a middle linebacker last season. So, in the offseason the team went out and acquired veteran DeMeco Ryans to step in and make the Philadelphia defense feared once again.
Ryans has been all over the field for the Eagles this year, leading the team in tackles (34) and tackles for loss (4), as well as recording one sack and an interception.
Rushing defense was a huge problem for Philadelphia a year ago, but with Ryans at middle linebacker, the Eagles currently rank 12th in the NFL in rushing defense and 11th in total defense.
Although many people would like to have Michael Vick or LeSean McCoy put up numbers worthy of being the team's MVP, make no mistake about it, Ryans is the most valuable player on the Philadelphia Eagles roster so far this year.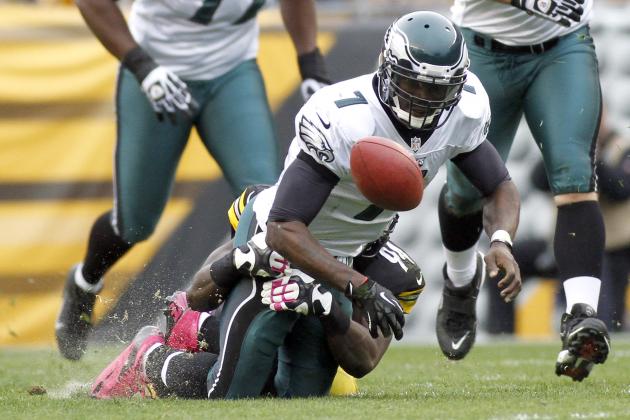 Justin K. Aller/Getty Images

Michael Vick
This is an award that nobody wants to win.
In the National Football League, quarterbacks don't need to put up Drew Brees-type numbers every year in order for their team to succeed. All they need to do is protect the football.
Look at Minnesota's Christian Ponder. Ponder only has six touchdown passes and 1,082 yards, but he has turned the ball over only four times and his team is 4-1. Michael Vick has turned the ball over 11 times and the Eagles are still somehow 3-2. Imagine if he could protect the ball.
Vick almost single-handedly cost the Eagles a win against Pittsburgh by fumbling the ball into the endzone. He stopped another drive before it could really get going by fumbling again later in the game.
Michael Vick is making $12.5 million this season. It's only been five weeks and he's already almost earning $1 million per turnover.
Vick has the potential to lead this team to the Super Bowl, but right now he's holding them back. It might be time for Nick Foles soon.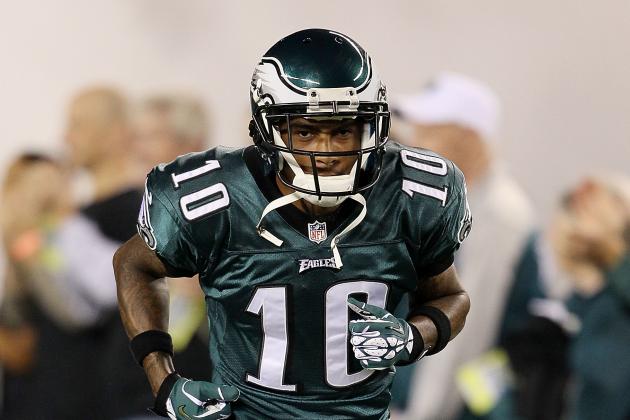 Alex Trautwig/Getty Images

DeSean Jackson
LeSean McCoy would probably be the popular pick here, but I'm giving the award to DeSean Jackson.
McCoy averages 104.6 total yards per game against Jackson's 79.2, but Jackson is averaging 16.3 yards per reception and leads the team with 24 catches and 391 yards. Jackson is a big play receiver and has had a big role in touchdown drives on multiple occasions this season.
On a team that struggles with turnovers, Jackson has only fumbled once, while McCoy has coughed up the ball three times in five games.
McCoy will get going soon, but at this point in the season, Jackson is the best player on this offense.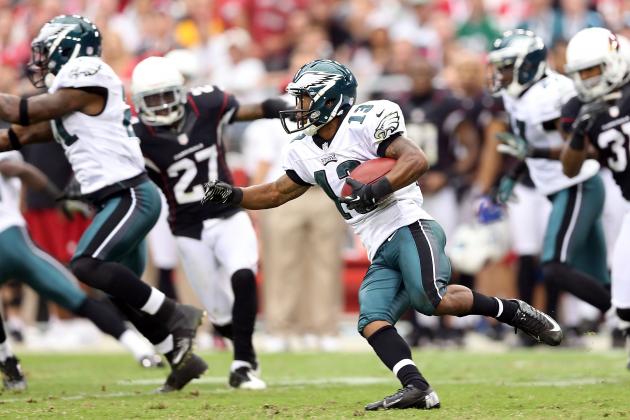 Christian Petersen/Getty Images

Damaris Johnson
Not many rookies have gotten involved in the Philadelphia offense this season, so Damaris Johnson seems to be the clear choice here.
Johnson has only caught eight balls this year, but in the Eagles loss to Arizona, Johnson had five catches for 84 yards.
Don't expect Damaris Johnson to turn into another DeSean Jackson or Jeremy Maclin, but as a rookie in the National Football League, Johnson is doing a very good job.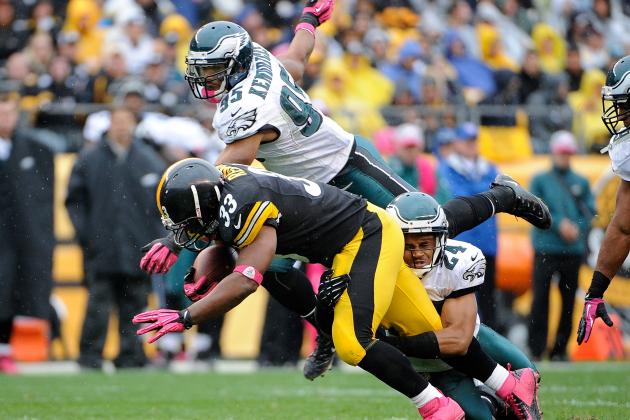 Joe Sargent/Getty Images

Mychal Kendricks
The Eagles drafted Mychal Kendricks with the 46th overall pick in the 2012 NFL Draft and he is emerging as a young star on the defensive side.
Kendricks has looked solid at strongside linebacker, recording 23 tackles. Between DeMeco Ryans and Kendricks, the Eagles have rebuilt their linebacker unit and have created a front seven that is one of the best in the league.
At age 22, Kendricks looks like he will be a force to be reckoned with on the Philadelphia defense for years to come.
Follow @TimStoeckle on Twitter