This offseason, the primary headline surrounding the NBA has been the emergence of the Los Angeles Lakers.
With a four-team blockbuster deal that led to the acquisition of Dwight Howard, who is the best center in the league unless your name is Shaquille O'Neal, and the signing of Steve Nash, who even at age 38 can dish the ball and run the pick-and-roll effectively, the Lakers seem like the team to beat.
These assets have caused many NBA analysts and fans alike to select the Lakers as the best in the West, and possibly the league, and the clear-cut favorite to square off against the Miami Heat in the 2013 Finals.
But is everyone forgetting about last year's Western Conference Champions who knocked off the Lakers en route to the finals, the Oklahoma City Thunder?
The Thunder made it to the finals last year behind the young core of Kevin Durant, Russell Westbrook, James Harden and Serge Ibaka. However, this team is now regarded as merely the runner-up to the Lakers in the Western Conference.
I completely understand that the Lakers got better.
Obviously with a center like Howard underneath to pair with Pau Gasol, they have one of the most intimidating frontcourts in the league right now; a lethal scorer such as Kobe Bryant can torch teams from the perimeter, and Steve Nash can hit threes and distribute well.
That being said, it remains unclear how well they will mesh together. Kobe Bryant has already publicly stated that this is still "[his] team" (via Dave McMenamin of ESPN LA), despite his declining numbers and the emergence of Howard.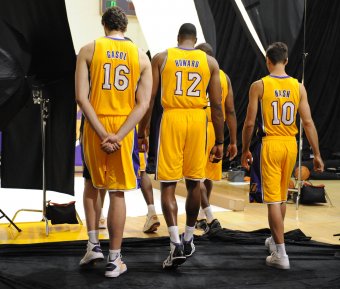 Jayne Kamin-Oncea-US PRESSWIRE
Everyone knows Kobe loves the ball.
Leading the league in field-goal attempts in five of the last seven years, including last year, Bryant chucks up shots more than anyone else in the league. The three times in the last eight years when he did not lead the league in shots, he finished second.
Despite his claims that "you can't be selfish and win one championship, let alone five" (via Kurt Helin of ProBasketballTalk.com), Kobe clearly defies his own logic given the sheer amount of shots he takes.
The problem is that he's not making them like he used to, shooting just 43 percent from the field—his lowest mark since his second year in the league.
He also shot threes at the second-lowest mark of his career—just 30.3 percent—and his assist and rebound totals were both his lowest since his third year in the league. Also, he is not getting to the free-throw line nearly as much, as his free-throw attempts are his lowest since his fourth year in the NBA—displaying how he is relying on his jumper more instead of drawing fouls with his drive.
Despite his legacy as one of the best players to play the game, Kobe is declining, whether he will admit it or not, and I'm not sure he's going to want to sacrifice his 23 shots per game to Howard and Nash.
There is also the issue of ball control, as both Nash and Bryant are accustomed to having the ball in their hands most of the time.
Which team advances to the NBA Finals?
With Howard likely to miss time this preseason due to his back injury, he may not be playing at 100 percent to start the season, which could prove critical to the development of the chemistry of this team.
And let's not forget that outside of these four superstars, the bench is considerably weak.
Jodie Meeks will allow them to space the floor with his three-point shot, and Jordan Hill has solid rebounding numbers, but Antwan Jamison shot just 40.3 percent last year with lackluster defense.
Metta World Peace is aging and is not the superior defender he once was, as he fails to possess the lateral movement to get in front of quick young forwards such as Durant. Steve Blake, Devin Ebanks and Chris Duhon don't really represent a stellar supporting cast either.
But enough about the Lakers.
The Thunder are still a force to be reckoned with.
Despite the fact that general manager Sam Presti rarely makes large splashes in free agency that will wow fans, commentators and analysts alike, he really doesn't need to. Instead, Presti takes calculated risks and drafts young players with plenty of potential to help this young Thunder squad.
Led by three-time scoring champion Kevin Durant, Oklahoma City has all the pieces to succeed.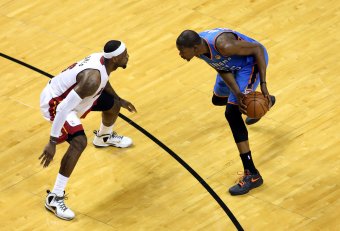 Robert Mayer-US PRESSWIRE
They have a go-to scorer in Durant, who is redefining other aspects of his game, such as his passing and defense.
They have the secondary scoring option in Westbrook, who takes a lot of heat for his low assist rate, but at the same time his scoring is vital to the success of the Thunder.
After all, KD can't do it all.
They have the reigning Sixth Man of the Year in James Harden, who knows his role, can effectively lead the second unit and has the ability to take over the game when the starters are off the court.
They have a defensive presence underneath in Serge Ibaka and Kendrick Perkins.
Ibaka's defense is embellished due to his high block total, but he his still an improving post defender with a developing mid-range jumper that will take pressure off of their primary scoring trio. While Perkins was largely criticized in the Finals, he matches up well with teams that have a true center, like the Lakers, and can still man up on defense, despite his high technical foul rate and lack of offense.
They have defensively minded Thabo Sefolosha, who has the ability to contain an opposing perimeter shooter.
They have Nick Collison, who seemingly does all the little things for this young team, such as getting the extra offensive rebound, defending well, taking a charge when necessary and providing a solid power forward or center option off the bench.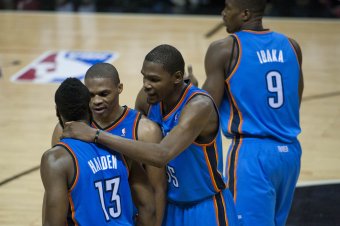 Brendan Maloney-US PRESSWIRE
They have backup point guard Eric Maynor returning from his ACL injury. The former VCU standout provides a nice change of pace at point guard and is more of a distributor than Westbrook, providing another dynamic for this Oklahoma City team.
Although the Thunder didn't make a free-agent splash this offseason, Presti took calculated risks to help improve his young team.
In the draft, taking Perry Jones III, who was projected to land somewhere in the lottery before sliding due to his injury concerns, could pay large dividends, as the 6'11'' forward is versatile and could provide depth down the stretch.
In free agency, Presti signed former Connecticut standout Hasheem Thabeet.
Despite being largely regarded as a bust because he was drafted as high as No. 2 overall by the Memphis Grizzlies, Thabeet is still just 25, and Oklahoma City signed him to a two-year deal for less than $1 million per season.
A solid shot-blocker in college, Thabeet can learn and mature with Cole Aldrich and attempt to crack this deep Oklahoma City rotation.
Presti also signed some three-point shooters to non-guaranteed contracts to help space the floor.
Georgetown forward Hollis Thompson shot 47.75 percent from three in his collegiate career, and Andy Rautins shot 43.8 percent from three in his senior season at Syracuse.
He also signed Daniel Orton to a non-guaranteed contract, and although he underwhelmed for the Orlando Magic, he was still a former first-round pick and could provide depth in the frontcourt.
Despite the critics claiming that this team is too young or they didn't make an impact in free agency—they haven't done this for the last few years—they have improved.
Starting off as irrelevant their first year in Oklahoma City, they made the playoffs the next year and were eliminated in the first round. The next year, they went to the Western Conference Finals and lost to the eventual champion Dallas Mavericks.
Finally, they made a Finals appearance last year.
This team is a year older, which for its competitors such as the Lakers and San Antonio Spurs is not seen as such a positive, as it is comprised of mostly aging stars. Instead, this team continues to grow and reach its potential.
The fact that its best player, and the consensus second-best player in the league, just turned 24 last week is truly remarkable.
No, this team did not sign the hottest names and is not in the media the most. Nobody questions whose team this is. Nobody on this team has ongoing beef with former stars.
And that's perfectly okay, because this team knows how to play together and how to win.