2013 NFL Mock Draft: Ideal Picks for Every 1st-Round Team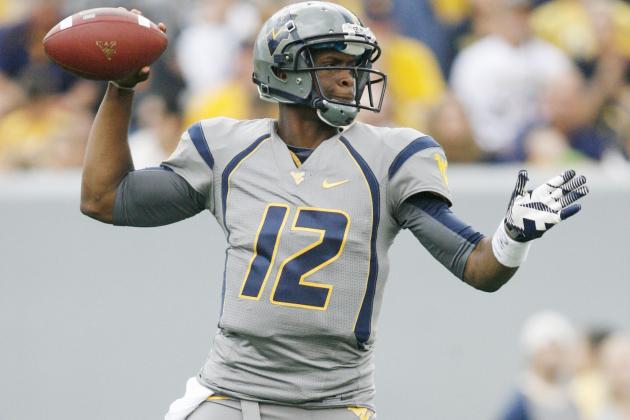 Charles LeClaire-US PRESSWIRE

And we're back with another 2013 NFL mock draft.
For one, the college football season is only getting more intense after last weekend and pro football is beginning to separate the contenders and pretenders.
To that effect, the potential order of the 2013 draft has slightly altered. Still, a prospect such as West Virginia's Geno Smith will be a top five selection. After all, this guy has tossed 24 touchdowns to zero picks through five games.
Plus, the Mountaineers are the Big 12 front runners and in the BCS national title picture.
So along with Smith consistently being a top prospect, let's see which other college players become first-rounders next spring.
Begin Slideshow

»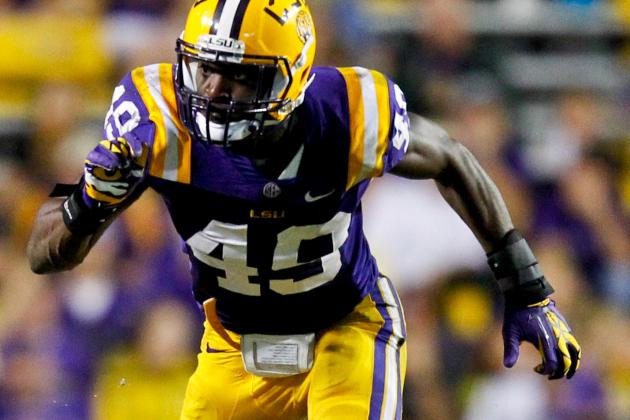 Derick E. Hingle-US PRESSWIRE

Now 0-5, the Cleveland Browns are in the fast lane to 2013's No. 1 pick.
That said, landing the top pick provides Cleveland with multiple options.
Obviously the Browns could grab any player they want. Another option would be to trade down since their second round pick is not available as they took Josh Gordon in Round 2 of the 2012 supplemental draft.
One player who could help, though, is LSU's Barkevious Mingo. His size, speed and dynamic skill set would allow Cleveland to mix up defensive fronts and really take pressure off the secondary. The Browns are giving up 423 total yards per game right now and improving the defense would complement the developing offense.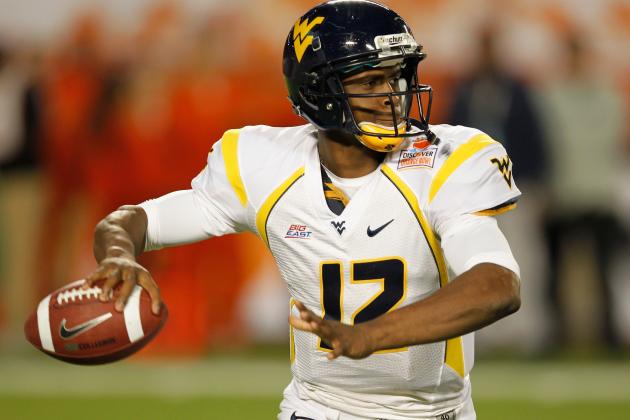 Streeter Lecka/Getty Images

It keeps getting worse for the Kansas City Chiefs.
Matt Cassel's impact on K.C.'s offense has clearly been damaging to overall production, so it's no surprise the Chiefs are 1-4.
Even worse, Cassel went down with a head injury in Week 5.
Cassel was eventually helped to his feet and walked off the field on his own, going up the tunnel and into the locker room with what later was diagnosed with a concussion, a source told ESPN NFL Insider Adam Schefter.
Therefore, enter Geno Smith and his flawless consistency. West Virginia is 5-0 and Smith hasn't thrown a pick yet in 2012. K.C. needs a potential franchise quarterback and Smith is currently the best option.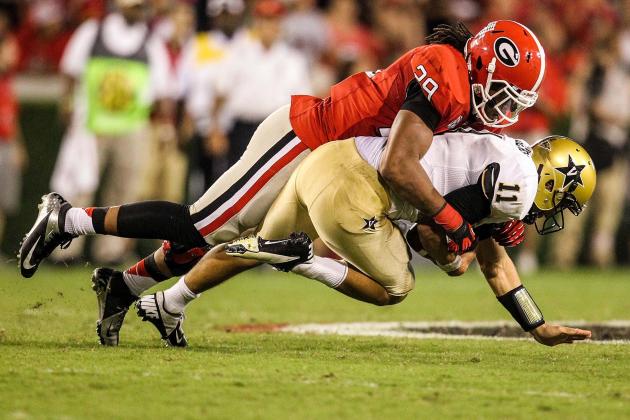 Daniel Shirey-US PRESSWIRE

The Tennessee Titans can go a few ways at No. 3 overall.
Defense, however, is the best path because of how well the AFC South has improved.
Indianapolis and Houston certainly lead the way, but at times the Jaguars have displayed promise, as well. Tennessee's defense has, unfortunately, gotten steamrolled each week by allowing an average of 36.2 points per game.
Well the best way to slow down an opponent is with a pass rush and that's exactly what Jarvis Jones provides. A consistent playmaker in the backfield, Jones recorded 13.5 sacks and two forced fumbles in 2011.
Already with 5.5 sacks and three forced fumbles this season, Tennessee really gets a boost up front with Jones controlling the edge.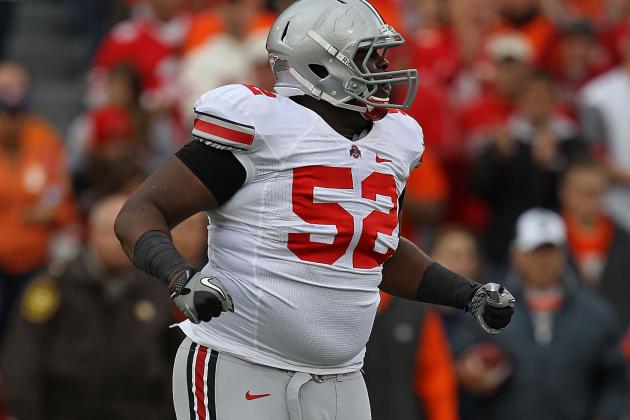 Jonathan Daniel/Getty Images

Since Rex Ryan took over the New York Jets, it's been a rarity when a team bowls over Gang Green in the trenches.
The San Francisco 49ers did just that in Week 4 with 245 rushing yards.
In short, New York has to get younger and quicker along the defensive line to help the linebackers and secondary. Ohio State's Johnathan Hankins possesses excellent talent and with Sione Pouha being 34 years old, preparing for the future must happen right now.
With the ability to dominate one gap and the size and power combo to control two, Hankins will draw double-teams to free up the second level and immediately clog running lanes. We then see the pass-defense blanket easier underneath and more punts/turnovers forced from the defensive line.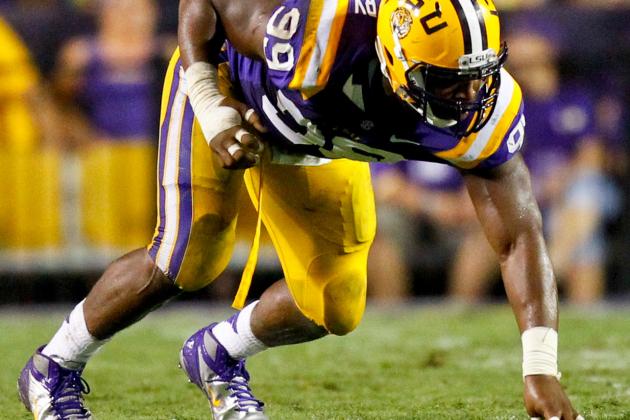 Derick E. Hingle-US PRESSWIRE

With standout defensive linemen such as Charles Johnson, Dwan Edwards and Frank Alexander, the Panther gets decent quarterback pressure.
Still, Carolina lacks against the run and needs one more front seven player to propel them forward.
LSU's Sam Montgomery has a knack for making plays in the backfield and his pass-rushing threat will force earlier releases from the passer. In turn, the secondary doesn't have to cover as long and linebackers can read draws and screens quicker.
Considering that the NFC South is largely dominated by Drew Brees and Matt Ryan, Carolina's best odds are to bring as much pressure as possible. Because no matter how stellar the coverage may be, giving these guys time to decipher a secondary enhances the pass defense's vulnerability.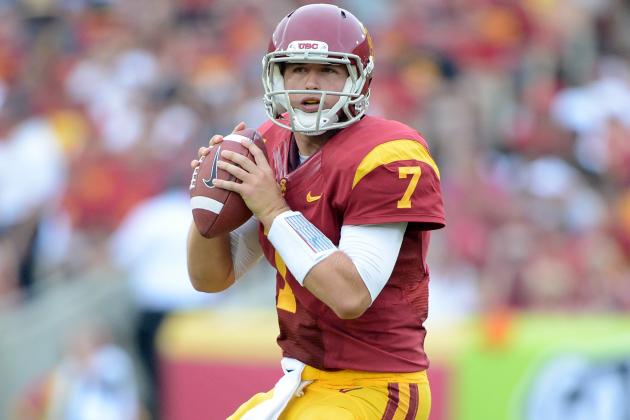 Harry How/Getty Images

If the Oakland Raiders want any chance to get back atop the AFC West, snagging a quarterback who wants to attack downfield is needed.
Carson Palmer may still have a strong arm, but a great portion of his attempts either go underneath to tight end Brandon Myers or Darren McFadden on the check-down.
Matt Barkley, though, has the youth and confidence to keep pressing a defense which will prevent opponents from stacking the box against Run DMC. With an array of explosive receivers, Oakland should be attacking downfield more anyway.
Giving Barkley this opportunity will pay dividends because he's been USC's gunslinger since his freshman year in 2009.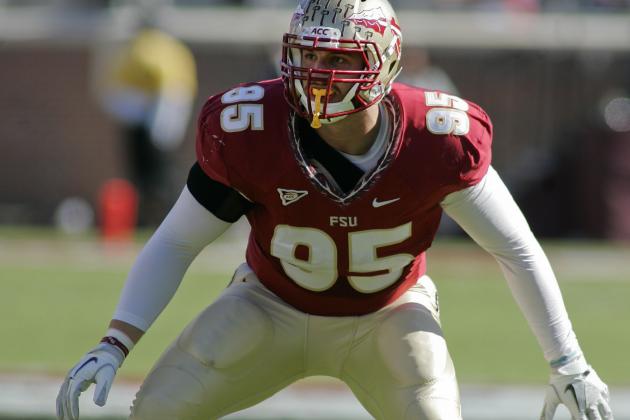 Phil Sears-US PRESSWIRE

We're five games into the 2012 NFL season and the Jacksonville Jaguars are 1-4.
And for as much concern there is for Mike Mularkey's offense, the biggest concern is the defensive front.
A measly three sacks has been recorded for Jacksonville this season and it's no surprise the defense allows 424 total yards per game. This is a quarterback driven league and any defense's best odds at slowing down an opponent is with pressure.
Because the Jaguars significantly lack in this area, though, Florida State's Bjoern Werner is the ideal selection. Along with the ability to wreck havoc in the backfield, Werner's keen awareness bodes well for knocking quick passes down and squeezing the edge against the run.
Jacksonville needs a complete defender at the line of scrimmage and until Mel Tucker's unit fields that presence, the Jaguars will continue to disappoint.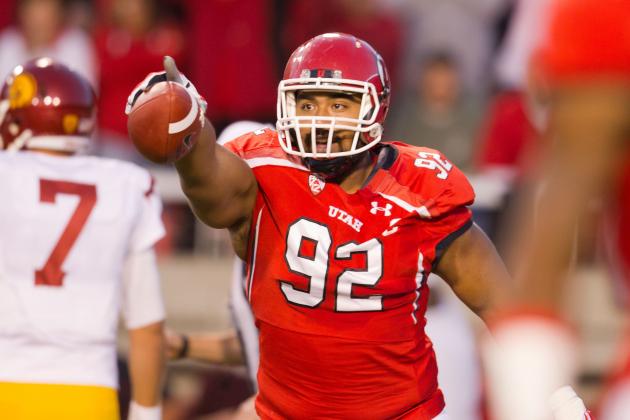 Russ Isabella-US PRESSWIRE

Although the Tampa Bay Buccaneers ranked No. 4 against the run, they also rank dead last against the pass.
Now presenting such a young secondary aside from Ronde Barber, Tampa Bay's more immediate issue is a powerful defensive line. Michael Bennett and Gerald McCoy are decent sack artists, but no one along the defensive line possesses the awareness to plug gaps and draw double-teams.
Star Lotulelei of the Utah Utes, however, has the size alone to force offenses in gearing the blocking schemes toward him. He can be a menace in the backfield which will garner more attention on the interior.
This then allows Tampa to blitz more up the gut and force quarterbacks to throw sooner than wanted. And as the secondary develops, more turnovers will occur.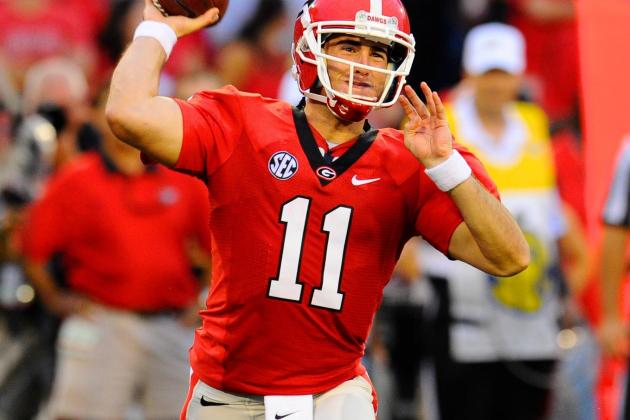 Dale Zanine-US PRESSWIRE

Aaron Murray is certainly undersized, but the man has a strong arm to go with solid mobility in and out of the pocket.
If he's proven anything at Georgia, it's making the players around him better.
Provided the luxury of A.J. Green in 2010, Murray has remained consistent since Green's departure to pro football and he's only better when backed by a sound running game. The Buffalo Bills offer this with Fred Jackson and C.J. Spiller, plus Ryan Fitzpatrick has certainly been turnover-prone which is always costly.
Six games into the 2012 season and Murray sits with a 62.1 completion percentage. Count the SEC East back on the rise and Murray's ability to spread the field will be vital during the second half of the year. He's not the most sought quarterback, but Murray possesses better marksmanship than given credit.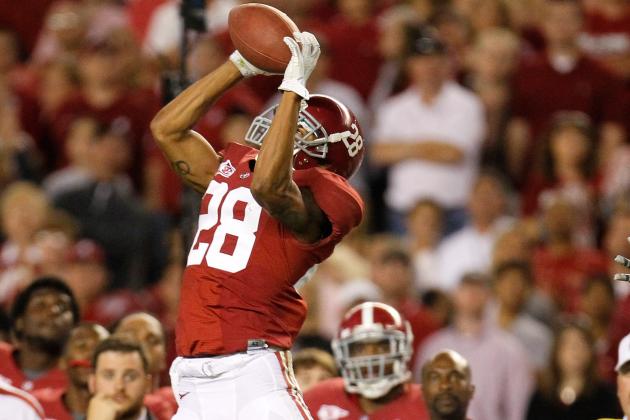 Kevin C. Cox/Getty Images

The Detroit Lions have yet to record an interception in 2012.
Sure they were on a bye this past week, but with the NFL still being such a pass-happy league, at least one should have occurred last month.
One thing Detroit does have is a solid front seven. With reliable players such as Ndamukong Suh and Cliff Avril, these guys help take pressure of those in coverage. Well, taking Alabama's Dee Milliner in 2013 only increases the odds of getting turnovers.
To this point in the 2012 college season Milliner's career has 30 defended passes, six picks and 96 tackles. Much like all Crimson Tide defenders, Milliner possesses great instincts and football IQ. His natural playmaking skill set would just hit a new level as the Lions' front seven gets quarterback pressure.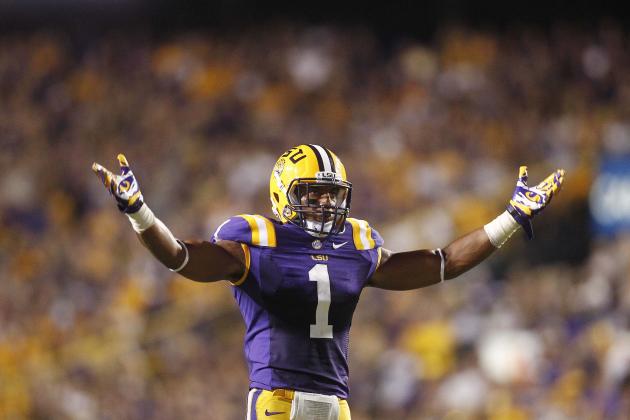 Crystal Logiudice-US PRESSWIRE

Despite winning over the San Diego Chargers on Sunday night, the New Orleans Saints still must improve defensively.
Allowing an average of 456 total yards per game, the Saints must get more consistent coverage back deep.
Roman Harper is definitely a playmaker all over the field, but bringing in LSU's Eric Reid gives more reliable depth and talent. Reid has the innate ability to sit back in Cover 1 or 3, roll down and play man over a running back, slot receiver or tight end or blitz off the edge.
With 140 tackles, five picks and 12 defended passes to this point in his career, Reid takes full advantage of every opportunity. Considering how much opponents throw the ball against New Orleans, Reid's number of chances to make plays will be ridiculously enhanced.
Not to mention he'd be a fan favorite having played in Baton Rouge and then suiting up in New Orleans.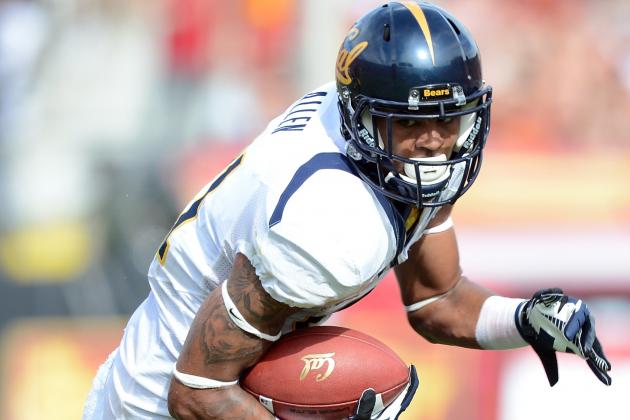 Harry How/Getty Images

Keenan Allen is the final missing piece to Miami's offensive puzzle.
Ryan Tannehill is gradually developing into the franchise quarterback, and it seems like Reggie Bush gets better with every game.
At receiver, Brian Hartline and Davone Bess are a solid complement to one another and tight end Anthony Fasano is quite underrated. All that said, Allen's addition gives Tannehill another big receiving target and a more consistent attack downfield.
Presenting excellent size and explosion, Allen's not going to get 80-plus receptions for the Dolphins. He is, though, a reliable red zone threat and can go over the middle when needed. Miami is on the cusp of really fielding a complete offense and Allen takes the Dolphins to a more effective level.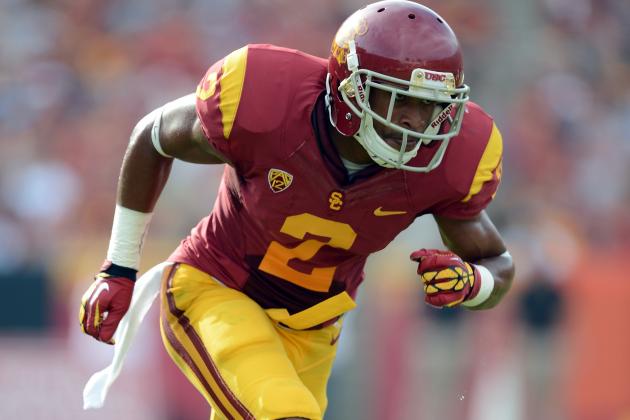 Harry How/Getty Images

Thanks to the Washington Redskins, the St. Louis Rams have another first-round selection.
Here, USC's Robert Woods is a solid pick as he completes Sam Bradford's receiving corps.
Danny Amendola was proving to be St. Louie's best receiver in 2012 until he got injured on Thursday, per Jim Thomas of the St. Louis Post-Dispatch:
Amendola will miss a month or more, league sources indicated to the Post-Dispatch on Friday, after suffering a separated SC joint trying to make a diving catch in the second quarter of Thursday's 17-3 victory over Arizona.
Regardless of whether Amendola suits back up in 2012 is irrelevant because we already know he's a stud receiver for the Rams when on the field. It's not up to guys like Brandon Gibson, rookie Brian Quick and veteran slot man Steve Smith to step up.
Nonetheless, adding Woods to the mix simply provides Bradford another reliable target. The NFC West is a defensively strong division, and attacking via the pass while also dishing the rock around takes pressure off the ground game.
The Rams are on the rise and continuing to improve the offense only benefits in a tough division.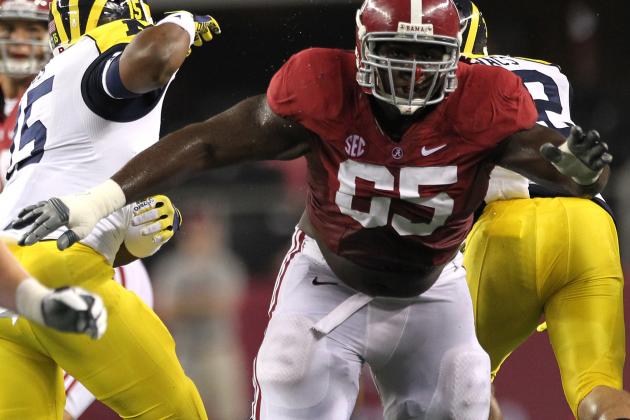 Matthew Emmons-US PRESSWIRE

The next pick for St. Louis bolsters the offensive line.
Chance Warmack is a standout performer as a pass and run-blocker and the he could only help the Rams up front.
Even though Sam Bradford was sacked just once against the Arizona Cardinals in Week 5, he's been dropped 15 times in 2012 and St. Louis still faces San Francisco twice, along with the Patriots, Vikings and once more against Seattle and Arizona.
So, maintaining that consistent pass protection won't be easy.
In addition, St. Louis ranks No. 22 in rushing and Steven Jackson is only getting older. A rookie like Warmack would lengthen Jackson's career and certainly help set up play-action pass to field a balanced attack.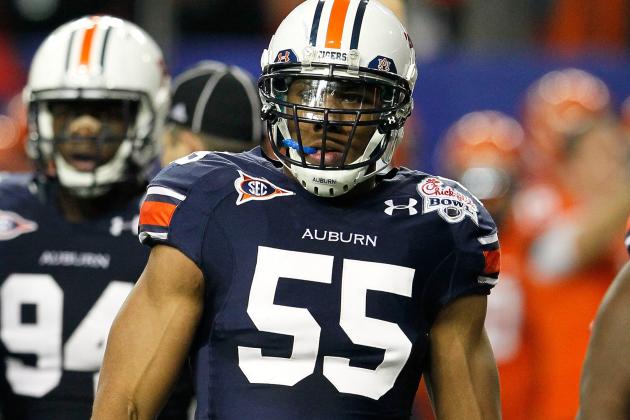 Kevin C. Cox/Getty Images

When the 2013 NFL season kicks off, Dwight Freeney will be 33 years old and his tag team partner Robert Mathis will be 32.
So the Indianapolis Colts have to get a younger pass-rusher to eventually take over the role of applying outside pressure.
Auburn's Corey Lemonier is just the guy. His size bodes well for a 3-4 system and he's been for a force for Gene Chizik. With nine sacks and five forced fumbles in 2011, Lemonier has recorded five sacks and 21 tackles thus far in 2012.
His initial acceleration and overall athleticism would help the Colts get additional pressure in strict passing situations and Lemonier knows how to create turnovers. Ranking No. 25 against the run, Lemonier's aggressiveness alone will improve Indy's front seven.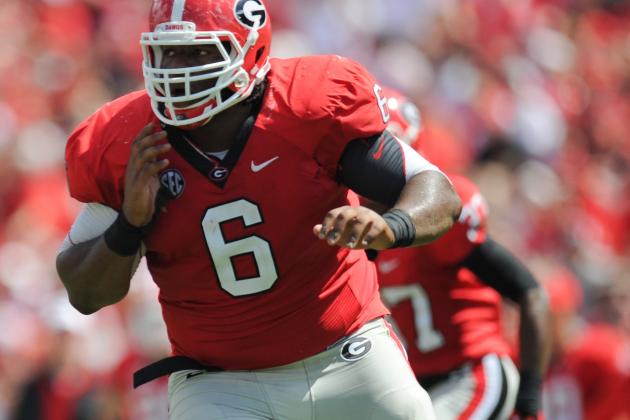 Kevin Liles-US PRESSWIRE

The Dallas Cowboys present all the defensive talent in the world.
Stud pass-rushers in DeMarcus Ware and Anthony Spencer pressure the edge and Sean Lee is a complete linebacker patrolling the middle.
In the secondary, Big D is excellent with Brandon Carr and rookie Morris Claiborne so why are the Cowboys 2-2? Well aside from the offensive woes, Dallas has trouble stopping the run.
Therefore, taking Georgia's John Jenkins fills that need in the middle of the defensive line. With a size frame of 6'3", 358 pounds Jenkins will constantly get double-teamed and create piles between the tackles.
He won't accumulate tons of sacks or tackles, but his impact at getting Ware, Spencer and Lee in favorable situations makes Dallas a completed defense.
Ronald Martinez/Getty Images

There's only one weakness on the Seattle Seahawks and it's the passing game.
Now yes, part of that is attributed to Russell Wilson being a rookie and the philosophy mostly focused around running back Marshawn Lynch.
Still, the Seahawks don't field a receiving corps that presents one standout target. Golden Tate, Doug Baldwin and Sidney Rice are not dominant receivers.
Tavon Austin, however, is.
Possessing ridiculous top speed and acceleration, Austin's quickness will beat anyone in man coverage and he'll collect great yards after the catch. This creates more balance to Seattle's offense as well as more potential explosion against stronger defenses.
Plus, Austin can contribute as an H-back and return specialist when needed.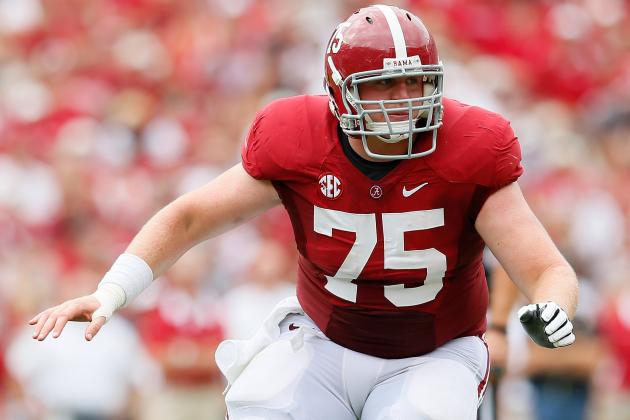 Kevin C. Cox/Getty Images

And the Arizona Cardinals' pass protection issues continue.
Having allowed 23 sacks through only five games, the Cards are on pace to give up over 70 sacks this season.
Yikes.
It doesn't matter how elite a team's receivers, quarterbacks or running backs are. If the offensive line can't be consistently reliable, then overall offensive production will significantly lack.
So, getting a top linemen in Alabama's Barrett Jones eases some of that pressure applied up the middle. Jones is well-versed as a run and pass blocker and is quite versatile, as well. He's contributed everywhere across the line of scrimmage and that dynamic gives Arizona a competitive advantage.
Whether it's extended running lanes or that extra one-half second of pocket protection, the Cardinals must upgrade the line to complement their improving defense.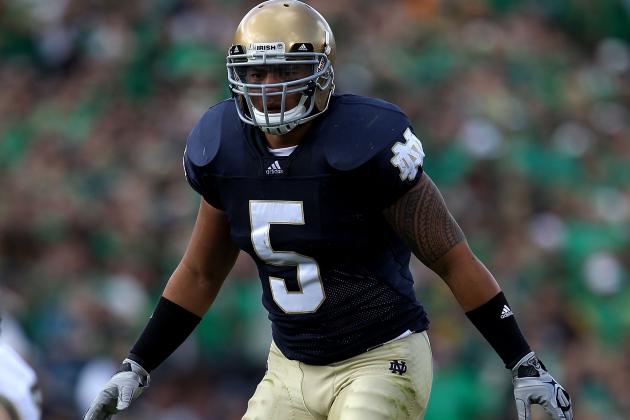 Jonathan Daniel/Getty Images

For the Pittsburgh Steelers to remain among the elite defensively, preparing now for the future is imperative.
In other words, drafting Manti Te'O to control the interior of Dick LeBeau's 3-4 defense.
Larry Foote can undoubtedly still play at a high level, but getting Te'O in 2013 will allow him to develop before fully taking over. After all, Foote is 32 years old and it couldn't hurt Pittsburgh to add some more talented youth and depth to its front seven.
Te'O is a flawless tackler, possesses arguably the best instincts of any college player and is a true leader. His mental toughness suits The Steel City emphatically well and he's an even better pass defender.
The Steelers need to replenish defensively at some point, so landing Te'O ensures strong reliability down the road.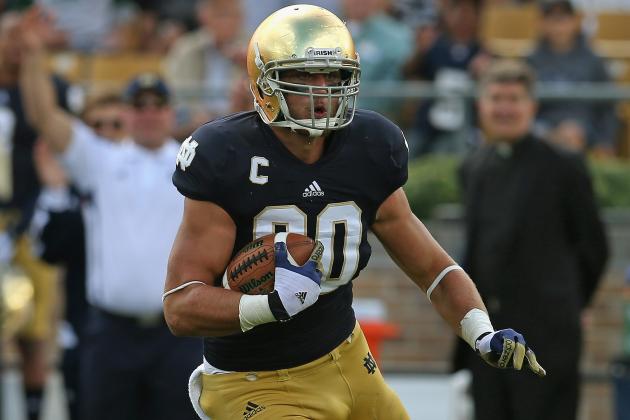 Jonathan Daniel/Getty Images

Eli Manning possesses the ability to make any group of receiving targets better.
He's proven that throughout his career and this season has been no different.
One area where the Giants have to upgrade, though, is tight end. Notre Dame's Tyler Eifert is among the best in college football and he's a complete player, as well.
With the size to out jump any defender in man coverage, Eifert's has the receiving skill set to draw an occasional double coverage: No linebacker will blanket him one-on-one.
Additionally, Eifert plays a key role in the Irish's rushing offense. New York is eerily similar in fielding a balanced attack and Eifert's run-blocking ability will extend lanes and/or seal edges for Ahmad Bradshaw and Co. to produce.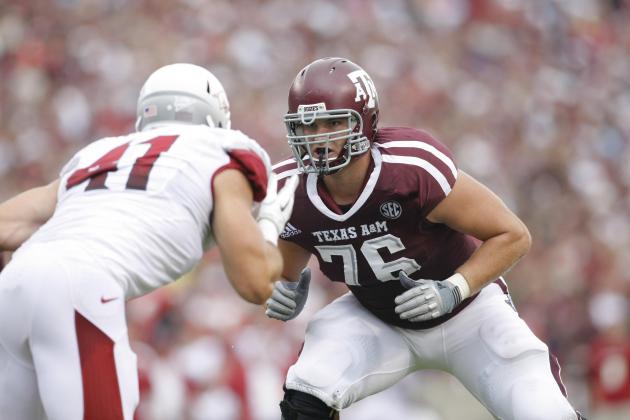 Brett Davis-US PRESSWIRE

Questionable penalties aside, a big reason why the San Diego Chargers fell to the Saints was pass protection.
Philip Rivers went down five times and has been sacked 14 times this season.
Unsurprisingly, San Diego's passing game hasn't been as typically explosive and an upgrade is required. Luke Joeckel of Texas A&M is among the best in college right now and the Aggies' offensive line has given up only 11 sacks to freshman quarterback Johnny Manziel.
A&M has thrown the rock 55 percent of the time when not counting Manziel's carries. Obviously his mobility plays a factor, however, the quick release of Rivers and his pre-snaps reads works well when given time to survey.
The AFC West presents some sound pass-rushing units, and if the Chargers don't improve the protection a disappointing season will happen.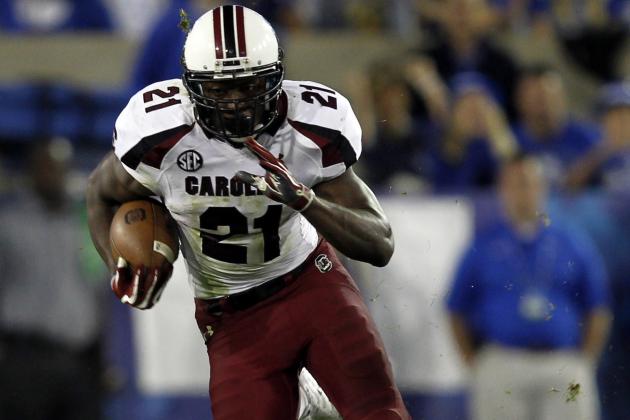 John Sommers II/Getty Images

Provided the Green Bay Packers had a more reliable running game, the passing attack wouldn't have so much pressure.
Aaron Rodgers has been sacked 21 times in 2012, so the cheese could definitely go offensive line here.
Still, Green Bay ranked just No. 20 in rushing and Rodgers is the Pack's second-leading ball-carrier with 108 yards. And when your quarterback accounts for almost 25 percent of the rushing production, the backfield must get addressed.
South Carolina's Marcus Lattimore fits because he's an every down dual-threat back who runs downhill and is a reliable pass-protector, as well. He may also be available at No. 22 since the durability concerns will always exist.
The Packers, though, desperately need a more consistent running game and doing so will take an immense amount of pressure of Rodgers and the defense.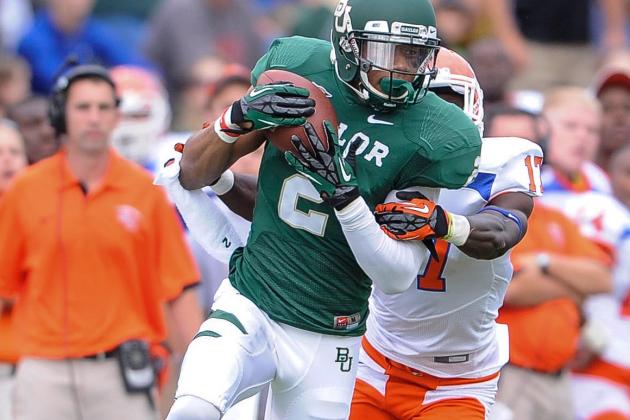 Jerome Miron-US PRESSWIRE

Christian Ponder and the Minnesota Vikings are not displaying any significant weaknesses through five games and the Vikings are 4-1 and atop the NFC North with the Chicago Bears.
One missing part is a young receiver to complement Percy Harvin and tight end Kyle Rudolph. Even as the sidekick to Kendall Wright in 2011, Williams collected 957 yards on 59 catches and scored 11 times.
Taking over the No. 1 receiver role in 2012, Williams has lived up to expectations so far with 667 yards and an average of almost 20 yards per catch. This kind of deep threat is what can take Minnesota to the next level and become a stronger NFC contender.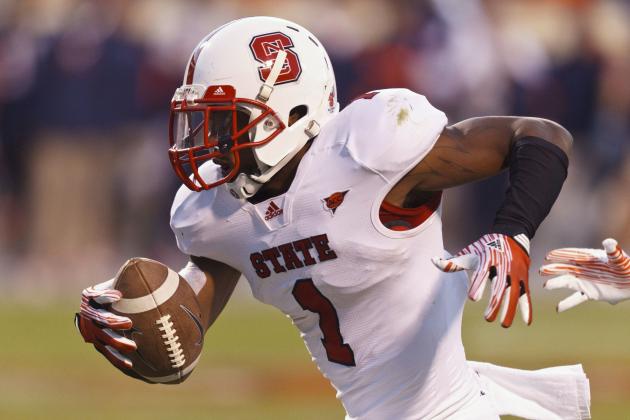 Jason O. Watson-US PRESSWIRE

The Cincinnati Bengals have just one interception through five games in 2012.
And that's with the help of a front seven which has recorded 18 sacks.
Despite the consistent quarterback pressure, Cincy's pass defense allows 230 yards per game and ranks No. 16. What's not happening is the secondary taking advantage of ill-advised throws and giving the offense additional possessions.
In turn, that played a key factor in the Bengals losing to the Miami Dolphins and rookie quarterback Ryan Tannehill last week. Getting a ballhawk like David Amerson, though, changes all that for Cincy.
Picking off 12 passes in 2011, Amerson already has three in 2012 and his 6'2" height will cause visual interference for any quarterback. The Bengals have lockdown defenders in the secondary, but someone like Amerson will make an immediate impact for gaining early momentum each week.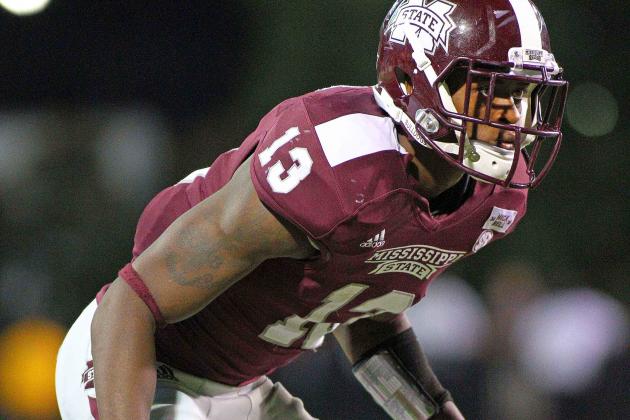 Spruce Derden-US PRESSWIRE

We saw in Week 5 how vulnerable the Denver Broncos can be against the pass.
Prior to Tom Brady's shredding, Matt Ryan and Matt Schaub also displayed this of Denver's defense.
Despite the pass rush and lock-down players like Tracy Porter and Champ Bailey, the Broncos have to get another reliable pass defender for 2013. Johnthan Banks has recorded 14 picks, defended 35 passes and made 177 tackles thus far for Mississippi State.
He possesses great field awareness, utilizes instincts to make plays and is talented enough to make an immediate impact. Include Bailey being 34 years old and cornerback can't go overlooked.
Overall, Banks is a technically sound player and he could also contribute as a punt returner.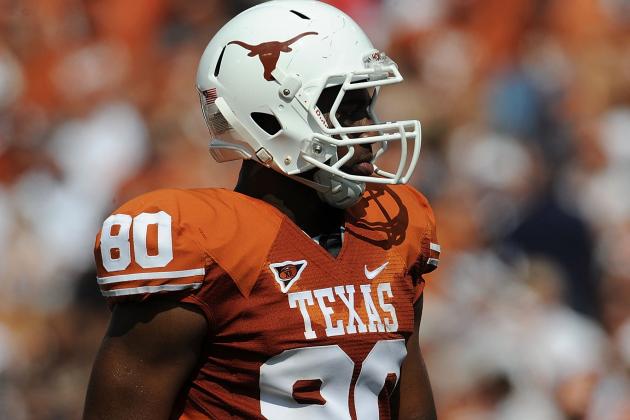 Ronald Martinez/Getty Images

Much like a few of the aforementioned teams, the Philadelphia Eagles can begin preparing for the defense's future right now.
Two defensive linemen—Cullen Jenkins and Jason Babin—are in their 30s, so planning ahead will keep Philly's front seven elite.
We know the sack-master Trent Cole has quite a bit of time left and Vinny Curry and Fletcher Cox are studs as well. Adding Alex Okafor to the mix simply keeps the Eagles excellent pass rush alive and helps take pressure off the secondary.
Unless Eric Reid is available, taking a safety here would be unlikely and there's plenty of talent to be had in the middle rounds. Okafor, though, is a great athlete capable of tracking down runners from the backside and he has a knack for forcing fumbles, as well.
Getting quarterback pressure remains the key for defensive success in pro football and Philadelphia will remain among the best by selecting Okafor.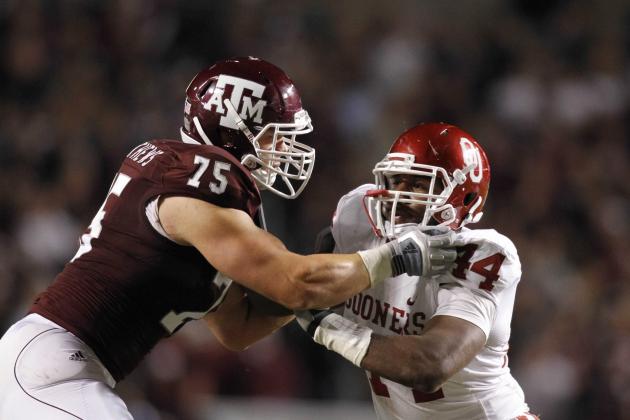 Brett Davis-US PRESSWIRE

The other side of Texas A&M's offensive line is tackle Jake Matthews.
More of a run-oriented blocker by comparison to Luke Joeckel, Matthews' talent fits the mold in Baltimore.
For starters, the Ravens will need to get younger along the offensive line, anyway. Because of veterans like Matt Birk, Bobbie Williams and Bryant McKinnie, Joe Flacco's pass protection will crumble without reliable youth and depth.
And with Matthews being a sound run-blocker, his ability to get up-field and wall off linebackers or pull across to kick out on a trap, Ray Rice's effectiveness will remain consistent. With an aggressive attitude for blocking and exploding at the snap, Matthews is perfect for the AFC North.
Provided he continues to improve at pass-blocking, Baltimore's line has no issues to worry about in the future.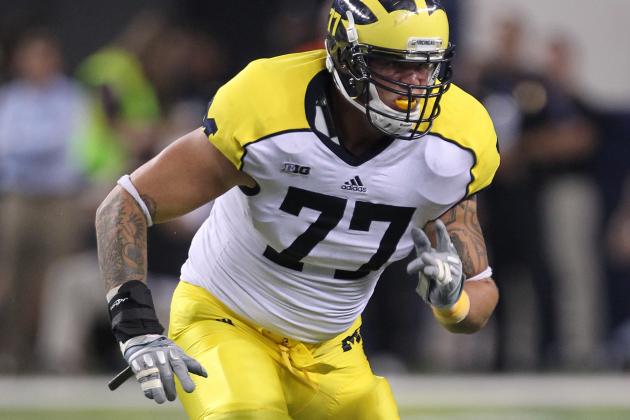 Matthew Emmons-US PRESSWIRE

Jay Cutler's pass protection was quite impressive versus the Jacksonville Jaguars.
We have to remember, though, that the Jags don't have the most capable of front-sevens.
In turn, the Bears have to bring more talent to the offensive line and Michigan's Taylor Lewan is a solid option. Lewan for one, is used to a quarterback not releasing the ball soon enough. Denard Robinson isn't the most polished quarterback, so Lewan knows how to pass protect longer than most tackles.
This season Cutler has arguably more overall talent around him at receiver and running back. If he's given more time to survey a defense, Chicago's offense will explode.
Facing other solid pass-rushing teams like Houston and San Francisco later on, adding someone with Lewan's size and experience bodes well for the blindside in 2013.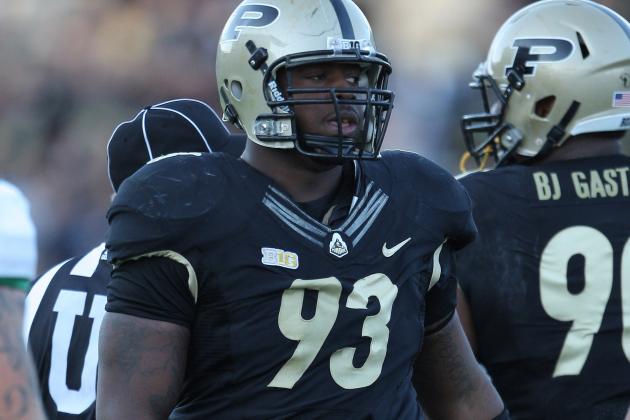 Pat Lovell-US PRESSWIRE

Stopping the run and making plays in the backfield are a concern for the Atlanta Falcons.
Ranking No. 27 in rush defense and allowing an average of 142.8 rush yards per game, the Dirty Birds need a menace in the trenches.
Look no further than Purdue's Kawann Short.
Entering the 2011 season he had 33.5 tackles for loss and he's collected eight thus far in 2012. Along with stuffing the run he can get impressive quarterback pressure and because of his awareness, knock down quick passes going underneath.
His quickness will beat any single block situation which ultimately forces a double-team. And any time a defensive tackle can make plays consistently in the backfield or draw that extra blocker, the front seven shuts down even more.
Atlanta needs this and Short will make an immediate impact.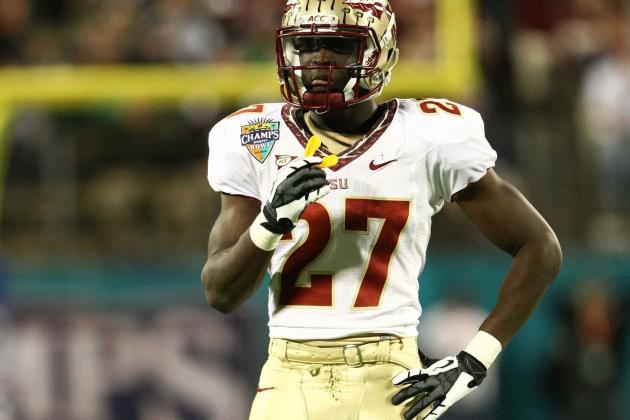 Douglas Jones-US PRESSWIRE

Had it not been for Demaryius Thomas' butterfingers, the New England Patriots would have had a tougher time against the Denver Broncos.
Even with the Broncos turning the rock over three times, Peyton Manning still diced up Bill Belichick's secondary.
Manning tossed for 344 yards and three scores to no picks and the Pats now rank No. 30 against the pass. For as stellar as Tom Brady and New England's offense is, another Super Bowl will be tough to win without reliable coverage.
Xavier Rhodes of Florida State provides blanket and playmaking abilities. Defending 28 passes thus far for the Seminoles, Rhodes has also made 122 tackles. Possessing solid size, he's dependable in man coverage, against the run and is instinctive when in zone.
The Pats are a Super Bowl caliber team, but upgrading the pass defense puts them over the top.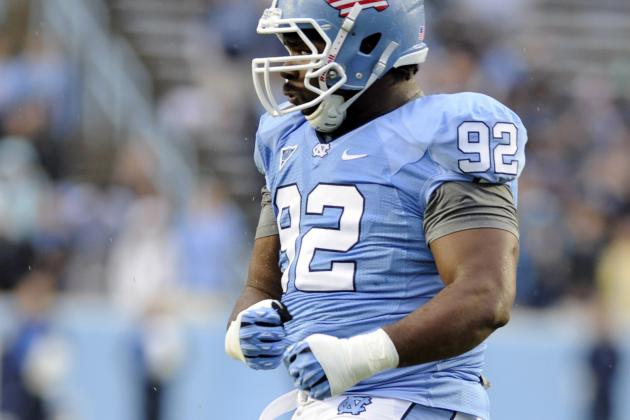 Liz Condo-US PRESSWIRE

There aren't any weaknesses in the Houston Texans defense.
But in order to remain elite it never hurts to add talented depth up front.
North Carolina's Sylvester Williams is quite capable of applying pressure. However, he's better-suited to clog running lanes and bull rush one-on-one blocking situations.
He's quicker than at first glance and can rack up tackles at the line of scrimmage. In Houston, with edge pressure players such as J.J. Watt, Brooks Reed, Connor Barwin and Whitney Mercilus, no offense can afford to let them get single blocked.
Therefore, Williams will face more one-blocker situations and simply control the interior. Possessing impressive instincts to knock down passes and shoot gaps, short-yard down and distances will be his specialty.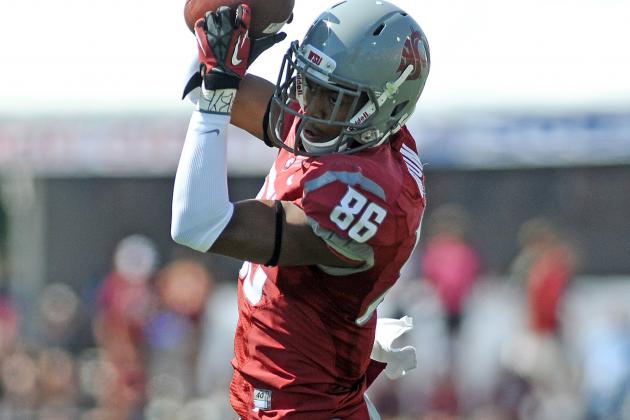 James Snook-US PRESSWIRE

Alex Smith may have tore up the Buffalo Bills, but the San Francisco 49ers still need more consistency through the air.
Residing in the Great Northwest is an underrated receiver from Washington State, Marquess Wilson.
Gaining almost 2,400 receiving yards between 2010 and 2011, Wilson also scored 18 times on 137 receptions in that span. Standing at 6'3", Wilson's ups and venus-flytrap hands will bail out any ill-advised throw from Smith.
He gives the 49ers a bigger deep threat target to stretch defenses, and Wilson's size will help with downfield run-blocking. Having already caught 34 passes for 553 yards and five scores this season, Wilson's first-round talent shouldn't go unnoticed by San Francisco.
Presenting an already sound running game, the more reliable targets for Smith when dropping back only create more problems to any opposing defense.
Follow John Rozum on Twitter.