9 of the Greatest No. 9s in Recent World Football History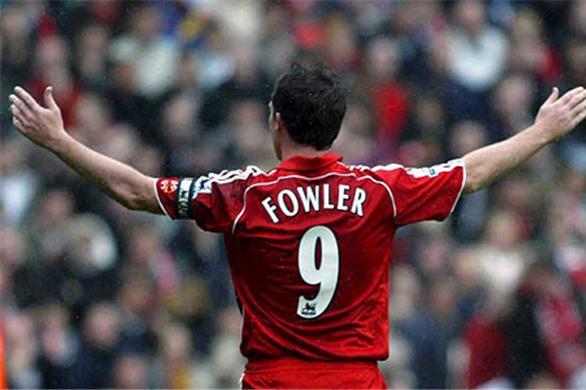 Image courtesy of blogs.bettor.com
You know what there aren't a lot of in world football these days?
Traditional No. 9s.
In my opinion, the traditional No. 9 just doesn't exist anymore.
A No. 9 used to be the focal point of the attack; a figurehead, if you will—someone whose job was to stay in and around the box with the sole purpose of scoring goals.
Those kind of players don't exist anymore. Today's strikers are more all-round players than that. They work the channels and interchange with attacking midfielders to create goalscoring opportunities for their teammates.
Even on the rare occasions where a player wears the No. 9 shirt, sometimes he's not a striker.
This list is going to run down nine of the best traditional No. 9s in world football history.
Begin Slideshow

»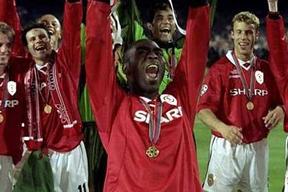 Image courtesy of telegraph.co.uk
"Goal King Cole" is the first man on this list.
Andy Cole scored goals wherever he played. Whether it was Bristol City, Newcastle United or Manchester United, he knew where the goal was. Arguably, his most prolific periods were at Newcastle and Manchester United.
Teams who played attacking, attractive football who wanted a spearhead for their attack and Cole provided that threat. It's hard not to include Andy Cole in this list, considering he scored a total of 187 Premier League goals in his career.
That's an astonishing achievement.
He's also one of the most successful players in English history, winning every club honour available to him.
Simply put, Cole knew where the goal was and is pretty underrated as a No. 9.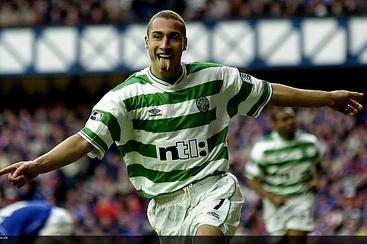 Image courtesy of voice-online.co.uk
One thing you'd always hear about Henrik Larsson was that "it's easy to score goals in the Scottish Premier League, it doesn't mean he's a class player".
To a large extent, that's true. Scottish football isn't a good standard now, and it wasn't much better when Larsson was at Celtic between 1997 and 2004.
However, his goalscoring record at Celtic was frightening; he scored 174 goals in 221 league games. The thing that makes that statistic even more impressive is the fact that the man missed almost a year of football after suffering a sickening double leg-break in a Champions League game at Lyon in October 1999, returning in May 2000.
If he hadn't been injured, it's likely that Larsson would have ended up with an average of a goal every game he played, which is impressive regardless of where he played.
If Larsson wasn't a class player, he wouldn't have ended up at two massive clubs in his mid-30s.
He won La Liga and the Champions League as part of an emerging Barcelona side full of promise before winning the English Premier League as a loanee at Manchester United.
Much like Andy Cole, Larsson is an underrated player.
He's definitely not what you'd think a traditional No. 9 would look like, but that's what he was.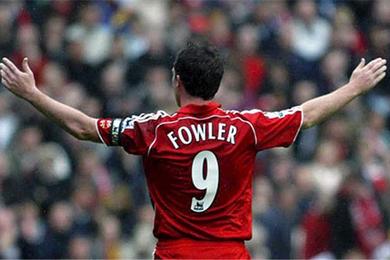 Image courtesy of blogs.bettor.com
Robbie Fowler was treated like a God at Anfield, and when I was growing up, he was my favourite player.
If it wasn't for injuries, he could have been England's greatest ever goalscorer.
His deadly left foot, his local roots and his footballing talent were like something from a bygone era when he debuted for Liverpool in 1993. He'd go on to score a total of 183 goals for Liverpool, 128 of which were in the league.
Since leaving Liverpool for Leeds in 2001, Fowler's career was blighted by a series of niggling injuries and he never recaptured the form that saw him explode on to the scene as a teenager. In the last seven years that he played in England, Fowler only scored another 46 goals.
That's a shame for someone who was so talented and, for me, personified what a No. 9 should be.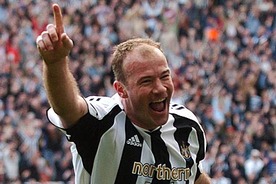 Image courtesy of guardian.co.uk
It's easy to forget in these days of inflated transfer fees that Alan Shearer's transfer to Newcastle in 1996 was for a world-record fee (at that time) of £15 million.
Off the back of an exceptional Euro 1996 and four successful years at Blackburn, which saw him collect a Premier League winner's medal, Shearer headed north to his native Newcastle where he spent the rest of his playing career.
Shearer reminded fans of a typical "English centre-forward" because of his strength and power, as well as his ability to score goals with his head. He was a bruising centre-forward who didn't like getting pushed about.
Even though he's been retired for six years, he's still the record Premier League goalscorer (by a long way!) and his international record for England was almost a goal every couple of games.
Then, of course, there was his signature goal-scoring celebration—speeding off towards his people, the raucous Geordies at St James' Park, and soaking in their adulation.
As much as Robbie Fowler was treated as a god at Liverpool, Shearer was, and still is, hero-worshipped in Newcastle.
Deservedly so.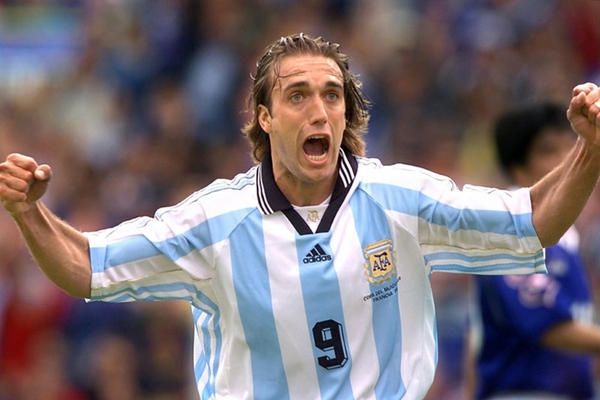 Image courtesy of singaporesoccersurvival.blogspot.com
Gabriel Batistuta was my favourite foreign player growing up.
I loved watching how he played the game. Full of enthusiasm and energy with a drive to win and an ability to score goals, he's the most prolific goalscorer in the history of the Argentinian national team and also one of the most prolific strikers in Serie A history.
He's the third striker on this list who is adored by fans of one of his former clubs, Fiorentina.
For almost 10 years, "Batigol" plied his trade for the club and is regarded as one of their best-ever players.
The surprising thing to me is that Batistuta isn't involved in the game any more.
His knowledge and experience would be so beneficial to a number of clubs across the world.
If he was good enough to be named in Fifa's 125 Greatest Living Players, he's definitely someone who should be in this list.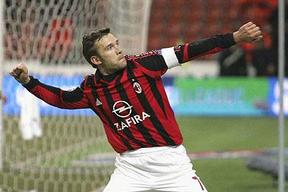 Image courtesy of telegraph.co.uk
Andriy Shevchenko would probably be the greatest No. 9 in football history if he hadn't signed for Chelsea.
Talk about the wrong club for a player—that's what Chelsea were for Shevchenko.
At Kyiv and Milan, Shevchenko was unplayable. It felt like every time he played, he'd score. The facts are there in black and white.
Only two players have scored more Champions League goals than Shevchenko and only two players have scored more goals in European club competition than Shevchenko. He's the second highest goalscorer in AC Milan history. He's the leading Ukrainian goalscorer of all time, and nobody has scored more goals in the Milan derby than Sheva.
Shevchenko scored 187 goals in 325 league games for Kyiv and Milan before he signed for Chelsea in 2006. After signing for Chelsea, he only scored 32 goals in the six years that followed before retiring earlier this year.
Despite how his career ended, Shevchenko is definitely one of the best examples of a No. 9 in recent football history.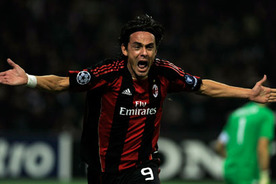 Image courtesy of guardian.co.uk
I don't think there's anything that Filippo Inzaghi didn't win during his career.
He played in his home country of Italy for his entire playing career, winning every conceivable domestic honour as well as the Champions League. He's the second-highest goalscorer in Champions League history and he's won the World Cup.
While Inzaghi might not have been blessed with blistering pace, he had what every great No. 9 needs: a nose for goals. He knew where the goal was and how to finish.
More often that not, Inzaghi was lethal in front of goal and his record, particularly at European level, is a testament to that.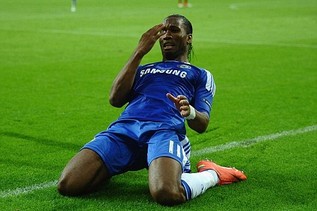 Image courtesy of metro.co.uk
The way that Didier Drogba plays reminds me of an old-fashioned striker: a no-nonsense, talismanic, strong, powerful forward who can score all kinds of goals.
Someone who drags their team to victories that they really shouldn't have earned.
The perfect example of that was the Champions League final. Let's be clear about this, it was Drogba, leading by example, who won that game for Chelsea.
His ability to hold the ball up and bring others into play is unmatched when he's on form. He's unplayable when he's in the mood.
The problem is that Drogba didn't score enough goals to be above the last player on the list.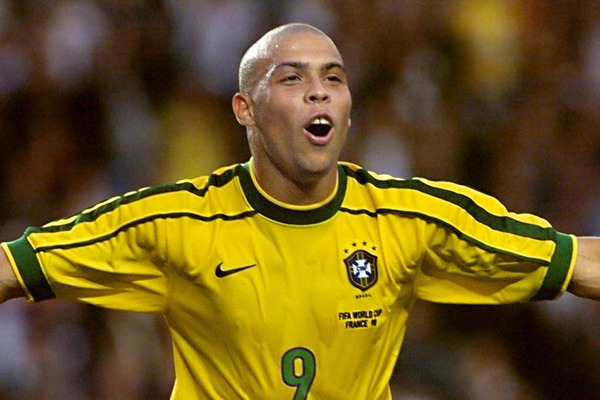 Image courtesy of anmeuser.wordpress.com
No, not Cristiano.
I'm talking about Brazilian legend Ronaldo, record World Cup goalscorer and one of only a few men to play for both of Spain's major clubs (Barcelona & Real Madrid) and both Milan clubs (AC & Inter).
He's a man who scored goals no matter where he played, no matter what level he was playing at. That's something you can't teach and something that can't be copied.
The latter part of his career might have been blighted by injuries, but there's no denying his talent and ability in front of goal. If you were to ask someone who you think of when you think about a No. 9, Ronaldo would probably be the answer.
An outstanding talent, player and goalscorer, and definitely one of the top nine greatest No. 9s in recent football history.