The 10 Most Dangerous Duos in the NHL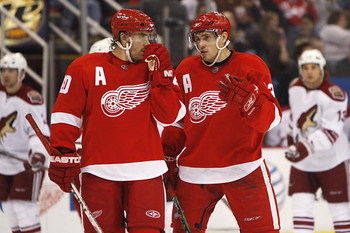 Dazzling Duo. Gruesome Twosome. Bash Brothers. Double Trouble.
It doesn't matter what you call them, the fact is in the NHL there is usually a pair of prolific players behind a successful team. Players who have found a way to work together, feed off each other, and are able to share the load of expectations put on them by fans and coaches alike.
It's not always offensive players who team up to lead their team to victory either. Defensive and goaltending tandems have been proven to be just as lethal when the right opportunity arises.
This year there are plenty of teams who may claim to have a twosome you ought to keep your eye on, but the following duo's stand out amongst the rest this year.
Here are the Top Ten Duos in the NHL right now.
10. Zdeno Chara and Dennis Wideman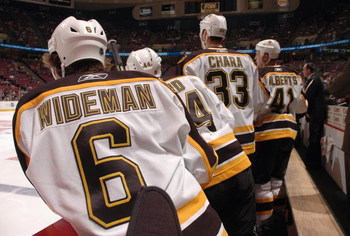 To say Zdeno Chara is a scary defender would be an understatement. Pair him up with budding star Dennis Wideman and you've got yourself the perfect defensive pairing, at both ends of the ice.
It is no secret that Chara is the most feared defender in the league, and for good reason. With his mammoth body (6'9", 255 lbs) he can throw some of the most bone-crunching body checks you will ever see, and with his strength he is able to unload wicked slap shots from the point. Wideman (6'0", 196 lbs) is nowhere near the shocking size of his fellow Bruin, but is able to bring just as much to the table with his speed, physicality, and ability to get pucks to the net from the point.
The Boston Bruins are first in the league in goals against with a meager 155 GA over the 67 games they have played this year. Clearly these two have had a large role in keeping those pucks out of their net, but they have a tendency to put it in opposing net as well.
Both Chara and Wideman are top ten for defenders in points and goals, (Chara: 16 G, 40 P, Wideman: 12 G, 44 P) so it's clear they have both ends of the ice on their mind.
This defensive duo, one tall, one wide, is a major reason why the Bruins are sitting on top of the Eastern Conference.
(Honorable Mention to Rob Blake/Dan Boyle and Nicklas Lidstrom/Brian Rafalski)
9. Jonathan Toews and Patrick Kane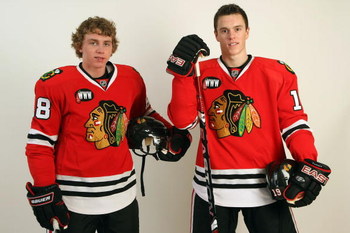 So young, but so good.
Jonathan Toews and Patrick Kane have had an immediate impact on the success of the Chicago Blackhawks. The 'hawks duo is at the top of team scoring with 57 and 58 points respectively, and they don't plan on stopping anytime soon.
Kane started the season on an absolute tear and Toews has picked up the pace in the past few weeks making him one of the hottest players in the league right now.
This duo has the potential to do great things together with the up-and-coming Blackhawks a legitimate contender in the West now, and the fans agree too. They were both voted into the Western Conference starting lineup in the 2009 All-Star Game in Montreal.
Toews was picked third overall in the 2006 draft, and was followed by Kane who was taken first overall in 2007. They were expected to be stars in Chicago, but not many believed they would achieve such a status so soon into their careers.
What is scariest about these two young guns is that this is only the beginning. They'll be tormenting defenders together for many years to come as the centerpieces of the new-look Chicago Blackhawks.
Duos ahead of them in this list should listen closely, because that sound they hear might just be these two hawks scream past them in the coming years.
8. Jason Spezza and Dany Heatley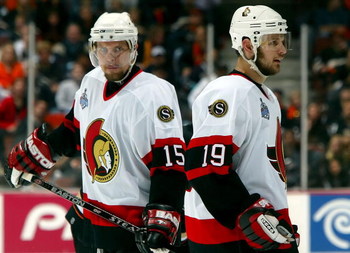 These two Senators, when put together, can be simply sensational.
Dany Heatley and Jason Spezza have been tearing through defensive lines together for years. With Spezza's stick handling skill and Heatley's ability to launch off a quick shot from anywhere, these two combine to make a scintillating security issue for goalies league-wide.
The two have had their struggles this year as Ottawa finds themselves marred in a disappointing season, but at times they can still light the lamp with the best of them.
Before this season Heatley had scored 141 goals over his first three seasons in Ottawa, and though he is struggling this year he has a solid 31 goals thus far.
Spezza has tallied over 85 points in each of the past three seasons, but is in tough to reach that mark this year with only 53 points. It would be his worst statistical season since 2003-2004.
Both had major roles in the run that put the Sens in the 2006-2007 Stanley Cup Finals against the Ducks, coming up just short in what was the beginning of the Sens string of dissapointment up to this point.
The Sens hope that both can step up their play in the final months of the season, but this tandem may be on its last gasp as trade rumors have swirled around Spezza for most of the season. One would think that if there was to be a big move in the summer, Spezza might be apart of it.
Through all the struggles they've endured this year, they still stand as one of the best duos in the NHL today.
Get these guys on the wrong night, and you're in for some serious capital punishment.
7. Daniel Sedin and Henrik Sedin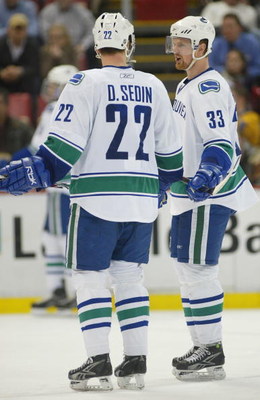 Brothers from the same mother, these twins are more than just dangerous, they're almost psychic.
When the two play it's almost like they know where the other is without ever having to look. When one scores, you can almost be certain the other assisted, and that's why the two lead the Canucks in points this season.
Daniel is generally the goal scorer, and Henrik the setup man, but neither is picky and as long as the puck is in the back of the net these Swedes are happy.
Along with Alex Burrows, the twins have combined to makeup one of the hottest lines in all of hockey in the past few weeks leading Vancouver to an 8-2-0 record their last ten games.
These guys are the real meaning of double trouble.
It's a tough enough task to tell them apart, but when you're playing against them they have other ways of making your head spin.
6. Tim Thomas and Manny Fernandez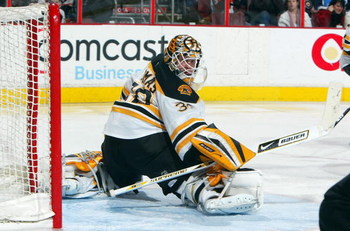 Goalie duos are not normally successful.
Which is why it's good that there is nothing normal about Tim Thomas and Manny Fernandez.
The goaltending pair has generally shared the load this year and have the Bruins sitting first in the East. Neither seems to have a problem when the other gets more playing time, they understand what they are there to do and they simply get the job done.
Thomas has a 28-9-10 record, Fernandez a 14-6-4 record, both absolutely outstanding when you think of how neither seems to be cold coming into a game after sitting on the bench for a few. While Thomas plays the majority of games, Fernandez has appeared in 24, which is more than the average backup plays. Hence, they can be considered a solid goaltending duo.
You can be sure that the Bruins are confident, as they steamroll towards the playoffs, that both goalies at the top of their game will make a long post-season run very possible.
5. Zack Parise and Patrick Elias
The New Jersey Devils have never been an offensive team. Historically they have been a team to rely on outstanding defensive play, and Martin Brodeur to shut the door behind them.
Not any more.
Gone are the days of defense winning games as New Jersey is one of the highest scoring teams in the Eastern Conference. They can thank Zack Parise and Patrick Elias for that. Both are having ridiculous seasons leading the team in scoring, and there is even talk of Parise getting MVP consideration.
Parise (38 G, 78 P) and Elias (26 G, 69 P) have taken their game to a new level in 2008-2009, and they're doing it together.
The Devils still boast one of the top defenses in the league, and with Marty B. in the net goaltending is never a problem, but times have changed and scoring is a must is the NHL.
If this devilish duo keeps up their outstanding performance, travelling to New Jersey will be like going to hell and back.
4. Jarome Iginla and Mike Cammalleri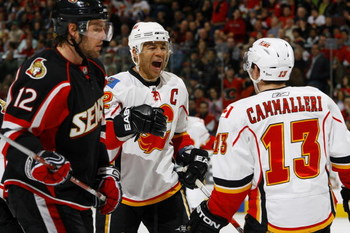 The Calgary Stampede.
That's what it's like for defenders playing against these two.
Jerome Iginla has always been a force in the NHL and is one of the best players there is, but things in Calgary have been a lot more enjoyable since Mike Cammalleri arrived on the scene. These two, along with new addition Olli Jokinen, arguably give the Flames the best first line in all of hockey.
Iginla (30 G, 78 P) and Cammalleri (34 G, 67 P) have stood out this year as one serious duo to keep an eye on during the playoffs. Iginla brings a combination of pain and finesse while Cammalleri sets up in a spot and can rocket pucks top shelf with pinpoint accuracy.
The two are the main reason why Calgary is having as outstanding season; making coach Mike Keenan's job a whole lot easier.
Opposing teams can expect to get burnt on a regular basis with these two Flames smokin' in Calgary.
3. Alex Ovechkin and Alexander Semin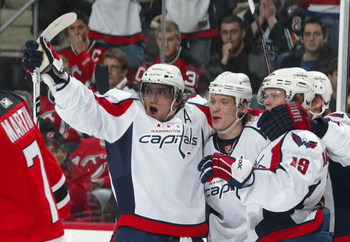 It's the greatest mystery in all of hockey.
How do you stop Alex Ovechkin?
You can't.
Pair him with fellow Russian sniper Alexander Semin and you have the scariest, most dangerous duo in the entire NHL.
These rambunctious Russians make it a habit of scoring goals, and not always standing on two feet. They've been known to score from just about anywhere on the ice, and anywhere on their body.
In the past month alone we've witnessed Ovechkin score while sliding on his back and Semin scoring from the outside of the circle while relaxing on his knees.
It's just unfair how good these guys really are. The fact that they're supposedly best friends off the ice too makes this combination that much more lethal.
The worst part for teams playing the Washington Capitals is that these two guys not only beat you every way possible, but they do it with a smile on their face.
They know they can beat you. And they know you're afraid.
With 47 goals Ovechkin once again leads the NHL in that department, and will for many more years to come. Semin, while dealing with injuries at the beginning of the year, has still been able to pot 28 goals in just 48 games.
They not only share the same first name, they tend to share in the celebration of a goal on a regular basis. Unable to stop them, unable to contain them, and unable to defend them.
Alex Ovechkin and Alexander Semin combine to make this duo one of the best in the NHL.
2. Sidney Crosby and Evgeni Malkin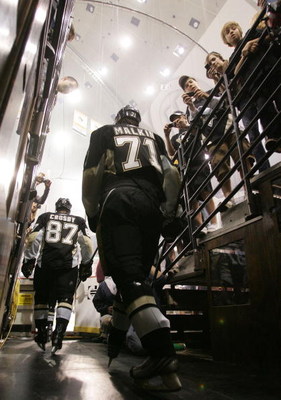 Evgeni Malkin and Sidney Crosby are first and third in NHL scoring right now.
What else do you really need to know?
This Penguin pairing has been making opposing coaches sweat on a nightly basis for a few years now, and they're not even in their prime yet.
With 94 points in 67 games, Malkin is the definition of consistent. He shows up and puts up, points that is, and he does it every game. With a laser shot and the ability to find the open man, he simply cannot be contained by just one player alone, sometimes one team alone!
Crosby, on the other hand, has the particularly difficult job of being the face of the entire NHL, and he's rather good at it. While dealing with a few different injuries this season he has still managed to put up 82 points through 62 games, average numbers for him.
Mind-boggling for the rest of us.
Like the commercial says; "Crosby doesn't quit." He is the best in the league at splitting the defense, and you could say one of his favourite hobbies is leaving goalies' jock straps somewhere in row 118. You could even make the argument that he is the best passer in the NHL.
After their shot at the cup last year came just short, you know these two have tasted what it feels like to be there, but now they want it even more. Something that the league will witness when the playoffs role around and Sid and 'Gino' are once again at the top of the scoring race in the playoffs.
Put these two together and you have a dream scenario of every single GM; two players on the same line that other teams know they cannot stop.
Scary.
1. Pavel Datsyuk and Henrik Zetterberg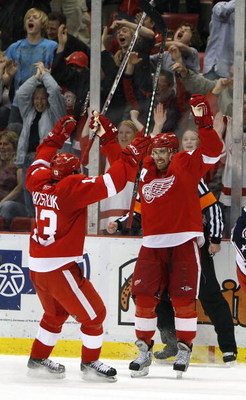 There is one thing you get when you combine these two players.
A Stanley Cup.
Pavel Datsyuk and Henrik Zetterberg dominated the 2007-2008 NHL Playoffs last year with dazzling moves and all-around unbelievable play. Not only can these two make defenders look like fools in the offensive zone, they are more than willing to play some defense in their own.
These two are so good together that it almost seems they get overlooked because it's just expected for them and the Red Wings to be one of the best teams in the league. They excel at every facet of the game, and that's when they are on their own. Put them together and you're liable to witness something you've never seen before.
Both of them are at the top of their game once again this year, and have the Red Wings in perfect position for another skate around the ice holding up Lord Stanley's Mug. If you were going to start a team with any two players, you'd want these guys.
Humble beyond belief, with a will to win that is second to none; these two Wings certainly know how to fly.
With the success that they've had together, and the way they are able to dominate a game,
Pavel Datsyuk and Henrik Zetterberg are the most dangerous duo in the NHL.
Keep Reading