The 10 Biggest Surprise Stars, Busts of the 2012 MLB Regular Season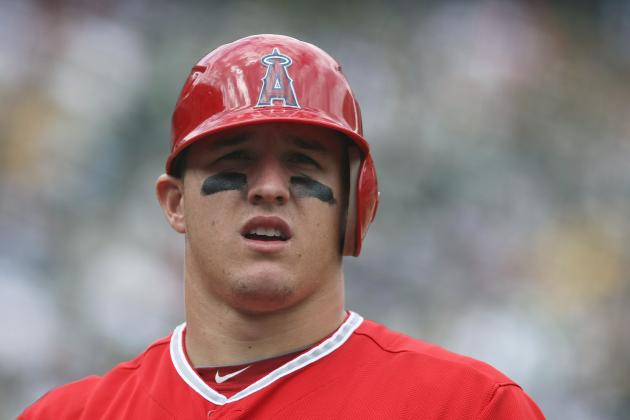 Kelley L Cox-US PRESSWIRE

With the 2012 MLB regular season over, the fans certainly have a lot to reminisce about during the upcoming offseason. 2012 was full of laughs, cries, surprises and disappointments, all of which helped the season as a whole take shape. As a result, we can only hope that 2013 can bring more of the same and then some because in 2012, some players broke out and made their early mark on the history books.
Honestly, who wasn't absolutely floored by Los Angeles Angels outfielder Mike Trout's rookie season? Here's a man who came in with so much hype and did more than answer the bell once he became a regular. He is now a fan favorite and has a potentially Hall of Fame caliber career ahead of him.
Similarly, however, some players came into the season with a lot of high hopes and left the fans disappointed. Their losses were the surprise stars' gains.
That said, with the playoffs underway, let's take a trip down memory lane and look at some of the boom and bust players of the 2012 season.
Begin Slideshow

»
Mark J. Rebilas-US PRESSWIRE

The Pittsburgh Pirates may have had yet another losing season in 2012, but the fact that they only finished four games under .500 is admirable and a sign that they are well on their way to getting back in contention.
This year, much of their success was the result of the breakout season of centerfielder Andrew McCutchen. Entering the 2012 season, it was general knowledge that McCutchen had potential as a five-tool player, but he had yet to find his consistent hitting stroke despite showing good power in 2011.
However, McCutchen had a phenomenal 2012 and is now a top candidate for NL MVP. In 157 games, he hit .327 with 31 homers and 96 RBI, plus 20 steals. Assuming he didn't overachieve, this is the start of what's going to be an absolutely amazing career for him. Seeing as how Pirates fans have been suffering for over 20 years, the fact that a player as good as McCutchen is on the team and signed through 2017 should help make future seasons ones with satisfying results and maybe, one day, a World Series championship.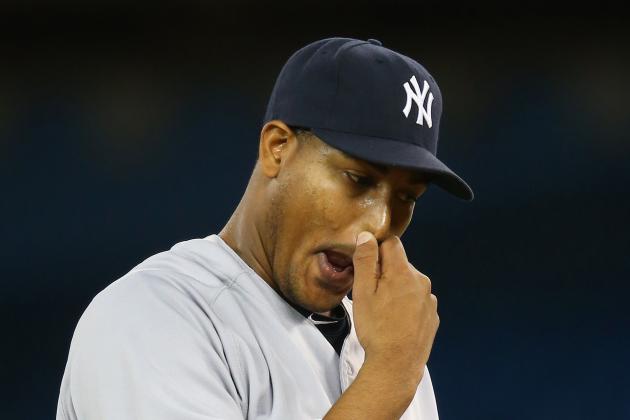 Tom Szczerbowski-US PRESSWIRE

Nova's pose in this picture says it all. In 2012, he just plain stunk. This was disappointing considering how in 2011, he went 16-4 with a 3.70 ERA and appeared primed to provide the New York Yankees with some quality years in the rotation.
Instead, Nova struggled throughout 2012, going 12-8 with a 5.02 ERA and surrendering 28 home runs. He also spent time on the disabled list with shoulder pain, which could have contributed to his lack of desirable results. The only bright spot was that he set a new career high with 153 strikeouts in 170.1 innings.
Sure enough, manager Joe Girardi left Nova off of the team's ALDS roster this year, opting to use Derek Lowe and David Phelps as the long men out of the bullpen. Fans can only hope that he returns to form in 2013.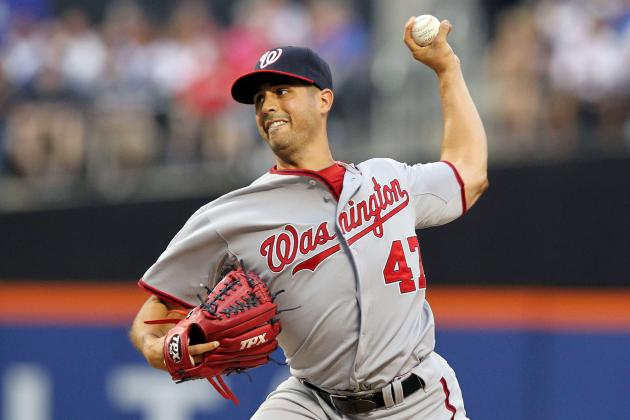 Brad Penner-US PRESSWIRE

Before the Oakland A's traded him to the Washington Nationals last winter, we knew that Gio Gonzalez had potential to be one of the top pitchers in the game. The left-hander's only problem was that he was prone to walking hitters, as he led the major with 91 issued in 2011.
However, Gonzalez broke out in 2012 and is now making a case for the NL Cy Young Award. In just 199.1 innings pitched, he led the majors with 21 wins and lost just eight games. He also posted a 2.89 ERA and 1.12 WHIP, allowing just nine home runs on the season.
Simply put, the Nationals are now a team to beat, and much of their success is due to Gonzalez being a reliable No. 2 starter behind Stephen Strasburg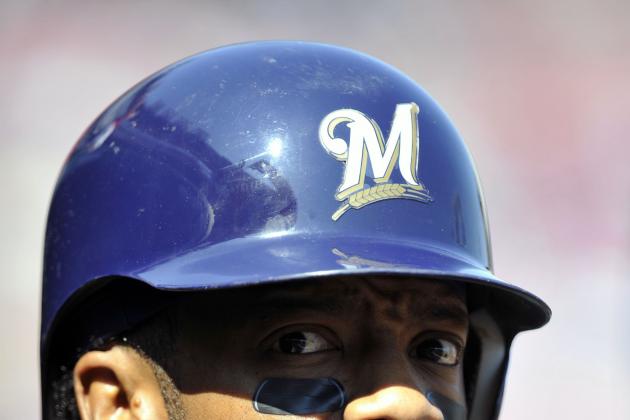 Joy R. Absalon-US PRESSWIRE

Since the Milwaukee Brewers became contenders again, fans have come to know Weeks as a second baseman who can hit for a decent average as well as provide some pop in the home run department. Two years ago, he set a career high with 29 homers and 83 RBI while batting a respectable .269.
Yet in 2012, Weeks was mired in what seemed to be a never-ending slump. He finished the season with 21 home runs and 63 RBI, but he hit just .230 and didn't start swinging a hot bat until around late July. Seeing as how Milwaukee lost a power bat in Prince Fielder to free agency last winter, Weeks' success in 2012 was critical to the team remaining in contention.
Unfortunately, he didn't find his stroke soon enough and the Brewers missed the playoffs, finishing third in the NL Central.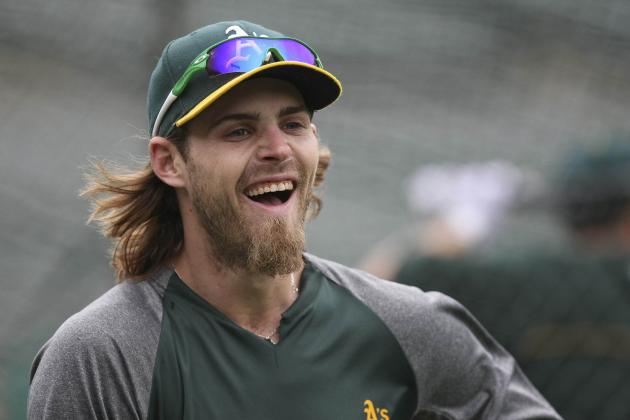 Kelley L Cox-US PRESSWIRE

A former Boston Red Sox prospect, Reddick was dealt to the Oakland A's last winter in the deal that sent closer Andrew Bailey to Boston. The lefty-hitting outfielder hit 86 home runs in five minor league seasons, but the pitcher-friendly stadium in Oakland surely meant that he would hit a lot of doubles and put up a decent average.
Reddick only hit .242 on the year, but his power from the left side of the plate surprised everyone to the tune of 32 home runs and 85 RBI, plus a respectable .305 OBP. His work with the bat was instrumental in the A's keeping pace in the AL West and ultimately winning the division on the last day of the season.
Here's hoping that his powerful streak will continue for many seasons to come, as he and Yoenis Cespedes could help turn Oakland into a team to beat down the stretch.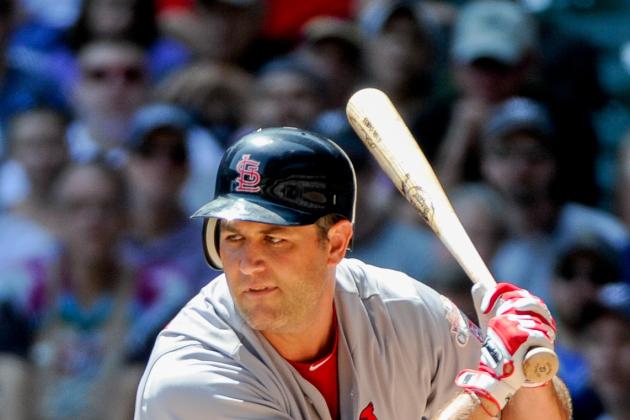 Benny Sieu-US PRESSWIRE

Following a forgettable 2010, Berkman reemerged as a top power hitter for the St. Louis Cardinals in 2011, hitting .301 with 31 homers and 94 RBI over 145 games. He played a great role in leading the team to the World Series that year and even had a clutch game-tying hit in Game 6. Sure enough, people were expecting another good season once 2012 rolled around.
Yet such was not to be. Calf and knee injuries limited Berkman to 32 games, in which he hit just .259 with two home runs and seven RBI. Given how he's 36 and will be 37 once next season starts, it's unclear as to what his future in baseball holds.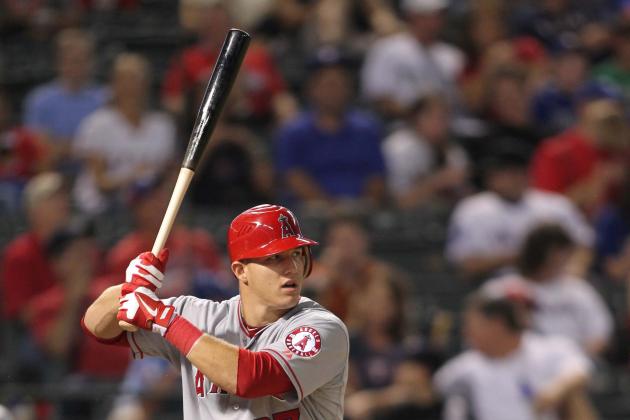 Tim Heitman-US PRESSWIRE

Trout appeared in 40 games in 2011 and hit .220 with five home runs and 16 RBI to go with four steals. At the time, he was just 20 years old and a prospect with a reputation for doing two things: hitting well for average and stealing bases with some crazy fast speed.
Sure enough, the Angels called him up in late April this season, and the man simply took the league by storm. Not only did Trout bat .326, but he also smacked 30 dingers and drove in 83 RBI while also leading the majors with 49 steals and 129 runs scored.
Needess to say, the man is going to be the unanimous choice for AL Rookie of the Year, and depending on how the votes go, he could also become just the third player to win both that honor and AL MVP, the other two being Fred Lynn and Ichiro Suzuki.
Ed Zurga/Getty Images

Jeff Francoeur is 28 years old, has been an MLB regular since 2005 and he still can't seem to understand the importance of a high OBP. The sad part is that he seemed to finally get the message last season, his first with the Kansas City Royals.
In 2011, he hit .285 with 20 home runs and 87 RBI to go with 22 steals, and his OBP was a respectable .329. It wasn't the best number he could have posted, but he at least appeared to be on the right track.
Unfortunately, he regressed in 2012 and hit just .235 with 16 home runs and 49 RBI in 148 games. He stole just four bases and his OBP was an atrocious .287. The only redeeming factor was that he registered 19 outfield assists, as his rocket arm has never let him down.
Yet the fact that he Royals still owe him $7.5 million next season makes him a Grade-A bust.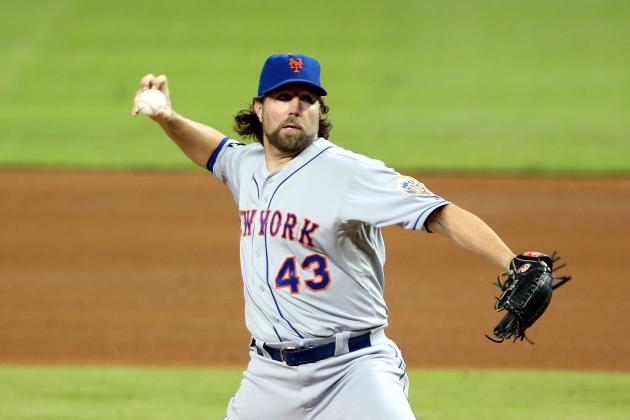 Marc Serota/Getty Images

We all know the story with knuckleballers. Their careers last longer than the average pitcher, they don't throw very hard and their numbers are usually average, albeit not great by any means. In terms of how they perform in a game, they either do really well or get absolutely shelled.
In 2012, however, Dickey raised the bar for all knuckleballers. Pitching for the New York Mets, the 37-year-old went 20-6 with a 2.73 ERA and led the NL with 233.2 innings pitched and 230 strikeouts. He also tossed five complete games, three of which were shutouts, and posted an incredible 1.05 WHIP.
That said, it's going to be interesting to see how his future plays out. The Mets hold a $7.5 million option on his contract for next season and have yet to make a decision on whether or not to exercise it. If team GM Sandy Alderson wants to keep the team moving in an upward direction, he'll be wise to make sure that no other teams try and lure him away from Flushing, Queens for the 2013 campaign.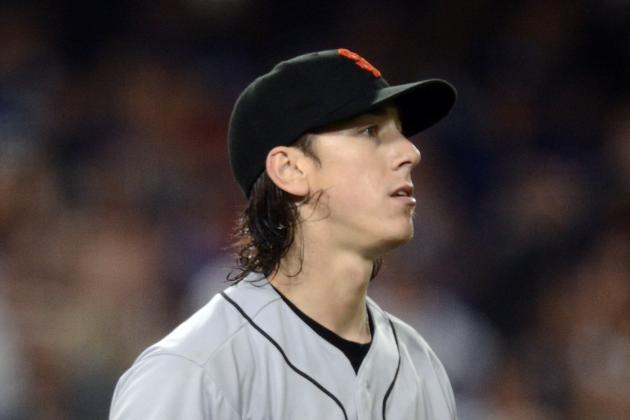 Harry How/Getty Images

Two years ago, Lincecum was the winning pitcher of the clinching game of the 2010 World Series and was also a two-time NL Cy Young Award winner. Yet this postseason, he finds himself in the bullpen. Why?
Well, the sad truth is that Lincecum had a horrible 2012. The lanky righty known as "The Freak" went 10-15 with a 5.18 ERA and atrocious 1.46 WHIP. He led the NL in losses and earned runs allowed, of which he gave up 107, and he also led the majors with 17 wild pitches.
Do those look like the stats of someone with two Cy Youngs and a World Series ring? I sure don't think so.