NFL Studs and Duds for Week 5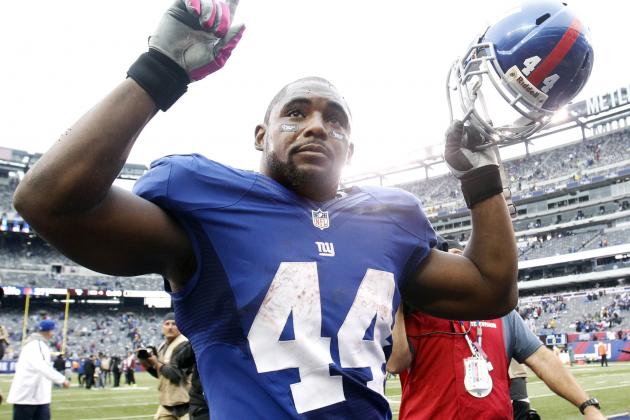 The Star-Ledger-US PRESSWIRE

In Week 5 of the 2012 NFL season, we saw a wide array of fantasy football performances. Some sleepers came up huge, while some big names failed to produce much at all.
Often, these players win and lose us games. All it takes is for your best player to struggle, and it could be a notch in the loss column.
On the other hand, a surprise breakout performance can win a game. Which players hurt or helped you in Week 5 with their surprising performances?
Begin Slideshow

»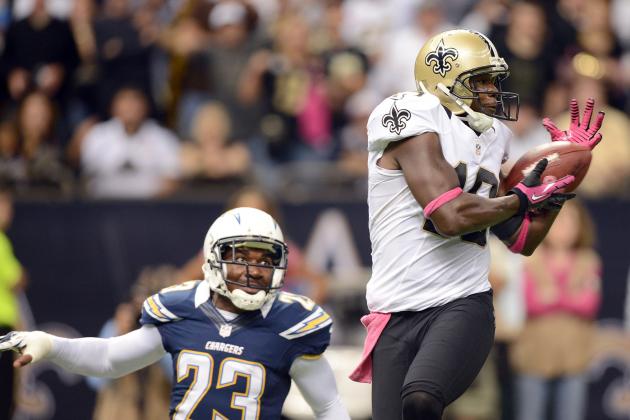 Harry How/Getty Images

With nine catches, 131 yards and three touchdowns, Marques Colston had an incredible game. This is essentially the gold standard for wide receivers.
Colston is usually a solid fantasy player—especially in points-per-reception leagues—but he's rarely this dominant. This game certainly propelled many an owner to victory.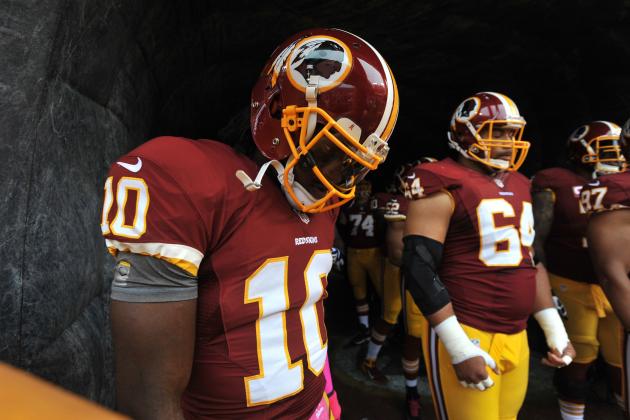 Larry French/Getty Images

This isn't entirely Robert Griffin's fault, as a concussion forced his early exit, but Griffin put up little production in Week 5. Throwing for under 100 yards with no touchdowns, Griffin struggled prior to his injury.
The Washington quarterback certainly hurt many teams' victory hopes with his distinct lack of fantasy points. The injury certainly didn't help matters, but his lackluster performance was the root issue.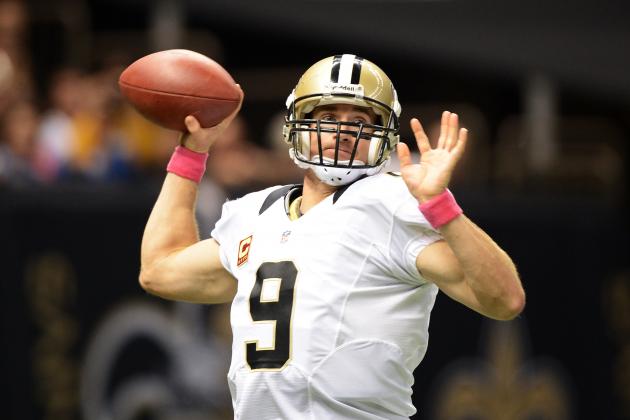 Harry How/Getty Images

In his record-breaking performance, Drew Brees threw for 370 yards and four touchdowns, racking up fantasy points in the process. Brees is expected to put up big numbers, but this was a huge game even for him.
Only an interception blemished Brees' otherwise-spotless performance. This type of production will carry a fantasy team to victories week in, week out.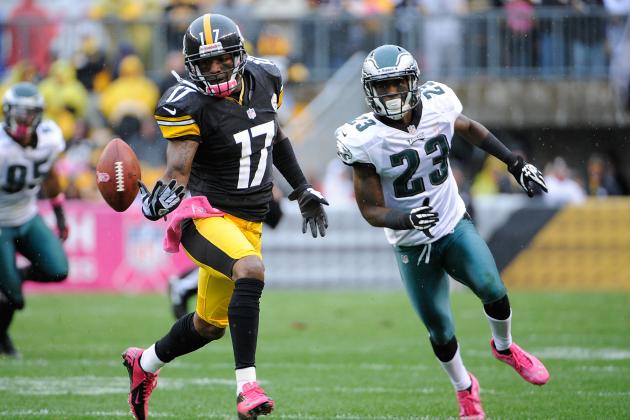 Joe Sargent/Getty Images

The usually explosive Mike Wallace was decidedly contained against the Eagles, catching just two passes for 17 yards. Not exactly a game-changing performance.
Wallace can make big plays against any defense, but the Philadelphia unit seemingly shut him down. Though the speedy wideout isn't an elite fantasy receiver, he is expected to do much more than this.
Jason O. Watson/Getty Images

Playing against a horrible Buffalo defense, Alex Smith passed at will. He completed 18 of his 24 passes for 303 yards and three touchdowns. How's that for a dominant performance?
Odds are not many owners are starting Smith. Anyone who was, though, probably wasn't anticipating a huge performance, but Smith came through, carrying many teams.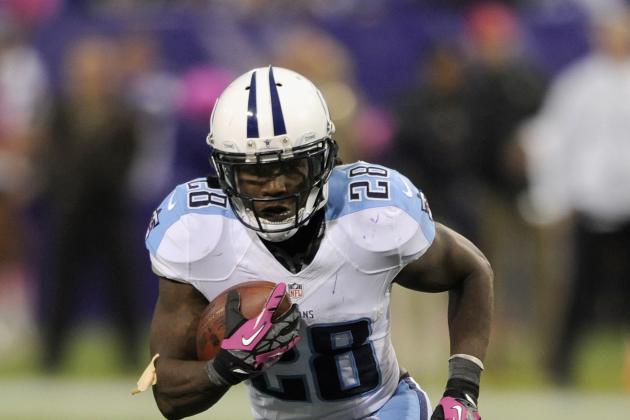 Hannah Foslien/Getty Images

Wooh! Chris Johnson finally looked like . . . Well, the same Chris Johnson we've seen all year. After all, he gained a jaw-dropping 24 carries on 15 yards.
At this point, it's impossible to be surprised by Johnson's weak showings, but many owners are certainly hoping for rebounds. Though that may eventually happen, Johnson is currently doing a great job of continuing to lower expectations.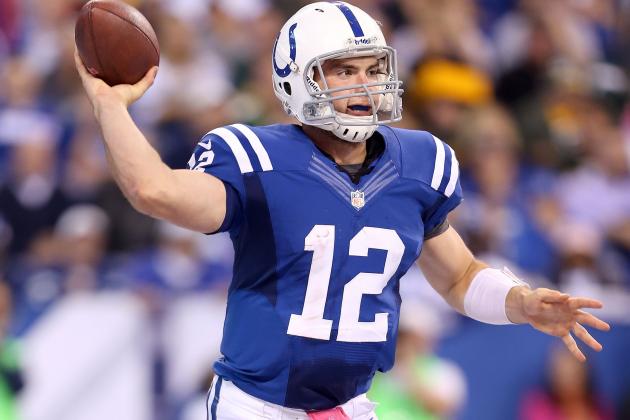 Andy Lyons/Getty Images

Once again, Andrew Luck didn't a complete an overly high percentage of his passes, and he tossed an interception, but he threw for a lot of yards. And that's often what racks up fantasy points.
Luck also picked up two touchdowns as the Colts upset Green Bay in a down-to-the-wire contest. Anyone starting Luck was once more given an above-expectations performance.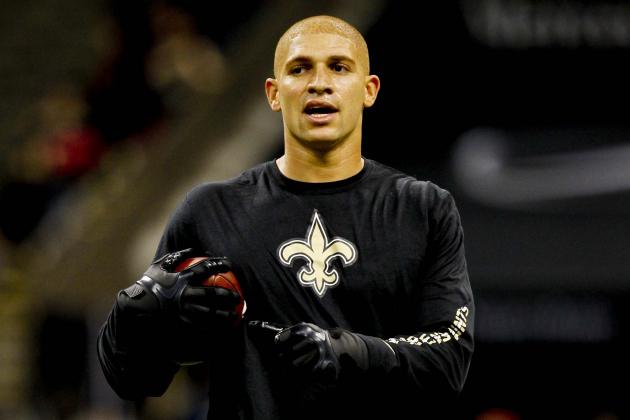 Derick E. Hingle-US PRESSWIRE

Playing against the Chargers, Jimmy Graham built upon a disappointing body of work for the 2012 season. Graham's one catch for four yards was almost useless to his fantasy owners.
Even a bottom-end fantasy tight end will outproduce this by quite a bit, highlighting just how bad Graham was. Graham owners got nothing out of the tight-end spot.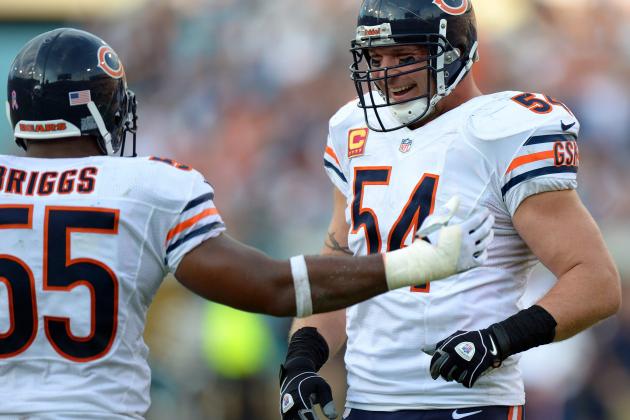 Jake Roth-US PRESSWIRE

Chicago's defense forced three turnovers—two of which went back all the way for touchdowns—and allowed just three points. The special teams didn't add much to the fantasy equation, but it didn't need to.
This was the type of truly dominant defensive performance that doesn't come around too often. Any time a fantasy owner gets this out of his defense, he should be simply ecstatic. These types of points are never expected there.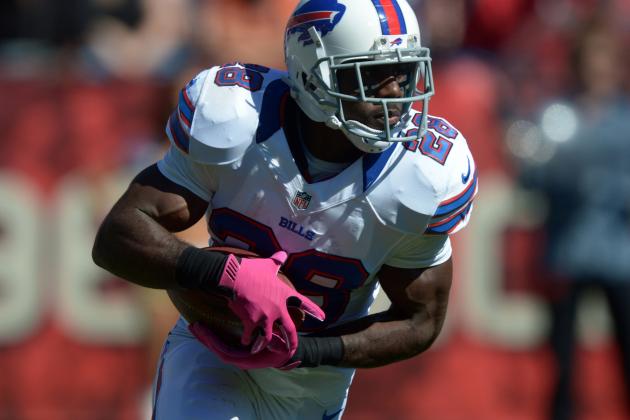 Kirby Lee-US PRESSWIRE

With Buffalo getting crushed by the 49ers, C.J. Spiller wasn't privy to many carries. In fact, he touched the ball just seven times, gaining only 24 yards.
Spiller has been a fantasy beast throughout 2012, but that clearly wasn't the case in Week 5. He provided awful production at the running back spot.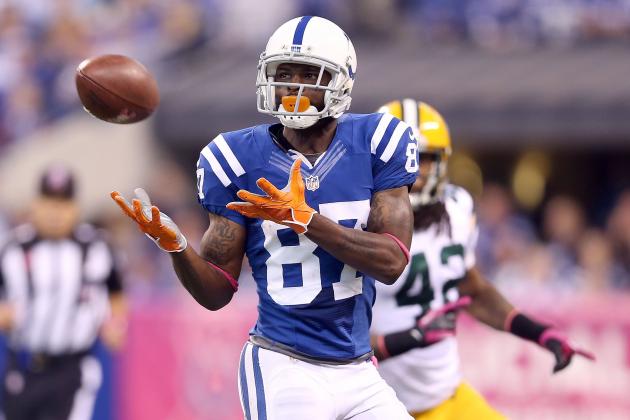 Andy Lyons/Getty Images

Thirteen catches, 212 yards, one touchdown. Not a bad game. Reggie Wayne has proven he still has it in 2012, with his Week 5 performance leaving a particularly large impression.
Wayne is generally a solid, consistent fantasy wideout, but this was simply a huge performance. Add another touchdown or two, and this is the receiving game of a lifetime. Even without, it's still game-changing in a close fantasy matchup.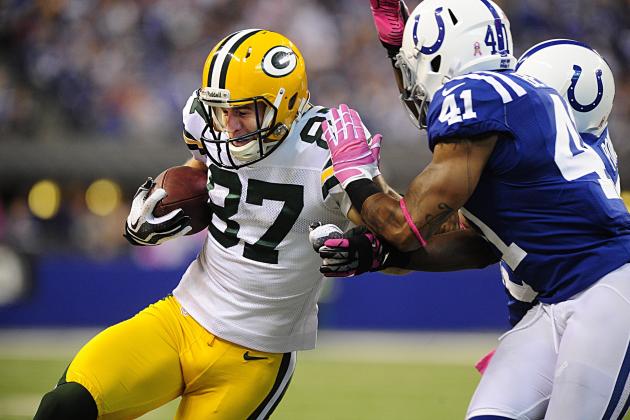 Thomas J. Russo-US PRESSWIRE

Two catches for 29 yards is disappointing for anyone you're starting, much less someone you drafted early. And if you own Jordy Nelson, you probably picked him pretty early.
Nelson simply didn't show up against the poor Indianapolis secondary, though Aaron Rodgers missing him on a deep pass didn't help. In Greg Jennings' absence, Nelson didn't live up to the hype.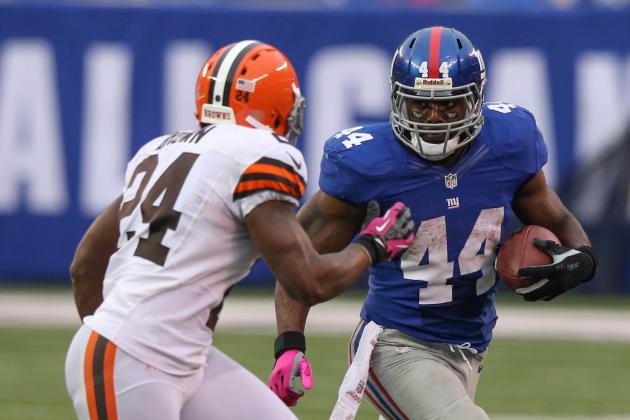 Anthony Gruppuso-US PRESSWIRE

Only a lack of multiple touchdowns kept Ahmad Bradshaw from having a huge fantasy football performance. 30 carries and 200 yards still makes for a terrific game, though.
Cleveland's defense could do nothing to stop Bradshaw, as he ran at will against the Browns. Most people are expecting merely average production from Bradshaw, so they were pleasantly surprised with a fantastic game.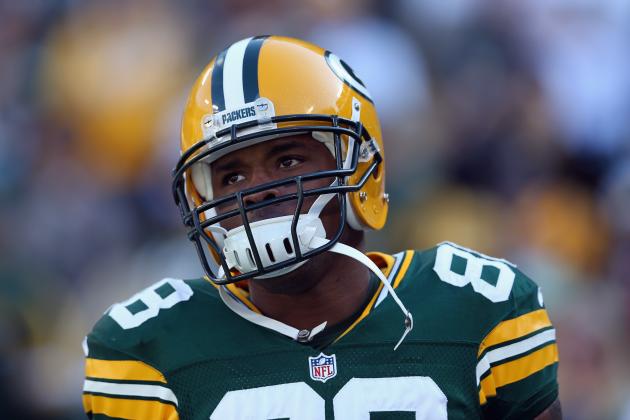 Jeff Gross/Getty Images

Though he left Green Bay's game in the second half with a shoulder injury, Jermichael Finley didn't contribute much in fantasy football. His three catches for 11 yards were almost useless.
This is an incredibly disappointing performance for a talented player in an offense missing its No. 1 wideout. Finley simply failed to show up like he was expected to against a poor Colts defense.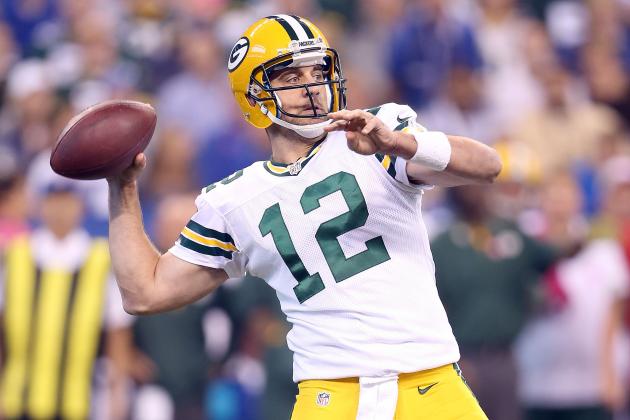 Andy Lyons/Getty Images

Aaron Rodgers actually struggled some, but he had a great fantasy football performance. Three passing touchdowns and 57 rushing yards are a good start for a quarterback.
Though this wasn't a great game by Rodgers' standards, it was still one of the best quarterback performances of Week 5. Rodgers exceeded the expectations he had previously set this year.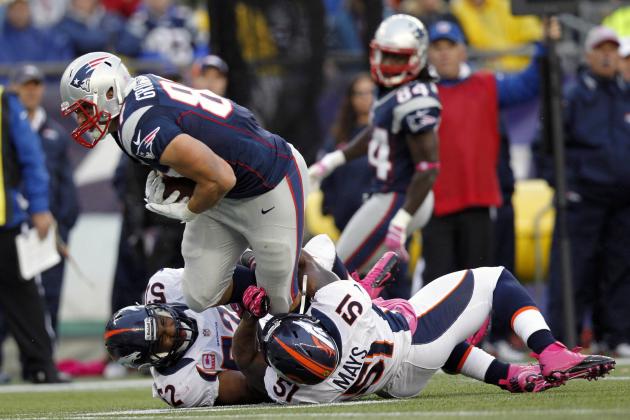 Greg M. Cooper-US PRESSWIRE

Four catches for 35 yards is such a bland performance, especially for a star tight end like Rob Gronkowski. Like fellow dud Jimmy Graham, Gronkowski was an early-drafted tight end who has struggled so far in 2012.
The Patriots star is failing to make much of an impact, and he isn't reaching the end zone nearly as often as he did last year. He's been a huge disappointment for owners.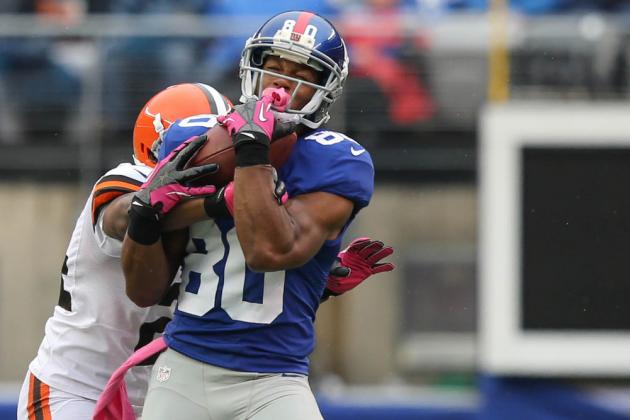 Anthony Gruppuso-US PRESSWIRE

An otherwise lackluster performance by Victor Cruz was made spectacular because of three touchdowns. Fortunately, three touchdowns will make up for quite a bit else.
Cruz dominated Cleveland's secondary close to the end zone, scoring at will. Even a five catch, 50 yard performance looks great with three touchdowns.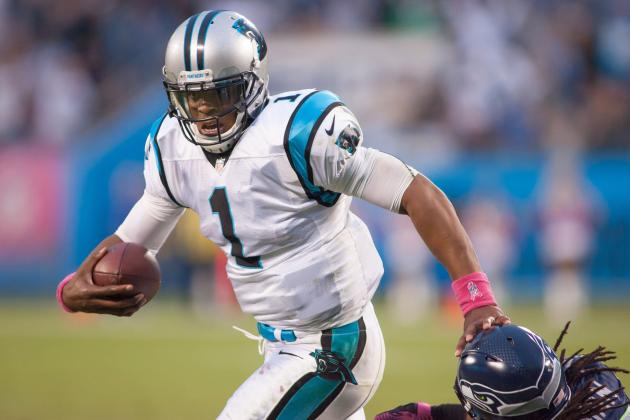 Jeremy Brevard-US PRESSWIRE

With less than 200 total yards and zero touchdowns, Cam Newton really came up short of expectations in Week 5. There is no value in a performance like that.
Newton's struggles likely cost many overconfident Newton owners their games. He was likely drafted far too early to have games like this.
Jim Rogash/Getty Images

Peyton Manning was simply dominant, completing 31-of-44 passes for 345 yards and three touchdowns. Unfortunately, Manning fumbled once, taking away from an otherwise flawless fantasy football performance.
Manning has continued to improve in 2012, and this type of game is starting to become expected. However, it's still a huge game for one of the non-first-round quarterbacks.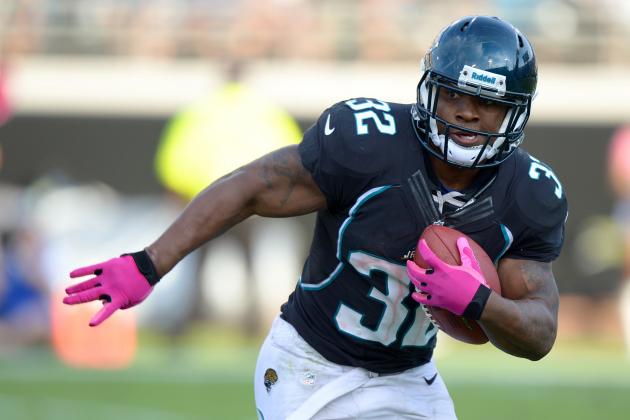 Jake Roth-US PRESSWIRE

Maurice Jones-Drew was fairly successful on the ground, but his lack of carries significantly limited his total output. Totals of 59 yards and no touchdowns aren't doing much.
This wasn't at all MJD's fault. The Jaguars fell behind in a hurry and had to throw the ball. It's yet another unfortunate situation in which the surrounding team kills a star's fantasy value.