San Francisco 49ers: 10 Things They Must Improve on for a Super Bowl Run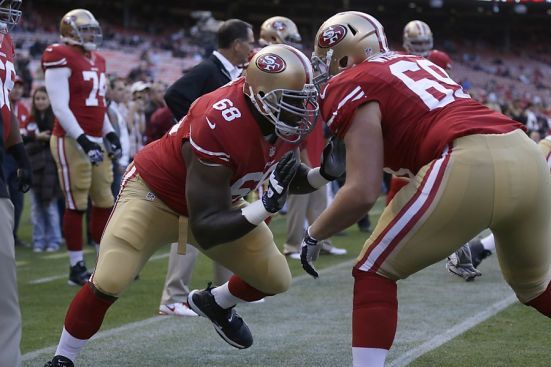 After a 45-3 shellacking of the Buffalo Bills preceded by a 34-0 shutout of the Jets, it might seem as if the title of this article is a poor attempt at dark humor. Quite frankly, this list will seem a little hypercritical at times. But, it should be noted that these two blowouts came at the hands of poor teams.
The way the 49ers play football on both offense and defense is sort of like watching an 18-foot green anaconda take on an adolescent Peruvian jaguar. Most of the time, the snake strikes with the full force of its 250 lbs, stuns the jaguar, and then, quickly constricts it to death with little struggle. Sometimes, it seems to miss with its initial strike and is forced to struggle for a while before slowly squeezing it into oblivion.
The way they play offense is more like watching a fat, lazy male lion lie around most of the day except for the occasional quick burst of impressive speed and power to take down a wounded zebra straggling toward the back of the harem.
So, it has not always been pretty for the 49ers despite their 4-1 start. When the goal is the Super Bowl title, there's always something that could be buttoned up just a little bit no matter how good you are.
Begin Slideshow

»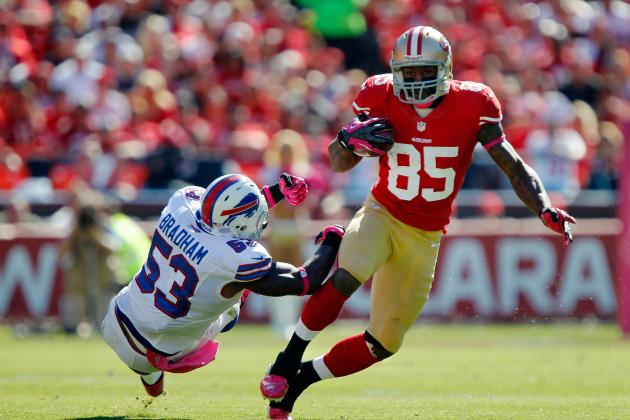 Brian Bahr/Getty Images

The 49ers were arguably as creative on offense coming into this season as any team in the NFL. The emergence of Colin Kaepernick has allowed even more of that creativity to show. The 49ers have certainly shown an increased ability to generate large chunks of yardage on offense, and they have many more weapons in which to do so with.
However, a significant chunk of this has come against two horrible teams in Buffalo and the Jets. The same offensive firepower that had been on display the past two weeks was even largely absent for most of the first halves of both games. In Green Bay and against Detroit, the 49ers won but did so with a much more methodical, conservative attack that physically wore down the opponents.
The point is that the 49ers can be very dynamic on offense at times and very ordinary at other times. The 49ers need to continue improving their consistency in the passing game against good defenses in order to keep that dynamic, creative element of their offense in play.
They've shown they can do so against poor pass defenses; the next step along the path to the Super Bowl is to show that they consistently do the same against some of the better ones in the league.
Adam Bettcher/Getty Images

This is pretty straightforward, really. David Akers missed a couple of kicks against the Jets, one of which looked like he might have simply misread the wind, and he had one blocked against the Vikings that was due to poor blocking. Other than that, the kicking game has been all one could ask for.
The return game has been solid, if not spectacular. Kyle Williams looks like he's quickly making Ted Ginn Jr. irrelevant on both kickoffs and punts. Kendall Hunter leaves a little to be desired when he assumes kickoff return duties, but this is a nice problem to have since they have two other viable options here, and the truth is that the 49ers don't receive a whole lot of kickoffs.
Coverage has been another issue, and it reared its ugly head today on a couple of long returns where it appeared that lane integrity was completely abandoned on one half of the field.
The punt coverage unit has looked normal at best, with a 23.6 yards-per-return average. Kickoff coverage has looked equally suspect at times, to the tune of 30 yards per return. On days when the offense appears stagnant, the coverage units are going to play huge roles in keeping the field-position battle manageable for the defense during close games.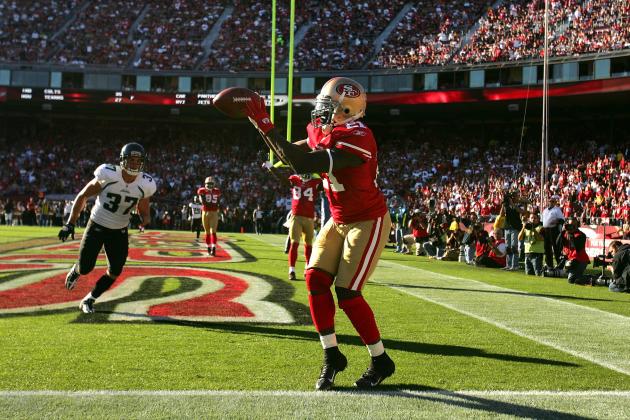 Ezra Shaw/Getty Images

This is hypercritical to say the least, given that the Niners have absolutely dominated on the ground this season. They've averaged somewhere in the neighborhood of 375 rushing yards per game with a long trail of ruptured spleens and cracked floating ribs in their wake.
That is how it seems at this point in the season. However, the team's running backs only have a combined total of 11 receptions out of the backfield. They haven't been needed in this area for the most part, but if there is one thing this group could improve upon, it's involvement in the passing attack.
And that goes for their pass-blocking as well. Gore is as good as they come, but it would be nice to see him stop chop-blocking during a big play, something he did at a crucial point last season against Baltimore and again on Sunday against Buffalo.
Kendall Hunter is the one who I would like to see get some more touches in the passing game, if even on some screens or quick swing passes. He has only three receptions at this point and giving him a few looks per game through the air gives defenses one more thing to prepare for—a list that is starting to grow very long.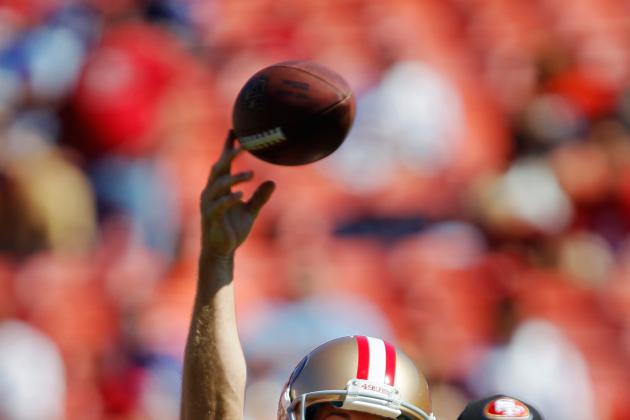 Brian Bahr/Getty Images

Alex Smith has made a lot of improvements in his game throughout the years and at an accelerated rate since the beginning of last season.
But, if there is one deficiency he has to correct, if for no other reason than for pure aestheticism, it's his habit of making some of his deeper passes look like he's throwing a water-logged rugby ball. Sometimes, they look like a well-placed punt from Andy Lee.
I mean, is it too much to ask for Smith to throw a tight spiral with some velocity on it that travels more than 15 yards in the air every now and then? Truth be told, the way he spins the ball out of his hands at times shows why he doesn't take chances down the field all that often.
Without the ability to really zip the ball through a quickly closing window, he is still limited. There aren't a whole lot of quarterbacks who can consistently deliver a very catchable ball at a high velocity and with very above-average accuracy, so he can be forgiven to a certain extent.
But, it would still help the passing game and open up some more options within it if Smith can improve his ability to spin the ball out of his hand more tightly. A better spiral is easier to catch, and it gets there quicker, plain and simple.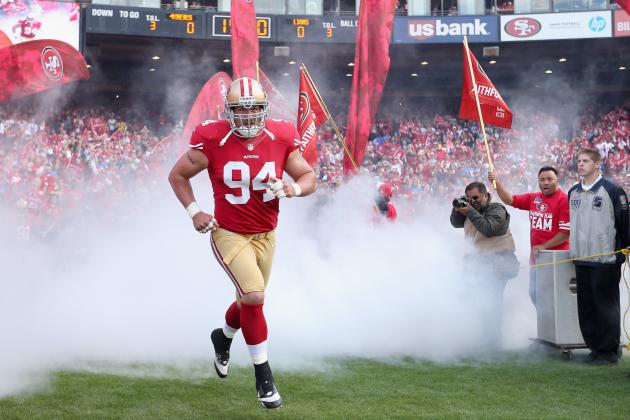 Ezra Shaw/Getty Images

Justin Smith is playing really well right now, so it might seem unfair to single him out at this juncture. But, he's been solid, not spectacular. He's always force in the run game, but we haven't seen him collapsing entire halves of the offensive line by himself with the same frequency, and he isn't getting to the quarterback very often.
Smith has always been an underrated pass-rusher because of his role. His job is to occupy two blockers at once, so that guys like Aldon Smith can have a clearer path to the quarterback, coming off the edge or running a stunt. So his contributions didn't typically show up much in the stat sheet.
But, the last couple of years, especially last season, Smith really began jumping out during games. He took his game to the next level as the talent got better around him, and he began regularly knocking linemen around like rag dolls, often so violently that they, in turn, knocked over another lineman after being sent flying by Smith on his way to the quarterback.
We haven't seen that other-worldly level of pass-rushing from Smith, yet. If he begins playing like a cornered, uncastrated bull on the cobble-stoned streets of Pamplona, this defense is going to be in all-time great territory.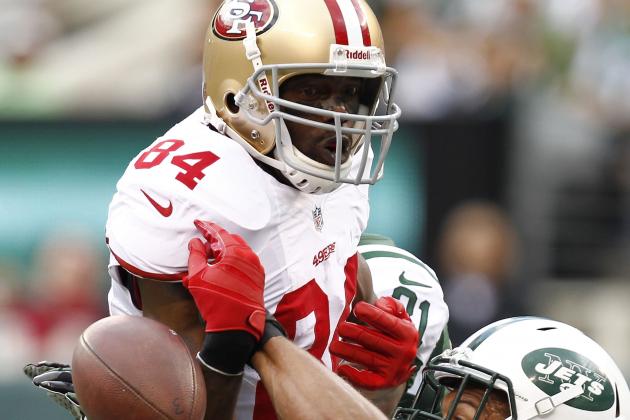 Jeff Zelevansky/Getty Images

I'm not going to dwell on this one because it's received so much press already. We know they aren't having a lot of success throwing the ball down the field, aside from the Buffalo game.
We all know that Moss has disappeared, and the coaching staff apparently has no problems keeping him on the sidelines. We all know about this issue, and we all know that, until Smith routinely cracks 265-280 passing yards (and hits the 300-yard mark more than once every few years or whatever it is), the questions will continue to linger.
And we all know that until Smith and Co. make sustained improvements in this area, defensive coordinators will find ways to neutralize other aspects of the offense that, at least, depend on the threat of the deep ball.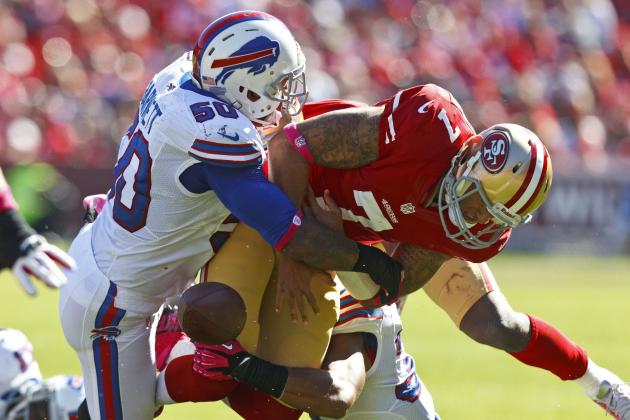 Jason O. Watson/Getty Images

Don't look now, but the 49ers have already seen Alex Smith turn the ball over twice, Kendall Hunter once, Kaepernick once and Gore once. That isn't a lot of turnovers, but it isn't a great total either. The defense's ball-hawking and stripping abilities are largely responsible for explaining turnover differential of plus-five at this point.
Turnover differential might be the single-largest indicator of a team's success during a game, other than the score, and a huge part of this team's success last year was their consistent protection of the football.
While they aren't turning the ball over at an alarming rate, they need to dominate in this area. If they do, it makes a lot of other deficiencies of theirs look much less significant.
Taking care of the football is going to continuously force teams to put together long drives against a dominant defense, and it doesn't force an offense that would prefer to keep it creatively conservative to play catchup after a quick turnover and score.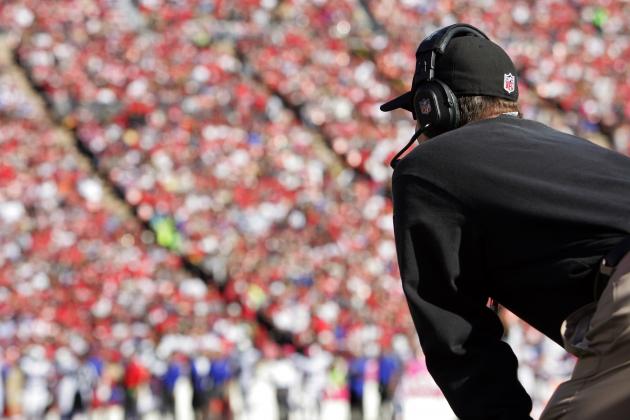 Brian Bahr/Getty Images

Things are officially getting outlandish when I argue that an improvement a team must make is how they clinch the division.
As good as the rest of the NFC West looks, if the 49ers take care of business against them in the next two months, the rest of the division could feasibly chew itself up like a group of wild dogs locked in a dark room to indiscriminately attack one another with no regard for one's own safety.
That would leave the Niners in a position to clinch with several games left in the season. It would be nice to see the 49ers have to really slug it out down the stretch in tight, intense games as a way to build calluses against the pressure of the playoffs, and somehow, end up with home-field advantage as well.
Clinching early would allow some extra rest for whichever players are banged up at the time, but it could also lead to the unwanted appearance going into the playoffs of...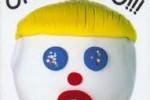 this is the only known photo of Mr. Soft in existence
That's right, bury Mr. Soft in a shallow grave that would make Tony Spilotro feel gratitude. Freddy P. Soft is the guy Jim Harbaugh has been known to spot around the practice field every once in a blue moon, and his appearance is usually followed by lackluster play. I think it's safe to say that he might have snuck onto the flight to Minnesota.
This is a team that has a reputation for being tough and for being extremely physical. As bad as the Jets and the Bills can be at times, it isn't a coincidence that what were relatively close games at halftime turned into embarrassments.
The 49ers' relentless physicality wears teams down the way holding someone's head under water will wear them down. They might thrash around and put up a good fight for a while, but keep that head under long enough, and pretty soon, the wild flailing becomes slower and less desperate, and then...nothing.
That is what the 49ers did to the Jets and the Bills, and there is no reason for that level of intensity, if not the same results, to be present in every game the rest of the year—especially if Freddy P. Soft is long gone.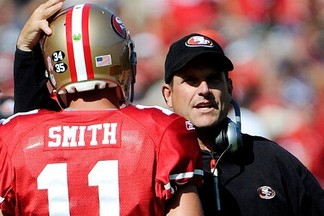 Why fight it?
I could sit here and say that they need to do a better job of covering tight ends or running backs out of the backfield or converting on third down (what team couldn't?) or eliminate more penalties.
But, the fact is that, beyond what has been mentioned, there really isn't anything significant standing between them and the Super Bowl title—aside from the other contenders, of course and injuries and hubris.
The 49ers look like the sort of team right now where, if they are clicking on all cylinders, there isn't a team in the league that can stop them, and they also look unbeatable unless their opponent is playing on all cylinders, or they are playing poorly.
In short, it's going to take a very good team playing near-perfect football against them to win if the 49ers continue to build on the last two weeks' wins.