Newcastle vs. Manchester United: 6 Things We Learned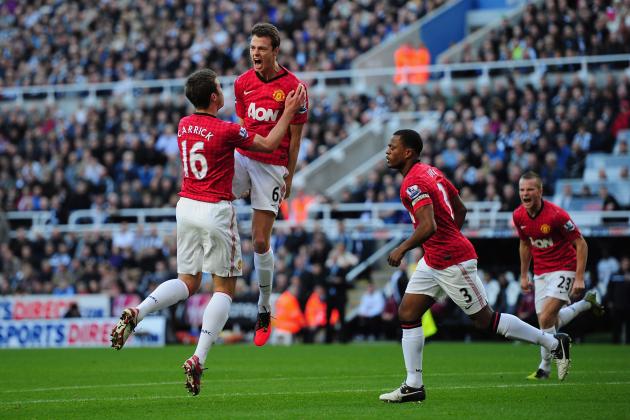 Stu Forster/Getty Images

In a key early season matchup between Newcastle and Manchester United, with both teams looking to push themselves towards the top of the table, Manchester United came away with a big 3-0 win on Sunday, courtesy of goals from Jonny Evans, Patrice Evra and Tom Cleverley.
Here are six things we learned from the Red Devil victory.
Begin Slideshow

»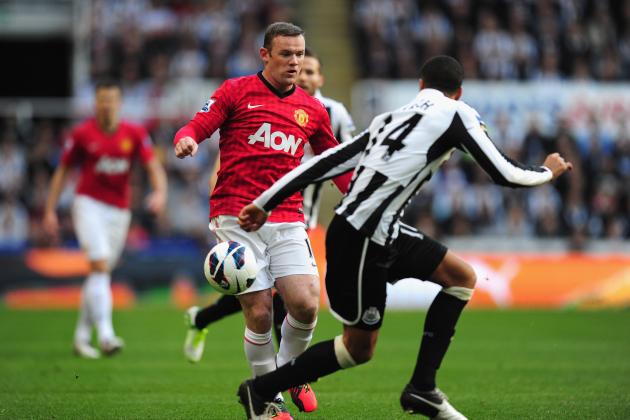 Stu Forster/Getty Images

Rooney, who was deployed by Manchester United manager Sir Alex Ferguson as an attacking midfielder playing underneath forwards Robin van Persie and Danny Welbeck, was terrific on the night.
Even though he didn't show up on the scoresheet, Rooney did all the little things necessary for United to come away with the key victory.
Rooney was all over the pitch, providing defensive cover for his teammates time and again. In the 10th minute, Rooney recovered behind Patrice Evra to clean up the mess after Evra was beat. He did the same for Rafael on the other side of the field in the 27th minute.
Rooney had key defensive clearances for United in the 29th and 41st minutes, and early in the second half when Newcastle began to put pressure on United's back line, Rooney did very well in the middle third to hold possession, allowing the Red Devils time to breathe.
Rooney played very well with his back to pressure in the United midfield and did well to widen the field by switching the ball from side-to-side repeatedly.
Rooney had two beautiful through balls for his forwards, one that was wasted by Welbeck as he failed to take a touch to goal and killed his own angle and another to van Persie that the Dutchman failed to hold his run for.
Rooney also provided the assist on Patrice Evra's goal, providing the corner service for the Frenchmen.
Rooney did start to fade around the 70th minute, poorly attempting to chip a shot in the 73rd minute and losing possession a couple of times before being replaced by Paul Scholes in the 78th minute. However, it was still an excellent overall display.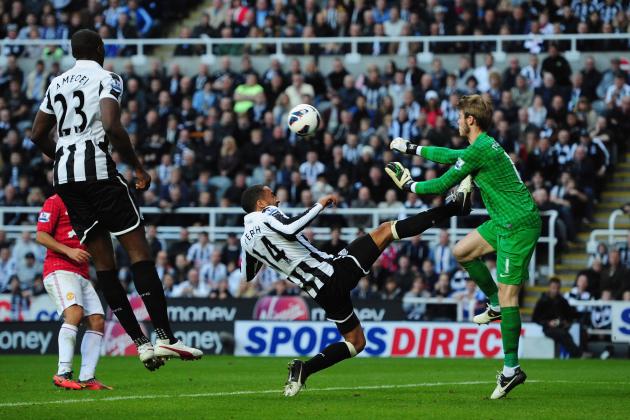 Stu Forster/Getty Images

Throughout his storied managerial career, Sir Alex Ferguson has shown unending patience with some players and almost none at all with others.
For some reason, David de Gea, despite repeatedly proving he is not a complete enough goalkeeper to be in the net for a club as good as Manchester United, has been one of those given chance after chance.
One can understand why Ferguson gave de Gea the benefit of the doubt when the Spaniard started off so slowly last year. De Gea was only 20 years old, playing a position that most don't hit their prime until their late 20's or early 30's, and doing so in the high-pressure environment of the English Premier League.
However, it is time for Anders Lindegaard to be given the starting job permanently.
If Ferguson wants to keep de Gea around to develop him for the future, that is understandable, but de Gea can't be given the gloves for any more games that matter this season.
On Sunday, de Gea was repeatedly caught out of position. Twice in the first half, de Gea came out on set pieces, only to be left flapping at air as he missed the ball.
In the 50th minute, de Gea came out to try and catch a Newcastle cross in his area, only to clatter into his own defender and miss the ball. The loose ball went off the post before Cisse put the ball back on frame.
To be fair, de Gea did recover well from the miss, pawing Cisse's header out of the net. (Replays were inconclusive as to whether the whole of the ball had crossed the goal line.)
The simple fact is that while a decent shot-stopper, de Gea cannot judge the ball in the air and the word is out. Any team facing United simply has to swing every corner kick and set piece in at de Gea and watch the three-ring circus begin.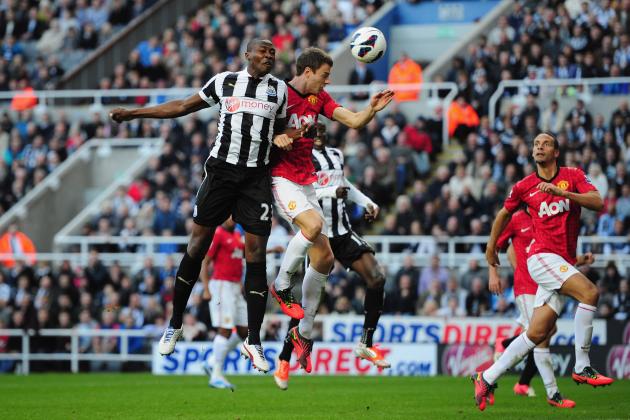 Stu Forster/Getty Images

Newcastle did not play a bad game. They had 45 percent of the possession in the game and had long stretches when they controlled the run of play.
However, their set piece defending was terrible.
The two goals that mattered most were both scored on Manchester United corner kicks.
In the eighth minute, Jonny Evans skied over Demba Ba to thunder home a Robin van Persie service to put United up 1-0.
Then, in the 15th minute, 5'8" Patrice Evra also scored on a header from a corner kick, this time sneaking inside of the 6'2" Ba to put home a service from Wayne Rooney.
If Newcastle hopes to put together a run like they enjoyed last season, only finishing four points outside of the top four, they will have to improve in this area.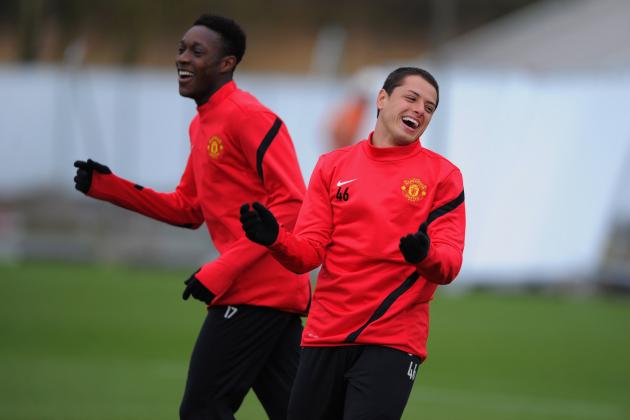 Michael Regan/Getty Images

After a 2010-11 campaign which saw Chicharito explode onto the European scene with 20 goals in all competitions, his 2011-12 campaign was much more subdued. Chicarito netted 12 goals and faced increased competition for playing time from Danny Welbeck.
So far this season, Chicharito only has one EPL start and was even linked this week with a move to Real Madrid.
Welbeck on the other hand, signed a new four-year contract this summer with United and has been increasingly favored over Chicharito by Sir Alex Ferguson.
There's no doubt that Welbeck has improved to a marked degree from his first senior team appearances four years ago.
However, Welbeck's performance on Sunday demonstrated that he still is not a top notch striker.
In the eighth minute, Welbeck weakly hit a shot at Newcastle goalkeeper Steve Harper after being setup beautifully by Jonny Evans.
Then, in the 12th minute, Welbeck took the ball off Harper's foot only to subsequently miss the empty netter.
In the 36th minute, after being put thru on a perfect ball by Wayne Rooney, Welbeck did not take a touch to goal where he certainly could have scored, instead killing his own angle with a touch away from the goal.
So far this season Welbeck has zero goals in nine appearances for United.
One has to wonder when Ferguson will start to give Chicharito a bigger role to play, especially if Rooney continues to be deployed underneath the strikers.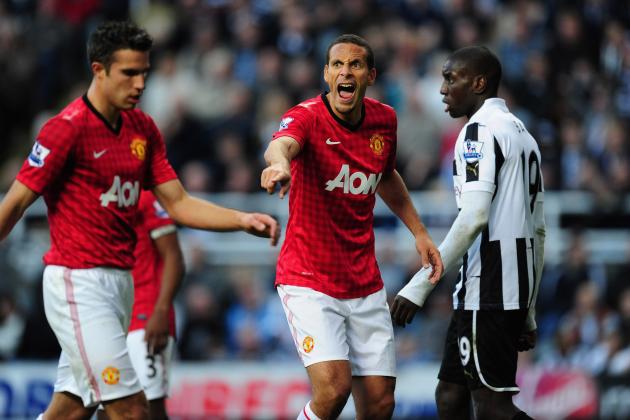 Stu Forster/Getty Images

Coming off their first home loss to Tottenham in 23 years, United looked much improved against Newcastle.
Right from the opening whistle, the Red Devils swarmed Newcastle and put the Magpies defense under pressure.
Rooney looked like a man possessed for much of the match, and United solidly controlled possession for the first 20 minutes of the match.
Entering the game, United was in sitting sixth in the EPL table. Afterwards, they are second, sitting only four points behind Chelsea.
While it's still early days in the EPL season, seven games represents one fifth of the season and this early win could become a big turning point for the 19-time league champions.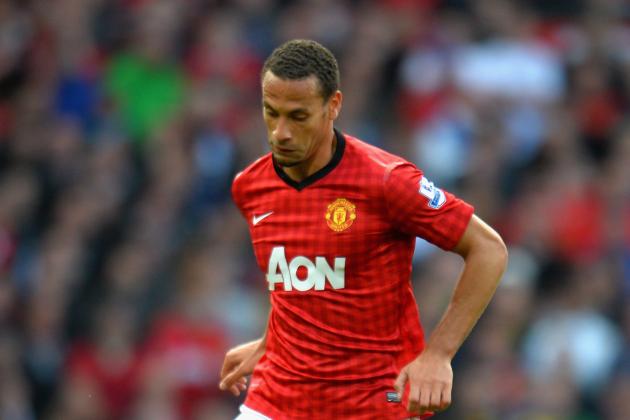 Shaun Botterill/Getty Images

Against Tottenham just one week ago, the United center back tandem of Jonny Evans and Rio Ferdinand looked pedestrian at best, amateurish at worst.
Many were ready to write the obituary on Ferdinand's illustrious career and once again Evans quality was called into question.
However, Newcastle failed to effectively test Evans and Ferdinand on Sunday.
Part of this was due to United's advantage in possession and Rooney's impressive defensive showing, but a fair amount was due to Newcastle's flaccid offensive performance.
Despite pressing United for some impressive spells late in the first half and early in the second half, Newcastle's good chances were few and far between.
Gutierrez had a strike in the 18th minute from just outside the box that he dragged wide, Ba had a bad miss in the 25th minute when he blasted the ball well over the goal from about 12 yards out and Ba had a header go wide in the 55th minute. Other than that, Newcastle's best chance came only from de Gea's bad mistake in the 50th minute.
Newcastle's creativity in the final third must improve if they are to get their season back on track.
Follow me on Twitter @AmerTouchline