Bleacher Report's Week 5 NFL Highlight Tape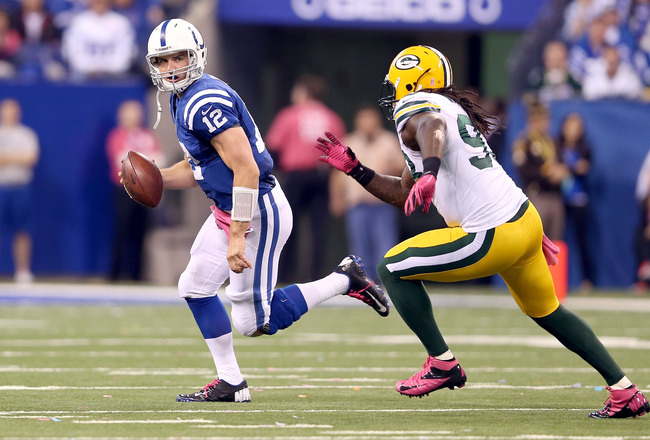 Andy Lyons/Getty Images
It's Week 5 of the 2012 NFL campaign, and this week's action was filled with surprising upsets, heart-stopping injuries (at least for fans of the Washington Redskins), a blowout or three, and a couple of games that were more effective at curing insomnia than Ambien.
Those snoozers aside Week 5 had its share of highlights as well, and in honor of the fifth week of the season here's a look at the week's top five plays.
5. Devin Hester Is More Than Just a Kick Returner
If you're a fan of the Chicago Bears, then the Jacksonville Jaguars game was all one big highlight, as the Bears pile-drived Jacksonville, 41-3.
In a game such as that, you can expect just about everyone to get into the act, and wide receiver/return man extraordinaire Devin Hester didn't want to feel left out, making a sweet 39-yard reception that dug the Bears out of a hole near the back of their end zone.
4. Julio Jones Shows How It's Done
There was a ton of hype surrounding second-year wide receiver Julio Jones entering this season, and while the Atlanta Falcons wideout has played fairly well, Jones has been out-shined to this point in the year by batterymate Roddy White.
The talent that generated that hype was on display in Atlanta's win over the Washington Redskins, however, as Jones did an excellent job of getting both feet down on an 18-yard touchdown grab in the fourth quarter.
3. Bears Defense Outscores Jacksonville Offense
As I said earlier, the Chicago Bears' demolition of the Jacksonville Jaguars was basically one long highlight for Bears fans.
In fact, the Bears didn't even need an offense today.
Chicago's defense not only kept the Jaguars out of the end zone but found it twice themselves, returning a pair of Blaine Gabbert interceptions for touchdowns.
2. The Cleveland Browns Meet the Keystone Cops
This is how bad it's gotten for fans of the Cleveland Browns.
As if it's not bad enough that the Browns' loss to the New York Giants drops them to 0-5, the best shot the team has at making a highlight reel is as comic relief.
There are no do-overs with forward passes in the National Football League, Brandon.
1. It's Not Luck, It's Skill
Without question the most surprising finish in Week 5 occurred in Indianapolis.
When the Green Bay Packers took the lead with about four-and-a-half minutes left in the game, many people likely assumed that was it.
Someone forgot to tell rookie quarterback Andrew Luck.
Luck calmly guided the Colts the length of the field, connecting with wide receiver Reggie Wayne for the game-winning touchdown with less than a minute left on the clock.
Keep Reading