2014 World Cup Qualifier: Armenia vs. Italy Group B Preview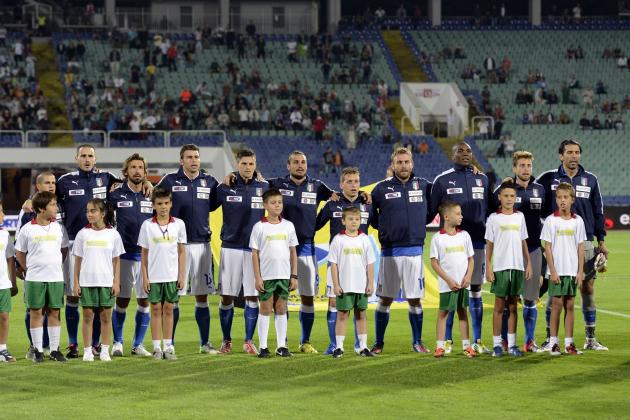 Claudio Villa/Getty Images

A month ago, the momentum the Italian national soccer team gained in their surprising run to the Euro 2012 final seemed to slow down.
A surprising draw away to Bulgaria saw their World Cup qualifying campaign start with a bump. While things got better when they returned home for their second match, it still took a stoppage time goal to give the Azzurri some breathing room against the minnows from Malta.
The Italians can afford no hiccups over the next ten days. Next Tuesday will see them take on what may be their most important match of the entire qualifying phase, when they host Denmark at the San Siro.
But before what could be their biggest match of the next two years, they will try to find their form as they travel to Armenia.
Let's take a more in-depth look at Friday's qualifying matchup.
Begin Slideshow

»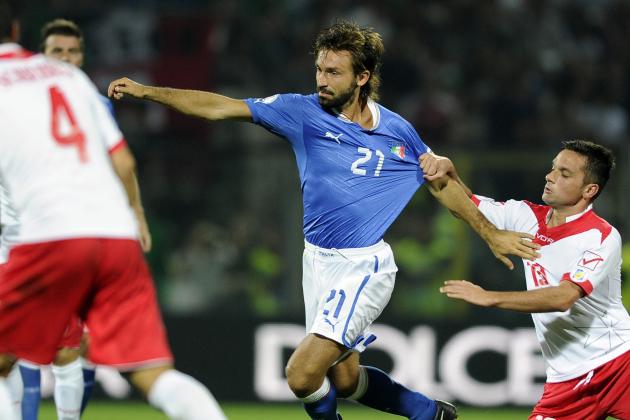 Claudio Villa/Getty Images

Armenia
Italy
1992
Founded
1910
Havaqakan
Nickname
Azzurri
64
FIFA World Ranking
8
41/159
Best/Worst Ranking
1/16
0 (Never qualified)
World Championships

4 (1934, 1938,

1982, 2006)

0 (Never qualified)
European Championships

1 (1968)

Vardan Minasyan
Coach

Cesare Prandelli

Henrikh Mkhitaryan
Captain

Gianluigi Buffon

N/A
Head-to-Head Wins

N/A

DNQ (Last in Group 5)
Last World Cup

Group Stage

DNQ (3rd in Group B)
Last European Championship

Runner-up

LWLWL
Last 5 Matches

WLLDW

3 (3 pts)
Current Table Position

1 (4 pts, lead on

goal difference)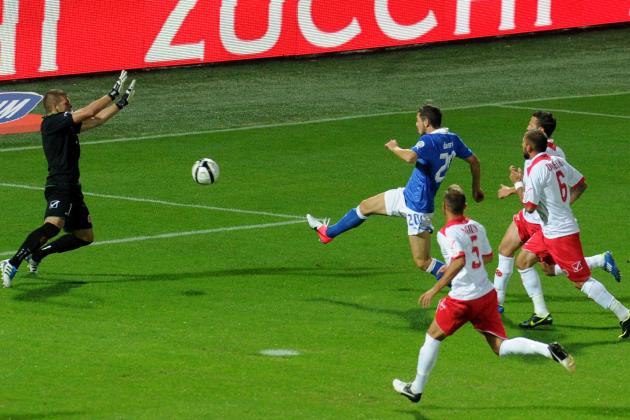 Dino Panato/Getty Images

The Italians were expected to come out with six easy points from last month's slate of qualifiers, but had a major hiccup against Bulgaria in Sofia.
The Bulgarian capital has been a difficult place for the Italians to play in recent times, and the Lions made things difficult for Italy again, opening the scoring after half an hour.
But the Azzurri responded quickly. Within ten minutes, Pablo Osvaldo had scored two goals, opening his account for his country and putting the Italians in the lead. But the two goals weren't enough, as the Bulgarians were able to equalize shortly after the hour and pressed hard to take all three points themselves. It took a valiant defensive effort from Italians to come home with a point.
Four days later, the Italians welcomed Malta to the Stadio Alberto Braglia in Modena, and quickly took command. Another young striker opened his account, as Mattia Destro fired home after only five minutes to give the Italians the lead. But after the goal, they reverted to the Italy we've repeatedly seen over the last year—dominant in possession (65 percent) but extremely wasteful in front of goal (15 shots, 6 on target). It was 88 minutes before the Italians put the game beyond doubt, when Federico Peluso turned a corner into the net in the third minute of stoppage time.
It wasn't the worst of weeks for the Azzurri, but it was troubling that they allowed Bulgaria to seize the initiative, and they're going to hope that the dropped points won't come back to haunt them.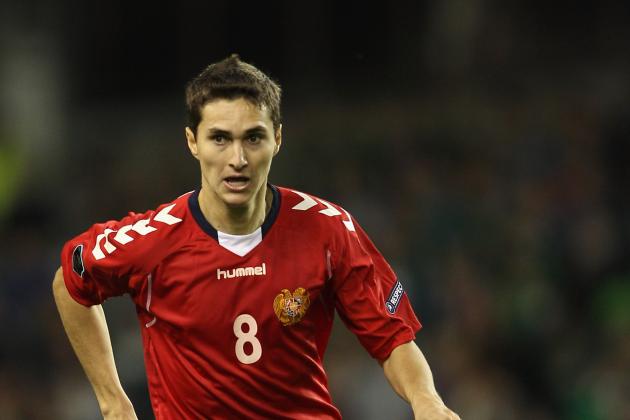 Michael Steele/Getty Images

Armenia began their qualifying bid after their best-ever performance in qualifying for a major tournament, finishing third in their group in qualifying for Euro 2012. They hit the road to Brazil running, beating Malta 1-0 on the road through a 70th-minute goal by Artur Sarkisov.
They stayed on the road for their second match, but were unable to keep the momentum going, as they fell 1-0 to a Bulgarian side that was riding the high on their admirable draw with the Italians.
The Armenians recently took a tumble in the rankings, falling from the mid-50s into the mid-60s, so they'll be hoping to bounce back and steal points against an Italian team that has not played its best since the Euros ended.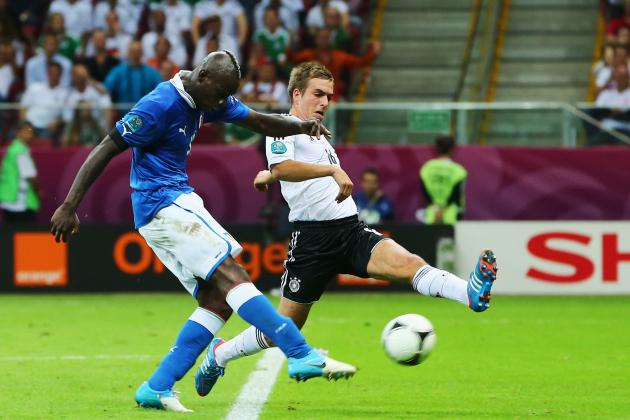 Alex Grimm/Getty Images

Mario Balotelli
Friday will be the first time Super Mario has pulled on Savoy blue since Euro 2012. He was set to play for the Italians in last month's qualifiers, but an eye condition forced him to have laser eye surgery and made him unavailable for the games.
Italy has again had problems converting chances into goals, as evidenced by their failure to score more than twice, despite their domination of play against the Maltese (65-percent possession, 15 shots, and a whopping 15 corners).
Cesare Prandelli was hoping to rely on Giampaolo Pazzini and a cadre of young strikers in the first two qualifying matches. But Pazzini, who was coming off a hat trick in his AC Milan debut, was injured in training and only saw the field for the last 20 minutes of the Malta match. Younger forwards Osvaldo and Destro contributed three of the four goals the Italians scored in the two matches, but they were also wasteful in the extreme, especially against Malta, where the Azzurri could easily have scored two or three more times.
To have Balotelli, who is easily the most talented forward Prandelli can call on, back in the fold is a boon to their chances. Look for him to partner with either Osvaldo, Destro, or Prandelli favorite Alberto Gilardino, who is seeing his first time with the national team in nearly two years.
Domenico Criscito
After his humiliating exclusion from the team during the Euros due to his implication in the calcioscommesse scandal, the Zenit St. Petersburg man is back in the fold for the Azzurri. Cleared of all charges, Criscito can now focus once again on what he was focusing on before his world fell apart: becoming the best left-back in the world—a feat that he is very, very close to achieving.
His return to the roster, in addition to the return of center-back Giorgio Chiellini from injury, should make an already solid defense into a brick wall in front of goalkeeper Gigi Buffon. The question will be whether he finds the field. It will be his first time with the team in months, and Prandelli has shown some indecision in approaching the left-back position lately.
That may have been due of Criscito's absence, as he was the solid No. 1 at the position before his troubles. I expect to see him once again locking down the left side of Italy's defense.
Andrea Pirlo
L'architetto has had a run of bad form at Juventus lately. He did not nearly look like his usual dominant self in Champions League matches against Chelsea and Shakhtar Donetsk or in a goalless draw two weeks ago against Fiorentina.
On the other hand, he's nearly equaled his goal tally from last year in the Serie A, and he was deadly in orchestrating a dominant 4-1 win against Roma. It may be a matter of managing the midfielder's workload as he gets older, and if that is indeed the case, Italian fans are going to hope he's fresh for this week, especially the second game on this slate against Denmark.
The Armenians can be a feisty team, and Pirlo will have to be at his best over the next two matches in order for Italy to take all six points from these two games. As he goes, so will the Azzurri.
Michael Steele/Getty Images

Yura Movsisyan
American fans who follow MLS may recognize Movsisyan as the target man who helped lead Real Salt Lake to their first MLS title in 2009. He moved on to Denmark in that 2009 season, and after two effective seasons there, moved on to his current club, Krasnodar of the Russian Premier League, where he's scored 23 times in 48 matches since last year.
Movsisyan was one of the top forwards in qualifying for Euro 2012, scoring four times and assisting five others as the Armenians, perennial doormats since their separation from the Soviet Union, came four points from making the playoff round.
Movsisyan will be instrumental if the Armenians are to penetrate the Juventus-based defensive wall of the Italians.
Roman Berezovsky
The most-capped player on the Armenian roster with 73, the best goalkeeper in his country's history is still playing top-level soccer for Dynamo Moscow. With Balotelli back in the fold for Italy and a red-hot Stephan El Shaarawy set to possibly make his debut for the team in full competition, Berezovsky will have to play at his best to keep the Italians out of his net.
Henrikh Mkhitaryan
The 23-year-old Armenian captain is already the joint-second top goalscorer in Armenian history with eight (the record is 11). He's one of the top players for Ukrainian champions Shakhtar Donetsk, and will be the leader of a talented young midfield. He'll spearhead the Armenian attack, feeding Movsisyan and Sarkisov, whilst being a distinct goalscoring threat himself.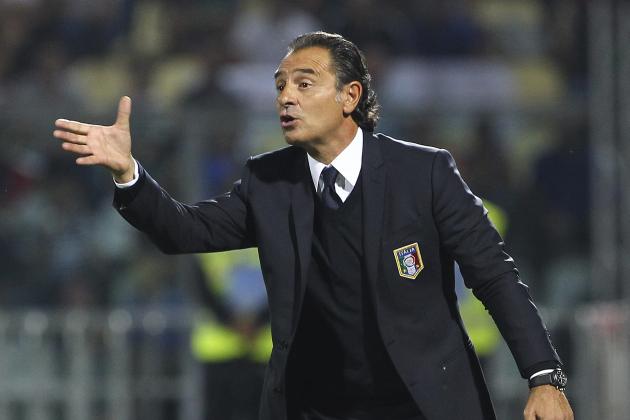 Marco Luzzani/Getty Images

Cesare Prandelli made some puzzling decisions during last month's qualifiers. Against lower-level competition in Bulgaria and Malta, he may have decided to experiment with a few things, in anticipation of next Tuesday's big matchup with Denmark. However, he'll have to make some concrete decisions starting against Armenia, in order to get the desired result in the titanic clash to come.
Prandelli used both of his primary formations last month, going with his new 3-5-2 against Bulgaria while returning to his typical diamond 4-3-1-2 against Malta. The latter was by far the more successful. Bulgaria had Italy on their back foot for much of the game—and almost the entire second half—and the primary reason was that Prandelli was using the wrong system with the wrong personnel.
I think it's become fairly clear that the 3-5-2, while coming more and more into vogue in Serie A, isn't the best way for Italy to go full-time. It should be saved for sides like Spain and Brazil, who don't often play wide and concentrate on passing the ball through the center of the field. It should also be played only with the right personnel.
The three-man combination of Andrea Barzagli, Leonardo Bonucci and Giorgio Chiellini is perfect for playing the 3-5-2, because they do so all the time with Juventus. Having their Juve teammate Gianluigi Buffon behind them in goal is an added bonus, as the four of them have great chemistry. The group combined by the end of last year to form the best defense in European club soccer—only 20 goals allowed in 38 games.
But the formation is still a minority in Serie A, and the Italians are one of the teams in Europe who take their national lineups almost exclusively from their domestic league. Players who are more adept at playing in a four-man line—such as Angelo Ogbonna, who attempted to replace the injured Chiellini in the system last month—aren't a guarantee to adapt to the system.
Besides settling on a formation, Prandelli's other big decision will come at left-back. In another curious decision, Prandelli brought Euro 2012 breakout Federico Balzaretti to the qualifiers last month, but opted for Emanuele Giaccherini on the left of the 3-5-2 against Bulgaria and Federico Peluso in the 4-3-1-2 against Malta.
Now, with Criscito back in the fold, it will be interesting to see whether he is immediately slotted back into the lineup—he had been Italy's starting left-back since before World Cup 2010—or if Balzaretti will stick his nose back in. Criscito is the younger and better player, but Prandelli has proven to be unpredictable regarding this position since Criscito's legal issues put him into a bind before the Euros.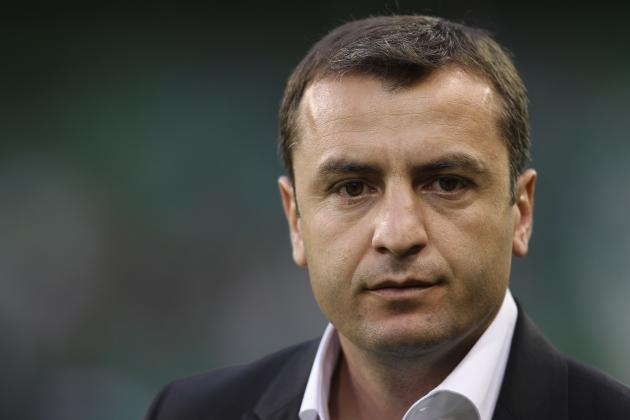 Michael Steele/Getty Images

This is Vardan Minasyan's second time in charge if his country's national team, the first stint being a caretaker assignment in 2007, which he shared with fellow assistant Tom Jones.
The team went only 1-1-4 (W-D-L) during that time, and he stayed on the team's staff when Jan Poulsen was hired as the team's manager in January of 2008. A year-and-a-half later, after a dismal performance in qualifying for the 2010 World Cup, Poulsen was fired and Minasyan was appointed full manager.
Since then, Minasyan has become the most successful manager in team history. He's won 35.7 percent of his matches—second only to Mihai Stoichita, although he has so far managed 18 more games than his countryman did from 2003 to 2004.
More important than the winning percentage is the quality of the results—he led the team to its best performance ever in a major tournament in Euro 2012 qualifying, when they came within 4 points of qualifying for the tournament proper.
A major strength of Minasyan is his longevity with the team. He's been a member of the team's staff for six years, so he knows both the team's young players and the old (although there aren't many of those).
His team is extraordinarily young—only three outfield players are over the age of 25. Several of these youngsters are of excellent quality, and their devil-may-care youth may give them an interesting edge.
But there's a second edge to the blade: the Italians are by far the more experienced side, especially in the midfield and defense. Minasyan will have to balance his side's youthful exuberance with a cool head, in order to pull off the upset.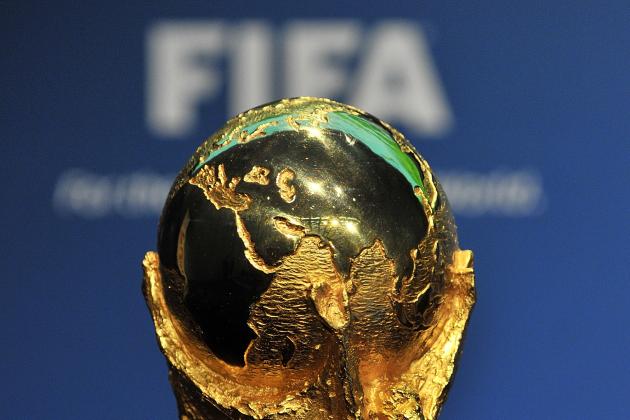 Harold Cunningham/Getty Images

It's hard to think that there's a European team that a powerhouse like Italy hasn't faced—but that's just the case here.
The Azzurri have never faced the Armenians since they became their own nation following the breakup of the Soviet Union, so this will be a true first with no history to go by.
The closest one can come to any kind of match history between the two is Italy's record against the Soviets. This was a team that was particularly troublesome for the Azzzurri, who had a record of two wins, five draws, and four losses against them.
Against former Soviet countries, the Italians are a combined 32-5-1 in 38 matches, with the only loss coming against Russia right before Euro 2012.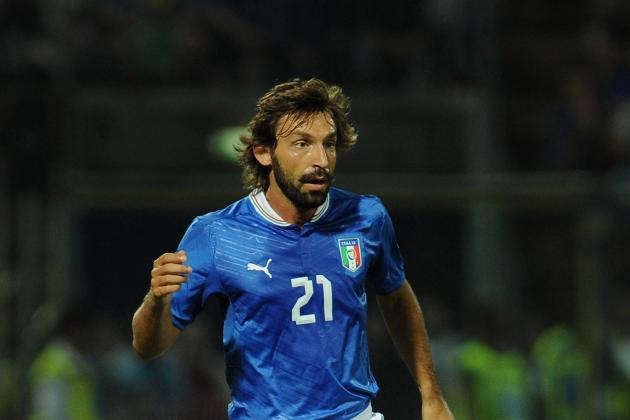 Valerio Pennicino/Getty Images

Andrea Pirlo v. Henrikh Mkhtaryan
These two midfielders recently squared off in the recent UEFA Champions League matchup between Juventus and Shakhtar Donetsk, and it's unclear who came off the better. The game ended in a 1-1 draw, although it's arguable that Shakhtar's man was better in the game.
Pirlo certainly didn't look his usual dominant self in that match. It may be that rest is becoming more and more important for the aging midfield maestro. With Juve now playing in European competition, L'architetto will have to strike the perfect balance between domestic, European and international matches.
This matchup is very much analogous to the matchup between Pirlo and Croatian midfielder Luka Modric in the Italy-Croatia group stage match in Euro 2012. Mkhtaryan plays a similar style to Modric, being an advanced attacking midfielder who can score the goal as easily as he can set one up.
This is a stark contrast with Pirlo, the archetypal Italian regista who plays deep and initiates the attack with pinpoint passes to the more advanced players.
For Pirlo—and Italy—to be successful, the Italian must be his usual dominant self, dominating possession and forcing Mkhtaryan to stay in his own end to defend rather than moving up the field to initiate and join the attack.
The opposite is true for Mkhtaryan—he must stay in a more advanced position as much as possible. If he finds himself staying deep, the Armenians will be in for a long 90 minutes.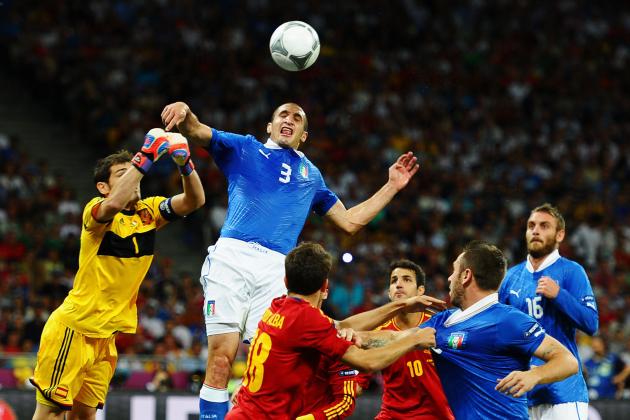 Laurence Griffiths/Getty Images

Giorgio Chiellini v. Yura Movsisyan
While Chiellini and co. will have Mkhtaryan to deal with as the main offensive threat, Movsisyan is Armenia's top forward and will deserve special attention from the Italian defense.
Chiellini will be playing internationally for the first time since suffering a recurrence of a quad injury in the Euro 2012 final. The three-time Serie A Defender of the Year has been nothing short of snake-bitten in international competition over the years.
From the 2008 tackle in training that injured legendary defender Fabio Cannavaro, to several mistakes that led to opposing goals in both World Cup 2010 and Euro 2012, to the injury that forced him off the field after only 20-plus minutes, nothing seems to have gone right for the big Juve man.
That being said, he's still easily one of the five or ten best defenders in the world, and he has been in good form since he fully returned from the injury. Particularly of note is his performance in Juve's 2-2 draw against Chelsea to open their Champions League campaign.
Time and time again Chiellini was the man back to shepherd through-balls from Chelsea's midfield away from players trying to slip through to goal, keeping the deficit manageable enough for Arturo Vidal and Fabio Quagliarella to score the goals that brought them even.
Movsisyan has been in good form as well, scoring nine times so far in 10 league appearances in Russia. If Movsisyan is able to get the edge in this matchup, even for a moment, he could score the goal that could cost Italy crucial points.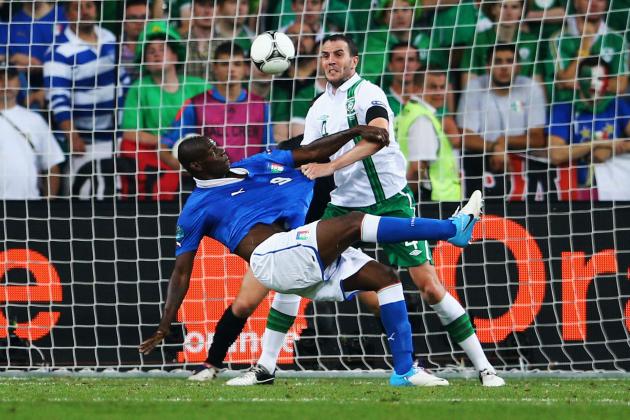 Christof Koepsel/Getty Images

Mario Balotelli v. Robert Arzumanyan
Arzumanyan is one of Armenia's most important players. The center-back is the rock of the Armenian defense, and he comes into Friday's match carrying 57 caps, second on the roster only to Roman Berezovsky.
He's travelled extensively throughout Europe in his club career, going from the Armenian league—where he helped FC Pyunik to five consecutive titles—to Denmark, Poland and now Russia, where he plays for second-division side SKA-Energiya Khabarovsk.
But in all his travels, he's likely never seen anything like what he'll be seeing on Friday.
Mario Balotelli is one of the best young strikers in Italy, and a talent the likes of which hasn't been seen in the circles where Arzumanyan plies his trade. If Armenia is to have any hope, Arzumanyan must put in a Herculean effort in on defense.
It's a feat that must be accomplished if the Armenians are to have any chance at getting a result out of this match.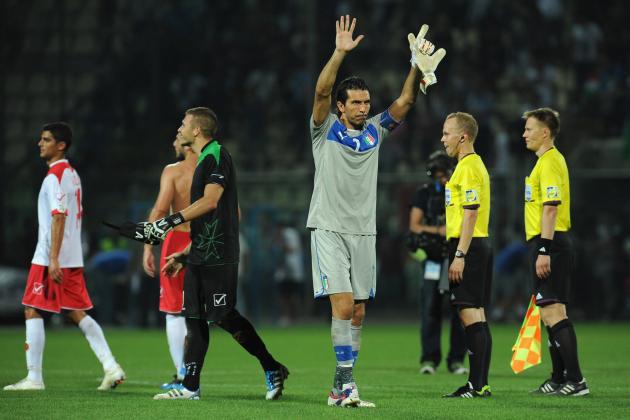 Valerio Pennicino/Getty Images

This may be the worst of opponents for Italy to face right before their huge matchup against Denmark on Tuesday.
Armenia has an old, wily goalkeeper and impressive young talents in attack that will threaten Gigi Buffon's goal if given the opportunity.
The Italians are leaving top strikers Antonio Cassano and Antonio Di Natale at home for these matches, but Osvaldo looks hot after his quick brace against Bulgaria, and the return of Balotelli is going to be a big boost to their attack, which has wasted quite a few chances since Euro 2012.
The Armenians may give the Italians a challenge, but in the end the Italian front line will prove too talented for the Armenian defense to resist. The underdogs will get a poke in at the giants, but that's all.
I'm calling this one as a 3-1 victory for the Italians.