Fantasy Football's Top Scorers from NFL Week 5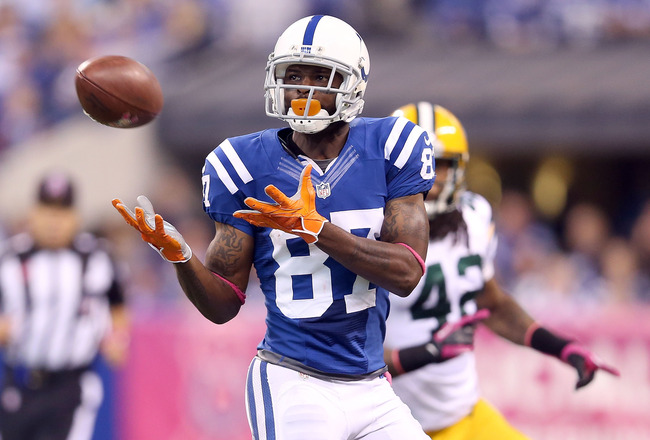 Andy Lyons/Getty Images
We've just about navigated our way through the fifth week of the NFL season, and Week 5 was filled with surprising upsets, more than a few blowouts and a couple of games that were almost too ugly to watch.
Those clunkers aside there were plenty of high scores posted by NFL teams, with the San Francisco 49ers setting the pace to this point by laying 45 on the Buffalo Bills.
Those big scores made for some meaty fantasy performances, and here we'll recap the week's highest-scoring action.
Please note that these scores were tabulated using a PPR scoring system that awards one point for 10 rushing or receiving yards, 25 passing yards and each reception; six points for all touchdowns; and subtracts two points for turnovers.
QB: Drew Brees, New Orleans Saints (36 Pts.)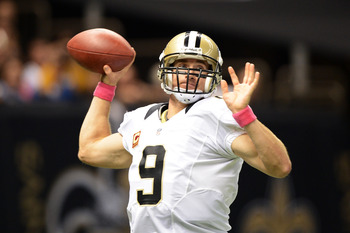 Harry How/Getty Images
It was a very busy night for New Orleans Saints quarterback Drew Brees.
Not only did the 12th-year veteran carve up the San Diego Chargers defense for 370 yards and four touchdowns, but Brees also led the Saints to their desperately needed first victory of the season.
Oh, and Brees broke Johnny Unitas' record for consecutive games with a TD pass by throwing one in his 48th straight game.
Other than that, he didn't really do much Sunday night.
RB: Ahmad Bradshaw, New York Giants (30 Pts.)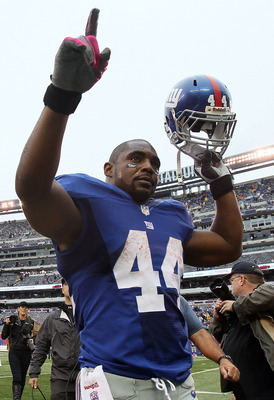 Alex Trautwig/Getty Images
It's been something of a rocky start to the 2012 season for New York Giants running back Ahmad Bradshaw, and with the sixth-year pro working his way back from a neck injury, some wondered whether Bradshaw would receive a full complement of snaps on Sunday.
Wonder no more.
Bradshaw touched the ball 34 times against the Cleveland Browns in New York's 41-27 victory, racking up nearly 230 total yards and finding the end zone once.
WR: Reggie Wayne, Indianapolis Colts (40 Pts.)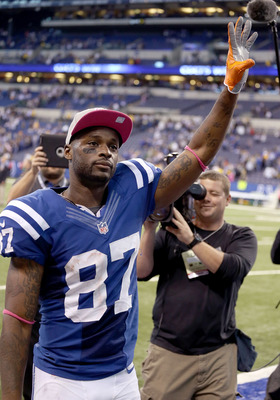 Andy Lyons/Getty Images
Week 5 of the 2012 NFL season was positively littered with big outings from wide receivers, including a three-touchdown day for Victor Cruz of the New York Giants.
However, all those days paled in comparison to the monstrous showing from Reggie Wayne of the Indianapolis Colts.
The 33-year-old pulled in 13 passes for a ridiculous 212 yards, and it was his 13th catch that was most important of all, as it turned out to be the winning touchdown in Indy's improbable upset of the Green Bay Packers.
WR: Marques Colston, New Orleans Saints (40 Pts.)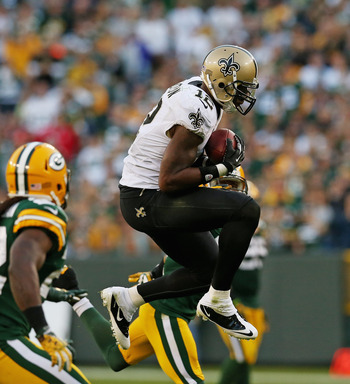 Jonathan Daniel/Getty Images
OK, so almost every wide receiver paled next to Reggie Wayne.
After getting off to a slow start to the season, New Orleans Saints wide receiver Marques Colston has been on a tear of late, with nine catches in each of his last two games.
Even better for Colston's fantasy owners is that three of his catches on Sunday night, which totaled 131 yards, were made in the end zone.
Add it all up and it's an even 40 in PPR leagues, which isn't too shabby.
TE: Tony Gonzalez, Atlanta Falcons (31 Pts.)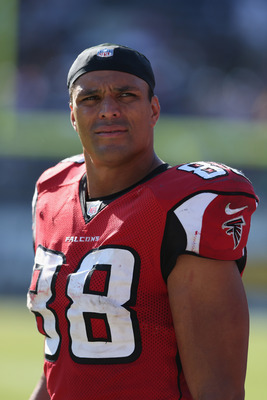 Jeff Gross/Getty Images
Looking back, it seems absolutely insane that anyone even thought Atlanta Falcons tight end Tony Gonzalez may be in for a statistical letdown this season.
The 36-year-old, who entered Week 5 as fantasy football's top tight end, only widened the gap between himself and the next-closest player against the Washington Redskins, reeling in 13 catches for 123 yards and a score.
Keep Reading