10 Things We Learned About the Big Ten in Week 6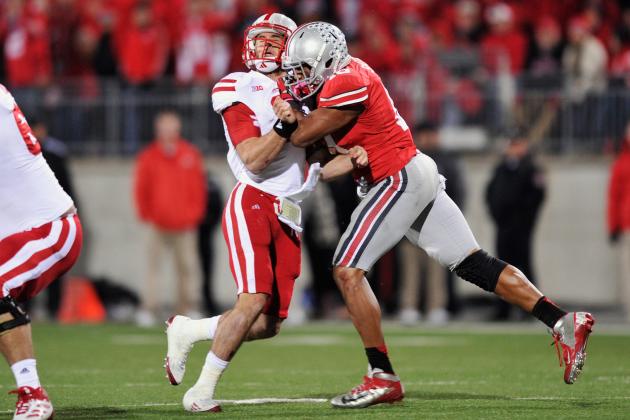 Jamie Sabau/Getty Images

The second week of Big Ten football conference play is in the books, and several of the teams that looked good in Week 1 threw up clunkers on Saturday. The Rose Bowl race remains completely murky thanks to Ohio State and Penn State having the only 2-0 conference records while being ineligible for postseason play.
Just like the first weekend when Iowa defeated Minnesota (both teams were off this weekend), there was a shocking blowout as Michigan defeated Purdue by 31 points in West Lafayette. Meanwhile, the remainder of the Legends Division had a rough day with Michigan State barely escaping against Indiana, Nebraska getting blown out in Columbus and Northwestern blowing a big fourth-quarter lead at Penn State.
So in view of these results, what can we take away from Week 6 of conference play? Let's take a look at the top 10 things we learned:
Begin Slideshow

»
Sandra Dukes-US PRESSWIRE

When Nebraska joined the Big Ten, the divisions were split by competitive balance, using the last two decades as the biggest factor. That split determined that Michigan, Ohio State, Penn State and Nebraska (in the Big 12) were the top line programs likely to continue being at the top.
Some in Wisconsin, Iowa and Michigan State may have been a bit rebuffed by this determination a year ago. However, here we sit in year two of the 12-team Big Ten conference and the three traditional powers before Nebraska joined have risen to be the cream of the crop once again.
Ohio State and Penn State may not be eligible for the league championship or other postseason play, but that has not stopped them from starting 2-0 while the remainder of the Leaders Division is 1-6 combined in league play. The Buckeyes appear to be headed right back to elite after one year out of the spotlight with interim coach Luke Fickell. Meanwhile, Bill O'Brien might just have the formula for continuing some level of success even in the future lean times at State College.
In the Legends Division, Michigan stands alone with Iowa atop the division standings at 1-0 following a blowout win at Purdue. Michigan struggled mightily against Notre Dame and Alabama, but the Wolverines defense has been stellar since that opening half against Alabama. The Wolverines enter the middle of the conference schedule as the latest favorite to go to Pasadena.
Just like Jim Delany drew it up...well except for the NCAA sanctions, at least.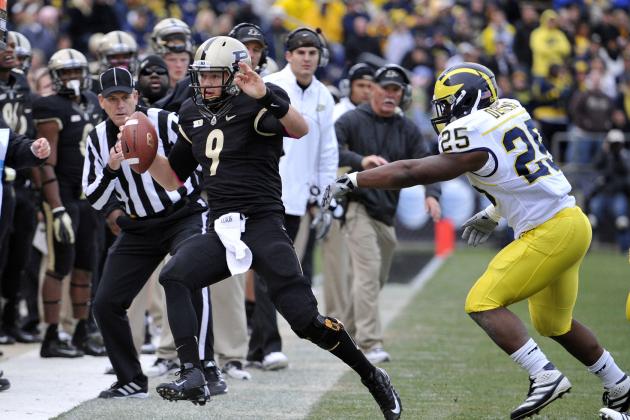 Sandra Dukes-US PRESSWIRE

Heading into a bye week on Week 4 of the season, Purdue looked like a solid contender to win the Leaders Division and look good doing it. However, the close loss at Notre Dame now looks like it may have been more of an off week for the Irish than a telling sign of a solid defense.
In the last two weeks, Purdue has surrendered over 1,000 yards of total offense to Marshall and Michigan, collectively. If Marshall had not lost the turnover battle by three in West Lafayette, the Boilermakers may not have had enough of a lead to escape that game with a win.
With the turnover margin switched to 4-to-1 in favor of the Wolverines this week, Purdue simply could not keep up. Denard Robinson and Fitzgerald Toussaint found a groove in the running game that has not been present all year in Ann Arbor. Plus, Purdue's offense disappeared against an improved Michigan defense.
As Michigan now looks like a front-runner for the Legends Division, Purdue would have to beat that team on a neutral field to go to the Rose Bowl. There was no indication that Purdue is ready as a football team or a program to win a game like that, following a 31-point loss at home.
However, there is still hope in West Lafayette because...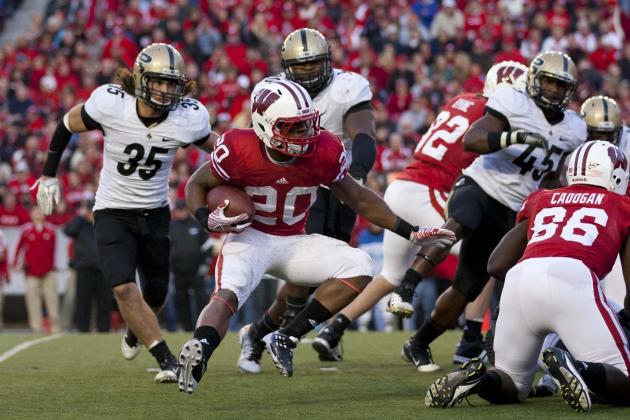 Jeff Hanisch-US PRESSWIRE
Mr. Ball Ran Roughshod in This One Last Year
The Boilermakers still have a chance to redeem the season, and that comes right away. This week brings the critical game at home against Wisconsin, and Purdue will need to win to stay relevant in the Big Ten championship chase.
One would expect this to be an interesting week of practice leading up to the most important game of the season for the Boilermakers. Wisconsin has struggled to get any running game going, although the Badgers defense has feasted on turnovers in the first two weeks of Big Ten play. Purdue will need to figure out how to stop the power running game after being gashed by Michigan.
The only other teams that are eligible for the Leaders Division title are Indiana and Illinois, and both of those teams appear to be knocked out at 0-2. If Wisconsin adds a second conference loss to Purdue's resume, then the Badgers will hold an effective two-game lead in the standings over Illinois and Purdue, both of which will have been beaten by Wisconsin.
If Purdue wins, then the race will likely be close, but Wisconsin has to finish two games better the rest of the way to take over the lead again. That seems unlikely, so get your pens out. The Leaders Division "champion" can likely be determined next weekend.
Unfortunately, nobody is all that excited thanks to the start for both teams.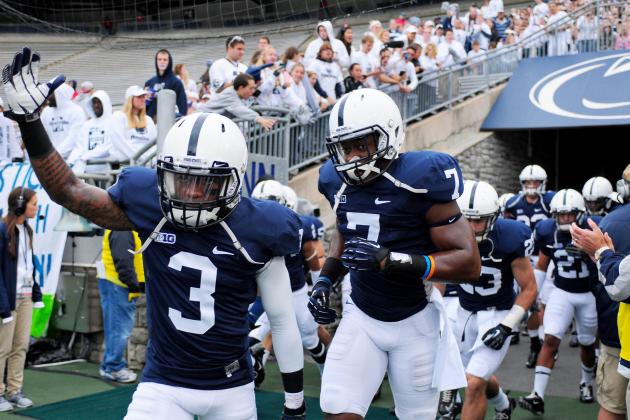 Evan Habeeb-US PRESSWIRE

Mark your calendars now: Ohio State at Penn State will happen October 27, and there will be so much more on the line than was expected coming into the season. The Big Ten has determined that these postseason-ineligible teams can still win the division championship, so both teams have something to play for.
In the case of Ohio State, an undefeated season will likely be at stake assuming the Buckeyes handle Indiana and Purdue the next two weekends. Penn State has a bye this weekend to rest up for a trip to Iowa City, an always tricky destination for the Nittany Lions. However, as hot as Bill O'Brien's team has been the past five weeks, a road win at Iowa is not out of the question.
If that occurs, then this game will match two teams undefeated in conference play for possibly the final time in 2012 (Michigan and Ohio State could both be 7-0 in November, but that is a long way off yet). Ohio State will be looking to avenge the loss from a season ago in Columbus, while Penn State will be looking to win one last big game and trophy before dealing with the brunt of the NCAA sanctions.
These two teams have nothing but the regular season to play for, and both have seized that opportunity like it matters to them. Thus, we should be treated to a beautiful battle in three weeks that will determine who the actual champion of the Leaders Division will be.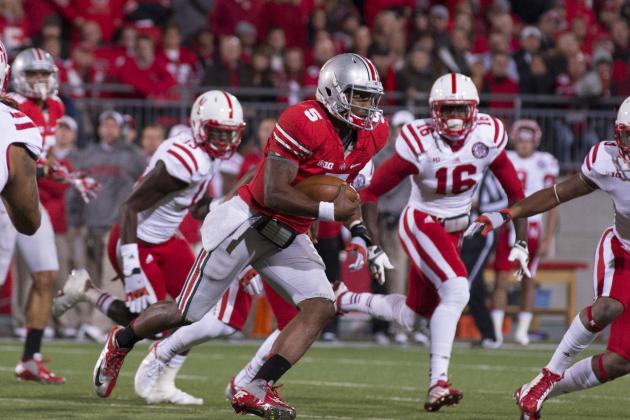 Greg Bartram-US PRESSWIRE
He's a running back playing quarterback
Braxton Miller is the primary reason Ohio State is sitting at 6-0 with two impressive victories in vastly different manners: 17-16 in a defensive struggle in East Lansing, and 63-38 in a shootout against Nebraska at home. After slowing down his running pace against California and UCF, he is back to rushing for more than 100 yards per game after 141 against the Spartans and 161 against the Cornhuskers.
But rushing is not all that Miller can do. Miller is completing 61 percent of his passes as well for 1,060 yards, which ranks fourth in the conference so far this season. Considering he is only 13 yards behind Le'Veon Bell for the conference rushing lead, this is the clear front-runner for MVP in the Big Ten conference.
While that may not be enough to make the Heisman ceremony some seasons, it should this year as long as Ohio State stays highly ranked. Even with one loss to Penn State or Michigan, the Buckeyes will remain the sole team in the national picture for the conference. Carrying a team that should be down to an 11-1 or 12-0 finish will be more than enough to get the invite to New York.
Following this win against Nebraska, that ending seems more likely than ever. Although Geno Smith and the SEC teams may be hard to catch in the Heisman race and the AP poll, there is still a lot to play for in Columbus as long as Braxton Miller stays healthy.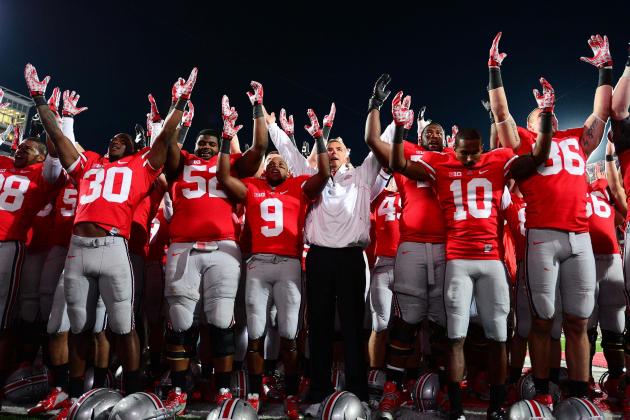 Andrew Weber-US PRESSWIRE

On a related note, the Big Ten now has a storyline to follow nationally, and that story is the pursuit of a split national championship. Although the conference has earned the dubious honor of having no teams ranked in the Coaches' Poll this week for the first time in history, that history comes with a big fat asterisk.
That would be Ohio State, which now sits at No. 8 in the AP poll following the dominant performance against Nebraska. The only other undefeated teams from major conferences (sorry, Big East) are in the Top 10 this week as well: Alabama, South Carolina, and Florida from the SEC; Oregon and Oregon State from the Pac-12; West Virginia and Kansas State from the Big 12; and Notre Dame.
Although the Buckeyes have to pass all of these teams for the AP championship, it is clearly possible with half the season left for the rest of these teams to take on a loss. As long as Ohio State stays dominant in the remaining big games against Wisconsin, Penn State and Michigan, the resume will be respectable enough to garner serious consideration as long as the BCS champion has one loss.
In all likelihood, the BCS champion would have to have one loss and a narrow or controversial win over the SEC team in the BCS championship, but the possibility is so much more real now that Michigan State and Nebraska have been handled by the Buckeyes.
Make no mistake about it: This is the only major storyline in the Big Ten for the remainder of 2012, at least on a national stage.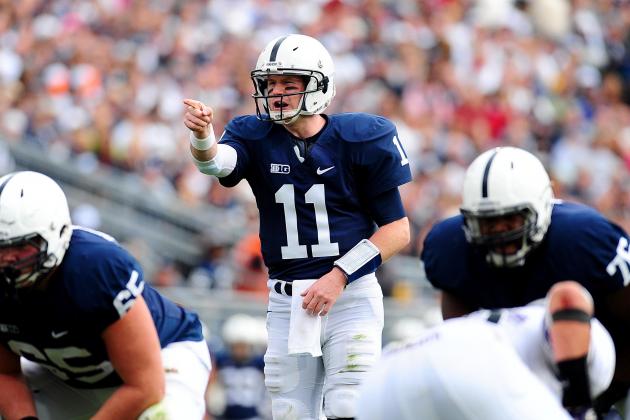 Evan Habeeb-US PRESSWIRE
I want YOU...to be my next passing target
Earlier this season I wondered where had all the good gunslingers (pocket passer quarterbacks) gone in the Big Ten this year. The result of that analysis was that James Vandenberg of Iowa appeared to be all that the conference had left for big-time passing quarterbacks who tends to not make plays with the running game.
Back then, Matt McGloin was seen as an afterthought on his way out as a senior on a team in turmoil. But Bill O'Brien has been busy molding McGloin and his offense into a passing attack that challenges defenses in different ways than in previous seasons.
As a result, McGloin already has numbers comparable to his total season numbers from the past two years. In addition to his 1,499 passing yards, which leads the Big Ten, McGloin has 12 touchdown passes and only two interceptions through six games. That type of careful precision passing keeps Penn State in games until the defense takes over, which has happened each week for the last four weeks.
Vandenberg has fallen off compared to McGloin. In fact, only Andrew Maxwell of Michigan State is within 200 yards of McGloin in passing, and Maxwell has achieved only a 6-to-3 touchdown to interception ratio this season.
We had a gunslinger in our midst all along, but he just was not playing in the right offense until his senior year.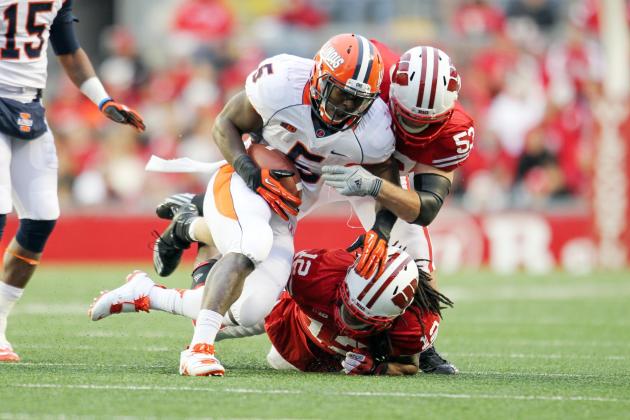 Brace Hemmelgarn-US PRESSWIRE
Hopefully the Illini enjoyed that bowl game last year
For every good story like Ohio State and Penn State, there is a bad story on the other side of the ledger. This season, that bad story belongs to Indiana and Illinois, each of which stand 0-2 after two weeks of conference play. Even with the Buckeyes and Nittany Lions ineligible, these teams have already proven that they are effectively done in the Big Ten championship race.
The Hoosiers came into this weekend with all the momentum from the comeback against Northwestern a week ago, and that led to a 27-14 lead at halftime over Michigan State. However, the 10-point fourth-quarter lead could not be held as the Indiana defense struggled once again at the most important time of the game.
After giving up 700 yards to Northwestern, there is no indication that the Hoosiers will be able to keep up with the likes of Ohio State and Penn State in the coming weeks. Even with games left against both Wisconsin and Purdue, the Hoosiers appear to be a couple years away yet from truly being competitive in the Leaders Division.
Meanwhile, Illinois is now 2-4 on the year with another disappointing loss, this time to Wisconsin. Penn State and the Badgers have found offensive grooves against the struggling Illini defense, but the bigger problem may be on offense. Unlike last season, Nathan Scheelhaase does not seem to fool defenses or really threaten them with his legs.
Until proven otherwise, these teams are officially non-factors in the league race. Only a spoiler role remains, as bowl eligibility is looking like a long shot as well for the Illini and the Hoosiers.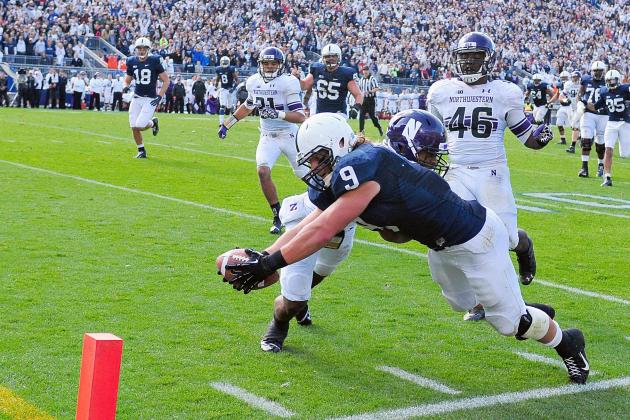 Evan Habeeb-US PRESSWIRE

Although Iowa may still have some say in the Legends Division, the race looked like a four-team show heading into last weekend. Northwestern may not be able to keep up with the Michigan schools and Nebraska thanks to a porous defense that has been exposed now that conference play has begun. While non-conference opponents other than Syracuse struggled against the Wildcats, Indiana and Penn State have not.
The Wildcats gave up 29 second-half points against Indiana to make a game much closer than necessary, and then saw an 11-point lead turn into an 11-point deficit in the fourth quarter against Penn State. Unlike the team that was clutch in the fourth quarter to save three of the four non-conference plays, Northwestern now cannot get off the field on defense, especially when it matters most.
Similarly, Nebraska looked good in the conference opener despite giving up 27 points to Wisconsin. Most of those points came when the Nebraska defense was put in negative field position by a turnover. The Cornhuskers actually held the Badgers to under 300 yards of offense, and things were going well again in the first quarter against Ohio State.
But then the Buckeyes decided that 17 yards a quarter would not be sufficient. The Buckeyes ended with 49 offensive points and nearly 500 yards of offense, which tracks the pace of yardage that UCLA put up (635) in Week 2 against Nebraska. The Cornhuskers seem to lose the defensive strength on the road, when the 12th man is not helping the Blackshirts.
Thus, both these teams need a defensive revamp immediately if they want to stay with the Michigan schools for the Legends Division lead.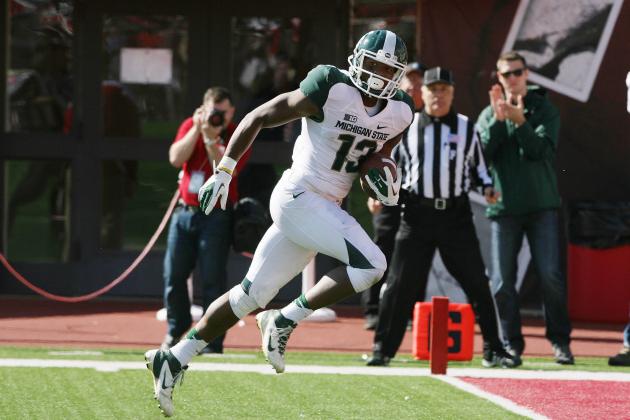 Brian Spurlock-US PRESSWIRE

The only thing keeping Michigan State from a shocking 0-2 start in conference play was the inability of Indiana to keep a lead with the defense. The Spartans have been in a serious funk since the Notre Dame game, and one comeback against Indiana is not enough to be a change of momentum.
The defense is still solid, despite some lapses against the Hoosiers. Those lapses cannot be had the next two weeks with two wise quarterbacks James Vandeberg of Iowa and Denard Robinson of Michigan coming in to play the Spartans. Especially with the offense struggling to finish drives with points, the Spartans need to stay solid on defense to keep themselves in these games.
There is a chance that the Eastern Michigan game and the Indiana game were simply hangovers from losses to Notre Dame and Ohio State. If these are not just hangovers, then "Sparty" may be out of the conference race quickly.
---------------
Thanks for reading! Please follow David on Twitter, and keep the discussion going there and below!