Seahawks vs. Panthers: Seattle's Biggest Winners & Losers from NFL Week 5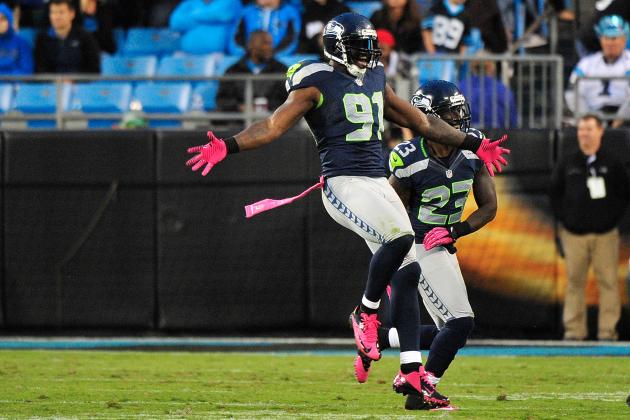 Grant Halverson/Getty Images

The Seattle Seahawks once again used a superb defensive performance to grab a 16-12 victory.
It was the second straight game the defense did not allow an offensive touchdown as the defense throttled the Carolina Panthers. The unit constantly wreaked havoc in the backfield and made Cam Newton uneasy on every throw.
But this game came down to more than just defense, as the offense showed improvement. It may not be up to par with where it should be, but there were surely glimpses of what this offense can become.
The Seahawks dominated the time of possession battle, leading to the Panthers defense looking a bit sluggish by the end of the game.
Nonetheless, there were still a number of costly penalties and turnovers that must be avoided moving forward.
Here are the winners and losers from Week 5.
Begin Slideshow

»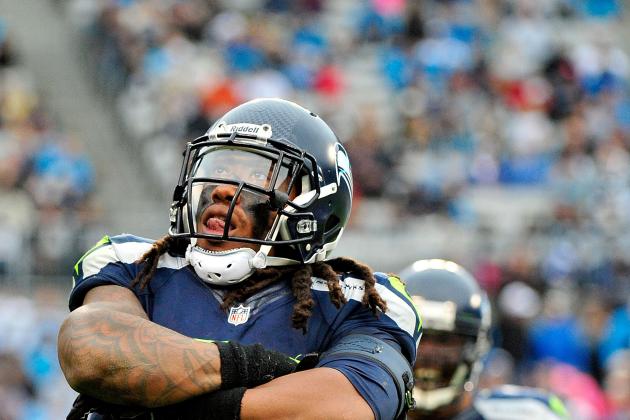 Grant Halverson/Getty Images

With another stout performance, the Seahawks defense looks like it is cementing itself among the NFL's best.
Matched up against a talented dual-threat quarterback in Cam Newton, the Seahawks made him uncomfortable all day long. They finished the game with six quarterback hits and four sacks.
The number could have been elevated as well with how often they were in the backfield on passing attempts.
Newton finished the day 12-for-29 with only 141 yards in the air and 42 yards on the ground. For a guy who has given some defenses fits, Seattle surely wasn't scared of "Killa Cam" on Sunday.
Furthermore, the Seattle front seven only surrendered 25 yards on 11 carries between the three Carolina running backs. There was simply nowhere for them to go with the likes of Chris Clemons and Red Bryant clogging up the holes.
The back end was equally good for the Hawks as well.
Brandon Browner and Richard Sherman both forced a fumble, and Browner led the team with six tackles. Sherman's forced fumble came on a decisive third-down play where he stripped Jonathan Stewart to force fourth down.
Perhaps the most important play of the day went to Browner who came up with a huge stop on the goal line as Louis Murphy was trying to get in.
With essentially no margin for error, Murphy caught a short slant on the 1-yard line and attempted to get in the end zone, but he was met by Browner who pushed him back and forced fourth down.
This defense is a really dangerous group. Now it comes down to the offense putting some points on the board.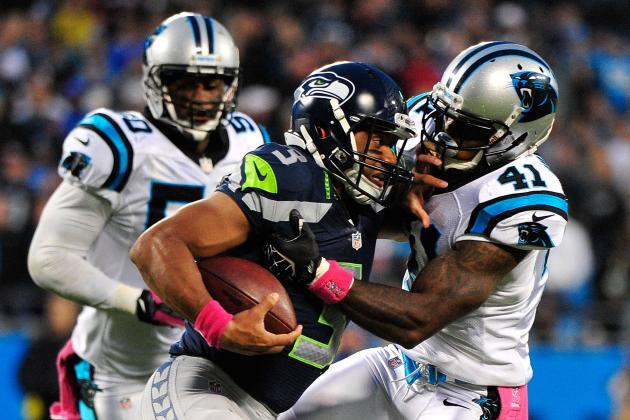 Grant Halverson/Getty Images

They did a decent job in the trenches and Russell Wilson only got sacked twice, but the offensive line is still not up to par.
Most of my displeasure focuses around Breno Giacomini who is regularly making idiotic mistakes that negate big plays.
He had an awful personal foul in the first quarter that nullified a 56-yard pass by Wilson.
With holding and false-start penalties, the offensive line is the one group on this team that seems to still be moving in neutral.
The worst part is how important they are to this team. With a rookie quarterback under center, the offensive line's performance will be decisive to his growth and maturation as a passer.
With the talented defenses throughout the NFC West, the offensive line is going to have to get better in a hurry if it wants a chance of competing with the likes of the 49ers and Cardinals.
If the line can't solve its woes, then Wilson will continue to feel pressure and the Seahawks will have to rely on the legs of Marshawn Lynch more than they already do.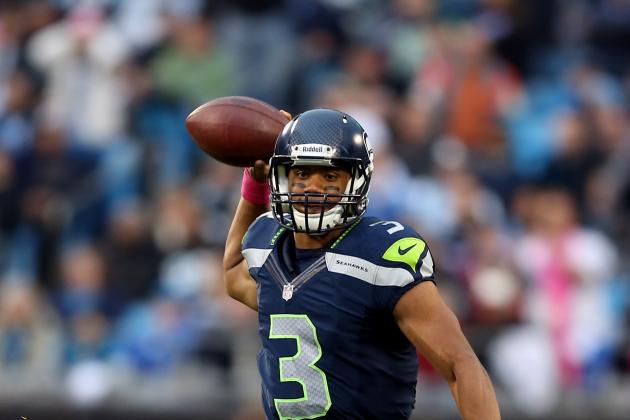 Streeter Lecka/Getty Images

He wasn't perfect. But he's getting better.
He had two interceptions (one of them was not his fault), but he showed enough in this game to be coined a winner.
Wilson finished with a career-high 221 passing yards and was finally pushing the ball down the field and trusting his receivers to make plays. He still looks uneasy when he gets into the red zone, but this was only his fifth start at the NFL level.
He finished 19-of-25, and he showed off his cannon on a few of the throws. He is still learning as he goes, but Wilson went up against a tough Panthers defense and grinded until he got the win.
As he becomes more comfortable with his receiving corps, he is only set to improve. The receiving corps did show glimpses on Sunday, as Sidney Rice was being aggressive on the outside and Golden Tate came up with some big plays, including a touchdown grab.
Wilson needs to protect the ball, as one of his interceptions eventually went for six, but that will come with more experience.
His performance on Sunday was solid, and it's good to see a young quarterback finding success on the road.