Predicting What a 2012 College Football Playoff Would Look Like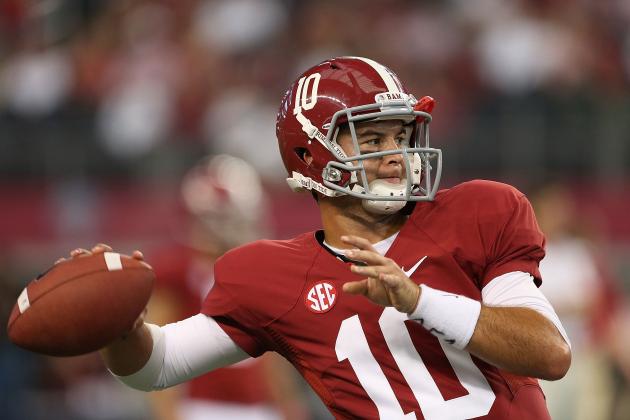 Leon Halip/Getty Images

Forget this BCS nonsense, let's take a look at what a playoff would look like at the end of this season.
We are going to go with an eight-team format, and operate under the assumption that teams banned from post-season play would not be involved. (Ohio State)
Highest seeded team faces lowest seeded throughout the playoff, and (spoiler alert) the SEC does not win.
Also of note, the Big Ten, Big East and ACC are all without representatives in this season's playoff...
Begin Slideshow

»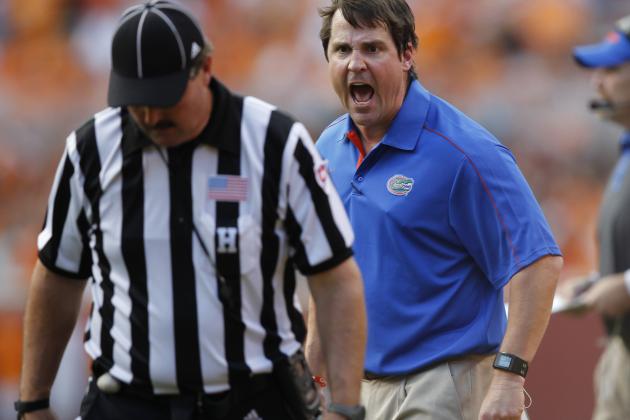 John Sommers II/Getty Images

Predicted Record: 10-2
It's surprising, yes, but Florida is back in the AP top 10.
The emergence of Jeff Driskel as reliable option at quarterback is all it took for this team to become a legitimate threat to win the SEC.
While they will fall short in that goal, finishing the season in the top eight with two losses at most would earn them the final at-large slot in an eight team playoff.
With a defense that has been good this season, and has the playmakers to be great, this team would belong in the playoffs after finishing the season 10-2.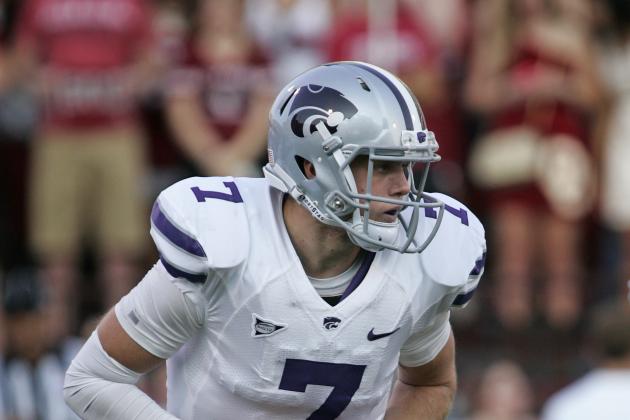 Brett Deering/Getty Images

Predicted Record: 11-1
Collin Klein has proven he is more than just a flash in the pan, continuing last season's success well into 2012.
He's scored 14 total touchdowns already this season, and is part of a dynamic rushing game that also includes running back John Hubert, who has scored eight times himself.
Bill Snyder's team is an anomaly in a conference that seems to be rife with high-octane throwing offenses, but coupled with a stout defense, the "old-fashioned" offense continues to roll.
Looking at the schedule, there are a few tough games before the end of the season, including a meeting with Texas and a trip to Morgantown to face the Mountaineers.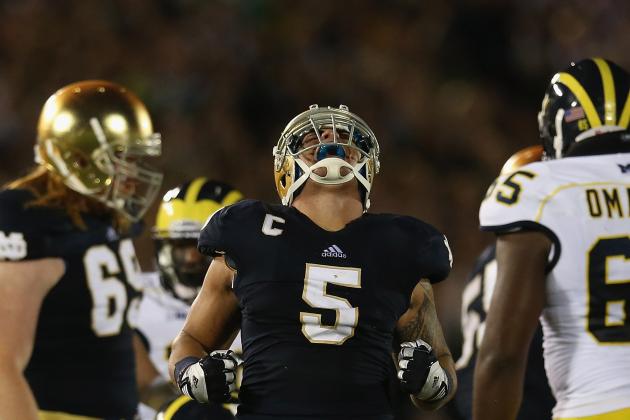 Jonathan Daniel/Getty Images

Predicted Record: 10-2
Like it or not, it appears as if the Irish are back.
This team has all the major components of a team that could make a run at a playoff.
The defense has not allowed a touchdown in three games, against Michigan State, Michigan and Miami, all schools that have averaged at least three touchdowns per game.
The offense, while not overpowering, does not always need to be, with a defense that has been absolutely dominant.
Their are some challenges ahead, with Stanford, USC and Oklahoma all lurking, as well as a tough BYU squad.
Barring a major meltdown, the Irish will skate into season's end with only two losses, and have the potential to pull off a one-loss season.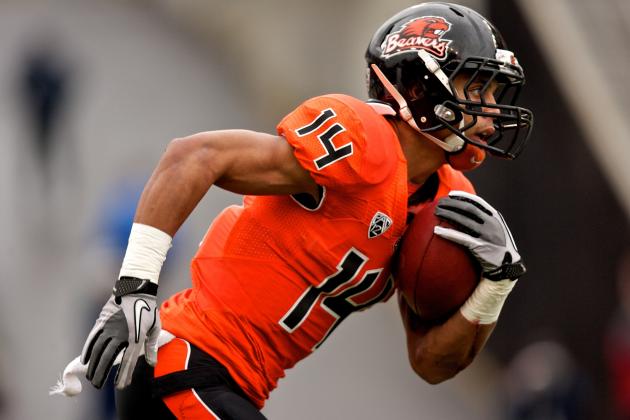 Craig Mitchelldyer/Getty Images

Predicted Record: 10-2
The Beavers have been the surprise of the season, jumping out to a 4-0 start, and boasting a hard-hitting defense that has already derailed two Heisman campaigns.
The team is still a work in progress, and has some definite areas that need improvement, such consistency on offense, but with a defense that continues to play at an extremely high level, the potential for a special season is there.
The 19-6 win over Washington State showed some of the soft spots on offense, but also highlighted the defenses' ability to shut teams down.
Other than Oregon and Stanford, this team outclasses everybody else on the schedule, and could finish 11-1 with a few breaks going the right way.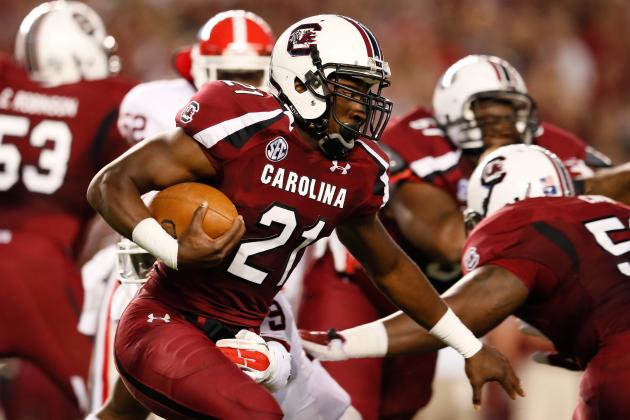 Kevin C. Cox/Getty Images

Predicted Record: 11-2
The Gamecocks made a statement in their thrashing of Georgia over the weekend.
They let us all know that Steve Spurrier's squad is ready to compete for an SEC crown.
That said, going undefeated is going to be rough in the SEC, especially with games against LSU and Florida coming up next, back-to-back.
Even so, one loss will not be enough to keep this team from the SEC title game, where Alabama will again take care of business.
That said, the Gamecocks will have earned a spot in the playoffs, with the chance to get another shot at the Tide.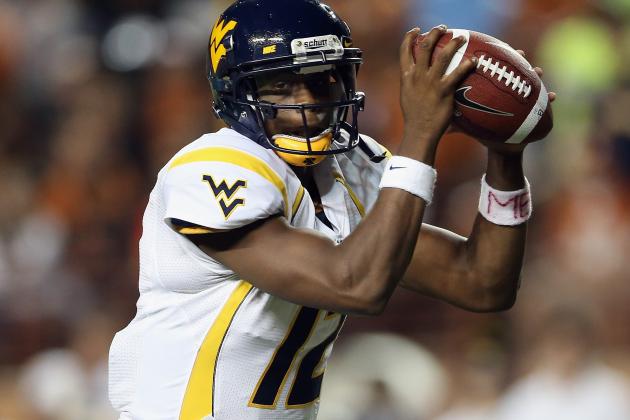 Ronald Martinez/Getty Images

Predicted Record: 11-1
Sure, the defense leaves a little something to be desired, giving up 460 yards per game.
But when Geno Smith, Tavon Austin and their teammates on offense put up over 570 per contest, it's easy to see why this team is currently sitting at 5-0.
Coming off of a big win over Texas, the Mountaineers have a very real shot at taking home the Big 12 title in their first season as members.
Hosting Kansas State and Oklahoma is big, but the schedule is littered with too many talented teams to allow a perfect season.
The 'Eers will finish the season near the top of the polls and enter our playoff as the three seed.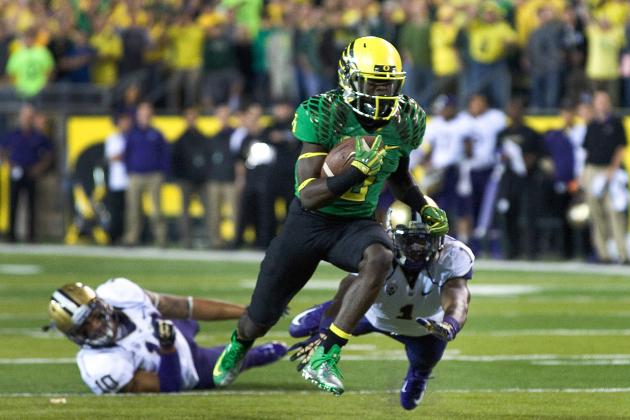 Steve Dykes/Getty Images

Predicted Record: 13-0
Go ahead, buy into the Ducks and their scheme.
This team is ridiculous.
Offensively, Chip Kelly's squad continues to stymie defenses with their frantic pace, while the defense has been relatively good, allowing 359 yards per game.
With three games against top 20 teams still looming, as well as possible trip to the Pac-12 title game, the road is daunting, but a perfect record is attainable for the Ducks.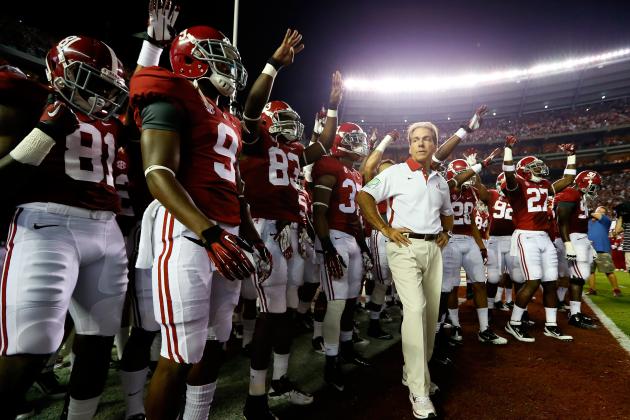 Kevin C. Cox/Getty Images

Predicted Record: 13-0
Nick Saban and his boys are at it again.
In spite of losing plenty of talent, especially on defense, the Tide have again been dominant this season, leading the nation in total defense.
They are allowing only 191.6 yards per game through five games.
The SEC schedule is brutal, but as LSU showed us last season, it can be navigated with a stout defense and decent offense, and the 'Bama offense is more than adequate, scoring 40.2 points per game.
The unquestioned number one seed continues SEC dominance throughout the season.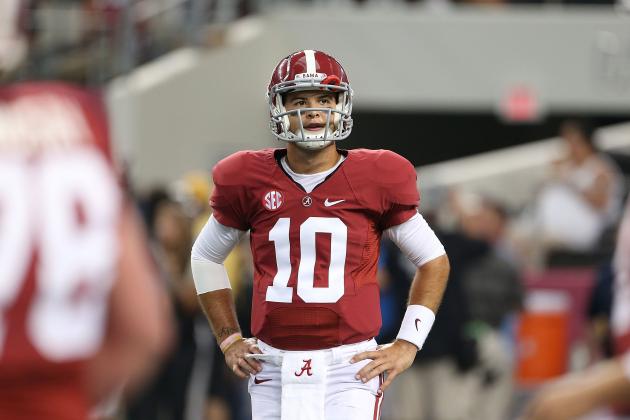 Leon Halip/Getty Images

These two teams don't face each other during the regular season, so this could potentially be their first meeting if they don't meet in the SEC title game.
Alabama is the better team, both feature stout defenses, but the Tide's offense is more consistent, with star running backs Eddie Lacy and T.J. Yeldon pounding the ball and A.J. McCarron continuing to be his regularly consistent self.
The game would be a good one, and might even get hyped up even more with a cage match between Will Mushcamp and Nick Saban prior to kickoff.
The end result, however, would leave Gator fans feeling blue.
Result: 'Bama - 30 Florida - 21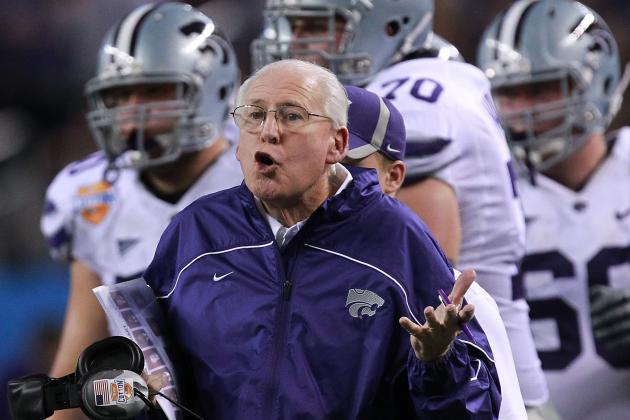 Ronald Martinez/Getty Images

This one would be the big upset of the playoff.
Oregon, as the two seed, would face off against Kansas State.
Not a good matchup for the Ducks.
Collin Klein and company ground and pound the ball, throwing only when necessary, and boast a stout defense that can slow the speedy Oregon offense.
In double overtime, Klein puts this one away for Bill Snyder's unit.
Result: K-State - 41 Ducks - 38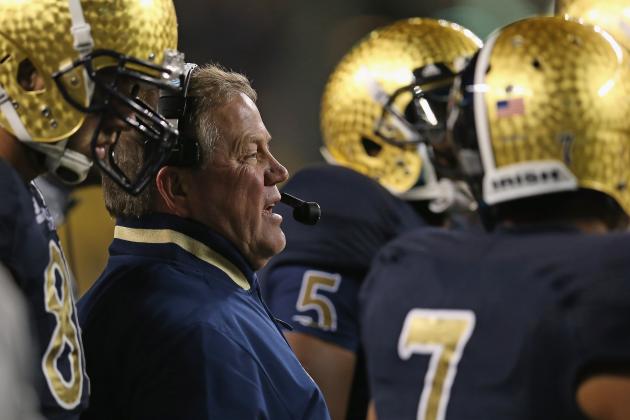 Jonathan Daniel/Getty Images

While Notre Dame matriculates through the season with a very stout defense, this will be their toughest test to date.
Geno Smith, fresh off a Heisman win, and the West Virginia offense are just too much for the Irish to handle, and the problems the Irish are facing at the quarterback position again rear their ugly heads.
A great season for the Irish ends in a blowout in the first round of our playoffs.
Result: WVU - 54 Irish - 35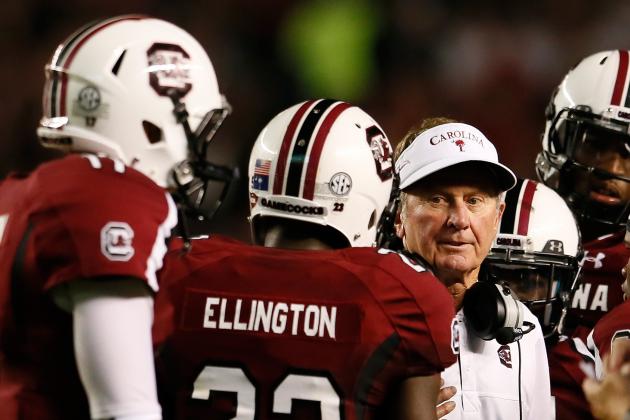 Kevin C. Cox/Getty Images

This battle of stout defense will go to whichever team has the most consistent offense.
That's easily the Gamecocks, who boast Heisman finalist Marcus Lattimore and an effective passing attack, designed by Steve Spurrier, who continues to talk crap about programs his team never even faces.
In this one, they continue to back it up, as Jadeveon Clowney and his mates on defense wreak havoc all day for Mike Riley's squad, and turn Oregon State's dream season into a nightmare.
Result: USC - 42 OSU - 13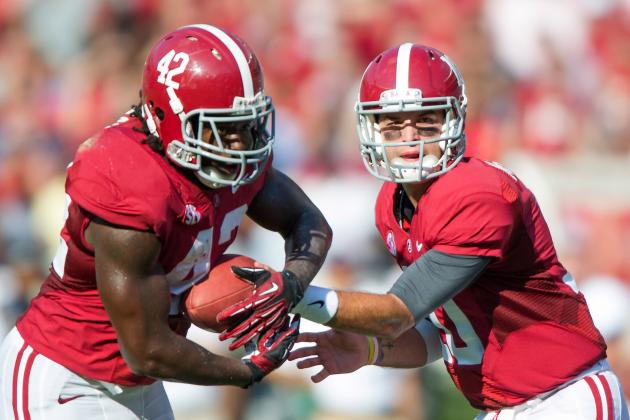 Michael Chang/Getty Images

It's been a great season for Kansas State to this point, but it ends right here.
The Tide eat up offenses for breakfast, and the Wildcat's, though different from the usual, is no exception.
Nick Saban's game-plan for Collin Klein is perfect, and the Tide score two defensive touchdowns en route to the big win over K-State.
Result: Tide - 35 Wildcats - 20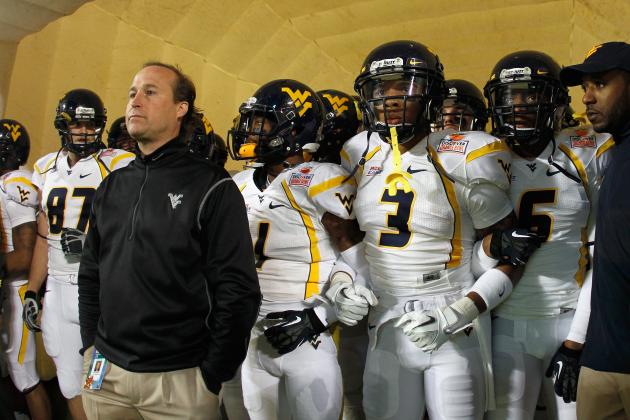 Mike Ehrmann/Getty Images

Outscoring opponents and hoping the defense holds occasionally worked thus far for West Virginia, why quit now?
The Mountaineers face a stiff test in South Carolina, but a balanced offense and mistakes by Connor Shaw lead to a late rally.
Geno Smith tosses a touchdown with under a minute left to pull out the win and prevent the all-SEC title game.
Result: WVU - 35 Gamecocks - 33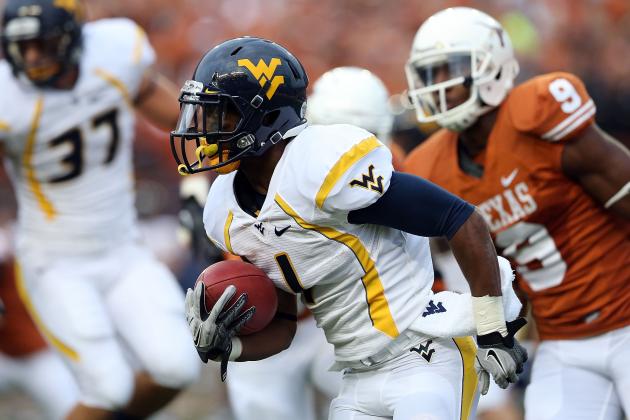 Ronald Martinez/Getty Images

It's the classic offense vs. defense battle in the title game.
West Virginia brings the best offense in recent memory into the game against an Alabama defense that continues to flummox offensive coordinators with startling regularity.
The Mountaineers' rushing attack is key in this game, opening up the passing game enough for Geno Smith and Tavon Austin to connect on three touchdown passes, leading Dana Holorsen's team to the surprising victory.
Result: 'Eers - 27 Tide - 21