WWE Hell in a Cell 2012: 8 Storylines That Need to Be Addressed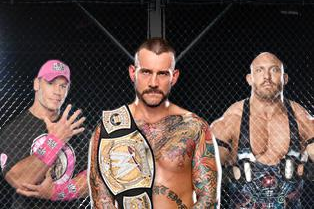 Who will Punk choose? (Photo Credit: WWE.com)
We're still more than two weeks away from WWE Hell in a Cell 2012, but there's a half-dozen storylines that need to be developed. Once again, it seems WWE is taking a slow approach. One can never truly know if a feud will have a proper buildup because the company likes to add surprises to the PPV cards just days before the event.
At this point, every title feud is still up in the air, with the exception of the World Heavyweight Championship.
The WWE Universe knows the Tag Team Championship is on the line as well against the team that wins the tournament on the Oct. 15 Monday Night Raw.
Developing storylines takes proper time. But there's no new developments when half of the following storylines haven't even been mentioned in awhile.
Here are the eight storylines that need to start being alluded to more often as we come closer to Hell in a Cell.
Begin Slideshow

»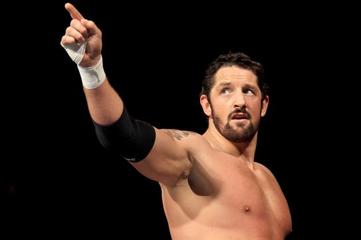 Photo Credit: WWE.com
WWE began priming the WWE Universe for Wade Barrett's return in August. This sent fans into a frenzy, speculating who and where he would attack. Most believed he would have an immediate impact, interfering in matches featuring Sheamus.
It's been nearly two months, and fans are still waiting.
With Big Show being thrown into a feud with Sheamus at the very last minute and recent history indicating a lack of enthusiasm for Sheamus and Show, Hell in a Cell could be the perfect spot for Barrett.
Hopefully Show is just a stopgap.
Barrett finally received a match against the World Heavyweight champion on the Oct. 5 SmackDown. Naturally, Big Show and Tensai interfered. But it could be a jump-start on a brewing feud.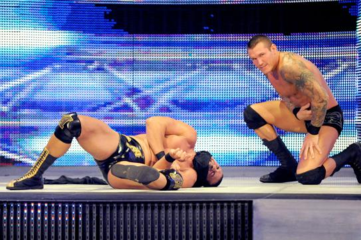 Randy Orton and Alberto Del Rio have only had two brief run ins. (Photo Credit: WWE.com)
Apparently there is a building feud between Alberto Del Rio and Randy Orton. Yet, outside of a cheap attack on Orton at the hands of Del Rio, "building" isn't the most compelling term.
Del Rio attacked during a match between Orton and the Big Show. On Main Event, Orton took on The Big Show again.
It sure seems those two are feuding more than Del Rio and Orton are.
If the Viper and the Mexican Aristocrat are to square off at Hell in a Cell, this venture better develop quickly. A short buildup won't do anything for either wrestler, and it will only earn yawns of boredom from fans.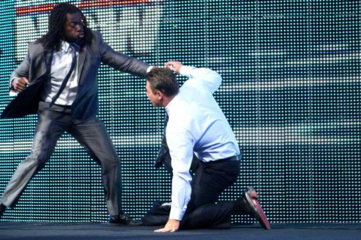 Kofi Kingston defends Larry King against The Miz. (Photo Credit: WWE.com)
Before this past Monday Night Raw, the Miz needed an opponent for Hell in a Cell 2012.
Larry King may have provided an answer.
During an interview with The Miz, King booted the Superstar in favor of another—Kofi Kingston. This action turned negative as King's wife threw water in the Miz' face and Kingston threw him off the stage.
On Oct. 10, Kingston challenged Miz to a title fight at the Oct. 17 Main Event show.
But does it stop there, or will this feud continue to Hell in a Cell? We'll know more after the 17th.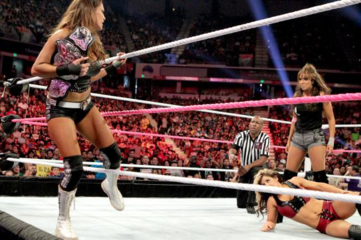 Layla watches Eve leave, after the Divas champ went too far. (Photo Credit: WWE.com)
It would appear Eve will likely take on Layla in a rematch for the Divas Championship at Hell in a Cell 2012.
This is mostly due to the fact that there is literally no one else available.
WWE has a good angle though.
Kaitlyn was supposed to take on Layla at Night of Champions, but was assaulted by an unknown assailant. Eve stepped in (and up) to win the belt.
I personally wouldn't mind if the angle played out until after Hell in a Cell, but the PPV has to do something to continue or further it.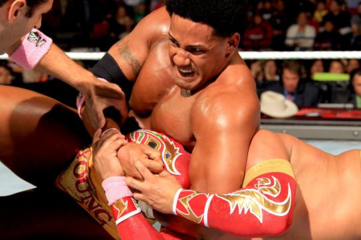 Darren Young takes down Sin Cara. (Photo Credit: WWE.com)
If you were a betting person, you might want to go put money on the Rhodes Scholars winning the tag team tournament. The winning team faces Team Hell No at Hell in a Cell.
But what about the losing teams?
The previous champions, R-Truth and Kofi Kingston, have broken off their tag team pursuits. That leaves Rey Mysterio and Sin Cara and the Prime Time Players as the top tag teams.
They should fight each other at Hell in a Cell.
If they actually will is another story. But it sure would be a shame to leave them unaddressed, especially because PTP is on their way up. Sin Cara has never looked better and Mysterio is thriving as a tag team partner.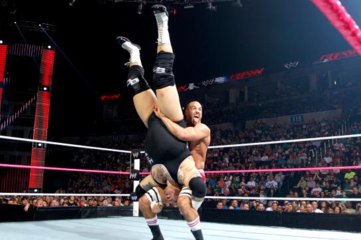 This feat of strength was pretty impressive. (Photo Credit: WWE.com)
Antonio Cesaro finally knocked off Santino Marella for the United States Championship, marking a turning point for Cesaro's WWE career.
Since then, he's squashed a few low- to mid-card guys in title defense.
Though most matches have been obvious victories from the start, Cesaro did impressively defeat Brodus Clay. Moreover, Cesaro effectively hit "The Neutralizer" on Clay—an impressive feat of strength.
So now what?
The easiest route would be to have the two fight again, this time at Hell in a Cell. Unfortunately, this match screams YouTube pre-show.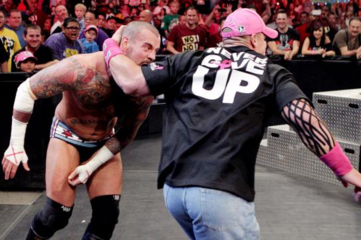 John Cena throws CM Punk back to Ryback and Mr. McMahon (Photo Credit: WWE.com)
So is it Ryback or John Cena?
WWE champion CM Punk has the opportunity to pick his opponent for Hell in a Cell 2012.
On the one hand, he has Cena—the superstar who never surrenders, has insane amounts of strength and fight inside of him and is the face of the company. But he's banged up.
Behind curtain No. 2 is Ryback, a beast of a man who stops for no one, defender of the weak and power player on the rapid rise.
I wouldn't want to fight either if I were Punk.
The real question is, is Cena even physically capable of wrestling? Because if he isn't, it's Ryback for sure. This only opens up a whole new book of questions.
CM Punk—you are on the clock.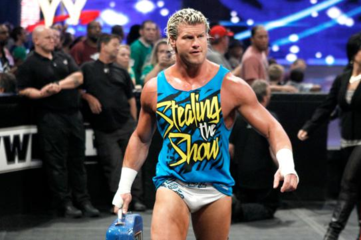 Will Ziggler even be on the show? (Photo Credit: WWE.com)
Raise your hand if you know just what Dolph Ziggler has been doing recently. I'll wait.
Ziggler won the Money in the Bank contract, attempted to cash it in several times and failed. He had legitimate World Heavyweight Championship battles and lost. And he still has not cashed in.
Sheamus moved on from Ziggler to Alberto Del Rio to the Big Show (and hopefully Wade Barrett). But when is it Ziggler's turn?
Not only is he resisting cashing in, he's idly standing by.
He's not in the title scene and he's not feuding with anyone else who is on the cusp. He's not even battling a legend to buy his time.
It makes one wonder if there will even be a place for Ziggler at Hell in a Cell 2012.