Cincinnati Reds vs. San Francisco Giants Game 2: Live Score, NLDS Analysis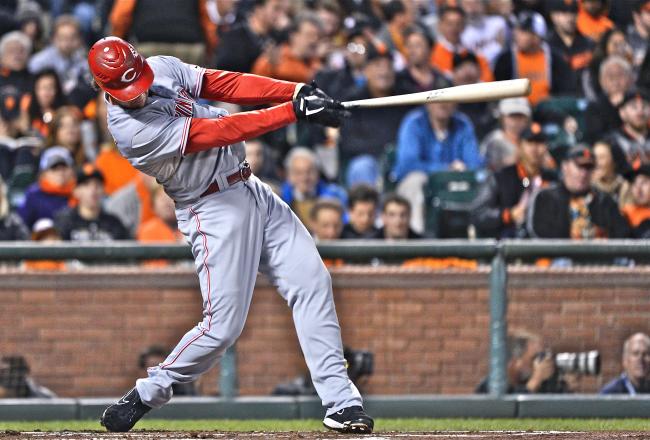 The National League Division Series continues tonight after an adventurous Game 1 where the Cincinnati Reds beat the San Francisco Giants 5-2 despite losing starting pitcher Johnny Cueto to back spasms after just eight pitches.
Final Score: Cincinnati Reds Beat San Francisco Giants 9 – 0. Take 2-0 NLDS Series Lead.
Game 3 is on Tuesday Night in Cincinnati with Homer Bailey on the bump for the Reds facing off against Ryan Vogelsong for the Giants.
Scoring Summary:
2nd Inning - Ryan Ludwick Solo - HR. Reds 1 - Giants 0
4th Inning - Scott Rolen RBI Single. Reds 2 - Giants 0
4th Inning - Ryan Hanigan 2-RBI Single. Reds 4 - Giants 0
8th Inning - Jay Bruce 2-RBI Double. Reds 6 - Giants 0
8th Inning - Ryan Hanigan RBI Single. Reds 7- Giants 0
8th Inning - Drew Stubbs RBI Triple. Reds 8- Giants 0
8th Inning - Brandon Phillips RBI Double. Reds 9- Giants 0

RECAP
The story of the night here is Bronson Arroyo.
While the Reds offense put on a show in their own right, with nine runs on 13 hits, Arroyo took the Giants out of this game from the get-go, retiring the first 14 batters to face him. He was changing speeds all night, hitting an insane 21 different speeds on the night, according to SI's Tom Verducci, only surrendering one hit and one walk in seven shutout innings.
Every one of the Reds' hitters showed up, as each starter picked up a hit with Ryan Hanigan the unlikely star. Brandon Phillips continues to shine with two hits tonight and Joey Votto woke up from his one game slumber with three knocks.
There really wasn't much of anything to speak of for the Giants other than Tim Lincecum's two shutout innings as Madison Bumgarner simply didn't have it tonight. He allowed four runs in just 4.1 innings and outside of the first inning was in trouble all night.
This has been one of the crazier seasons in recent memory, with the A's and Orioles coming out of nowhere to make the postseason. However the Reds were tied for the NL's best home record, and it will take a comeback of epic proportions for the Giants to even have a chance of making this a series.
In case you're wondering, the Reds weren't swept in a 3-game home series all season. In fact, they didn't lose 3 straight at home all year.

— Andrew Baggarly (@CSNBaggs) October 8, 2012
That will do it as Hunter Pence grounds out to end the game.
Final Score: Cincinnati Reds Beat San Francisco Giants 9 – 0. Take 2-0 NLDS Series Lead.
Game 3 is on Tuesday Night in Cincinnati with Homer Bailey on the bump for the Reds, facing off against Ryan Vogelsong for the Giants.
Giants continue to fight as Buster Posey walks to put two runners on with two outs in the 9th. The stadium faithful still throwing around their towels making noise. Have to respect the effort at this point in the game
Pablo Sandoval tries to take some form of momentum into Tueday's game 3, ripping a double off the RF wall
At this point, its all good news for Reds fans, as Giants fans need to hope for an A's / Orioles type comeback performance in Cincinnati
Not wearing corrective eyewear, but I think the scoreboard says the Reds are outhitting the Giants 13-1. This is a thumping.

— Andrew Baggarly (@CSNBaggs) October 8, 2012
The top of the 9th ends with a great sliding catch made by Xavier Nady, miraculously avoiding Pablo Sandoval, but I'm afraid it's too little too late as the Reds take a 9-0 lead into the bottom of the 9th. This game was over before it even started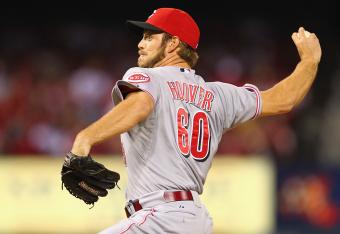 It's kindaaaa insane just how good the Reds' bullpen is:
The fact that J.J. Hoover, 2.05 ERA and WHIP under 1 is your mop up man says some things.....

— Brian Snow (@BSnowScout) October 8, 2012
Hoover strikes out Nady looking after Crawford walked and reached second base and fielder's indifference. This game cannot end soon enough for the Giants and their fans
Giants fans continue to call it a night, showing a bit of class with their ushers
Fans are hugging ushers goodbye at AT&T Park. Because... you know.

— Tim Kawakami (@timkawakami) October 8, 2012
Baker is now emptying the Reds bench with the game seemingly out of hand. Wilson Valdez stays in the game at SS, Chris Heisey in left after pinch running and rookie of the year candidate Todd Frazier replaces Joey Votto at 1B. J.J. Hoover and his 2.05 regular season ERA on the hill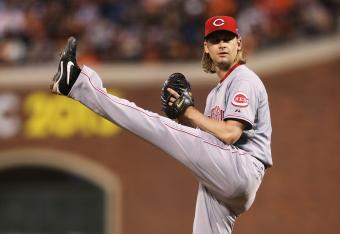 That is it for Bronson Arroyo. He finishes with 7 Shutout innings having only surrendered one hit and one walk. If possible, he was even better than that line suggests. Tom Verducci just reported he threw pitches at 21 different speeds, including every number from 71-90. An incredible outing to say the least
The inning is finally over as pinch-hitter Wilson Valdez flies out to RF. Reds tack on five more runs to take a 9-0 lead into the bottom of the 8th. We'll see if Arroyo comes out to finish his shutout bid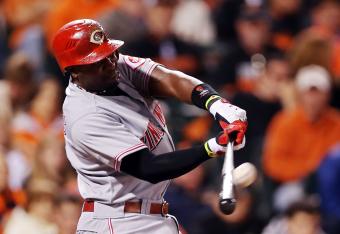 Reds Lead Giants 9-0. The beating continues as Brandon Phillips hits a double down the left-field line, driving in Drew Stubbs from third.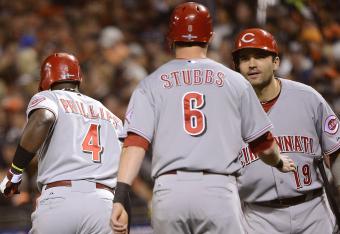 Reds Lead Giants 8-0. Jeez, this is getting ugly for the Giants quickly. Drew Stubbs drills a ball past Angel Pagan in center field for an easy triple. Ryan Hanigan scores from first as Cincinnati continues its flat-out dominance in every aspect of the game.
Reds Lead Giants 7-0. Hanigan comes through again for the Reds, ripping a single up the middle allowing Bruce to score with ease.
This pretty much sums it up for Giants fans..
Attention cabbies outside AT&T Park: Start your engines.

— Tim Brown (@TBrownYahoo) October 8, 2012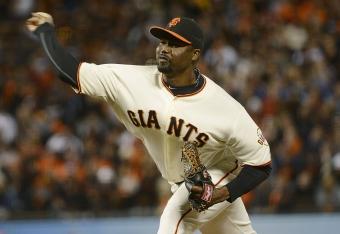 Quick pull for Casilla after getting his one out as Bochy signals the bullpen for Guillermo Mota. Reds lead 6-0 with one out and a man on second with Ryan Hanigan coming to the dish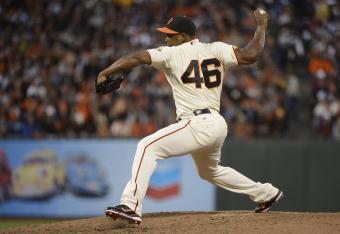 Santiago Casilla comes in from the SF bullpen to try and limit any further damage left from Mijeras' outing
And that will do it for Mijeras. The Giants lefty fails to record an out and throws his hat and glove in disgust in a frustration that is echoed by just about everyone wearing orange and black in the California area.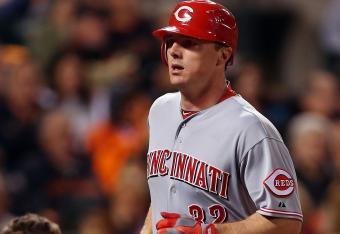 Reds Lead Giants 6-0. Jay Bruce rips a double to RF driving in a pair of runs to stretch the lead to six. Pinch runner Chris Heisey scores from first on the double
Giants pitching coach Dave Righetti jogs out to the mound for the second time tonight as Mijeras walks Ryan Ludwick in a quality AB. Smells like trouble for SF with Jay Bruce coming up
Votto doesn't seem to care who is on the mound tonight as he picks up his third single of the night to lead off the 8th. With Arroyo dealing, not to mention the game's best bullpen in Sean Marshall, Jonathan Broxton and Aroldis Chapman waiting in the wings, it's safe to say the Giants can ill-afford to give up any more runs
Timmy is finito. LHP Jose Mijares comes on for the Giants to start the 8th. After he joined SF, Mijares pitched to the tune of a 2.55 ERA over 17.2 IP
Pence flies out to CF as Stubbs didn't even have to move for the lazy fly ball. Arroyo continues to amaze as the Giants' chances in this series continue to fade away.
And the Giants have their second base-runner of the evening! Arroyo walks Posey in a solid AB. Here comes Hunter Pence as San Fran tries to start a "rally"
This article is
What is the duplicate article?
Why is this article offensive?
Where is this article plagiarized from?
Why is this article poorly edited?