Seth Mitchell and the Top 20 U.S. Heavyweights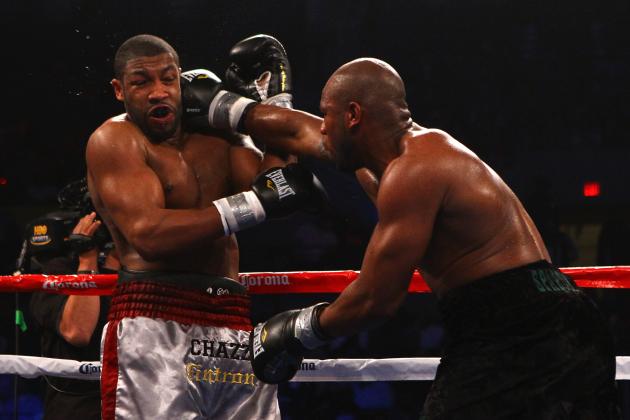 Al Bello/Getty Images

The sad state of affairs in the domestic heavyweight boxing scene is a long standing source of woe for North American fans, a consistent source of complaint for going on a generation now.
I am closing in on turning 42 as I write this; the relative glory days of Holyfield-Bowe or Holyfield-Tyson or even Ray Mercer-Tommy Morrison were years ago now, when I was a young man.
The meteoric thrill ride that was the young Iron Mike Tyson occurred during my adolescence.
The seemingly endless and unassailable reign of Larry Holmes coincided with my childhood, when I was developing my own long term sports fan memories.
The true golden age of Ali-Fraiser-Foreman-Norton took place for me during the myth-making years when earliest impressions freeze into lasting fragments of memory. When I would read about these events only a few years later, as I absorbed every sports book in my local and elementary school libraries, I understood clearly that it had already passed into the status of iconic sports history.
Marciano, Louis, Dempsey existed back in the same sort of glamorous historical haze as Micky Mantle, Ted Williams and Babe Ruth.
I read and write about boxing nearly every day. I am a fan of the sport and while there are things I would like to see happen differently from time to time, I am mostly pretty satisfied on a week-to-week basis with the number of high quality boxers who do square off and compete.
But like all boxing fans my age, a part of me is always hungering for a return of the great American heavyweight. But I have to be honest, writing this list has not made me more optimistic about the state of the division.
There are plenty of exciting, talented American heavyweights. But most of our best fighters in the division have already come up short against the Klitschko brothers, or else other top ranked eastern Europeans like Tomasz Adamek, Alexander Povetkin or Mariusz Wach.
For years now the division has been dominated by Europeans, particularly fighters from former Soviet bloc nations.
Sports fans in those cultures still have a healthy reverence for the individual combat sports and the best big athletes in those cultures still pursue glory in them.
Meanwhile, in the United States, boxing, for whatever reason, has been in decline and the best and biggest athletes have filtered towards football.
Seth Mitchell, one of the highest ranked fighters on this list and perhaps the best current candidate for making the heavyweight division relevant again in the United States, is a former division one linebacker.
Begin Slideshow

»
How bad is the current state of the United States heavyweight division?
To begin with, I ultimately can't think of one good reason not to place 44-year-old James Toney at number 20. He fought in April of 2012, beating 21-4-1 Bobby Gunn when Gunn broke his hand. In 2011 he beat 46-14 Damon Reed by unanimous decision and lost a unanimous decision at cruiserweight to Denis Lebedev.
Lebedev shut him out on all three cards, but just the same, Toney went 12 rounds with one of the very top cruiserweights in the world.
These are some of the other fighters I considered for ranking here: 37-year-old, 13-0, Kelvin Price, who has fought a single ten rounder; 40-year-old, 16-0 Amir Monsour, whose biggest win came against Dominick Guinn; 39-8 journeyman Travis Walker; 39-year-old, 35-7 Fres Oquendo; 26-5 Derrik Rossy; even fellow 40-somethings Oliver McCall and Monte Barret.
And I just don't believe any of those guys would beat James Toney. Even today.
In my opinion, if you went out right now, at 5:43 Eastern U.S. time on Sunday evening, and found James Toney, where ever he was and in whatever condition you found him in, he could still probably school the overwhelming majority of professional heavyweights on this planet.
If he had wanted to keep making 160 pounds, James Toney could probably have become one of the top five-six middleweight champions of all time. Instead he opted to eat and drink whatever he felt like and still beat most of the best heavyweights in the world.
Now in his fifth decade he seems intent on remaining active, trying to talk his way into another big payday.
Jason Estrada, 19(5)-4, was an Olympian in 2004. He has lost reasonably competitive decisions to both Tomasz Adamek and Alexander Povetkin. He was TKO'd by rising, 37-year-old prospect Franklin Lawrence in January of 2011.
With a nickname like "Big Six," you would expect him to have a little bit more power. I have seen Estrada look much sharper and more physically solid at some times than at others, which can sometimes indicate inconsistent training habits. His weight has varied from the mid 230's to the lower 250's.
Estrada has had a couple of big fights already. It is probably a long shot to think he will get another, but he remains near the top of the pack for U.S. heavyweights.
Joe Hanks, 20(14)-0, is a 29-year-old heavyweight prospect out of Newark, New Jersey. He's an athletic big man: six-foot-four and about 240 pounds.
So far his record has been compiled mostly by beating up club fighters. At the end of the months he meets fellow unbeaten heavyweight prospect Fred Allan.
Matt Godfrey, 21(11)-3(1), was a pretty good cruiserweight prospect. But he lost to the elite of the division in his last two bouts there, a fifth round TKO against Marco Huck and a unanimous decision against Lateof Kayode in 2011.
This year he decided to move up to heavyweight and chase the bigger checks. He TKO'd 10-3 prospect Jesse Oltsmanns in July.
At six feet, Godfrey is probably too small to be competitive against the best heavies. He looked flabby and small against the 215 pound Oltsmann.
David Rodriguez of El Paso is a big heavyweight, six-foot-four and 250 pounds. He has a 36-0 record with 34 stoppages. On paper, you'd think he should be in line to fight a Klitschko brother.
But this is one of the most protected fighters in recent years. He has built up his glittering record mostly against club fighters, with a few trial horses and one or two journeymen.
At 35-years of age and nearly 15 years into his professional career, he is way overdue to step up in competition. There's no doubt that he's big and a devastating puncher, with KO potential in both hands.
But he is in serious danger of having boxing fans lose interest in him.
Tony Grano has a 20(16)-2(2)-1 record. He was stopped by Mark Brown in 2008 and was caught for a second round TKO by tough journeyman Nicolai Firtha in 2010. He later avenged the loss to Brown.
His Showtime televised fourth round TKO of then unbeaten Travis Kauffman in 2009 showed that he was a cagey fighter, willing to skirt the line between crafty and dirty in order to win.
On top of that, he has legitimate KO power. In January he TKO'd former world title challenger Brian Minto in three. In June he KO'd solid journeyman DaVaryll Williamson in four.
Twenty-nine-year-old Heavyweight prospect Tor Hamer is 18-1 with 11 stoppages. So far he has only fought one scheduled 10 rounder, but he did win a Prizefighter Tournament over in England last June, which included a three round decision over the highly rated, former world title challenger, Kevin Johnson, in the finals.
Hamer is aggressive and explosive. He is still extremely green, but in a wide open division he should get the chance to fight high profile fights soon.
Malik Scott is an undefeated, 31-year-old prospect with a 35(12)-0 record. A bicep injury forced him out of action for over three years, between 2008 and 2012.
He has won three fights this year, including an eight round unanimous decision over smart journeyman Kendrick Releford and a TKO of 22-1 prospect Bowie Tupou.
Scott does not have a lot of power but he does have a substantial amateur background and he is a slick technician who can make good use of his length. Ideally he will fight another highly regarded prospect soon.
In 2009 Kevin Johnson rode an undefeated record into a match up with Vitali Klitschko. He was shut out on all three cards.
Last June he actually competed in one of the Prizefighter Tournaments in England, and lost a three round decision to Tor Hamer in the finals, giving him the second loss of his career.
I tend to think I might have Johnson too highly rated here. It's undeniable that he has some talent. He drew with future world champion Timur Imbragimov in his fourth fight.
Johnson also gave Devin Vargas his first loss and KO'd former Mike Tyson challenger Bruce Seldon. I didn't really count it against him that he lost to Hamer, an inexperienced prospect, in what should be properly regarded as a three round exhibition.
At the same time, Hamer took it to him all three rounds.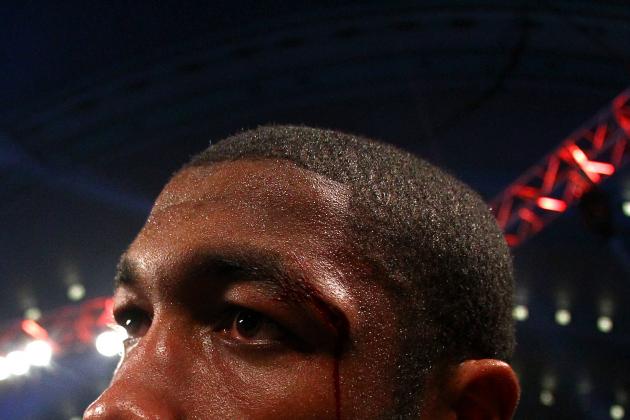 Al Bello/Getty Images

Chazz Witherspoon was TKO'd by Seth Mitchell last April, after rocking Mitchell early and looking like he was poised to pull off the big upset.
The loss dropped Witherspoon to 30(22)-3(2).
Against the truly elite in the division he has been historically over-matched. Prior to losing to Mitchell he had been TKO'd in nine by Tony Thompson and DQ'd in three against Chris Arreola, in a fight when he was getting smashed.
I would still rate him over most other American heavyweights out there. Maybe he wouldn't have been so highly rated in other eras, but he would have been a respectable professional in any of them.
Like Mitchell, he took up the sport late. But also like Mitchell, he is a college grad, another smart, studious fighter. He has good size, decent power and knows how to use his reach to fight on the outside.
Johnathon Banks, 28(18)-1(1)-1, has a WBC title eliminator showdown scheduled with Seth Mitchell for November. He's the opponent, but he is also a reasonably talented young fighter with a decent level of experience, walking into the biggest opportunity of his life.
Stars have aligned for more unlikely underdogs.
The single loss in Banks' career was an eighth round TKO against Tomasz Adamek at cruiserweight in 2009, for the IBF strap.
After that he jumped straight to heavyweight. He has fought competitive journeyman like Travis Walker, Jason Gavern (a draw) and Nicolai Firtha, while meanwhile derailing a few fellow prospects.
He is pretty much at the perfect point to rise up and challenge the rising phenom that is Mitchell. If he wins, he puts himself in position for some life-changing paydays.
The only loss in Banks' career so far came against a guy most people rank in or near the top five in the heavyweight division. If he beats a hot prospect like Mitchell, it will put another level of credibility on his career.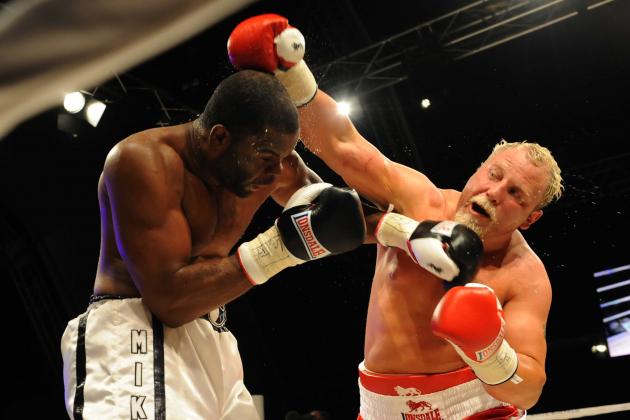 Gallo Images/Getty Images

In 2011 Michael Grant, 36(28)-4(3), turned 39. He also KO'd Franz Botha and Tye Fields. Prior to that he went the distance against Tomasz Adamek in 2010.
The six-foot-seven Grant moves well in the ring. He is an intelligent old-timer who knows how to use his height and footwork to stay safe while waiting to pounce with his still very serious punching power.
The punch is the last thing to go on any old heavyweight. Remember George Foreman against Michael Moorer. Heck, I read an old story somewhere about Jack Dempsey knocking a mugger cold when the champ was in his 70s.
So big Michael Grant can still punch. And the last time he was in the ring, not that long ago, he still had the ability to move efficiently into position to deliver that punch in a heavyweight prizefight.
It has been years since Grant was considered a serious contender, but he remains a very tough professional, and no easy stepping stone for a young contender on the rise.
Franklin Lawrence, 18 (13)-2(1)-2, did not start his professional career until he was 30-years-old. Now 37, he is a legitimate rising prospect in the heavyweight division.
Lawrence got TKO'd in the first round by a fellow undefeated prospect early in his career, but only because he injured his arm throwing a punch (per Boxrec). His other loss was a very close fight against Oliver McCall in 2009.
He beat the tough journeyman Nicolai Firtha (20-10) in his seventh professional fight. He also had a seventh round stoppage against the competitive Jason Gavern (20-7) in January of 2011.
But the top win of his career has got to be his TKO of former Olympian Jason Estrada. Estrada lasted the distance against current WBA "regular" champion Alexander Povetkin and the top five rated Tomasz Adamek.
Against Lawrence, a guy legally old enough to be President of the United States, Estrada got beaten up badly.
Lawrence versus Tony Grano is a heavyweight match up I would be willing to drive a couple of hours to cover.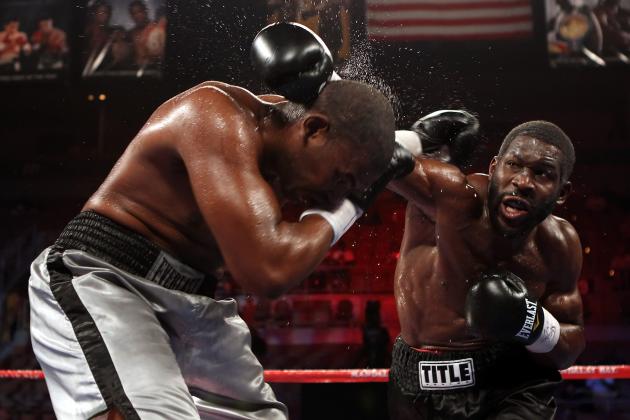 Scott Heavey/Getty Images

Bryant Jennings, 15(7)-0, has already fought twice in front of national television audiences, and both times he has made a strong showing.
In January of 2012 he won a competitive but decisive ten round decision over fellow unbeaten prospect Maurice Byarm. He was just getting warmed up.
Two months later, in March, he put a beat down on former world champion Siarhei Liakhovich, stopping him in nine.
He's stayed active since then. He shut out 25-1-1 Steve Collins last June and blew out 25-9 Chris Koval in one in September. He's scheduled to fight again in December, opponent TBA.
Nick Laham/Getty Images

Deontay Wilder won a bronze medal in the 2008 Olympics, making him the last U.S. boxer to medal in the games. Since turning professional he has reeled off 25 straight victories, all by knockout.
There is legitimate reason to critique his quality of opposition, but he has shown signs that he is ready to start seeking out tougher challenges. In August he fought Kertson Manswell, a tough journeyman with a lot of experience, who had lost an eight round unanimous decision to former world champion Ruslan Chagaev in January.
Wilder pole-axed the veteran, jumping on him early in the first and knocking him down three times before the referee stopped it at 2:10.
The six-foot-seven Wilder has wide shoulders and great reach. Clearly punching power is not an issue for him.
What might be his issue is his light frame. Most of his pro career he has weighed in south of 220. In the last year he has packed on about ten pound of muscle. Unfortunately, it looks like it's mostly gone on his upper body.
What happens when the likes of Magomed Abdullah digs into his narrow torso with a hook? How do those thin legs hold up when Seth Mitchell or Bryant Jennings land flush to his head with an overhand?
But Wilder has physical gifts and a skills set that can't be denied. He is clearly one of the big names among the young lions in the U.S. heavyweight scene.
Steve Cunningham, 25(12)-4, has fought most of his career at cruiserweight, where he was a world class, elite talent. His only losses are against fellow top dogs in the 200 pound division: twice to Yoan Pablo Hernandez in October of 2011 and February of 2012, plus split decisions to Tomasz Adamek and Krzysztof Wlodarczyk.
His loss to Wlodarczyk was avenged. He also has TKO victories over Marco Huck and Troy Ross.
His only fight at heavyweight so far was a shut out unanimous decision over Jason Gavern in September. Gavern's no tomato can, but Cunningham didn't move up to heavyweight to fight tough journeymen.
He has a big money title fight in his sites. More than likely he will get one.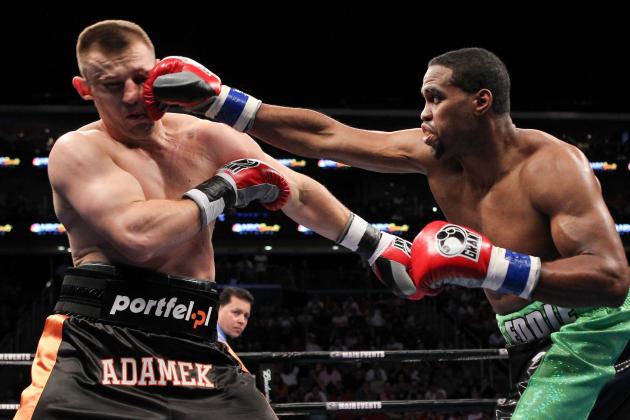 Ed Mulholland-US PRESSWIRE

Eddie Chambers, 36(18)-3(1), is a true cruiserweight who has made a very nice career for himself fighting at heavyweight. At only about 205 pounds, he has spent the last five years or so ranked at, or near, the world heavyweight top ten.
Chambers lost a unanimous decision to Tomasz Adamek in June. He has had one shot at a Klitschko brother already, losing by ro. 12 knockout to Wladimir in March of 2010.
In July of 2009 Chambers put on a boxing clinic against the gigantic Alexander Dimitrenko, handing the highly rated Ukranian contender his first professional loss.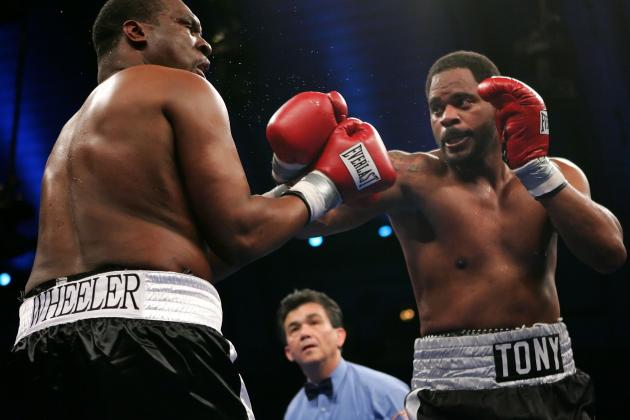 Al Bello/Getty Images

Tony Thompson, 36(24)-3(2), has been the top American heavyweight for the past couple of years. I imagine some people would still rate the 40-year-old that highly, but his sixth round TKO loss to Wladimir Klitschko last July makes me think "The Tiger" has slipped a notch.
I hadn't expected Thompson to win that fight, but I was surprised he didn't make a better show of it. He had previously lost to Klitschko by Round 11 TKO in July of 2008.
Thompson is a very well preserved 40, but age can happen quickly in the sport of boxing. I still like his chances against almost any other heavyweight. But six months ago, I would have had first on this list.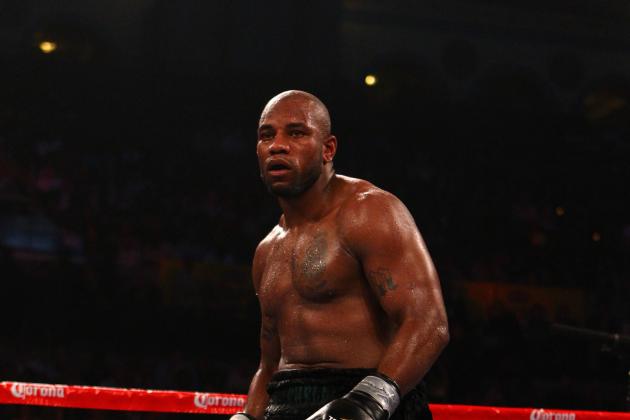 Al Bello/Getty Images

Seth Mitchell is the most exciting thing to happen to the American heavyweight division in years. His professional record is 25(19)-0-1. The draw was in his third fight, a four-rounder. He has been steamrolling everybody in his path since.
In the last year, his handlers seem to have made a sincere attempt to step up his level of competition and push him. So far that has been easier said than done.
Last December he absolutely pummeled former world champion Timur Imbragimov, TKOing him in two. He fought fellow high rated prospect Chazz Witherspoon in April, coming back from getting rocked to win by Round 3 TKO.
Later this month he faces once beaten Johnathon Banks.
Mitchell was a star middle linebacker at Michigan State University, before a knee injury ended his football career. After graduating from college he took up boxing.
Mitchell gets some criticism for his late start in the sport. Obviously it's no coincidence that pound-for-pound superstars like Floyd Mayweather and Andre Ward started boxing when they were little boys.
But developing an elite athlete into a heavyweight champion after a late start is not exactly without precedent. Ken Norton didn't start boxing until he was in the Marines, after he had starred in football and track in college.
It's no longer accurate to think of Mitchell as a football player who was converted to boxing. He is now a boxer who used to play football. He has applied his tremendous athletic intelligence to learning the sport and looks very much the competent professional in the ring.
His explosive offensive game in undeniable. His fight with Witherspoon proved he can handle getting rocked by a heavyweight punch and come back stronger.
Whether or not he will be able to defensively handle a sustained attack from an elite, championship caliber fighter remains to be seen. But the American boxing fan base is dying to find out. Right now he's our best hope.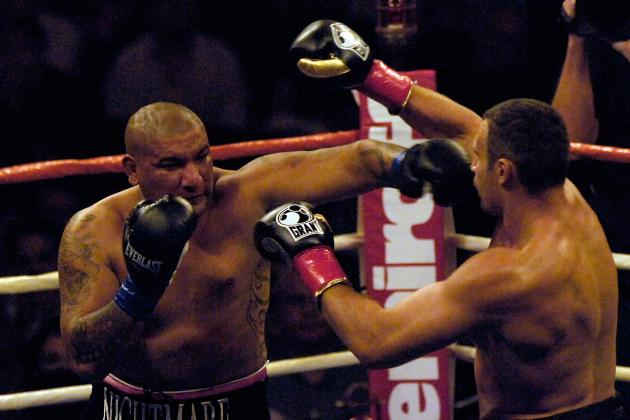 Jacob de Golish/Getty Images

Chris Arreola, 35(30)-2(1), has already come up short twice against the elite in the heavyweight division, getting stopped by 10 against Vitali Klitschko in 2009 and dropping a majority decision against Tomasz Adamek in 2010.
He has responded to those setbacks by becoming more serious in his year-round conditioning, long a source of criticism against him. In more recent fights he has consistently come in at around 235, a much better fighting weight for him than 250 and up.
Arreola stayed very busy in 2011, fighting five times. None of them were high profile fights, but they kept him active and in the spotlight.
So far he has only fought once in 2012. As a fan, I have my concerns over how the less active schedule might impact his improved conditioning.
Arreola has good movement and power. He has a gregarious, easy-to-promote personality, with a solid fan base. So he will get another shot at a world title.
If he can build on the conditioning progress he made in 2011, it is going to be interesting to see what he can do the next time around.