Green Bay running back Cedric Benson was carted off the field in the second quarter of the Green Bay Packers' road game against the Indianapolis Colts with what was reported to be a foot injury by ESPN's John Clayton on Twitter.
Cedric Benson. foot injury, return questionable. Andre Brown suffered head injury for Giants. Return questionable.

— John Clayton (@ClaytonESPN) October 7, 2012
In the wake of yet another example of pro football's grim reality of injuries, there is a stable of running backs on the Packers roster looking to be the next man up.
Many otherwise independent fantasy owners will also be seeking to replenish Benson's value, as the veteran is a three-time 1,000-yard rusher and was still picking up a brand-new offense. The easiest way to do that is often to grab a player from the same NFL team.
Here are the three backs who will vie for playing time in Benson's absence, along with analysis on who might get the starter's workload and the fantasy implications their skill sets represent.
James Starks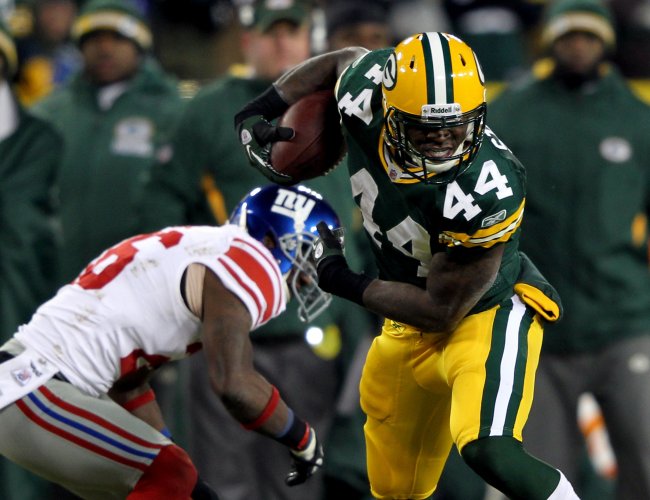 Jamie Squire/Getty Images
A breakout finish to the 2010 season resulted in Starks becoming the incumbent starter, which continued through last year. A nagging turf toe injury has held the third-year running back out of the lineup for the entire season, which is what triggered the signing of Benson.
Starks is clearly the next-best option on the Green Bay roster, and he was questionable earlier in the week for the Colts game. Unfortunately, he wasn't quite healthy enough to take the field in Lucas Oil Stadium.
In the long-term, perhaps Starks is worth grabbing for whenever he returns. Running backs especially struggle with turf toe, though, as it severely limits their ability to cut back and change direction.
In 2008, LaDainian Tomlinson's downfall started with the painful injury, which he played through for a significant amount of time. Dr. Marybeth Crane breaks down the effects of the injury nicely in an article from the same year.
The Packers would be very wise not to rush their next-best option back. Until Starks is deemed 100 percent, grabbing him in fantasy may be an ill-advised move.
Brandon Saine
The former Ohio State Buckeye is the least likely to shoulder the workload, considering he's been a healthy scratch in every game to this point.
Still, Saine shouldn't be ruled out. He has the ability to catch the ball out of the backfield, which is ideal in the Green Bay offense. Since Starks hasn't been healthy, Saine is the next fastest runner on the roster. He actually broke the 100-meter state record in Ohio as a high school senior.
Green Bay has utilized Alex Green in favor of Saine, but it will almost definitely be a timeshare situation if Benson's injury is indeed serious. Saine has plenty of attractive qualities on paper, but his slide down the depth chart and inactivity all season are concerning.
Don't take a flier on Saine until he sees significant game action, which will initially come in third-down passing situations in all likelihood.
Alex Green
Andy Lyons/Getty Images
It makes sense that the Packers are favoring Alex Green over Saine, considering the team used a third-round pick on the Hawaii product in the 2011 draft.
That said, Green hasn't quite adjusted to the pro game yet, still trying to find his flow after missing over half of his rookie season due to injury. His outing against the Colts wasn't impressive, but Indy has been fairly stout in its rushing defense thus far.
In limited action, Green hasn't been looked for to catch the ball, which would diminish his value in PPR leagues.
He's still the most likely option to start for the Pack in the short-term, though. Green never fumbled in college, and his combination of size and speed make him a powerful runner and explosive asset. He's somewhat similar to the mold of Benson, only more of a home run threat.
If you are desperate at running back and struggling for help in lieu of Benson, Green is the guy to get.