Fantasy Football's 6 Biggest Breakout Years Thus Far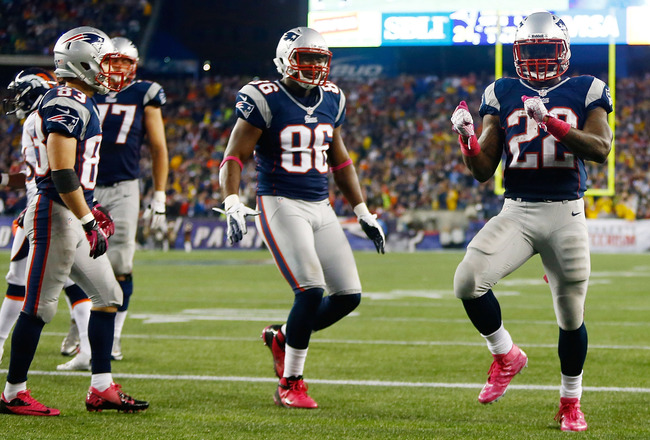 Jared Wickerham/Getty Images
Uncovering breakout fantasy football players before they actually "break out" can be a daunting, yet extremely rewarding task.
Every year, guys who drew little-to-no fanfare leading up to draft day surprise us with stat-filled performances as the NFL season kicks off.
This year has been no different.
If you managed to land one of this year's breakout performers, continued production from said player could provide your core of stars with the supporting cast they need to take you all the way.
If you missed out, you could find yourself lamenting bad draft choices well into next summer.
Such is life in the world of fantasy football.
Here are six players who have enjoyed breakout campaigns through Week 5 of the 2012 season.
Note: All fantasy point totals are according to Yahoo! Sports standard scoring system, which gives quarterbacks one point for every 10 yards and six points for every TD. NFL.com's Average Draft Position and Yahoo! Sports fantasy football preseason projected player rankings have been used to give you an estimate as to where these players were being drafted in most leagues.
Robert Griffin III, QB, Washington Redskins
Larry French/Getty Images
2012 Statistics
Pass: 96-139, 1,161 Yds, 4 TD, 1 INT
Run: 42 Att, 241 Yds, 4 TD
Avg. Draft Position/Projected Rank
NFL.com: 73.25
Yahoo!: 74
It may not be comparable to the start of Cam Newton's rookie season, but RGIII owners have few complaints regarding his production thus far.
A concussion suffered in the third quarter of Sunday's game in Atlanta puts a slight damper on what's been a brilliant start for the No. 2 overall pick in the 2012 NFL draft, but he's already proved himself as a reliable fantasy starter in a very short time.
Through the first four weeks of the season, RGIII was averaging 43.5 fantasy points per game, sitting behind only Drew Brees and Matt Ryan as top point producing fantasy QB's.
Matt Ryan, QB, Atlanta Falcons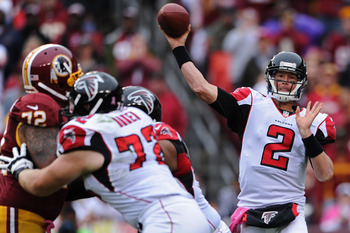 Patrick Smith/Getty Images
2012 Statistics
Pass: 136-199, 1,507 Yds, 13 TD, 3 INT
Run: 14 Att, 52 Yds, 1 TD
Avg. Draft Position/Projected Rank
NFL.com: 68.04
Yahoo!: 41
Speaking of the Falcons' signal-caller, Ryan has led his team to a 5-0 start behind an aerial attack that no opposing defense has been able to solve.
Many hoped the fifth-year pro would join the ranks of the fantasy elite last season, but he failed to make a consistent impact until the second half of the year.
This year has been a much more pleasant beginning for Ryan, who is averaging 301 passing yards per game to go with 14 total TD's. He's had at least two scores in every contest so far and is putting up 46 fantasy points per game.
Alfred Morris, RB, Washington Redskins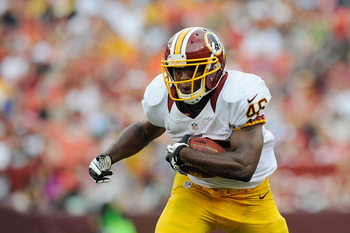 Patrick McDermott/Getty Images
2012 Statistics
Run: 100 Att, 491 Yds, 4 TD
Rec: 2 Rec, 16 Yds, 0 TD
Avg. Draft Position/Projected Rank
NFL.com: 141.93
Yahoo!: 240
RGIII isn't the only rookie producing eye-popping fantasy numbers for Mike Shanahan's squad.
The sixth-round pick out of Florida Atlantic made a name for himself in Redskins' training camp, impressing Washington's head coach enough to earn 28 carries in the season opener.
And with that, a fantasy star was born.
We keep waiting for Morris to have a down week, but it just hasn't happened. He's posted at least 78 yards rushing in each of his five starts and has found the end zone four times.
Stevan Ridley, RB, New England Patriots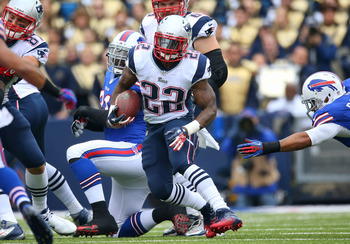 Tom Szczerbowski/Getty Images
2012 Statistics
Run: 102 Att, 490 Yds, 4 TD
Rec.: 5 Rec, 51 Yds, 0 TD
Avg. Draft Position/Projected Rank
NFL.com: 92.13
Yahoo!: 183
A popular sleeper pick heading into 2012, Ridley's level of production has been eerily similar to that of Morris'. He's got exactly two more carries, one less rushing yard and the same amount of touchdowns.
Like Morris, Ridley has eclipsed the century mark for two straight weeks. The Patriots have been adamant about establishing a rushing attack, and I imagine Bill Belichick is pleased with the results.
In his last two games, the 23-year-old has a total of 257 yards and three TD's on 50 carries.
Brian Hartline, WR, Miami Dolphins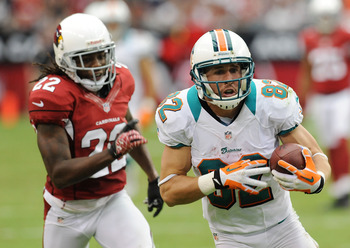 Norm Hall/Getty Images
2012 Statistics
29 Rec, 514 Yds, 1 TD
Avg. Draft Position/Projected Rank
NFL.com: 150 (max)
Yahoo!: 199
Highlighted by a 12-catch, 253-yard performance in Week 4, Hartline has become one of the most popular waiver-wire pickups this year.
Hartline's 514 receiving yards is currently enough to lead the entire NFL, even if it is only by a hair (Demyarius Thomas has 513 receiving yards). He may not seem like an every-week start, given the Dolphins' QB situation and lack of offensive consistency, but the league leader in receiving yards is a must-start no matter who he is.
Looking down the road, Hartline and the Dolphins have several favorable matchups, including during the fantasy playoffs. Miami draws the Jaguars in Week 15 and the Bills in Week 16, both home games. Jacksonville and Buffalo currently rank 30th in 31st in total yards allowed, respectively.
James Jones, WR, Green Bay Packers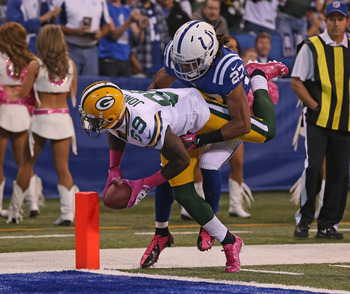 Jonathan Daniel/Getty Images
2012 Statistics
20 Rec, 237 Yds, 5 TD
Avg. Draft Position/Projected Rank
NFL.com: 149.80
Yahoo!: 183
With two-TD performances in consecutive weeks, Jones is now on everyone's fantasy radar.
And he might be there to stay.
With Greg Jennings battling injuries and Jordy Nelson struggling after a breakout 2011 campaign, Jones has been able to take advantage of the extra opportunities. He's responsible for half of Rodgers' 10 touchdowns on the year, and the reigning MVP is going to keep feeding him the ball as long as he continues to respond with productive numbers.
Veterans Experiencing a Fantasy Resurgence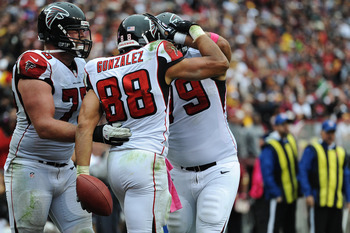 Patrick Smith/Getty Images
Reggie Wayne, WR, Indianapolis Colts
The 33-year-old has been on a tear in 2012, and Week 5 was his best performance yet. Wayne hauled in 12 passes from rookie QB Andrew Luck, good for 212 yards and a TD. Through five games, he's caught 36 passes for 506 yards and two scores.
Tony Gonzalez, TE, Atlanta Falcons
Age is no factor for a legend like Gonzalez. The 36-year-old has suffered a slight dip in production the past couple of years, but he's back on the scene in 2012. The future Hall of Fame TE came through with a 13-catch, 123-yard (and a TD) performance in Week 5, and he's got 39 catches, 388 receiving yards and four scores on the year.
Peyton Manning, QB, Denver Broncos
By all means, the man is still a machine. You can question whether or not his arm strength is back to normal (I have), but don't second-guess his fantasy football prowess.
The 15-year vet picked up right where he left off after a year absence, throwing for 1,013 yards and eight TD's in his last three games alone.
Chicago Bears Defense
The dominant performance from the Bears D warrants a quick mention. Five defensive touchdowns in the first five games of the year is unheard of, not to mention 18 sacks and 13 interceptions.
Keep Reading