Seattle Seahawks vs. Carolina Panthers: Final Game Grades and Analysis
Dale Zanine-US PRESSWIRE

The Seattle Seahawks (3-2) beat the Carolina Panthers (1-4) by a score of 16-12 after rookie quarterback Russell Wilson out-dueled last year's rookie of the year Cam Newton and Seattle survived three third-quarter turnovers.
The Seahawks won when Wilson tossed a 13-yard strike to Golden Tate to retake the lead at the end of the third quarter then authored an impressive goal-line stand in the final three minutes of the fourth quarter.
With time running out on Carolina, the Seahawks stripped Newton on their last offensive series, forcing, then recovering a fumble before running out the clock.
The Panthers are now 1-4; only 11 teams in NFL history have recovered from 1-4 to make the playoffs.
Begin Slideshow

»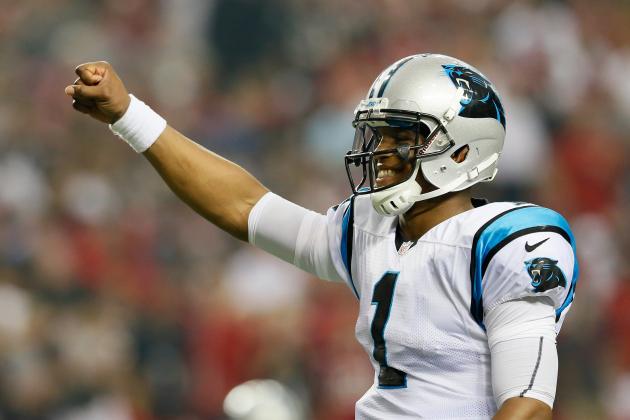 Kevin C. Cox/Getty Images

Cam Newton: Grade D
Cam Newton came up empty again after a good showing last week against Atlanta left fans wondering if he was about to turn the corner.
Newton was 12-of-29 for 141 yards, completing just 41 percent of his passes for a 56.1 quarterback rating.
He ran the ball well, especially in the third quarter, collecting 42 yards on seven carries.
Last year's rookie of the year, Newton was the victim of several dropped passes—at least five, maybe more—but did not help his cause very much despite having fairly solid protection.
Newton was sacked four times, and lost the ball on the final sack, which Seattle recovered for a fumble with about 40 seconds left on the clock.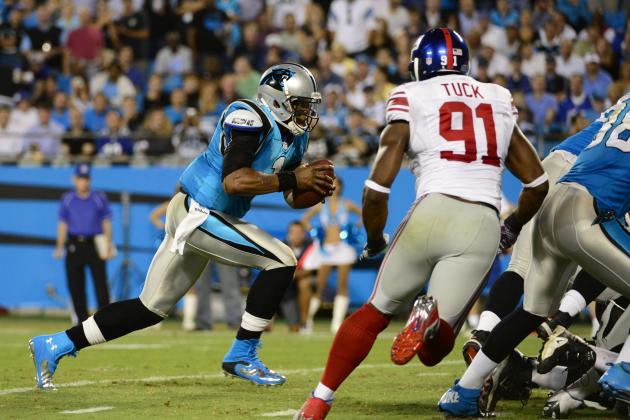 US PRESSWIRE

Panthers Defense: Grade B+
The Panthers defense, led by rookie linebacker Luke Kuechly, held Seattle to 310 total yards and kept the Panthers in the game until the last minute despite a poor showing by Cam Newton and the offense.
Kuechly dominated the game with 11 tackles, including seven solo, and was everywhere the ball was all day.
Rookie quarterback Russell Wilson riddled Carolina with short, conservative passes in the first half, failing to connect on just one pass the entire half.
In the third quarter, though, the Panthers secondary stepped up, picking Wilson off twice, running the first interception back for a 33-yard TD return by Captain Munnerlyn to give Carolina its only lead of the game.
The Panthers held an opponent to less than 100 yards for the first time with Marshawn Lynch gaining 85 hard-fought yards—much of that later in the game as he wore Carolina's defense down.
The Panthers defense, for the most part, could not stop Wilson, who went 19-of-25 for 221 yards.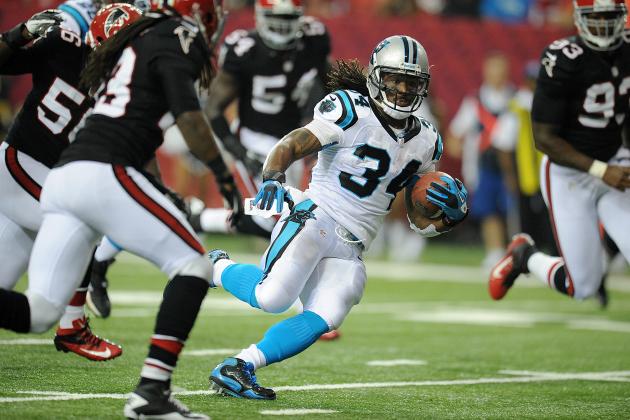 Kevin Liles-US PRESSWIRE

Panthers Offense: Grade D+
The Panthers, once again, failed to get the job done on offense.
Quarterback Cam Newton completed 41 percent of his passes, going 12-of-29 for 141 yards, a paltry 56.1 quarterback rating. He ran the ball effectively, gaining 42 yards on seven passes.
Newton had little help, though: No Carolina player even gained 20 yards on the ground and DeAngelo Williams, who had six yards on six carries, lost a key fumble late in the third quarter that gave Seattle back a lead they never again surrendered.
In addition, Newton's main target, Steve Smith, dropped several balls Sunday.
Despite an acrobatic catch by Brandon LaFell that brought the Panthers a first and goal, Carolina could not convert on four attempts in the red zone.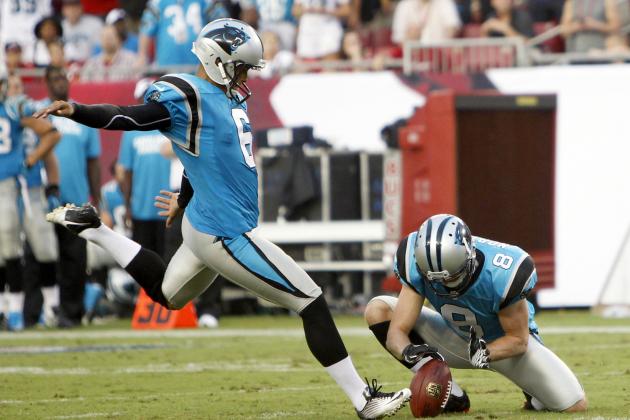 Matt Stamey-US PRESSWIRE

Special Teams: Grade B+
The Panthers special teams had a nearly picture perfect day, protecting the ball on kickoffs, forcing a fumble on one kick return and kicking the team out of trouble again and again.
Punter Brad Nortman boomed punts all day, for an average of 45 yards and a career long of 63.
Justin Medlock converted his one opportunity, a 32-yard field goal with .02 seconds on the clock in the second half to help the Panthers pull to within three points.
Carolina tacked on a meaningless safety off a high snap to Seattle punter Jon Ryan late in the fourth.
To open the second half, Carolina's kick return team looked defenseless as Seattle took the opening kickoff downfield for 47 yards—only to fumble the ball and have Carolina recover at the 37-yard line.
Later in the period, after Carolina was forced to put again, Josh Thomas helped pin Seattle deep with an open-field tackle at the 12 yard line halfway through the third quarter.
Carolina's kick return team averaged 21.3 yards per kickoff return but continued to struggle on punts.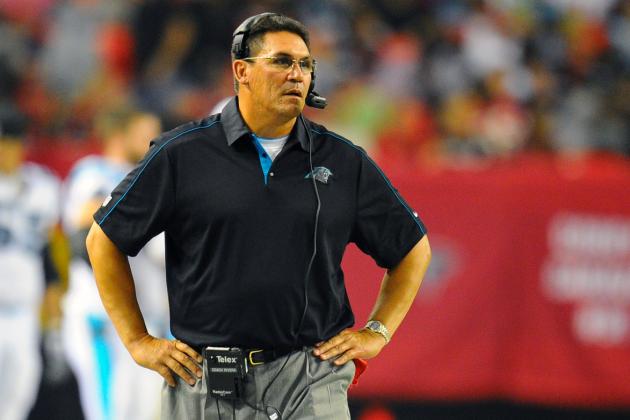 Dale Zanine-US PRESSWIRE

Coaching: Grade C-
Only 11 teams have emerged from a 1-4 start to make the playoffs.
That fact alone should have helped head coach Ron Rivera motivate his team on Sunday.
He did so on defense, but his offensive unit slept walk through much of the game.
Rivera and offensive coordinator Rob Chudzinski failed to diversify the offense, as Newton rarely passed to anyone not named Steve Smith.
On their last trip into Seattle territory, Carolina was forced to go for it on fourth down after three running plays and had to execute that final play without benefit of a timeout as Rivera used all three timeouts before the midpoint of the fourth quarter had passed.
Rivera now finds himself and his team in an untenable 1-4 hole. Any chance to turn this season around probably slipped through the Panthers' hands today.