NBA 2K13: Under-the-Radar Players in This Year's New Release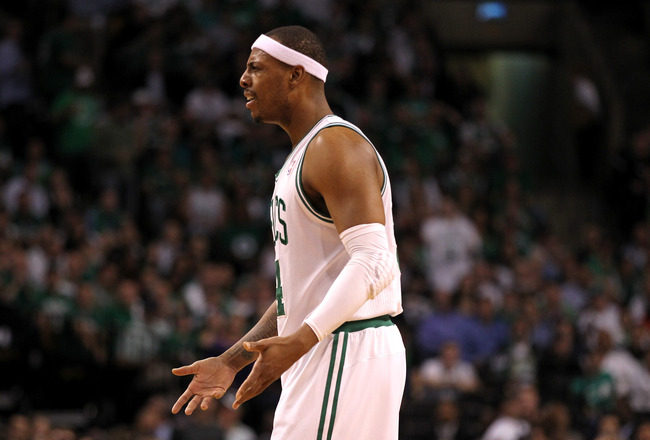 Paul Pierce is still one of the best players at his position.
Jim Rogash/Getty Images
LeBron James predictably earned the highest rating of all active players in NBA 2K13, but it's impossible to get through the running list of ratings without finding a few under-the-radar players in this year's new release.
One of those "C'mon Man!" moments had to be seeing Paul Pierce checking in at an 83.
The Truth certainly isn't the elite scorer from his heyday, but ranking Pierce behind Joe Johnson and Andre Iguodala is a criminal offense.
Besides Boston's second all-time leading scorer, Olympian Tyson Chandler quietly earned a 77 rating, a rather low number for the NBA's best defensive player.
Let's take a look at five players who have quietly snuck under the radar in NBA 2K13.
Paul Pierce (83)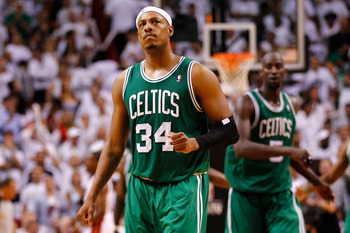 Pierce remains one of the best finishers in the game.
Mike Ehrmann/Getty Images
By no stretch of the mind does Paul Pierce deserve a ranking in the 90s. However, the Celtics' leading scorer still remains one of the best finishers in the game.
The 15-year veteran got off to a rocky start after last season's lockout, but he finished strong, averaging 19.4 points, 5.2 rebounds and 4.5 assists per game.
The Truth doesn't have the same speed or pure one-on-one ability that made him a dominant scorer in his prime, but there aren't many other players you want with the ball in their hands in crunch time.
With Ray Allen gone, Pierce should be the No. 1 option when playing as the Celtics.
Tyson Chandler (77)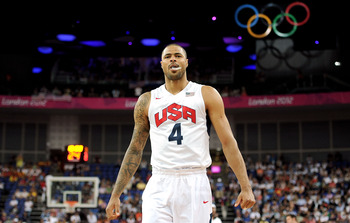 Tyson Chandler keyed Team USA's gold medal finish.
Harry How/Getty Images
Tyson Chandler is a big, bad man and probably not one you want to mess with after he sees his 77 rating.
Team USA's starting center may not contribute much offensively, but the seven-footer and reigning NBA Defensive Player of the Year is a force in the paint.
Chandler enjoyed a great 2012 in which he shot a career-high 67.9 percent from the field, grabbed 9.9 rebounds per game and blocked 1.4 shots per game.
Although he lacks a refined post game and gets most of his points at the rim, Chandler is a beast on the glass and on defense, making him a classic under-the-radar player in this year's game.
Mario Chalmers (75)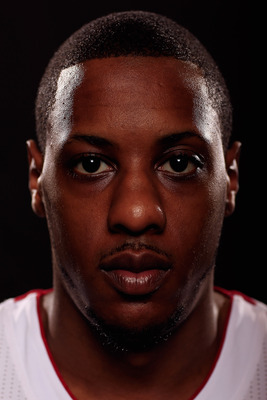 Mario Chalmers gets lost in the shuffle behind his superstar teammates.
Chris Trotman/Getty Images
Life must be pretty swell for Mario Chalmers.
Miami's starting point guard was part of a championship team last season, and the fifth-year pro gets to defer responsibility to the "Big Three."
Despite not receiving the attention that LeBron James, Dwyane Wade and Chris Bosh get on a nightly basis, Chalmers is actually a solid player in his own right.
The former Kansas Jayhawk is an excellent three-point shooter and a pesky defender (1.5 steals per game).
Gamers would of course put the ball in the hands of LeBron and D-Wade, but Chalmers can be an underrated threat beyond the arc.
Derrick Favors (74)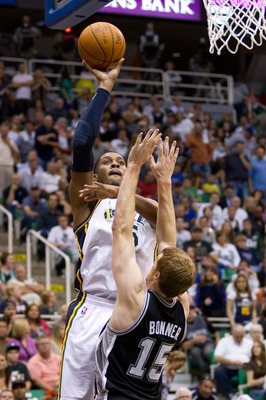 Derrick Favors is poised for a breakout year.
Russ Isabella-US PRESSWIRE
Now in his third year, Derrick Favors is ready to take off.
The 6'10", 248-pounder has all-world potential as a dominant low-post player, and 2012 should be the year that he enters the discussion as the next great power forward.
Favors came to Utah in the Deron Williams trade, which goes to show just how highly he's valued.
His 2K13 rating may not reflect his upside, but fear not: He's an asset in real life and in this year's game.
Lamar Odom (71)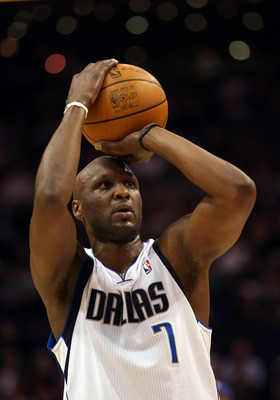 Lamar Odom is still one of the most versatile big men in the league.
Christian Petersen/Getty Images
Lamar Odom had a forgettable year in Los Angeles, but let's not forget his talent.
Despite his age and abomination of a season playing for the Mavericks, the 6'10", 230-pound reality TV star/power forward remains one of the league's most skilled big men.
Odom has always been a rather valuable player in the 2K series because of his wide array of skills. His size allows him to be a good rebounder, and his combination of ball-handling and shooting skills make him an offensive weapon.
Checking in at just 71, Odom is one of several veterans who should surprise as under-the-radar players in NBA 2K13.
Keep Reading