Fantasy Football Live Blog for NFL Week 5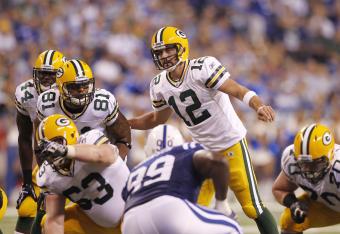 Joe Robbins/Getty Images
Buckle your safety belt and strap in tight, because Week 5 of the NFL season figures to be another wild ride on the fantasy football train.
Among today's twist and turns, we have Aaron Rodgers playing in a dome, Tom Brady and Peyton Manning dueling once again, Andy Dalton facing the No. 30th-ranked pass defense, Matt Ryan on the road against Robert Griffin III and Drew Brees taking on the guy who took his job in a must-win game at home.
And that's just the quarterbacks.
There's a lot to sink your teeth into, from the moment Sunday kicks off until the the clock hits 00:00 in New Orleans tonight.
We'll be right here for you the entire way, breaking down some of the top plays and fantasy players as the day rolls on. Everything you need fantasy-wise will be found right here.
Stick with us as we continually update the Week 5 fantasy football blog.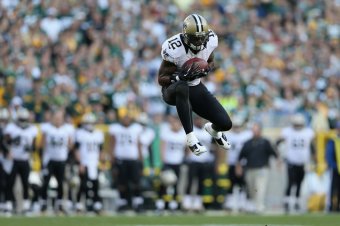 Jeff Gross/Getty Images
Big nights for New Orleans quarterback Drew Brees (370 yards, 4 TDs) and wide receiver Marques Colston (9 catches, 131 yards, 3 touchdowns) as the Saints get their first win of the year.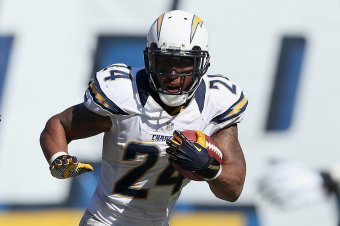 Jeff Gross/Getty Images
Leaders from Sunday night's Saints-Chargers matchup, where San Diego leads 17-14 at the half.
Passing: Philip Rivers, San Diego: 14 of 22, 212 yards, two touchdowns
Rushing: Ryan Mathews, San Diego: 6 carries, 53 yards
Receiving: Marques Colston, New Orleans: 4 receptions, 75 yards, touchdown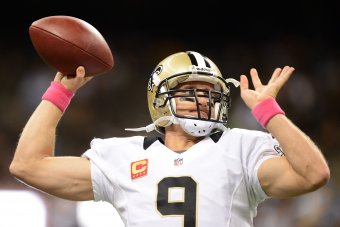 Harry How/Getty Images
Congratulations to Drew Brees for setting a new NFL record with 48 consecutive games with a touchdown pass.
Not bad for a short guy.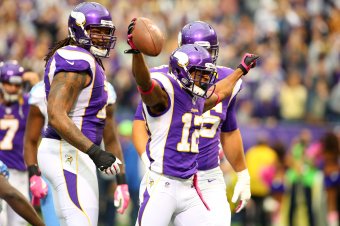 Adam Bettcher/Getty Images
Well, so much for last week's 141 yards on 25 carries for Tennessee Titans running back Chris Johnson.
Sunday in a 30-7 loss to the Minnesota Vikings? 15 carries, 24 yards, lost fumble.
Things went quite a bit better for Vikings wide receiver Percy Harvin, who reeled in eight passes for 108 yards and a touchdown, adding another score on a four-yard run.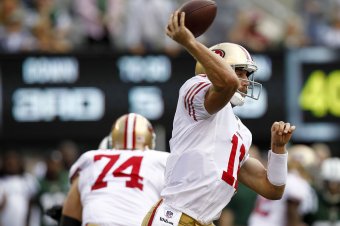 Jeff Zelevansky/Getty Images
All 49ers in a 45-3 blowout win by San Francisco over the Buffalo Bills.
Alex Smith threw for 303 yards and three touchdowns, Frank Gore rushed for over 100 yards with a touchdown, and both wideout Michael Crabtree and tight end Vernon Davis topped 100 receiving yards.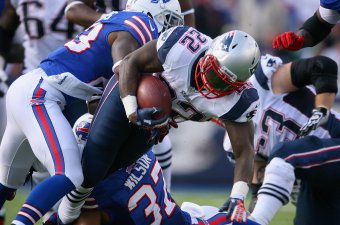 Rick Stewart/Getty Images
Fantasy Game Balls from the New England Patriots 31-21 win over the Denver Broncos.
Passing: Peyton Manning, DEN: 31 of 44, 345 yards, three touchdowns
Rushing: Stevan Ridley, NE: 28 carries, 151 yards, touchdown
Receiving: Wes Welker, NE: 13 catches, 104 yards, touchdown
Ronald Martinez/Getty Images
The Jay Cutler to Brandon Marshall connection loomed large again in the Chicago Bears demolition of the Jacksonville Jaguars, with over half of Cutler's 24 completions going to the seventh-year wideout.
Marshall finished the day with 12 catches for 144 yards and a score in the win, while running back Matt Forte topped 100 rushing yards on 22 carries for Da Bears.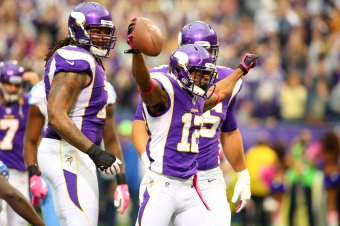 Adam Bettcher/Getty Images
It's apparently the week of the wideout in fantasy football, as Michael Crabtree of the San Francisco 49ers, Brandon Marshall of the Chicago Bears, Percy Harvin of the Minnesota Vikings and Demaryius Thomas of the Denver Broncos have all joined the long list of players at the position who had big fantasy days on Sunday.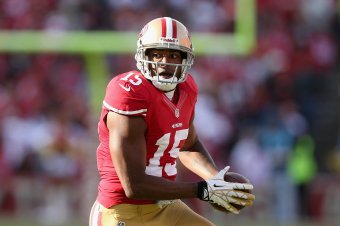 Ezra Shaw/Getty Images
San Francisco 49ers quarterback Alex Smith and wide receiver Michael Crabtree are off to hot starts in their game with the Buffalo Bills, where San Francisco leads 17-3 at halftime.
Smith has thrown for 237 yards and a pair of touchdowns, with one of those TD receptions going to Crabtree, who has already topped 100 receiving yards on the day.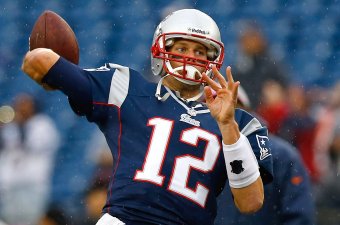 Jared Wickerham/Getty Images
Halftime leaders from Denver at New England, where the Patriots lead the Broncos 17-7.
Passing
Tom Brady, New England: 17 of 20, 165 yards, touchdown
Peyton Manning, Denver Broncos: 13 of 18, 137 yards, touchdown
Rushing
Stevan Ridley, New England: 13 carries, 70 yards
Receiving
Wes Welker, New England: 9 catches, 71 yards, touchdown
Demaryius Thomas, Denver: 4 catches, 89 yards, fumble lost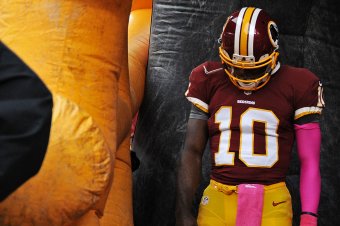 Patrick Smith/Getty Images
According to Mark Maske of the Washington Post it's official. Robert Griffin was concussed in the Week 5 loss to the Falcons.
Mike Shanahan said after the game the Redskins knew immediately that Robert Griffin III had suffered a concussion.

— MarkMaske (@MarkMaske) October 7, 2012
That leaves his Week 6 status up in the air and sends his fantasy owners scrambling for the liquor cabinet.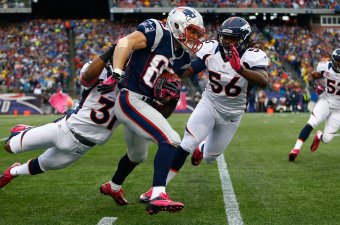 Jared Wickerham/Getty Images
Wes Welker of the New England Patriots and Demaryius Thomas of the Denver Broncos appear set to join the number of wide receivers having huge games in Week 5.
Welker has already reeled in seven catches for 58 yards and a score in just over a quarter, while Thomas has reeled in four passes for 89 yards.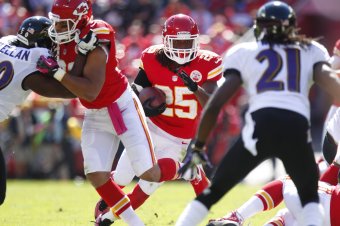 Kyle Rivas/Getty Images
Leaders from the early afternoon games:
Jamaal Charles, Chiefs: 161 total yards (140 rushing)
Trent Richardson, Browns: 128 total yards (81 rushing), TD
Eli Manning, Giants: 259 passing yards, 3 TDs, INT
Ahmad Bradshaw, Giants: 229 total yards (200 rushing), TD
Victor Cruz, Giants: 50 yards receiving, 3 TDs
A.J. Green, Bengals: 65 yards receiving, TD
Matt Ryan, Falcons: 345 yards passing, 2 TDs, INT
Tony Gonzalez, Falcons: 13 catches, 123 yards, TD
Julio Jones, Falcons: 10 catches, 94 yards, TD
Alfred Morris, Redskins: 135 total yards (115 rushing)
Rashard Mendenhall, Steelers: 101 total yards (80 rushing), TD
Aaron Rodgers, Packers: 196 passing yards, 3 TDs; 57 rushing yards
James Jones, Packers: 46 receiving yards, 2 TDs
Reggie Wayne, Colts: 10 catches, 175 yards
Some touchdowns to update you on:
Falcons WR Julio Jones, 18-yard pass from Matt Ryan
Bengals WR A.J. Green, 2-yard pass from Andy Dalton
Eagles RB LeSean McCoy, 15-yard pass from Michael Vick
Redskins WR Santana Moss, 77-yard pass from Kirk Cousins
Colts TE Dwayne Allen, 8-yard pass from Andrew Luck
Eli Manning to Victor Cruz strikes again.
The combination connected for its third touchdown of the afternoon in the third quarter. The Giants are now up 34-20.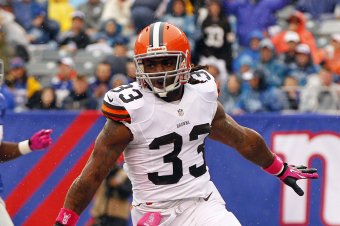 Jim O'Connor-US PRESSWIRE
Top fantasy performers from the first half of the early afternoon games:
Aaron Rodgers, Packers: 11/17, 122 yards, two TDs
Reggie Wayne, Colts: Six catches, 104 yards
Jamaal Charles, Chiefs: 20 rushes, 125 yards rushing
Trent Richardson, Browns: 67 yards rushing, TD; one catch, 22 yards
Eli Manning, Giants: 15/22 for 179 yards, two TDs
Ahmad Bradshaw, Giants: 80 yards rushing, TD
Victor Cruz, Giants: 18 yards receiving, two TDs
Steelers defense: Zero points allowed, two turnovers
Tony Gonzalez, Falcons: 86 yards receiving, TD
Alfred Morris, Redskins: 93 yards rushing, one catch, 20 yards
The Giants offense has taken control against the Cleveland Browns.
Eli Manning has found Victor Cruz for their second touchdown connection of the afternoon, hitting on a seven-yard score that put New York up, 24-17.
Manning is now 15-of-22 for 179 yards and two scores, while Cruz has three catches for 18 yards and two touchdowns.
The Green Bay Packers offense is back in the end zone.
Quarterback Aaron Rodgers hit Randall Cobb on a quick slant and Cobb did the rest, turning the short completion into a 31-yard touchdown.
Rodgers is now 10-of-14 for 116 yards and two touchdowns today. Packers lead, 21-3.
Steelers running back Rashard Mendenhall is on the 2012 fantasy board.
The recovering back ran in a 13-yard touchdown to put the Steelers into the lead, 7-0.
Mendenhall currently has four rushes for 20 yards and a touchdown, plus one catch for five yards.
The Green Bay Packers offense is starting to hit its 2011 gear.
Already up 7-0 over the Colts on the road, Packers quarterback Aaron Rodgers found James Jones for a short touchdown. The score marks Jones fourth touchdown catch of the season.
Rodgers is now 8-of-10 for 79 yards and a touchdown.
The Giants are on the board, and the score will make a lot of fantasy owners happy.
Receiver Victor Cruz, a top-5 fantasy receiver in Week 5, caught a three-yard score to pull New York within seven.
Browns still lead, 14-7.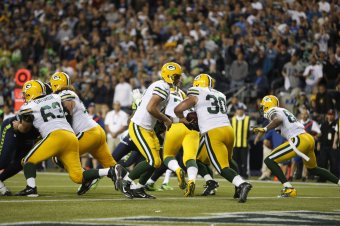 Kevin Casey/Getty Images
Packers fullback John Kuhn, otherwise known as every fantasy owner's least favorite fullback, scored from two yards out in Indianapolis. Kuhn has stolen a number of touchdowns over the last 2-3 seasons that could have went to other relevant fantasy options on the Packers roster.
Green Bay leads the Colts, 7-0.
Look out, the Cleveland Browns have become a fantasy juggernaut.
Still in the first quarterback, Brandon Weeden found rookie Josh Gordon for a 62-yard touchdown pass. Protection was good, and Gordon outran a linebacker-safety coverage.
The Browns now lead, 14-0.
The first touchdown is on the board, and it comes from an unlikely source.
Cleveland Browns running back Trent Richardson, who did some talking this week, has scored a 15-yard touchdown against the New York Giants.
Browns lead early, 7-0.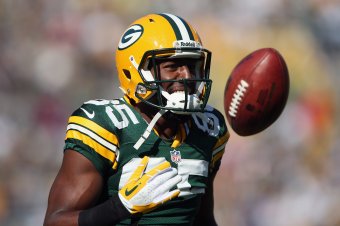 Jeff Gross/Getty Images
The inactives for the early afternoon games are in, and here are the big names fantasy-wise:
WR Greg Jennings, Packers: He's still out with a groin injury. James Jones and Randall Cobb should benefit from his absence.
RB Peyton Hillis, Chiefs: Keep him on your fantasy bench. This is the Jamaal Charles and Shaun Droughn show today.
WR Hakeem Nicks, Giants: Lower-leg injuries continuing keeping him down. Victor Cruz and Domenik Hixon will see plenty of targets today.
RB Jonathan Dwyer, Steelers: Isaac Redman will be a factor today, as will Rashard Mendenhall. Sunday will mark Mendenhall's 2012 debut.
This article is
What is the duplicate article?
Why is this article offensive?
Where is this article plagiarized from?
Why is this article poorly edited?