German National Team: Young Stars Set to Break out Before the 2014 World Cup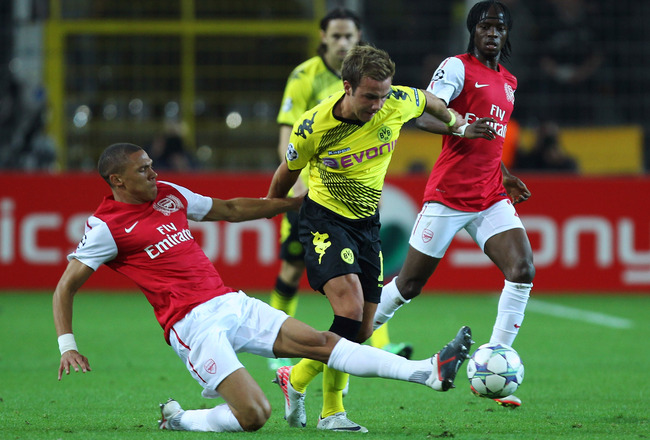 Ian Walton/Getty Images
For almost a decade, Germany has set the benchmark for youth development. Philipp Lahm, Lukas Podolski, and Bastian Schweinsteiger were only the beginning: Since the trio emerged in the Mannschaft in 2004, countless talents have advanced from the Bundesliga's youth academies and flourished at senior level.
Especially since Euro 2008, Joachim Loew has welcomed a wealth of talent to his team: From defenders like Mats Hummels and Holger Badstuber, to midfielders like Toni Kroos and Sami Khedira, to attackers like Mesut Oezil and Thomas Mueller.
The Bundesliga's fountain of youth springs eternal, and as Loew prepares for the 2014 World Cup, he is sure to experiment and give chances to emerging stars. Read on for the top prospects who can make a breakthrough before the next World Cup.
Julian Draxler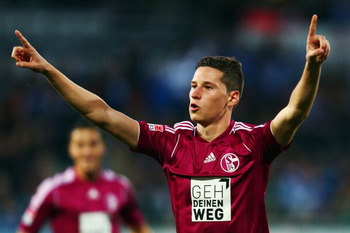 Getty Images
The second-youngest player ever to start a Bundesliga game, Draxler has always been well above the curve. The Schalke man, who only turned 19 last month, was given a surprise call-up to Loew's squad in May and made his debut soon thereafter. Before sustaining a fracture to his forearm, Draxler enjoyed a flying start to the season, having directly contributed to seven goals in nine appearances. His performance prompts the question: If he's this good at 19, how good will he be at 21?
Mario Goetze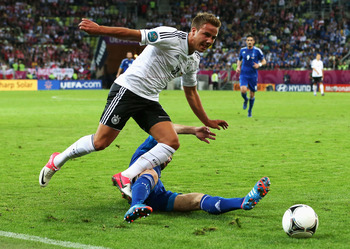 Alex Grimm/Getty Images
Ever since his virtuoso display against Brazil in August of 2011, Goetze has been pencilled in as a backup for Oezil. However, with the Real Madrid man currently out of favor with Jose Mourinho, Goetze has a realistic chance to make the leap onto the first team—if not in the playmaker position, then on the wing. Goetze is a complete player and still has loads of potential to call upon: If he stays fit, there's little doubt he'll be a star on Germany's 2014 team.
Marco Reus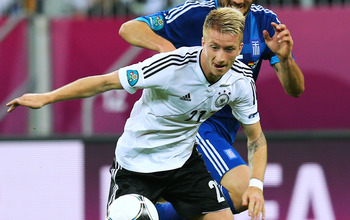 Alex Grimm/Getty Images
He may be an established star in the Bundesliga and German football, but Reus is only just now emerging as a possible regular starter for Loew's team. Whether as a lone striker or on the wing, assuming he stays fit, the Dortmund man is almost certain to retain his spot in Germany's first XI. His combination with Oezil and Goetze is a feast for the eyes and can challenge any attacking combination in the world.
Marc-Andre Ter Stegen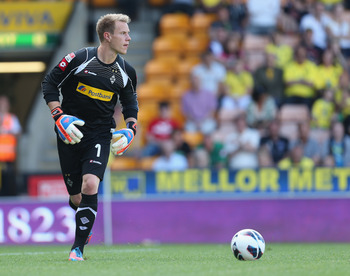 Pete Norton/Getty Images
Injuries notwithstanding, Manuel Neuer won't lose his role as starting goalkeeper anytime soon. The role of backup is still very much up for grabs, however, and the best among an exceptional crop of young German goalkeeping talents is Ter Stegen. Especially with current back-up Ron-Robert Zieler perpetually unable to win a game in a Germany shirt, Ter Stegen has a clear chance to lock down a role as Neuer's deputy in the coming months. While his debut was in a regrettable 5-3 loss to Switzerland, the Gladbach man already impressed Jogi Loew in a recent friendly by saving a Lionel Messi penalty.
The Outsiders
Srdjan Stevanovic/Getty Images
Several other talents are well on their way to stardom. Although they are unlikely to be among Loew's most relied-upon players in 2014, they stand a realistic chance of being called up before the World Cup.
Emre Can: The 18-year-old midfielder and defender made his professional debut for Bayern in the DFB-Pokal in August before being sent to the reserves. He is talented and very versatile, but will likely need to spend some time on loan if he is to become a star in the Bundesliga before 2014. Probability of being called up: 1/10
Matthias Ginter: The centre-back made his senior debut in January, two days after his 18th birthday. At the time, his use came out of despair, as Freiburg's defense had conceded a league-worst 39 goals before the winter break. SCF's fortunes turned sharply thereafter and by no coincidence: Even in his youth, Ginter has become a key figure for his team. However, given the nature of his position and Loew's hesitance to experiment with teenage defenders, Ginter may have to wait until after the World Cup for a chance. Probability of being called up: 1/10
Leon Goretzka: He may have been born in 1995, but Bochum tried to grant him a professional debut in January, only to have DFL regulations thwart their attempts. The central midfielder likens himself to Toni Kroos and is already a regular starter in the Bundesliga 2. If he can make the jump to a stronger Bundesliga 1 team in the next 12 months, he stands a better chance even than Emre to join Loew's squad. Probability of being called up: 2/10
Samed Yesil: "Gerd," as he's often called, may be just 18 years of age, but he is already making an impression with Liverpool. Brendan Rodgers' revolution has seen Yesil placed in training sessions with the first team, and the youngster greatly impressed in his debut for the first team in a recent League Cup match. The Duesseldorf native has a long way to go, but Loew is in great need of center forwards and undoubtedly will give him a try if the player gives him any reason to. Already a technical phenomenon, the limiting factor will be Yesil's physical development. Probability of being called up: 3/10
Keep Reading

Germany (National Football): Like this team?