Oakland Athletics vs. Detroit Tigers: ALDS Game 2 Live Score and Analysis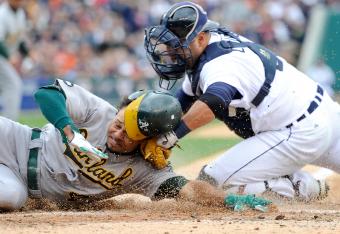 Jason Miller/Getty Images
After Justin Verlander struck out 11 in a 3-1 series-opening win, the Detroit Tigers and Oakland Athletics come right back this afternoon and play Game 2 of their American League Divisional Series at Detroit's Comerica Park.
The first of four games on the day, first pitch is scheduled for 12:07 p.m. ET and a bright and early 9:07 a.m. PT.
Keep it here for all the action.
SCORE UPDATE:
Final - Tigers 5 - 4 Athletics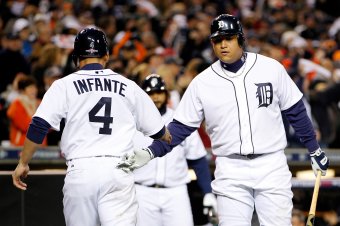 Gregory Shamus/Getty Images
Al Albuquerque gets the win. His fielding play to end the ninth was huge.
Grant Balfour takes the loss.
Omar Infante taking third on Cabrera's single was the difference and ended up being the game winner.
The Tigers go to Oakland up 2-0 in a best of five and win today, 5-4.
Balfour is taking his time to compose himself.
Kelly hits a fly to right that is deep enough to score Infante.
A sac fly and a walk-off win!
Curt Young passes along some reassuring words for Balfour and the infield comes in.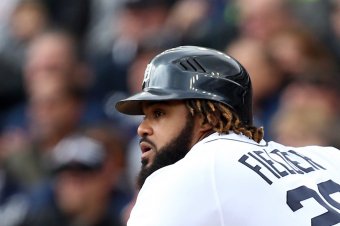 Leon Halip/Getty Images
Oakland walks Prince Fielder, the right move, and now Don Kelly will bat.
One out and the bases are loaded.
Only Infante matters at third.
Cabrera singles to center over second.
Infante runs to third and the winning run is 90 feet away.
Infante singles into the gap in right-center and here comes Cabrera.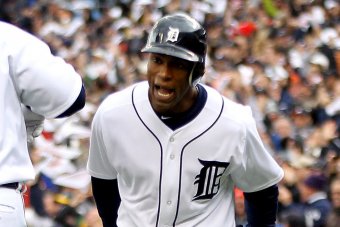 Leon Halip/Getty Images
On a full count, Balfour gets Jackson to swing through an inside fastball for the out.
All Jackson can say after the pitch was, "Wow!"
Oakland has four runs, nine hits and an error while Detroit has four runs, nine hits and no errors.
Pretty even as we head to the bottom of the ninth.
Derek Norris stays into catch and Grant Balfour comes into the game tied at four.
Cespedes hits a one-hopper right back to Albuquerque and Detroit escapes.
MIDDLE 9, DETROIT 4 OAKLAND 4
Oakland executes the hit and run perfectly.
Drew singles over second as Crisp was running.
Oakland has runners on the corners with two out and Al Albuquerque comes in to pitch for Detroit.
He faces Cespedes with the game on the line.
Grant Balfour is the lone Athletic warming up and he will get the top of the Tiger lineup.
Crisp grounds one sharply to Worth at short.
Too sharp and too quick as Worth can get the force, but not the double play.
Crisp at first with the hitless Stephen Drew at the plate.
Two out.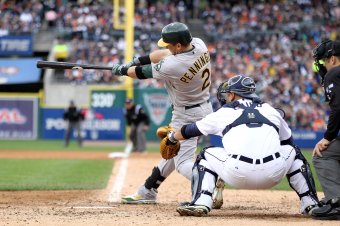 Leon Halip/Getty Images
After an eight-pitch at-bat, Pennington draws the full count walk.
Crisp bats and the leading run is on base.
Cliff Pennington missed a home run down the left field line by half a foot.
Battling Coke hard here in the ninth.
Coke strikes out Norris to start the inning.
He got the call looking on a breaking ball.
It is now starting to rain lightly.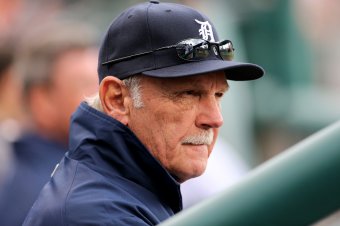 Leon Halip/Getty Images
Derek Norris will pinch hit for Kottaras.
Jim Leyland goes with Phil Coke to pitch.
Avila remains at catcher. Berry plays left now as Dirks shifts to right and Danny Worth stays in at short for Peralta.
Avila takes a called strike three which he thought was a ball four and we are through eight.
AFTER 8, OAKLAND 4 DETROIT 4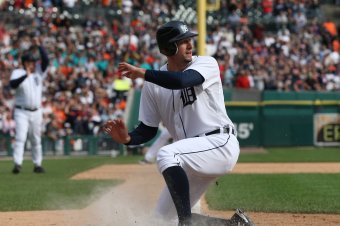 Dave Reginek/Getty Images
Berry strikes out and Phil Coke joins Valverde in the Tiger pen.
Alex Avila will pinch hit now for Gerald Laird.
Cook just uncorks a wild pitch and we are tied at four!
Danny Worth pinch runs for Peralta and Dirks sacrifices successfully to Kottaras throws Andy out.
One out and Quintin Berry will pinch hit for Garcia.
Runners on second and third with Oakland having the corners in.
Peralta singles and Kelly holds at second.
No one out and Cook has thrown 12 pitches so far.
While we would normally not see a closer come in to get six out, how long does Melvin wait to put Grant Balfour in the game?
A leadoff single for Delmon Young right over Ryan Cook's head starts the Tigers off.
Jose Valverde is the only pitcher warming in the Tiger pen.
Don Kelly is pinch-running for Young.
Ryan Cook tries now to set the table for Grant Balfour.
Doolittle now stands as the winning pitcher of record while Benoit would be tagged with the loss.
Smith lines out to second and this entire series has changed.
The two stolen bases and the wild pitch that scored Cespedes clearly got to Benoit and Reddick makes him pay with the go-ahead home run.
MIDDLE 8, OAKLAND 4 DETROIT 3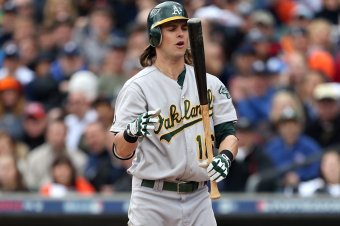 Leon Halip/Getty Images
Reddick, who had struck out six times in two games, hammered a batting practice fastball for that home run.
Benoit left it right over the heart of the plate and any decent hitter would have crushed that.
Reddick is a good hitter and sent that into the alley way in right field where the grounds crew sits during the game.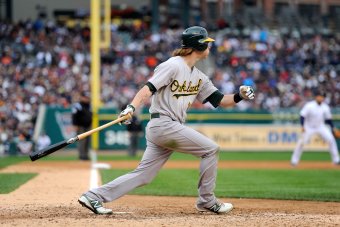 Jason Miller/Getty Images
Infield comes in as Reddick tries to actually put a ball in play today.
Benoit throws a wild pitch and the game is tied!
Reddick promptly homers deep to right on the next pitch and Oakland storms back ahead!
This article is
What is the duplicate article?
Why is this article offensive?
Where is this article plagiarized from?
Why is this article poorly edited?