Miami Dolphins vs. Cincinnati Bengals: Live Score, Highlights and Analysis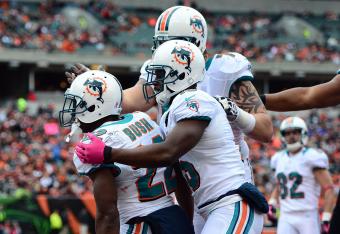 Andrew Weber-US PRESSWIRE
After back-to-back heartbreaking overtime losses, the Miami Dolphins averted disaster today thanks to a game-sealing interception by Reshad Jones.
Andy Dalton led a Bengals resurgence in the fourth quarter, but one errant pass prevented him from lifting Cincinnati to a comeback win in Paul Brown Stadium.
The 'Phins and Bengals combined for just 547 yards of total offense, converted six-of-27 third-down conversion attempts and went three-for-five in the redzone.
However, Ryan Tannehill led the Dolphins through the wreckage and picked up his second career victory.
Miami improves to 2-3 and Cincinnati falls to 3-2.
Bengals 13 - Dolphins 17
Victory formation for the Dolphins, and this one is in the books: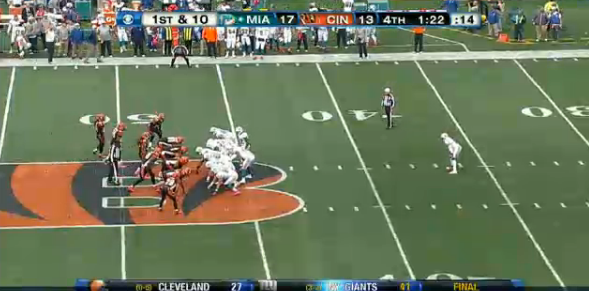 Reshad Jones seals it:
INT for Reshad Jones. That'll do it. Finally, a fourth quarter win for the #Dolphins

— Ben Volin (@BenVolinPBP) October 7, 2012
Dolphins DEFENSE 1:45 and 80-yards to go. GOT TO KILL!!!!!!!!!!

— Omar Kelly (@OmarKelly) October 7, 2012
4Q - 1:45
Charles Clay has two dropped passes today but he just made his worst play of the day.
Clay ran out of bounds after reeling in a pass from Ryan Tannehill on third-down, stopping the clock for the timeout-less Bengals.
Andy Dalton now has 1:45 to march his team into the endzone.
Marvin Lewis uses his last time out with 2:39 remaining.
Oh boy.
#Bengals called for pass interference on 3rd and 9 pass by MIA. First down MIA at MIA 48 with 2:45 left. #Bengals with just 1 TO left.

— Cincinnati Bengals (@Bengals) October 7, 2012
4Q - 2:50
Charles Clay drops his second pass of the day bringing up a huge third-and-nine for the Dolphins.
Bengals need a stop here to stay alive.
That was Nugent's first miss of the season.
Couldn't have come at a more inopportune time.
4Q - 3:00
Wide right!
Mike Nugent shanks a 41-yard field goal in crunch-time.
The Bengals now tail by four with three minutes to play. Marvin Lewis has two timeouts, but if the Dolphins can pick up a few first-downs, then they can seal a victory.
4Q - 3:05
Dolphins defense comes up big and forces the Bengals to settle for a field goal try:
#Bengals send out the FG team down by 4 with 3:05 left. Fans boo. Should've gone for 2 earlier

— Ben Volin (@BenVolinPBP) October 7, 2012
4Q - 4:25
Andy Dalton connects with Andrew Hawkins and brings the Bengals to the Dolphins' 28-yardline.
Here come the Bengals.
INJURY UPDATE: Maualuga has gone to the locker room for evaluation of a possible concussion. #MIAvsCIN

— Cincinnati Bengals (@Bengals) October 7, 2012
So, did Adam Jones break up the pass or did Bess drop it?
Adam Jones with a great stick jars the ball loose from Bess on 3rd down pass. #Bengals to get ball backat CIN 20 trailing 17-13, 6:01 left.

— Cincinnati Bengals (@Bengals) October 7, 2012
Davone Bess drops a 3rd-down pass and Dolphins are forced to punt. Bengals take over at their own 20. MIA 17-13 with 6:01 left. #MIAvsCIN

— Miami Dolphins (@MiamiDolphins) October 7, 2012
Thomas already missed one game with a concussion, but he and Maualuga both get off the field quickly and under their own power.
Daniel Thomas shaken up after taking a big hit. So is Ray Maualuga for delivering the hit

— Ben Volin (@BenVolinPBP) October 7, 2012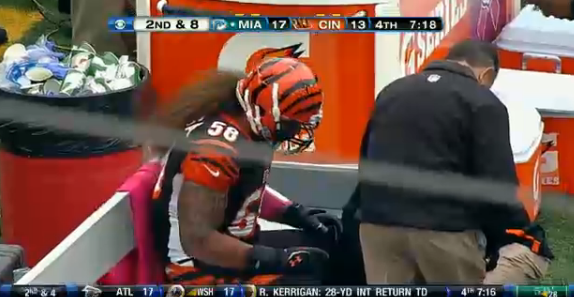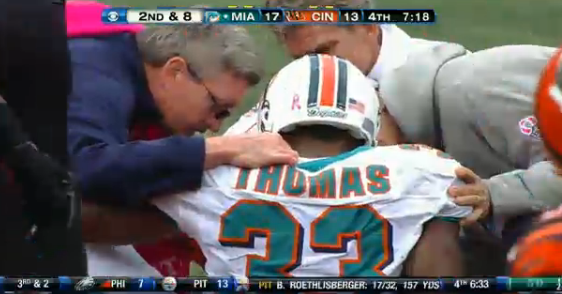 4Q - 7:40
The Bengals have quietly done a tremendous job of shutting down Davone Bess today, but he reels in a 21-yard reception from Ryan Tannehill.
Miami advances to their own 41 yardline.
Bess now has two catches for 49 yards on the day.
4Q - 9:12
The Dolphins shake off the questionable call and Daniel Thomas picks up a clutch first-down on third-and-short.
With under nine minutes to play, the clock is now becoming factor.
Wow.
After review, play on the field stands as called. MIA first down at 3-yard line. #Bengals D needs a big stop here. #MIAvsCIN

— Cincinnati Bengals (@Bengals) October 7, 2012
Looks like a good challenge by Joe Philbin: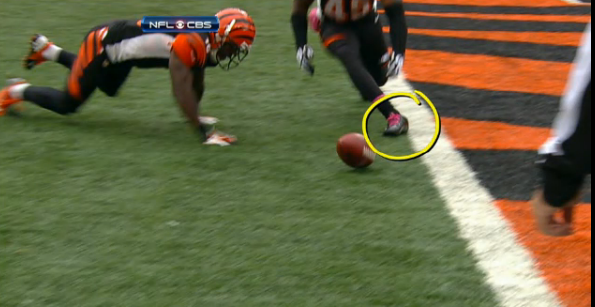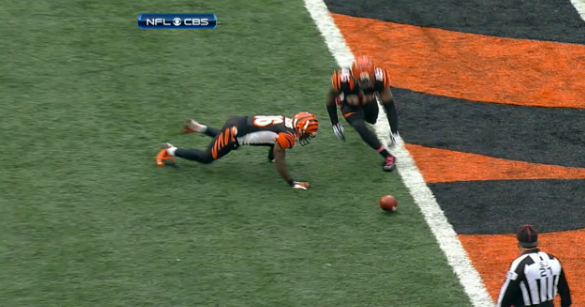 MIA is challenging that Huber's punt touched the end line for a touchback. #MIAvsCIN

— Cincinnati Bengals (@Bengals) October 7, 2012
Great coverage by the Dolphins secondary on that third-down sack:
4Q - 10:43
Just as the Bengals were generating some energy and offense, Cameron Wake comes up with the biggest play of the game and sacks Andy Dalton on third-and-five.
The sack knocks the Bengals out of field goal range, but Kevin Huber pins the Dolphins down at their own three yardline.
Paul Brown Stadium is coming alive:
Dalton with a nice scramble for 12 yards and a first down to MIA 40. #MIAvsCIN

— Cincinnati Bengals (@Bengals) October 7, 2012
4Q - 12:38
Bengals take over with great field position at their own 48-yardline.
Here we go.
Fair, but shouldn't a kicker making $2.5 million deliver when it counts?
I don't blame Dan Carpenter for missing a 53 yard field goal. A 53 yd attempt is low %. I do blame the coaching staff for trying the kick.

— Armando Salguero (@ArmandoSalguero) October 7, 2012
4Q - 14:08
The Dolphins go three-and-out thanks to a drop by Charles Clay, who was wide open down the seam.
Dolphins setting themselves up nicely for another 4Q collapse

— Ben Volin (@BenVolinPBP) October 7, 2012
Dolphins fans everywhere are breaking a sweat.
This article is
What is the duplicate article?
Why is this article offensive?
Where is this article plagiarized from?
Why is this article poorly edited?