Seattle Seahawks vs. Carolina Panthers: Live Score, Video and Analysis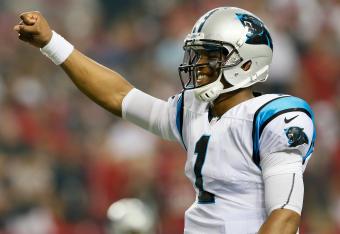 Kevin C. Cox/Getty Images
Final Score: Seattle 16, Carolina 12
The Seattle Seahawks' rookie defensive end, Bruce Irvin, sacked Cam Newton and forced a fumble. Seattle recovered, putting an end to the Panthers' last-ditch effort to win this game.
The Carolina Panthers drove down to the one-foot mark on their prior possession but were not able to punch it in on fourth down. Cam Newton had an open receiver but short-hopped the throw.
The Seattle Seahawks rebounded from several penalties and turning the ball over the first three times they touched it in the second half.
Darin Pike is a writer for Bleacher Report's Breaking News Team and a Featured Columnist covering the NFL and Seattle Seahawks.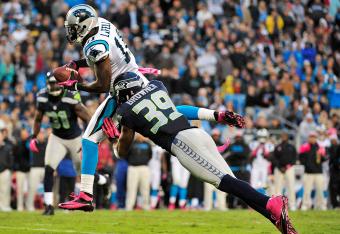 Just one final parting thought after the game, primarily for the Panther fans.
It was a tough loss and a game they had a chance to win. But given the strength of Seattle's defense, and that the Panthers only gained 190 yards, the fact they were still in the game is a testament to Carolina.
The defense limited the Seahawks to field goals on three drives that could have been touchdowns. They continued to fight and made a game of it.
This team has some young talent and some holes to fill but they will get there.
A few final thoughts on the quarterbacks.
In 1st half, Cam Newton was 0-for-9 on throws of 6+ yards; on other side, Russell Wilson was 7-for-7 on such throws.

— ESPN Stats & Info (@ESPNStatsInfo) October 7, 2012
Cam Newton completed 3 of 15 passes in 1st half, lowest number of completions and completion percentage in his young NFL career.

— ESPN Stats & Info (@ESPNStatsInfo) October 7, 2012
Looking through the comments, the frustration on the part of the Panther fans is understandable. They had a chance to win, or at least take the lead and fell short.
As the season progresses it will become more clear how solid the Seahawks are, at least on defense.
141 passing yards are the fewest of Cam Newton's career.

— Kenneth Arthur (@KennethArthurS) October 7, 2012
Perhaps Cam Newton will get back to instilling these feelings in his fans.
I don't know who I love more. Marshawn Lynch or Golden Tate #beast
This was Wilson's highest yardage output on the year.
#Seahawks QB Russell Wilson finishes today with 19-25for 221 yards, 2 INTs, a TD and a completion percentage of 76.0%.

— Liz Mathews 710 ESPN (@Liz_Mathews) October 7, 2012
Interesting little factoid:
Aaron Rodgers is the first reigning NFL MVP to lose to 2 rookie Quarterbacks.He also lost to Russell Wilson.

— Andrew Siciliano (@AndrewSiciliano) October 7, 2012
I posed this question earlier in the weekend, predicting it would happen on Sunday.
So @darinpike poses an interesting question. When is the last time all four NFC West teams were above .500? Has it ever happened?

— Kyle Vassalo (@ASU52) October 6, 2012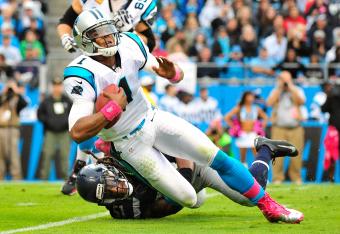 Is Bruce Irvin still the worst first-round draft pick ever?
Ball Game. Game over. Seahawks win. Tough loss for the Panthers.
It is refreshing to at least have one announcer that recognized that the safety was intentional.
1:00 4th Q
The Seahawks obviously trust their defense and will put the game in their hands. I still would have liked to see Seattle go for the first down with at least the option of a pass on the bootleg.
We'll see if Pete Carroll goes right into press coverage with help over the top or gives room with zone coverage.
Throw the ball, Bevell Go for the win.
2:00 Warning
This is where having a player like Marshawn Lynch is just huge. He takes contact behind the line of scrimmage but is rarely dropped for a loss.
That provided security at the goal line and now will be asked to get a first down.
3:00 4th Q
This is why they had to go for the touchdown. The Seahawks have a rookie quarterback and make mistakes.
Seattle has very little of their playbook to work with here.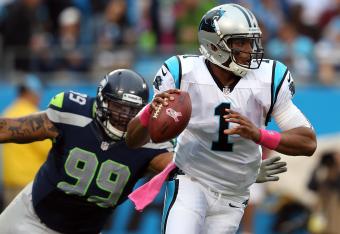 3:50 4th Q
So, Panther fans. Are you screaming or just swallowing your tongues and your heart?
What a terrible throw, Cam.
Fourth and a foot. No decision...you have to go for the touchdown here.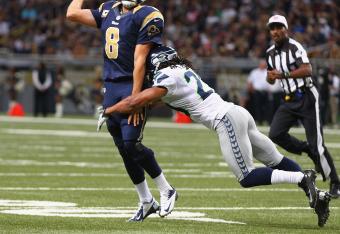 5:00 4th Q
A quarterback like Newton is tough to guard in this situation. Seattle barely stopped him on that play. ET is one of the few players on the field that is faster than Newton.
7:00 4th Q
Throwing on early downs is what has worked for Carolina today. It is no surprise it is working here.
The Seahawks need to bring some pressure here.
10:00 4th Q
The Panthers struggled offensively in the third quarter. Aside from the turnover, they managed just seven yards of offense.
They are trying to run into the teeth of Seattle's defense. With Seattle's run-stoppers on the field on second down Newton should have been prepared to run the no-huddle.
LaFell picks up the big first down in this situation but might not be so fortunate next time.
Keek has played well in the middle. Jon Beason isn't likely concerned, but it is nice insurance for the Panthers.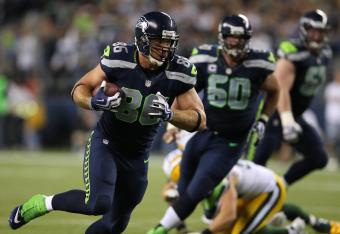 12:00 4th Q
There is confirmation that Zach Miller does indeed still play for Seattle. It has been easy to forget.
13:00 4th Q
The Panthers will be in trouble if they can't shut down Marshawn. They are burning clock and could go up by two scores.
This article is
What is the duplicate article?
Why is this article offensive?
Where is this article plagiarized from?
Why is this article poorly edited?

Seattle Seahawks: Like this team?