San Diego Chargers vs. New Orleans Saints: Live Score, Video and Analysis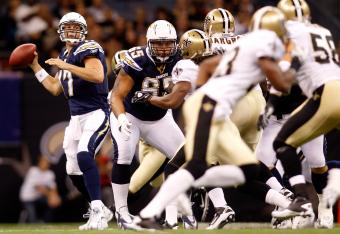 Chris Graythen/Getty Images
The New Orleans Saints finally end their four-game losing streak with a 31-24 win over the San Diego Chargers.
Drew Brees was simply amazing in a historic night, in which he broke Johnny Unitas' record for consecutive games with a passing TD. Brees added to the record-breaker, throwing for 370 yards and four touchdown passes. Despite some defensive struggles, the Saints managed to hold off the Chargers on what would have been a game-winning drive.
As for San Diego, this was not one of the defense's best showings of the season as Brees torched the secondary with some stellar passing. Marques Colston was unstoppable, catching three TD passes for 131 yards. There were some questionable calls late in the game that negated huge gains for San Diego down the stretch, but the Saints were the better team tonight, especially their future hall of fame quarterback Drew Brees.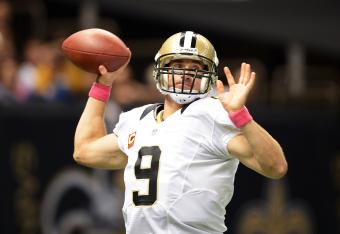 Tough loss for the Chargers, who were hot going into this one, but a phenomenal performance by the Saints and Drew Brees.
Martez Wilson ends San Diego's hopes of a "W" tonight. Finally, the Saints get the win they've been after.
Wow. Antonio Gates gets called for the offensive pass interference and that kills what would have been a huge play for San Diego.
Same thing again with the Malcom Floyd catch. A holding call kills that play as well. The Chargers are shooting themselves in the foot.
That field goal puts New Orleans up 31-24. It's still a on-possession game for the Chargers with 2:56 left in the game.
How may times have we seen that Brees-to-Colston hookup? San Diego has no answer for No. 12 right now.
And now momentum is favoring New Orleans. The crowd is in this game and Philip Rivers is starting to force throws. Bad play on his part.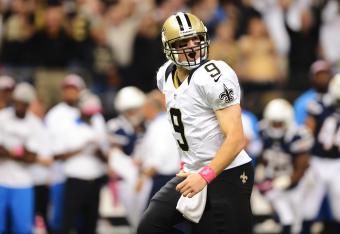 And just like that the Saints are back. Marques Colston with his third TD catch of the game.
New Orleans now leads 28-24 with 8:50 left in the game.
That's Quentin Jammer getting beat once again. He continues to struggle with one-on-one matchups.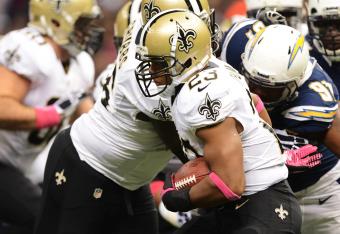 Pierre Thomas showing off his own power on the ground, but it's negated by a holding call on Jahri Evans. What a shame.
With that TD catch, Marques Colston is now the Saints career leader in TD catches with 51! #SDvsNO

— New Orleans Saints (@Saints) October 8, 2012
And the Saints come marching back with a Marques Colston TD. New Orleans now trails San Diego 24-21 as the third quarter winds down.
Wow. Bonehead mistake by Melvin Ingram. Don't hit Brees high on that. If Ingram makes the legal hit, then that becomes a pick six for Demorrio Williams.
San Diego is eating up the clock in the third quarter. If they can score on this drive, it will be extremely difficult for the Saints to get back in it, especially with the way their defense has performed.
This doesn't help New Orleans' struggling secondary,
Saints CB Jabari Greer is out with a hip injury.

— Jeff Duncan (@JeffDuncanTP) October 8, 2012
Hello Ryan Mathews! Welcome to the 2012 season!
Mathews' score puts San Diego up 24-14 with 12:27 left in the third quarter.
Lucky grab by Quentin Jammer for the INT. Jammer is not necessarily known for nabbing interceptions, but he was in the right place at the right time on that one.
As if things couldn't get any worse for the Saints,
TE Jimmy Graham has an ankle injury and is questionable to return.

— Jeff Duncan (@JeffDuncanTP) October 8, 2012
And that's halftime folks!
The Chargers lead the Saints 17-14.
Time to restock the drinks and snacks and take that bathroom break you've been waiting for.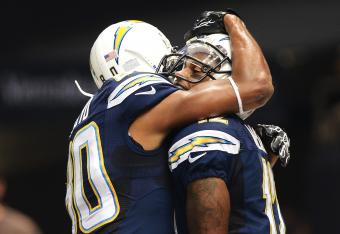 Forget the field goal, how about a touchdown?
Robert Meachem gets his second TD catch of the night.
San Diego takes back the lead 17-14 with 36 seconds left in the first half.
Two-minute drill time for San Diego. They look good driving down the field.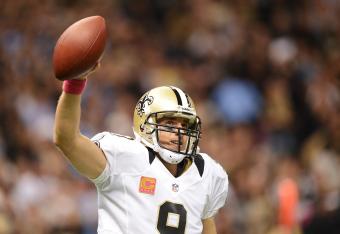 In case you missed it, Here is video footage of Brees breaking Unitas' record.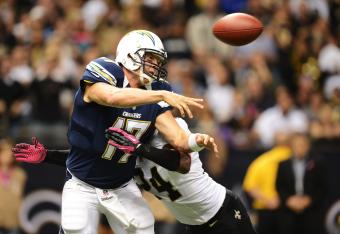 Dangerous play there by Saints DE Will Smith. Philip Rivers has a history of knee injuries. That could have gone seriously wrong.
As Cris Collinsworth pointed out, Ryan Mathews is definitely running hard tonight. He looks like he's got a big chip on his shoulder after getting benched.
This article is
What is the duplicate article?
Why is this article offensive?
Where is this article plagiarized from?
Why is this article poorly edited?