How FSU, LSU and Georgia Losses Shake Up BCS Picture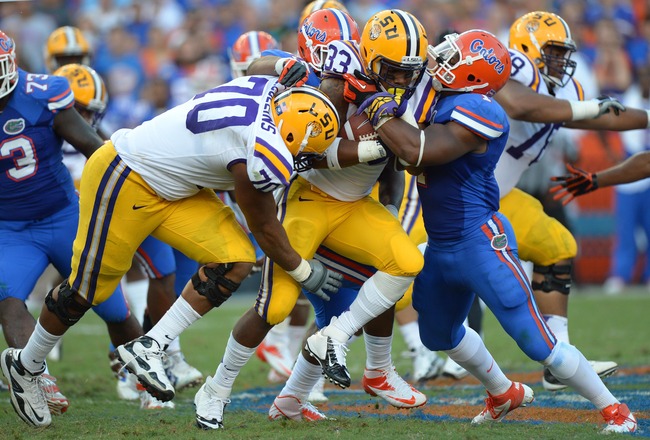 Jake Roth-US PRESSWIRE
It took long enough, but we've just had our first major shake-up in the Top 10.
Florida took down LSU and South Carolina routed Georgia, but the upset of the day belongs to NC State and their shocking victory over No. 3 Florida State.
Such upsets have major consequences in the race for BCS glory. So, just how do these games change the BCS picture? Read on.
ACC and Big East Automatic Bids in Play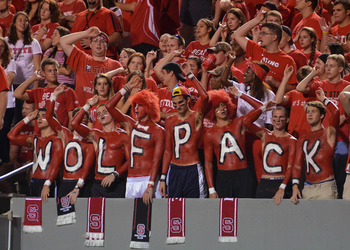 US PRESSWIRE
For a while, it looked like Florida State was going to run away with the ACC's automatic bid, with an outside chance for a second ACC squad getting a bid should the Seminoles make it to the BCS National Championship Game.
NC State's win has just changed everything.
Clemson, Miami (FL), NC State and Duke (yes, even Duke) have a shot at winning the conference and the ACC's automatic bid. Florida State is still very much alive in the conference, but they're not the untouchable team that they looked like just a week ago.
The Big East still has three unbeaten teams in Rutgers, Louisville and Cincinnati, and any one of them could pick up the automatic bid, so not much has changed there.
Notre Dame Will Move to Just Outside the Top Five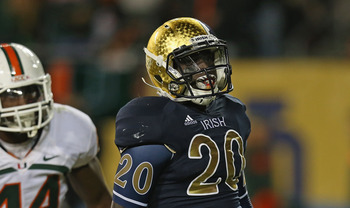 Jonathan Daniel/Getty Images
Don't look now, but Notre Dame is a legitimate contender in the national championship race.
Now, the Irish are going to need to both run the table as well as get some help from the teams ahead of them if they want to get to the Discover BCS National Championship Game at Sun Life Stadium in January.
However, a BCS bowl bid is almost a given at this point, as they'll be well within the top-eight ranking required for an automatic bid.
Kansas State and West Virginia Will Probably Play for the Conference Title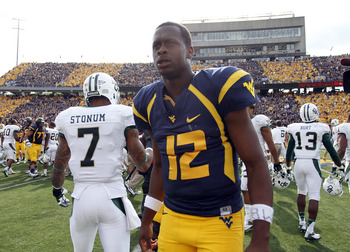 Justin K. Aller/Getty Images
While Kansas State certainly has been impressive thus far, I've got a feeling that the Mountaineers are going to pass the Wildcats in the rankings.
I wouldn't sweat it too much if I was Kansas State, though, as these two teams are eventually going to have to face off.
Still, how about Geno Smith? Unless Smith gets hit by lightning, he's going to win the Heisman.
However, there's an outside chance that both the Mountaineers and the Wildcats could get BCS bowl bids.
The SEC East Becomes a Major Factor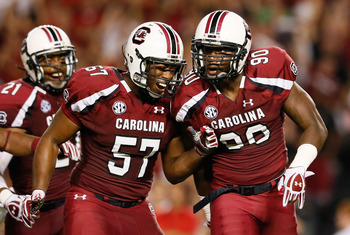 Kevin C. Cox/Getty Images
After the Gamecocks' rout of poor Georgia, South Carolina has earned their new spot as the No. 3 team in the land.
They've still got two tough games ahead as they travel to LSU's Death Valley and the Swamp at Florida. If the Gamecocks win both of those games, their strength of schedule may vault them to No. 2.
Steve Spurrier and South Carolina are now officially national championship contenders.
And don't look past Florida either. After their win over LSU, a subsequent win over South Carolina may catapult the Gators into the Top Five.
And whether or not they can beat the SEC West champ in Atlanta, look for the SEC East champ to get a BCS bowl bid.
No Changes at the Top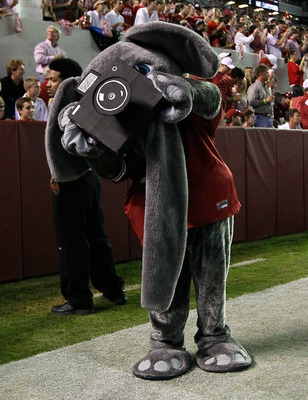 Kevin C. Cox/Getty Images
While three of the top five are going to change, things are going to pretty much stay the same at the top.
Alabama will keep its perch on top of the college football world after a bye week, and Oregon will hold onto the No. 2 spot after manhandling Washington. As well they should.
If the BCS championship were to be held next week, it would be the Crimson Tide and the Ducks. Until someone figures out a way to take out either team, that's not likely going to change.
Keep Reading