Philadelphia Eagles vs. Pittsburgh Steelers Live Blog: Updates and Analysis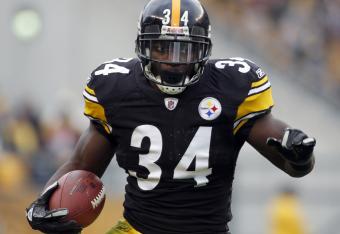 Justin K. Aller/Getty Images
The Pittsburgh Steelers climb back .500 after beating the Philadelphia Eagles, 16-14, in front of their home crowd.
The Steelers got Troy Polamalu, James Harrison and Rashard Mendenhall back from injury after their bye week. While Polamalu was forced out of action after the first quarter, Harrison and Mendenhall played huge roles in their come-from-behind victory.
For a recap of how we got to our final score, read below.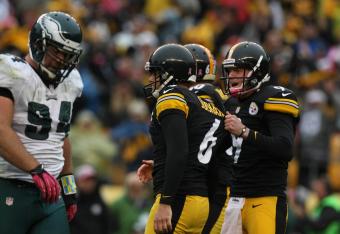 Final Thoughts:
- The Eagles can't expect to win every game after trailing, and today was a good indication as to why. Regardless of what the final box score says, Michael Vick fumbled four times today. He lost two of these fumbles and it definitely cost Philly some points.
- Vick's counterpart, Ben Roethlisberger, had two snaps fly over his shoulder in the first half. The difference between him and Vick is that he was able to maintain possession of the football and didn't give the ball away once.
- Philadelphia's defense has been strong this season, and put together another good effort today. They were able to contain Big Ben (even though they didn't sack him) and bring pressure. With that said, Nnamdi Asomugha has to do a better job of being a shutdown corner. His play has been sporadic at best and his holding penalties are becoming very costly.
- James Harrison and Steelers linebackers were in the face of Vick all day long. No. 7 was sacked three times today, but that doesn't even begin to tell the story of how much pressure he faced.
- In my opinion, Rashard Mendenhall put together the most impressive performance allowed by an opposing running back. He ran hard and down field, breaking numerous Philadelphia arm tackles, and was able to fall forward for extra yards. He totaled 81 yards on 14 rushes, scored a touchdown, and added two catches for 20 more yards. Game ball goes to him.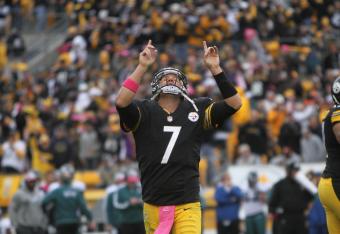 Final Score: Steelers 16, Eagles 14
Shaun Suisham knocks home his second 34-yard field goal of the game and the Steelers win a close one at Heinz Field.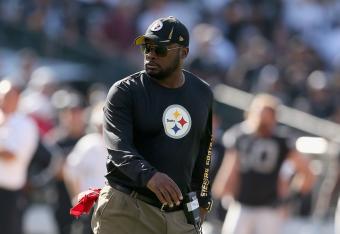 Pittsburgh drains the clock in order to set up a game-winning field goal attempt.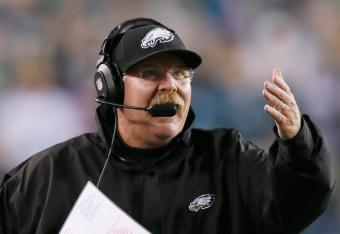 Interesting to see Reid take a timeout after the Steelers convert out of the two-minute warning. Thought he'd want to keep it in his pocket to ice the kicker.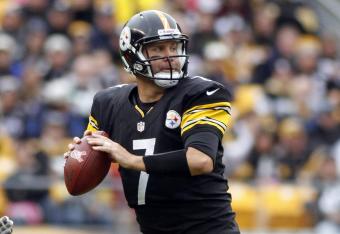 The Steelers convert on third down as they come out of the two-minute warning and forces Philadelphia to take their third and final timeout.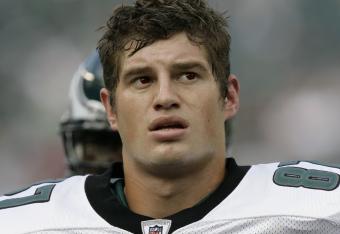 4th Quarter 6:33
Steelers - 13, Eagles - 14
Brent Celek picks a good time to score his first touchdown of the season. His two-yard catch caps an Eagles' drive that took more than eight minutes off the clock.
Philadelphia burned two timeouts on this drive, but were able to convert two fourth downs as well. Reid seems to have his head on straight today (although I don't agree with the first attempt on fourth down), and is giving McCoy the ball in short yardage situations.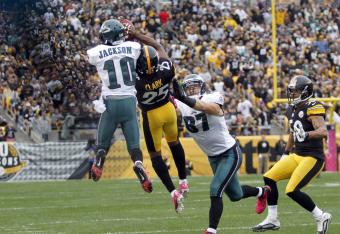 DeSean Jackson's 24-yard catch all but assure the Eagles of points on a drive where they converted two fourth downs.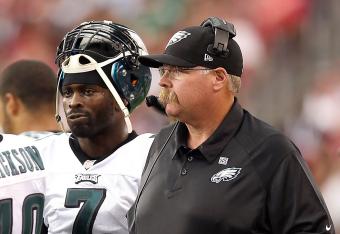 That's two timeouts the Eagles have burned on this drive. All I have to say is that they better get points out of it.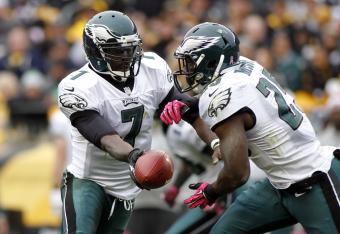 After losing the challenge, the Eagles stubbornly run the ball on 4th&1 and McCoy is able to avoid defenders in the back field for a new set of chains.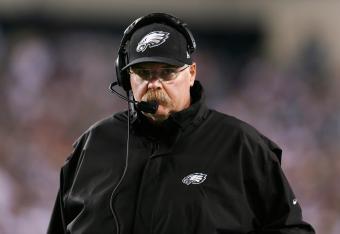 Andy Reid challenges the spot of the ball after Philadelphia fails to convert on third down. The way this call goes will significantly impact the rest of the game.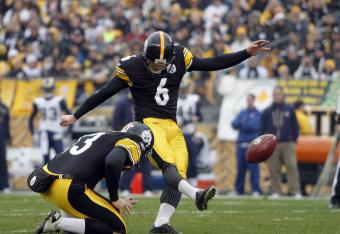 4th Quarter 14:51
Steelers - 13, Eagles - 7
Suisham connects on a 34-yard kick, giving Pittsburgh three more points.

Mendenhall, who is making his season debut, is running through and over Philadelphia defenders. No one is going to be able to take him down with arm tackles.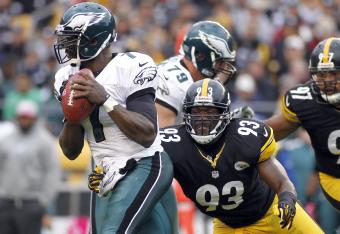 Vick does a nice job recognizing the blitz on third-and-six, but is unable to complete a pass after moving to his left.
Pittsburgh loaded the line with extra defenders and made it obvious that they were in man-to-man coverage on the outsides.
This formation reminded me of the goal-line stand the Arizona Cardinals made in Week 3. Instead of holding onto the ball and waiting for a receiver to get open, Vick extended the pocket and made a safe (although incomplete) throw.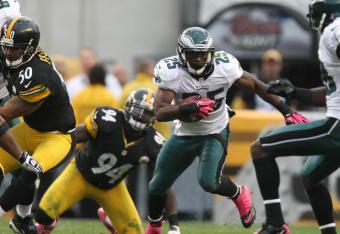 3rd Quarter 6:32
Steelers - 10, Eagles - 7
A 15-yard touchdown pass from Vick to McCoy cuts Pittsburgh's lead down to three.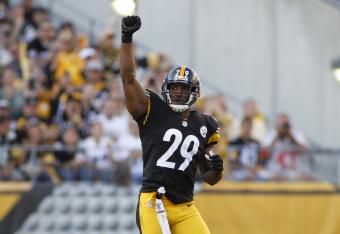 Questionable call against Steelers safety, Ryan Mundy, who is playing in place of an injured Troy Polamalu. Those helmet-to-helmet calls are really a judgment call, and in live action, can be very difficult to determine.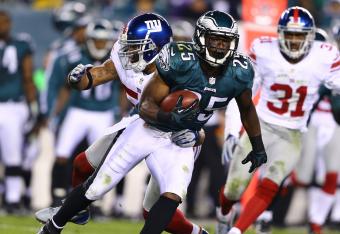 Let's see if the Eagles try to re-establish the run game with McCoy like they did last week against the New York Giants.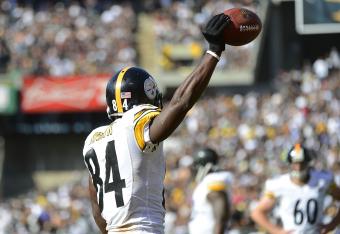 I thought Nnamdi Asomugha had done a good job in the first quarter, but he's been beaten a few times by Antonio Brown since then.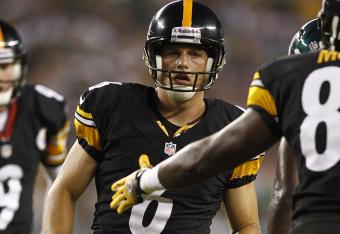 Halftime: Steelers 10, Eagles 0
A 20-yard Shaun Suisham field goal gives the Steelers a double-digit lead at halftime.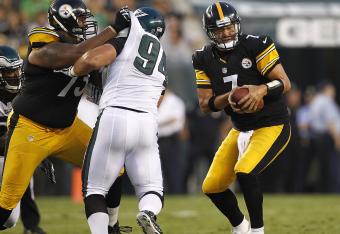 The difference in this game is that the Steelers are getting to the quarterback, while the Eagles are merely getting very close.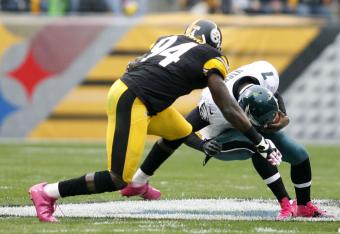 Vick and the Eagles have taken three deep shots down the field and none of them have been close (although there was a missed pass interference call to DeSean Jackson). Andy Reid needs to be more creative with the play calling, especially if he doesn't want Vick holding the ball for so long.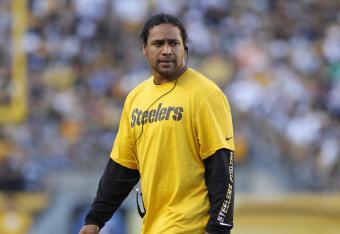 According to NFL.com, the Steelers will be without Troy Polamalu and Lamarr Woodley for the rest of the game.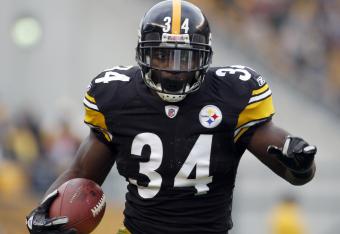 The Steelers, who have the second-best red-zone offense in the NFL, score a touchdown. Big Ben makes a nice pass (which was ruled as a lateral) to Mendenhall after finding no one open down the field.
Mendenhall was able to make Mychal Kendricks miss before running into the end zone.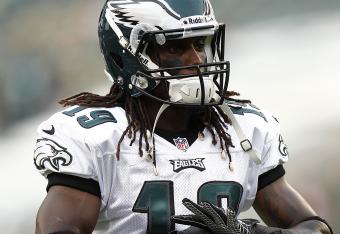 Mardy Gilyard makes the same mistake of running out of bounds on special teams coverage. Although the penalty only cost the Eagles five yards, it's still a mistake that shouldn't be made—especially if the Steelers committed the same infraction earlier in the game.
Special teams coach, Bobby April, needs to do a better job of getting his unit prepared.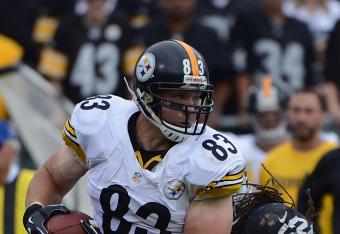 Quick thoughts on Philly's defense:
The cornerbacks are playing tremendous coverage on the outsides. Ben Roethlisberger is being forced to dump off to his tight end, which explains why Heath Miller has been the recipient of all three completions.
If the Eagles can generate some pressure with their pass rush, expect Mike Tomlin to use Miller more in pass protection.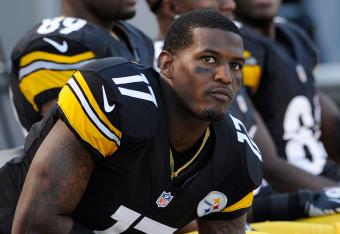 Consecutive penalties by Mike Wallace and Antonio Brown end a promising Steelers' drive.
This article is
What is the duplicate article?
Why is this article offensive?
Where is this article plagiarized from?
Why is this article poorly edited?

Philadelphia Eagles: Like this team?