Tennessee Titans vs. Minnesota Vikings: Live Score, Video and Analysis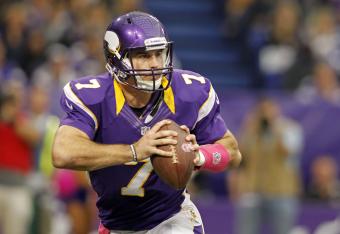 With their 30-7 victory over the Tennessee Titans (1-4) on Sunday the Minnesota Vikings moved to 4-1 and remain atop the NFC North (they own the tie-breaker with the Chicago Bears).
It was a dominant performance against an opponent who struggled in all phases of the game.
The Vikings accumulated 433 yards on offense, a season high, and limited the Titans to 267 total yards.
Tennessee running back Chris Johnson continued his dismal season with 24 yards on 15 carries. He's leaving Tennessee fans, fantasy football players and the NFL community baffled as one of the league's most talented backs continues to struggle mightily.
The Titans clearly weren't the same offense that posted 44 points and defeated the Detroit Lions in Week 3 without quarterback Jake Locker, who is out with a shoulder injury.
Matt Hasselbeck just wasn't up to the challenge while the Minnesota defense was well up to the challenge of limiting him to 200 yards passing and forcing two turnovers.
After today the Titans appear primed for a top-five pick in the upcoming NFL draft while the Vikings are well on their way to competing for a postseason berth.
If you would like to chime in on the game, feel free to leave a comment. I would love to keep the discussion going.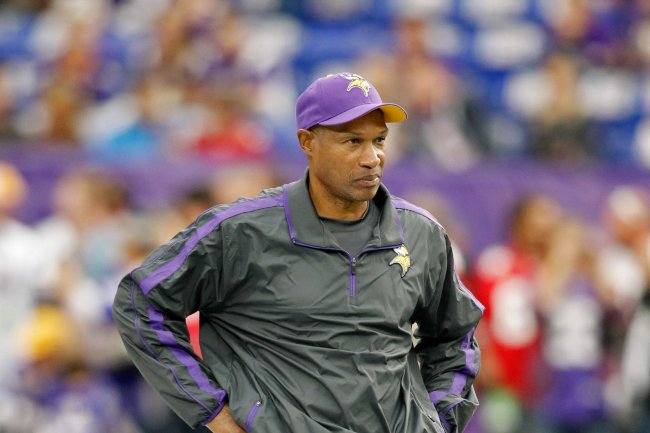 Bruce Kluckhohn-US PRESSWIRE
Minnesota fans should and will enjoy this game. It was a great showing from a team coming off a shaky offensive performance against the Detroit Lions.
The offense accumulated a season-high 433 yards and the defense ensured the Titans couldn't go anywhere, even if they were competent.
But the Vikings and their fans must keep this win in perspective. Tennessee is headed for a top-five pick in the NFL draft. Minnesota, if it hopes to make the postseason, should have beaten the Titans the way it did.
The Vikings are 4-1 and sit atop the NFC North, as they own the tie breaker with the Bears.
But the Vikings still have plenty of work to do, with the Washington Redskins on the horizon. Minnesota may luck out and miss Robert Griffin III, who left today's game against the Atlanta Falcons with a mild concussion.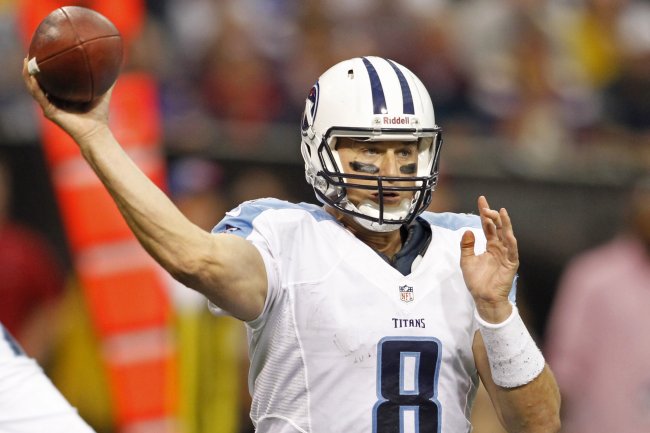 Bruce Kluckhohn-US PRESSWIRE
At this point the Tennessee Titans have to hope for a top-five pick.
They NEED playmakers. Somewhere. Anywhere. Defense. Offense. Wherever they can get them, they need them.
The offense was flat and stagnant at best. It accumulated 267 yards in 69 plays. Its best player, Chris Johnson, rushed for 24 yards on 15 carries with one reception for five yards.
It was without its starting quarterback Jake Locker, who had taken all the snaps during the preseason and regular season (prior to his shoulder injury).
Matt Hasselbeck is a serviceable quarterback who would still start for some of the worst teams, but he's not going to win many games airing it out (especially given Tennessee's passing options).
The defense proved what we all knew entering this game: it would struggle to stop a college offense let alone one that features Adrian Peterson and Percy Harvin. It has to regroup completely. So many missed tackles ....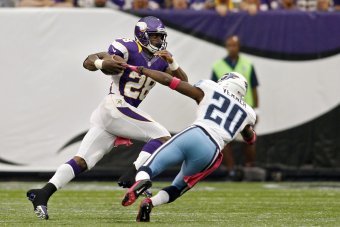 Bruce Kluckhohn-US PRESSWIRE
The Vikings chalked up a season-high 433 yards on offense. Of that 258 yards came through the air and 175 yards on the ground.
Minnesota's attack was balanced and ran very smoothly. Christian Ponder looked phenomenal operating in the pocket. He looked as comfortable as he could be getting the ball to Percy Harvin in the flats.
That play in the flats with Harvin won't typically yield the yards it did today, but it's a weapon the Vikings must utilize moving forward because Ponder isn't always comfortable airing out the ball.
Adrian Peterson continues to impress. It's amazing what the man has done since tearing his ACL last December. The average person wouldn't be playing at the level that Peterson is at this point in the recovery. But then again, Peterson and average don't go hand-in-hand.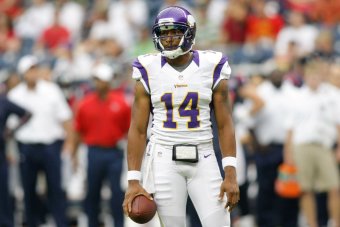 Brett Davis-US PRESSWIRE
At this point in the game, it would be fun to see the Vikings unleash Joe Webb. Let the man show us what he can do.
But likely, fans are in for a very conservative set of play calls that will enable Minnesota to finish this victory off as healthy as possible (although running the football never guarantees no injuries).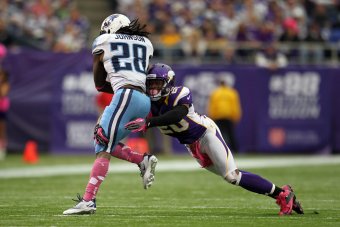 Brace Hemmelgarn-US PRESSWIRE
We haven't seen Chris Johnson in some time. The Titans offense in the fourth quarter has operated mostly through the air, which isn't necessarily his forte.
All that being said, if I were Tennessee I would be trying to get the ball out to him in the flats much the same way that the Vikings get the ball to Percy Harvin out in the flats.
Despite his rough campaign, he's still Chris Johnson. Get him the ball. It's not like the Titans have an abundance of options anyways.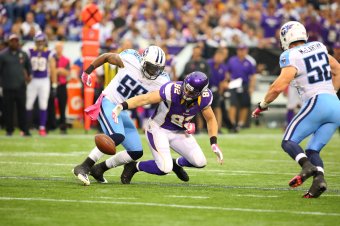 Adam Bettcher/Getty Images
The Tennessee defense has struggled to defend tight ends this season. It has allowed a touchdown reception to a tight end in four of the five games this season and to five tight ends total.
It had kept Kyle Rudolph in check through the first three quarters until the former Notre Dame end hauled in a 15-yard touchdown reception.
Rudolph has 23 yards on four receptions with a touchdown. It's not the best day for a tight end, but getting into the endzone makes a difference.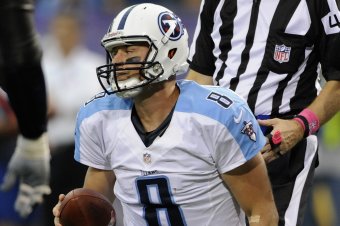 Hannah Foslien/Getty Images
Minneapolis Star Tribune columnist Jim Souhan had this tweet about the Tennessee Titans, "Titans aren't talented, and they make up for this deficiency by being really stupid."
I don't think he's that far off. The Titans have looked awful and appear primed for a top-five pick in the 2013 NFL draft with their play.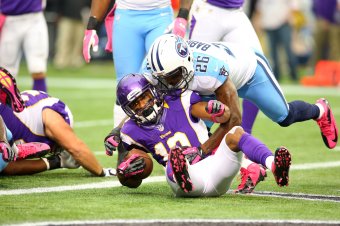 Adam Bettcher/Getty Images
Check out Percy Harvin's 10-yard touchdown reception again, courtesy of Vikings.com.
It was an incredible play, with plenty of help from poor defensive play.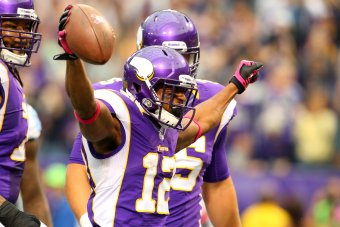 Adam Bettcher/Getty Images
AJ Mansour of KFAN tweeted that Percy Harvin should receive strong consideration for the MVP.
While Harvin is on pace for his best season, he's not worthy of the MVP. Entering today's game he has 30 receptions for 299 yards with three rushing touchdowns and a kickoff return for a touchdown.
Through today's game he has eight receptions for 108 yards with a rushing and receiving touchdown.
Harvin is among the game's top-five wide receivers. When the ball is in his hands, defenses take notice and begin to tremble.
But the league's MVP is Atlanta's Matt Ryan. He's the quarterback of a 5-0 team and on pace for his best season too.
Enjoy Percy's phenomenal 2012 campaign, but it's not MVP worthy at this time.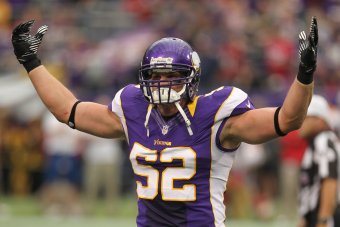 Brace Hemmelgarn-US PRESSWIRE
The Titans offense has played poorly, but that doesn't discredit what the defense has done. The front four has been able to generate a pass rush without the help of the back seven.
The secondary hasn't let anyone get behind it and the linebacking corps hasn't let much happen in the flats.
To put it bluntly: The Vikings haven't let Tennessee do anything offensively.
The Vikings are on pace for their first shutout since 1993, when they did it twice.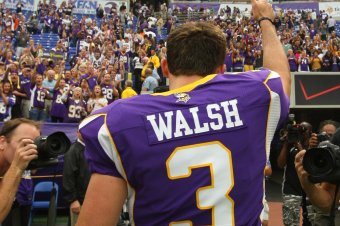 Brace Hemmelgarn-US PRESSWIRE
Blair Walsh has powered Minnesota's offense for 10 of Minnesota's 16 points (three field goals and an extra point). He's now 12 of 13 and continues to be very reliable.
But the Vikings should be up by so much more, as Mike Bass of the Pioneer Press points out in this tweet.
Yes, Minnesota is winning. And yes the Vikings are dominating the game. But that isn't necessarily reflected in the score.
The defense is shutting out the Titans, and this isn't to say the Vikings shouldn't be pleased with their performance.
But if the Vikings were playing a better team, they may not be as fortunate to have the lead.
Bruce Kluckhohn-US PRESSWIRE
Running between the guards and center has been Minnesota's bread and butter on the ground. Tennessee hasn't been able to do anything to stop the Vikings from storming up the middle.
Toby Gerhart continues to show why, when he can hold onto the football, that he's a great change-of-pace back to Adrian Peterson. Peterson brings the speed (also power) while Gerhart is straight up power.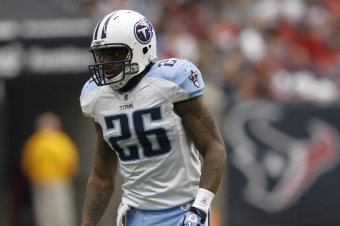 Brett Davis-US PRESSWIRE
Whatever happened in the Tennessee locker room should be recorded and turned into a motivational tape because the Titans are playing like a completely different team in the first series of the second half.
Adrian Peterson, minus the first rush of 34 yards, had nowhere to go on two attempts. That culminated in the interception by Jordan Babineaux.
Christian Ponder made a foolish decision to throw that pass.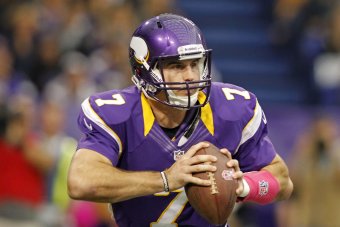 Bruce Kluckhohn-US PRESSWIRE
Christian Ponder had been playing with fire all season long. He went 145 attempts without an interception before Tennessee's Robert Johnson broke that streak.
Ponder threw that ball far too deep, even for the 6'6" Kyle Rudolph. That's a huge blow for the Vikings, who likely would have gotten three points from the possession.
Yes, they are up 13-0. But that's only two scores. The Titans still have Chris Johnson. He hasn't impressed this season but any touch can turn into a big gainer.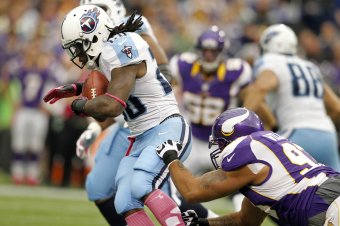 Bruce Kluckhohn-US PRESSWIRE
Tennessee offense is as stagnant as an offense can be. No one on that side of the ball has any confidence at this point. And it shows.
Chris Johnson has no attitude when he runs with the football and Matt Hasselbeck isn't comfortable dropping back to pass because he doesn't know how much time he'll have before a Viking is on him.
Barring a drastic turn of events, Tennessee is heading for a loss.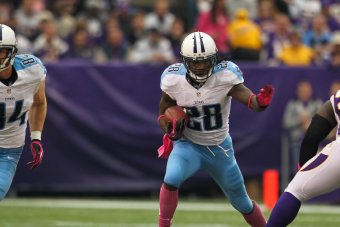 Brace Hemmelgarn-US PRESSWIRE
With Harrison Smith out and the rushing attack of Tennessee continuing to struggle (33 yards on 10 attempts), look for the Titans to be more pass-happy in the second half and of course in the last two minutes of the first half.
Although Tennessee hasn't gotten Chris Johnson going as a rusher, it should be more active in getting him involved in the passing game, whether it's screens or short passes. With the ball in his hands Johnson is still a greater threat than most.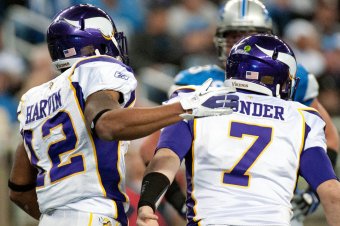 Tim Fuller-US PRESSWIRE
The connection between Percy Harvin and Christian Ponder continues to grow each game. It's surprising that Ponder has a better connection with Harvin than with fellow second-year Kyle Rudolph.
Harvin has two catches for 63 yards and a rushing touchdown. He continues to be Minnesota's No. 1 passing option and the No. 2 option in the offense.
Ponder is 9 of 14 for 117 yards. He's thrown for six more yards in the unfinished first half today than he had in four quarters last week.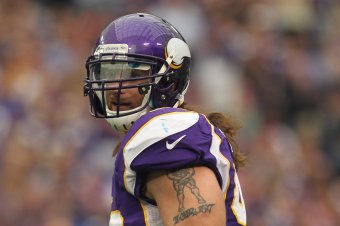 Brace Hemmelgarn-US PRESSWIRE
The Vikings defense has only recorded one sack and one quarterback hit, but life has not been easy for Matt Hasselbeck.
Minnesota's pass rush has gotten good penetration into the backfield, forcing Hasselbeck to move throughout the pocket more than he may like to.
On the day Hasselbeck is 8 of 13 for 72 yards with an interception. He hasn't impressed while filling in for the injured Jake Locker.
Patrick Smith/Getty Images
Harrison Smith was ejected from the game for throwing an official off of him.
Smith, at the very least, can expect a sizable fine from commissioner Roger Goodell. Maybe even a suspension.
The Vikings need Mistral Raymond back as soon as possible. They have the Washington Redskins next week, who may be without Robert Griffin III, but regardless the Redskins have some players that can cause problems for the Vikings secondary.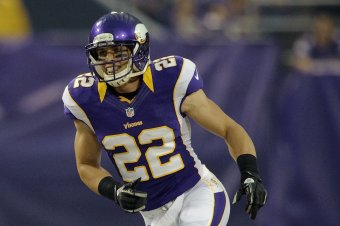 Hannah Foslien/Getty Images
With Harrison Smith's ejection from the game, the secondary is that much thinner and weaker. Smith has been playing a mean safety for the Vikings and will be missed.
Mistral Raymond and Andrew Sendejo are out already, which means Robert Blanton may be in line to get time at safety. Blanton is listed as the backup safety on Vikings.com.
Blanton won't come close to duplicating what Smith is able to do from the defensive backfield, which is why he's the backup.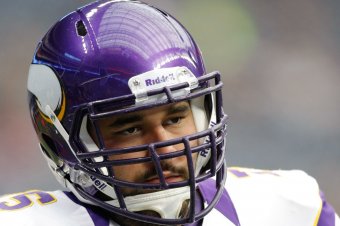 Brett Davis-US PRESSWIRE
Matt Kalil apparently was in pain as he returned to the sidelines after Minnesota's last possession.
That's something everyone will have to keep an eye on. No one is listed as a backup to Kalil on Minnesota's depth chart on Vikings.com. It would be interesting to see who Minnesota would replace Kalil with.
Bruce Kluckhohn-US PRESSWIRE
After the first quarter this appears to be Minnesota's game to lose, but it's still oh so early.
Christian Ponder looks great as a passer and the passing game has some fluidity to it.
The Tennessee offense has stumbled over itself throughout the first quarter, minus a few nice plays. Chris Johnson has had nowhere to run, rushing for eight yards on six carries. He also has a fumble. The passing game has had its opportunities, but it hasn't had any consecutive nice plays.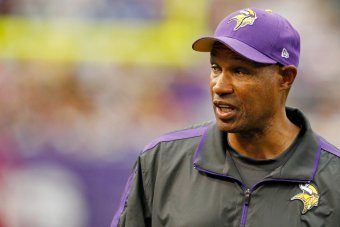 Bruce Kluckhohn-US PRESSWIRE
The Vikings were lucky to win a spot of the ball challenge. Those usually don't go the way of the challenger. Typically those are tough to get a good angle on. It appeared the cameras provided great angles to overturn the call on the field, as the refs decided.
Tennessee's offense looks very stagnant (prior to that fourth and 1 play). That could be just what the Titans need to get rolling.
Brett Davis-US PRESSWIRE
The Titans need to find a way to get Chris Johnson going early.
He's among the most talented running backs, but he's had an up and down (mostly down) season, rushing for 162 yards the first four weeks of the season and 141 yards last week.
Backup quarterback Matt Hasselbeck is in today and although he's very capable, he's still the backup. He doesn't have the rapport with the receivers that Jake Locker, who is out today with a shoulder injury, has.
Tennessee enters today averaging 3.7 yards per carry (27th-best) and 68.8 yards per game (26th-best). The Titans need to get the ground game going consistently, and I'm sure fantasy football players wouldn't mind seeing Johnson get going either.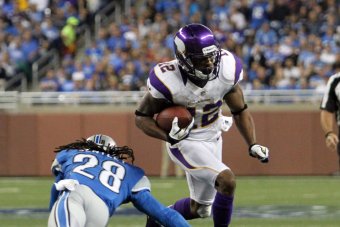 Raj Mehta-US PRESSWIRE
Vikings presented a very balanced attack on their nine-play 91-yard drive: five rushes and four passes that culminated in a 4-yard touchdown run by Percy Harvin.
Building off a previous note, the Tennessee defense will be in for a long day if Minnesota continues to excel through the air (66 passing yards on that scoring drive) and the ground. The Titans are rated 27th against the run, allowing an average of 136.5 yards on the ground per game.
The Titans are with their backup quarterback today, Matt Hasselbeck, but he's a very capable backup and would start on some teams. The Vikings secondary is still young and unproven.
This article is
What is the duplicate article?
Why is this article offensive?
Where is this article plagiarized from?
Why is this article poorly edited?

Minnesota Vikings: Like this team?