Clemson Football: 10 Things We Learned in Win vs. Georgia Tech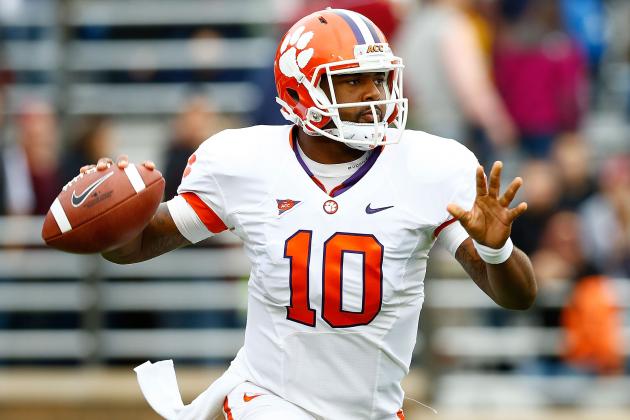 Jared Wickerham/Getty Images

The Clemson Tigers defeated Georgia Tech, 47-31, in a contest between an explosive passing game with Clemson and an explosive rushing attack in Georgia Tech. The air-it-out offense was just too much to handle, and Georgia Tech sputtered late to give the Tigers the victory.
We learned a lot about No. 15 Clemson and whether they can finish out their schedule potentially undefeated the rest of the way. Tajh Boyd looked very good except for a couple of interceptions, but their defense bailed them out in dangerous situations.
Georgia Tech's Orwin Smith was an absolute animal, and we learned some vital things about him. Many players can rush for a lot of yards against many teams, but Smith proved he can rush for massive gains against a Top 15 opponent.
Here are 10 things we learned in Clemson's win over Georgia Tech.
Begin Slideshow

»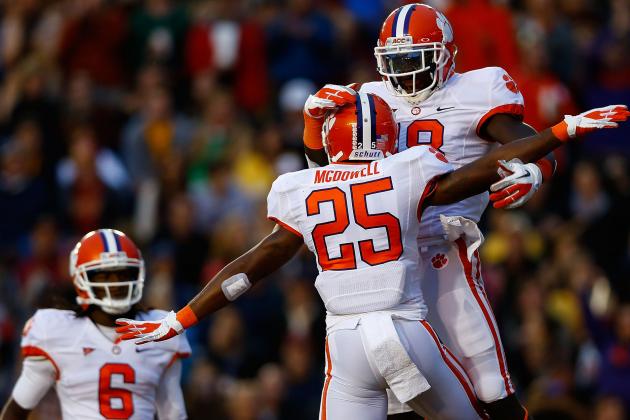 Jared Wickerham/Getty Images

The offensive firepower is great, but it all goes back to the old adage defense wins championships. With Clemson in a great position to win their way to an ACC championship, the defense needs to step up.
They allowed 339 rushing yards to Georgia Tech and still won somehow. They were trailing for a pretty decent portion of the game—enough that it should scare this Clemson team into improving their defensive schemes and execution.
I know the triple option just gives about everyone fits, but that is inexcusable. A BCS-caliber team shouldn't ever give up that many rushing yards.
Enough with the negative, though; the defense did show signs of improvement as the game went on. After a Tajh Boyd interception with around eight minutes to play, the Clemson defense made a stand that practically won the game for them.
Another great play they made was stopping Orwin Smith in the end zone for a safety. The safety was the straw that broke the camel's back and finished off the game, putting them two scores ahead and sealing the game.
If they want to be a BCS Bowl-game contender, their defense needs to tighten down the hatches.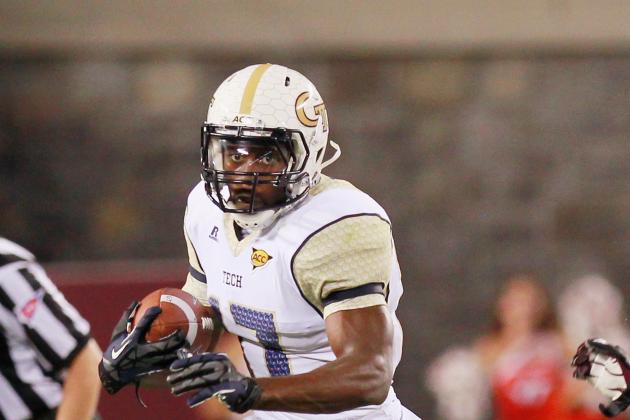 Geoff Burke/Getty Images

Running for 117 yards is a good outing for a college back, especially in a run-heavy system like Georgia Tech's in which carries can be hard to come by. Getting all 117 of those yards on seven carries is just ridiculous, though; especially when one of those carries was a negative play for a safety.
So with all of those yards coming on six carries, Orwin Smith proved that he can not only rush against awful defenses, but ones of top 15-caliber. Let's not get ahead of ourselves and say that Clemson's defense is top 15, but there's still something to be said about going out there and rushing like this all over a BCS bowl contender.
He carries a 9.4 yard-per-carry average in his career, and this game only helped him out, because he averaged 16.7 on the game today.
Smith is explosive; if he continues to have games like this, you may see him on Sundays in a Darren Sproles-like role.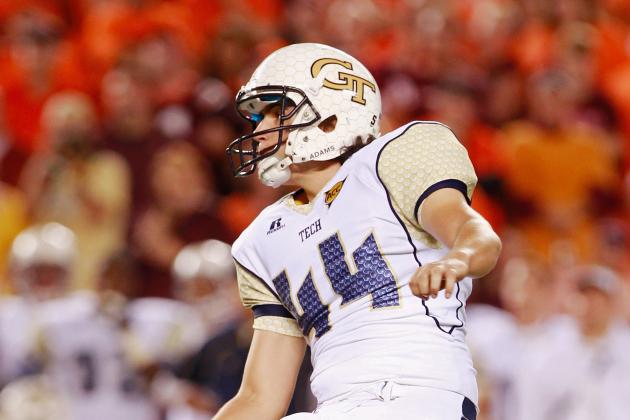 Geoff Burke/Getty Images

Georgia Tech's kicker, David Scully, had a rough day. Which included a tipped field goal which would have given Georgia Tech a chance. He wasn't very good, though, and almost missed an extra point. He seemed to be making poor foot-to-ball contact.
In the fourth quarter, Georgia Tech elected to go for it on fourth down and consequently fumbled at a point when the score was 28-27. It would have been a nice easy chip-shot to put Tech ahead 31-27 and change the dynamic of the game.
By choosing to go for it you are telling your kicker you don't have faith in him to make one in crunch time. This affected his psyche and perhaps caused Scully to doubt himself on the field goal that got blocked.
Always trust your kicker, he's the guy who'll have to nail a game-winner eventually.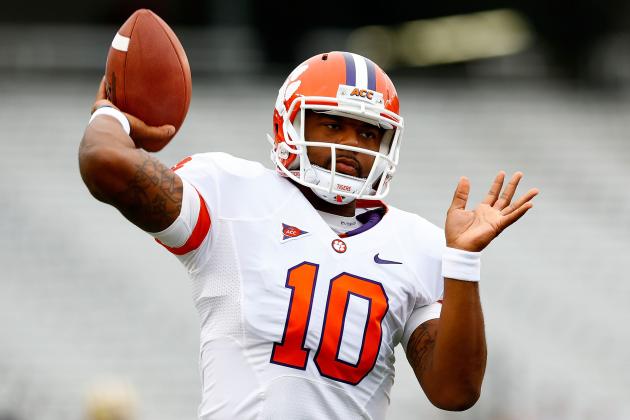 Jared Wickerham/Getty Images

On both of his interceptions, Tajh Boyd forced the ball where it shouldn't have gone. With feet as dynamic as his, he should try to take what he can get by running and live to fight another day.
Learning that he doesn't have to be the hero every play is the hardest thing a quarterback has to develop, and Tajh Boyd is still getting there. Luckily he has a supporting cast that can help to carry him.
He threw for almost 400 yards, so Boyd still was great, but the little things are those that will win games. He'll have to improve this in the next two weeks for the matchup against Virginia Tech.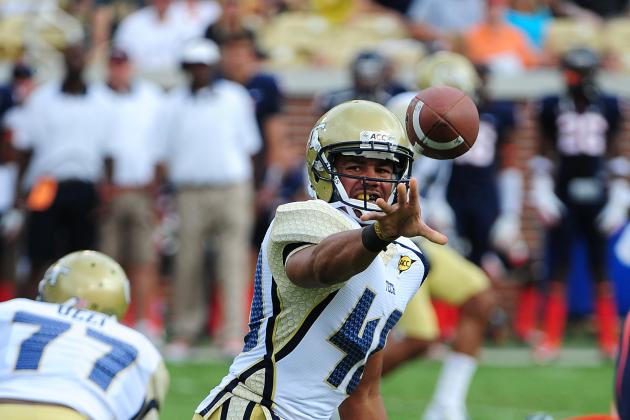 Scott Cunningham/Getty Images

A stat that's been mentioned a few times this article, 339 yards rushing. All thanks to the triple option and the havoc it can wreak when people don't perfectly execute their assignments.
The triple option makes players play fundamental football instead of the big-play seeking we sometimes see. Georgia Tech runs the triple option as good as anyone and has seen a lot of success with it.
So why don't other schools run it?
If you have the athleticism, you could greatly benefit from it. Schools with two starting-level quarterbacks can benefit as well, especially if one of them is very athletic. It would allow you to play them as a back who can also throw the ball well, something that Georgia Tech doesn't utilize, but the offense is very set up to do.
We are seeing a transformation to more of a passing game, but the rushing attack can still be just as explosive. I'm puzzled as to why more schools don't run the triple option.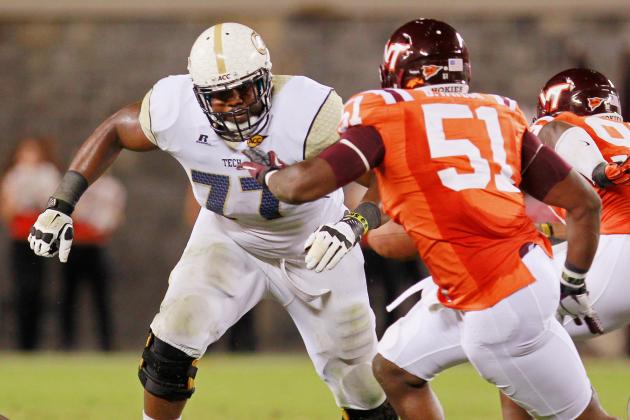 Geoff Burke/Getty Images

After right guard Omoregie Uzzi and center Jay Finch went down, the Georgia Tech offense wasn't the same and couldn't seem to move the ball as well as they had in the first three quarters.
It led to a botched snap on a crucial fourth down in which the backup center was asked to do more than he was used to, and the nerves got the best of him. The triple option is talked about as very explosive, but it relies heavily on an offensive line that can carry the load.
Without the injuries, we could be looking at a much different box score.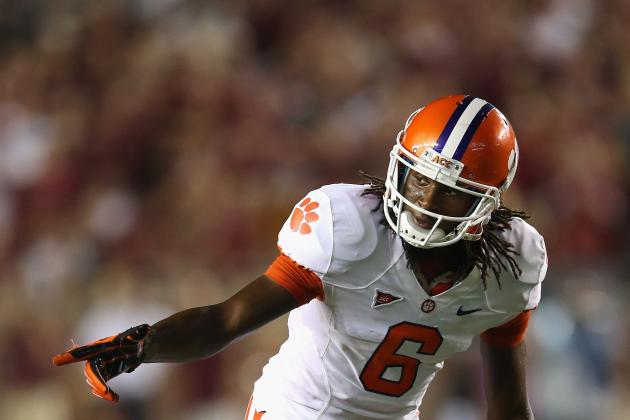 Streeter Lecka/Getty Images

DeAndre Hopkins makes Tajh Boyd a very happy man.
Today Boyd threw for his 50th career touchdown, breaking the previously held record by Charlie Whitehurst. The real amazement of the record comes in the fact that he's only done it in about half the attempts of Whitehurst.
Boyd loves to air it out, and it's worked for him in his career. The last two years have seen Clemson come back to glory, and Boyd's efficiency is a big reason for that. He had quite a few big plays Saturday versus Georgia Tech.
Keeping that big-play edge is what will win you games; if he continues to air it out successfully, then Clemson can win the ACC.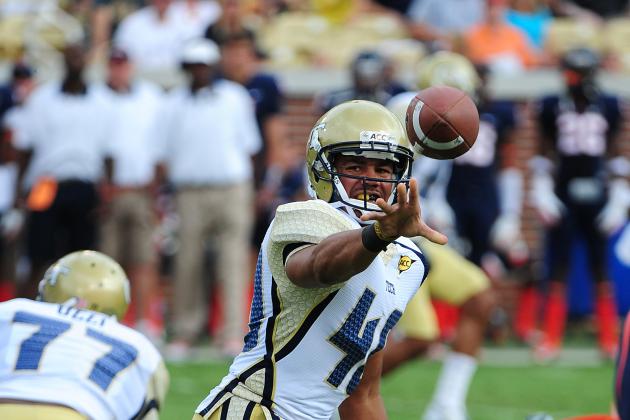 Scott Cunningham/Getty Images

The Georgia Tech defense has been downright awful this year. They've allowed more than 40 points in three of the six games so far this season. They showed a little improvement this game, but not enough to warrant a changing opinion on the defense.
Tevin Washington is the commander of the offense and was very solid; he gave Georgia Tech a chance at victory and will have to play very well in every game for Tech to win.
The offense is their best weapon, and they'll have to score even more to win games. Washington leads FBS quarterbacks with 13 rushing touchdowns and isn't going to slow up. He'll have to keep up that level of play for GT to even have a chance at making a bowl.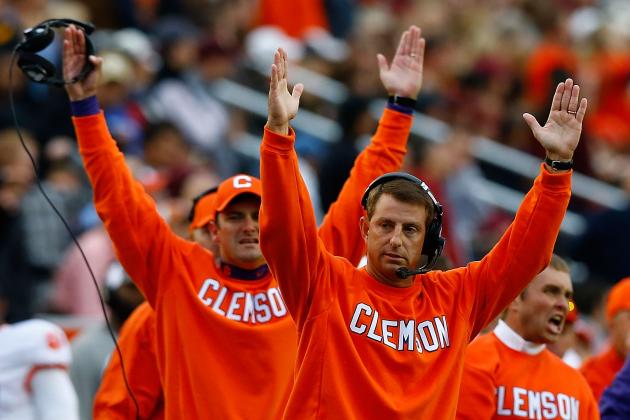 Jared Wickerham/Getty Images

Clemson has a history of losing games it really should win but pulled this one out. South Carolina will be its biggest game, but the Tigers can't overlook any ACC opponents on the way there.
If they can win the rest of their conference slate and not blow it, they honestly have a good chance at finishing without another loss in the regular season.
They have to get more consistent on defense and no "Clemsons" will be pulled.
Joe Robbins/Getty Images

They've played two Top 25 opponents and have led in all three of their conference losses in the fourth quarter. They just need to learn to finish games.
They're not as bad as their 2-4 record would indicate. Yes, their loss against MTSU was embarrassing, but every team has an embarrassing loss every now and then.
Five of their last six are winnable games and can make the season not a complete failure. If they continue the success they had on offense today, their final record will indicate more where the team is at progress-wise.