Nebraska vs. Ohio State: Live Scores, Analysis and Results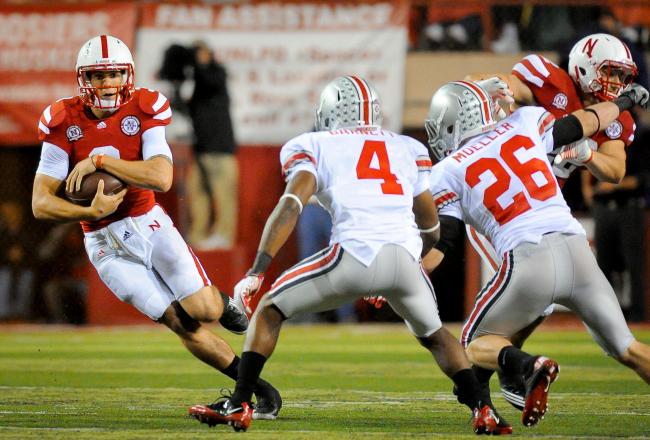 Eric Francis/Getty Images
Final: Ohio State 63, Nebraska 38

A tough game for both sides in the first half, Ohio State found a way to seal it up and get the victory.
The Buckeyes wanted this, and Braxton Miller went all out. It was the perfect mix to give Ohio State the win it wanted.
Don't forget to check out the Top 10 Things We Learned from Huskers' Loss vs. Ohio State.
Game States (via ESPN.com)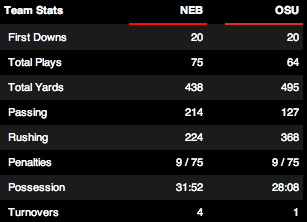 Photo Credit: ESPN.com
And I was right - That's the game.
Ohio State 63, Nebraska 38
Instead of Nebraska scoring, Ohio State does. I'd say that's game, folks.
Ohio State 63, Nebraska 38
Nebraska needs three scores in three minutes. Not impossible but that's pretty daunting.
Apparently my TV has had enough of this game, as it just turned itself off.
It's a touchdown.
Ohio State 56, Nebraska 38
Nebraska hangs on for dear life and Martinez scores.
Well, as long as it is not overturned.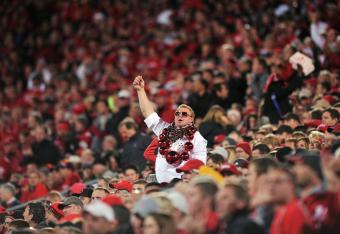 It is clear how badly Ohio State wants this win.
Just saw from @horowitzjason that if Ohio State scores any more points, it will be the most against a ranked foe since AP poll began in 1936

— Kevin Kugler (@kevinkugler) October 7, 2012
These stats are getting fun, aren't they?
Nevermind, pass was incomplete. Wamp, wamp.
Oh wow, impressive catch by Jamal Turner. I think my jaw hit the floor.
I haven't seen this many flags during a Nebraska since the Huskers were members of the Big 12.
In Nebraska's three biggest Big Ten road games (Michigan and Wisconsin last year, OSU tonight) it has given up 149 points. And counting.
— Rittenberg/Bennett (@ESPN_BigTen) October 7, 2012
Had to share this stat because it's mind boggling.
If only Nebraska had West Virginia's defense.

— Matt Schick (@ESPN_Schick) October 7, 2012
If only!
Wow, a lot of broken tackles for Ohio State and they score. Looks like the Buckeyes are sealing this one up.
Ohio State 56, Nebraska 31
I didn't even have to see his jersey to know that ball was recovered by Cameron Meredith. His hair gives him away.
Getting very chippy on the field. Eric Martin got into it w/ a Buckeye and had to be restrained 30 seconds after the whistle.

— Dirk Chatelain (@dirkchatelain) October 7, 2012
Yikes. The things we don't see from home.
Miller now has 169 rushing yards, an OSU QB rushing record.
— Dan Wallenberg (@OSUADAthComm) October 7, 2012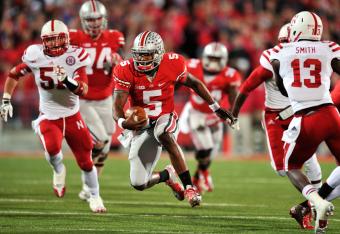 Nebraska is just handing opportunities to Braxton Miller. I can't keep up and my head is hurting.
Third pick for Martinez tonight.
He did not need to make that pass. There was no pressure. What was that?
Kenny Bell with 111 receiving yards, bettering his career best of 108 at UCLA #Huskers
— Nebraska Huskers (@Huskers) October 7, 2012
The blue jersey strikes again.
Nebraska fans seem to be panicking a bit. As my grandpa always used to say, "There's plenty of ballgame left." There really is.
New Ohio Stadium record for attendance: 106,102 #NEBvsOSU

— Rittenberg/Bennett (@ESPN_BigTen) October 7, 2012
Not a bad turnout. Explains why it is so loud.
Apparently no one from Nebraska can make a tackle. Ohio State returns the punt for 76 yards and scores.
Ohio State 49, Nebraska 31
Oh, hello there, 2011 Taylor Martinez.
This article is
What is the duplicate article?
Why is this article offensive?
Where is this article plagiarized from?
Why is this article poorly edited?