Miami vs. Notre Dame: Live Score, Analysis and Results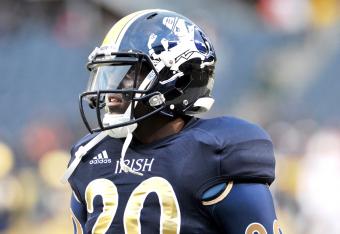 Notre Dame 41, Miami 3 -- FINAL
The Fighting Irish have defeated the Miami Hurricanes by a score of 41-3.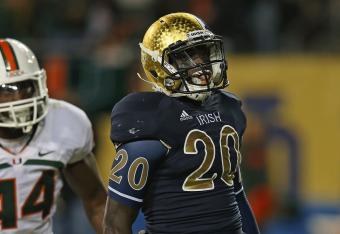 Wow, so much to say about this game.
The Irish defense dominated from start to finish, and the offense finally gelled under the leadership of quarterback Everett Golson.
The Irish ran for an astounding 376 yards on the evening, their highest output since 2003. With a defense that hasn't allowed a touchdown in the past three games, and a solid running game, the recipe for success has been established.
Now, doing so against Stanford next week won't be anywhere near as easy, but the Irish appear to be the superior team in that matchup.
Have a great evening, Irish fans.
Notre Dame 41, Miami 3
Cam McDaniel pounds in the final Notre Dame score of the evening to put the Irish ahead, 41-3.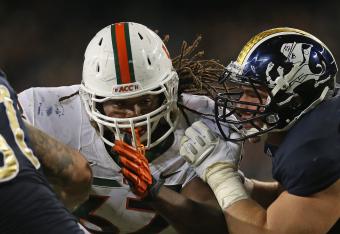 How about scrappy little running back Cam McDaniel this evening! What a dominating performance in garbage time from the Coppell, Tex. native.
Here's a bit of a surprising statistic: Neither team has committed a turnover this evening. Thoughts?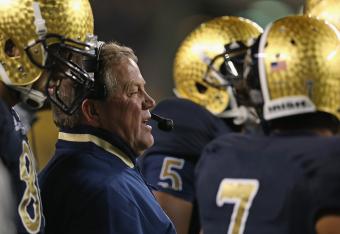 Well, seems as if Brian Kelly is content with playing the second string offense. Not necessarily the best display of a killer instinct, but I suppose I'll take it with a 34-3 lead.
Part of continuing to show that killer instinct is keeping quarterback Everett Golson in the game. The young quarterback needs all the reps he can get, which means leaving him in the game until the clock strikes zero.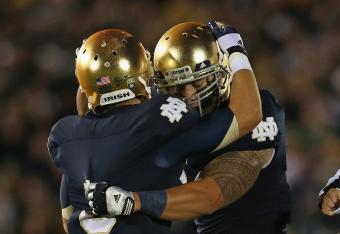 It's important for me to see Notre Dame to continue to show a killer instinct. Despite possessing a 31-point lead, the Irish cannot let up.
The nation's elite teams play for 60 minutes, and decimate inferior opponents.
Notre Dame's 303 rushing yards on the evening are the most for the Irish since 2003, when the Irish racked up over 300 against Stanford.
The emergences of Cierre Wood and George Atkinson have been a large factor.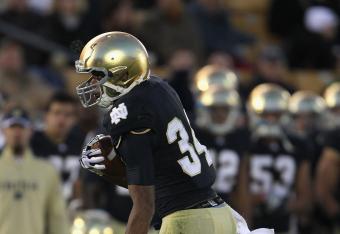 Notre Dame 34, Miami 3
Ho-LY cow, George Atkinson is fast. The speedster brings home the 50-plus yard touchdown run. Again, he is as explosive a playmaker as there is in college football.
Notre Dame senior associate athletic director John Heisler has uncovered an interesting statistic.
Cierre Wood now has 106 yards on 17 carries -- his 4th career 100-yard rushing effort

— John Heisler (@NDHeisler) October 7, 2012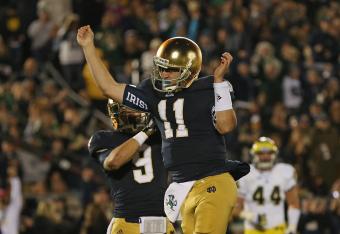 Should the Irish go on to win this game, Tommy Rees would improve to 13-4 all-time as a starting quarterback. Try to wrap your head around that one.
Dan Murphy of Blue and Gold Illustrated raises an excellent statistical point here.
Notre Dame has held the ball on offense more than twice as long as Miami so far tonight. They've rushed for 232 yards.

— Dan Murphy (@BGI_DanMurphy) October 7, 2012
Notre Dame 27, Miami 3
Cierre Wood gets his second touchdown of the evening, and has eclipsed the 100-yard mark.
Time and again, Miami has helped the Notre Dame offense out by committing unnecessary personal fouls. This time, it gives Notre Dame new life within the 'Canes 5-yard line.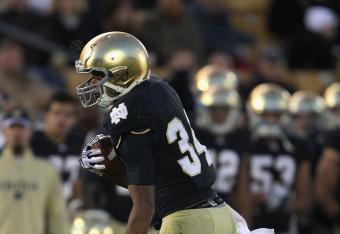 I like to see George Atkinson III getting some more touches in this game. His speed is second to none, which makes him a matchup nightmare.
When Notre Dame needs an explosive play, Atkinson has been there.
His presence will take on more value next week against a vaunted Stanford defense.
Here's a take on the beginning of the second half from the guys over at Irish Illustrated.
Nice start to the second half by the Irish D, TFL for KLM, Russell with a sold open field tackle, Te'o cleans up a couple plays, Miami punts

— Irish Illustrated (@NDatRivals) October 7, 2012
Notre Dame has now gone 10 straight quarters without allowing a touchdown. What a remarkable statistic from an even more remarkable defense.
Notre Dame 20, Miami 3
No question about that one. Touchdown, Irish. Cierre Wood gets his first touchdown of the season to put the Irish ahead, 20-3.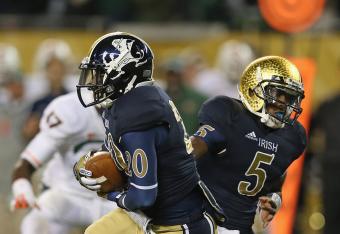 Cierre Wood with a MONSTROUS run to put Notre Dame on the goal line. The play is currently under review.
I like to see Wood running with an attitude, after having missed the first two games of the season due to suspension.
Looks as if Notre Dame's uniforms have made the rounds on Twitter this evening!
Notre Dame's helmet is the football equivalent to an Affliction shirt.

— Men's Humor (@MensHumor) October 7, 2012
The Elkhart Truth's Rachel Terlep is on hand to describe the halftime entertainment from Soldier Field.
#NotreDame marching band spelling out "Chicago" in cursive, musical band Chicago takes the field wearing Irish green.

— Rachel Terlep (@eTruth_Irish) October 7, 2012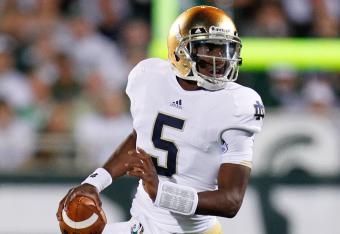 Entering halftime, there are a few adjustments that the Irish offense must make.
First and foremost, Notre Dame would be wise to keep pounding the football in the running game. The Irish have run the ball more effectively during this game than they have in their past three games. And with a solid running game, Everett Golson won't be forced to throw the ball in uncomfortable situations.
Notre Dame also needs to convert trips into the redzone, as Miami has an offense that has the ability to score quickly through the air.
Kyle Brindza misses the field goal just to the right of the upright, as Notre Dame maintains a 13-3 lead entering halftime.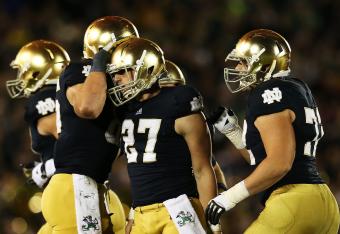 Golson has looked amazingly fluid during this final drive of the half, which has led to a field goal attempt with one second remaining on the clock.
Wieclaw's field goal attempt sails wide left, giving Notre Dame the ball near its own 40-yard line with roughly one minutes remaining the first half.
This article is
What is the duplicate article?
Why is this article offensive?
Where is this article plagiarized from?
Why is this article poorly edited?