Nebraska vs. Ohio State: Final Report Card, Player Grades for the Buckeyes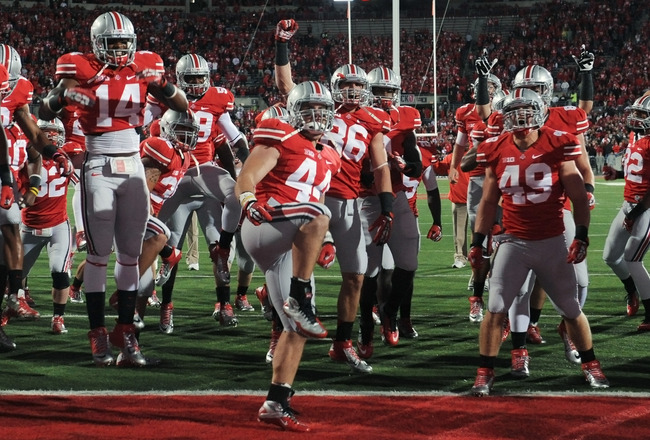 Jamie Sabau/Getty Images
The No. 12 Ohio State Buckeyes (6-0) defeated the No. 21 Nebraska Cornhuskers (4-2), 63-38 in Columbus on Saturday night.
Running back Carlos Hyde ran for 138 yards and added four touchdowns on the ground to help the Buckeyes bury Nebraska.
Let's take a look at Ohio State's postgame grades and evaluations.
Quarterbacks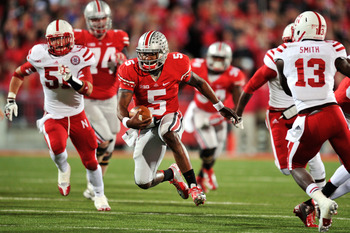 Jamie Sabau/Getty Images
Quarterbacks: A

After an abysmal first quarter, Braxton Miller was sensational against Nebraska. The sophomore quarterback completed just half of his 14 pass attempts, but he threw for 127 yards with one touchdown and no interceptions.

Miller did most of his damage on the ground. After losing nine yards on four carries in the first quarter, Miller caught fire and torched Nebraska for 186 yards—a single game Ohio State rushing record by a quarterback—and added another touchdown on the ground.
Running Backs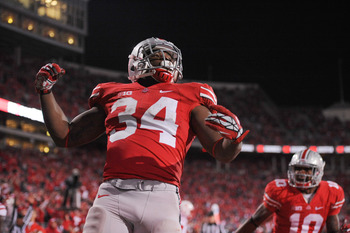 Jamie Sabau/Getty Images
Running Backs: A

Ohio State's running backs were just as good as Miller against the Cornhuskers.

Carlos Hyde rushed for 140 yards on 28 carries, highlighted by a career-high four rushing touchdowns for the junior running back. Hyde only made one mistake, fumbling the ball in the fourth quarter at the end of a 15-yard run. Outside of that, Hyde played a great game.

Rod Smith also played well in limited time. He only got two carries, but he made them count, taking his second opportunity 33 yards to the end zone.

The Buckeyes' running backs accounted for five of Ohio State's nine touchdowns.
Wide Receivers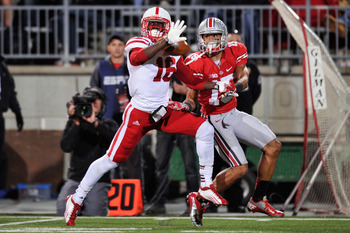 Jamie Sabau/Getty Images
Wide Receivers: C-

When run-blocking is the best thing about the performance from a group of wide receivers, they're probably not going to earn a favorable grade.

Only one Ohio State receiver registered a catch against Nebraska. Corey "Philly" Brown caught three passes for the Buckeyes, but outside of that, no receiver appeared on the postgame stat sheet.

This was the third consecutive week that receiver Jake Stoneburner didn't record a catch. Devin Smith's surprising disappearance came after his game-saving touchdown reception against Michigan State last week.
Tight Ends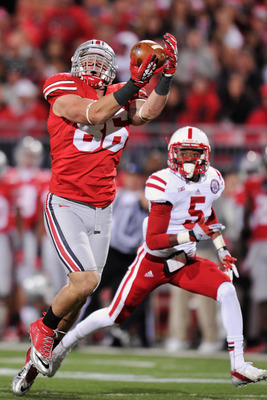 Jamie Sabau/Getty Images
Tight Ends: A

After six games, the Buckeyes finally found a way to get the tight ends involved.

If not for the tight ends, Ohio State's passing attack would've been lost. Jeff Heuerman and Nick Vannett combined for three catches and 85 yards, which made up 67 percent of Ohio State's receiving yards against Nebraska.

Heuerman and Vannett benefited greatly from Braxton Miller's execution of the play-action pass, and the two made Nebraska's defense pay for biting too hard on the fake.
Offensive Line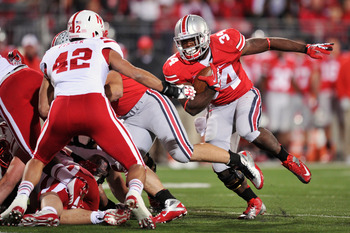 Jamie Sabau/Getty Images
Offensive Line: A+

Like Miller, the offensive line really struggled in the first quarter. Ohio State went three-and-out on its first four possessions and gained just 17 yards through 15 minutes.

After that, the offensive line took over.

The Buckeyes dominated in the trenches—a big reason why Ohio State piled up 371 rushing yards against the Cornhuskers.

Last week against Michigan State, the entire offensive line received the game ball from Urban Meyer. This week against Nebraska, this group played even better.
Defensive Line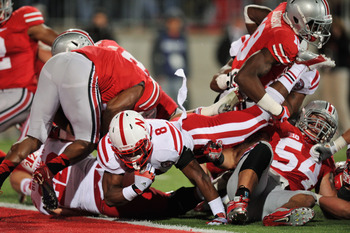 Jamie Sabau/Getty Images
Defensive Line: B+

Ohio State's defense struggled Saturday night, but the blame can't be put on the shoulders of this defensive line.

When Ohio State stifled Nebraska on the opening drive of the game, it was because the defensive line completely annihilated the Cornhuskers' offensive line.

John Simon was an absolute beast. Five of his seven tackles went for a loss, and two of them were Taylor Martinez sacks. Simon also forced a fumble that Michael Bennett recovered.
Linebackers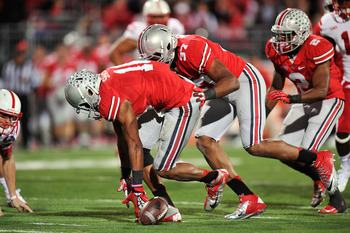 Jamie Sabau/Getty Images
Linebackers: C-

Ryan Shazier was his typical self, leading the team with 11 tackles. Outside of that, it was a dismal performance from an underachieving linebacker corps.

Of course, losing Etienne Sabino to a leg injury didn't help, but it was Ohio State's poor linebacker play that allowed Nebraska to have as much success running the ball as it did against the Buckeyes.

The Cornhuskers piled up 223 yards on the ground, and although Nebraska has a very good rushing attack, better tackling and more speed from the linebackers would've helped Ohio State immensely Saturday night.
Defensive Backs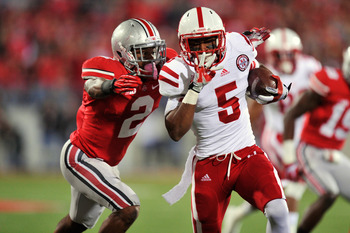 Jamie Sabau/Getty Images
Defensive Backs: B-

If you could split this up between the cornerbacks and the safeties, the two groups would have two very different grades.

Ohio State's cornerbacks played very well. Bradley Roby snagged two interceptions, one of which he returned 41 yards for a touchdown. Travis Howard was solid, recording six tackles and a team-high two pass breakups against Nebraska.

The play from Ohio State's two safeties really hurt the Buckeyes. Christian Bryant was second on the team with nine tackles, but the junior was out of position on a lot of Nebraska's big plays. Orhian Johnson was even worse. Despite picking Taylor Martinez off in the third quarter, Johnson was beat in comical fashion multiple times in pass coverage.
Special Teams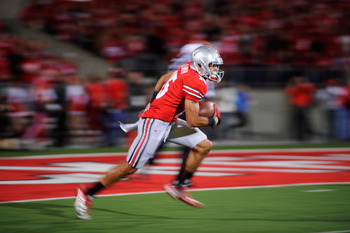 Jamie Sabau/Getty Images
Special Teams: B

One bad play—the failed fake-punt attempt in the first quarter—was countered by Brown's 76-yard punt return for a touchdown in the third quarter.
The Buckeyes were outstanding in kick coverage aside from Abdullah's first-quarter punt return that was nearly brought back for a touchdown.

Drew Basil was 9-for-9 on extra-point attempts.
Coaching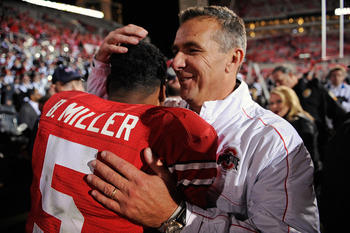 Jamie Sabau/Getty Images
Coaching: B

Urban Meyer and offensive coordinator Tom Herman adjusted perfectly after Ohio State's atrocious first-quarter performance. After gaining just 17 yards through 15 minutes of play, the Buckeyes finished the game with 498 total yards against Nebraska's defense.

Defensive coordinators Everett Withers and Luke Fickell, on the other hand, didn't adjust very well to Nebraska's offense.

The Cornhuskers rushed for 223 yards and threw for 214, which helped Nebraska score the most points against Ohio State (38) so far this season.
Keep Reading

Ohio State Football: Like this team?