Oklahoma Football: 10 Things We Learned from the Sooners' Win vs. Texas Tech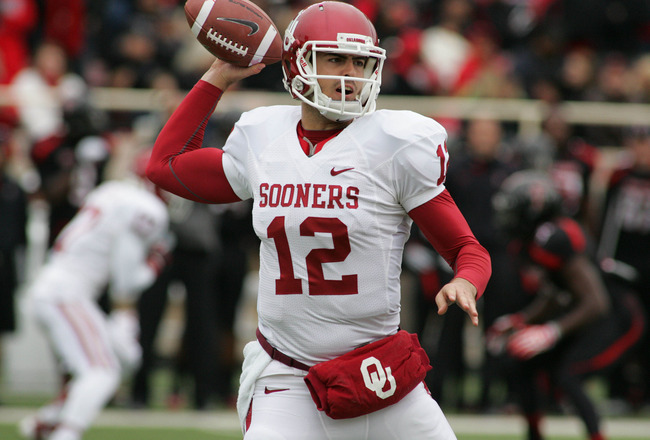 Michael C. Johnson-US PRESSWIRE
The No. 17-ranked Oklahoma Sooners traveled to Lubbock, Texas with the hope of getting revenge on the Texas Tech Red Raiders. I think it's safe to say that the Sooners' mission was accomplished.
After getting out to a 21-13 lead at halftime, this game appeared like it was going to be a shootout. My instant analysis at halftime read, "This game is going to be won on defense. Both offenses can (and will) score more points, but which defense is going to step up and make the most stops in the second half?"
The Sooners went on to dominate defensively and completely deflate the Red Raiders' offense. It was likely the best second-half performance the Sooners have had since last season's victory at Kansas State.
If the Sooners continue to play like this, there's no reason they can't compete for a conference championship. Here are 10 things we learned in the Sooners 41-20 victory over Texas Tech.
The Bye Week Certainly Helped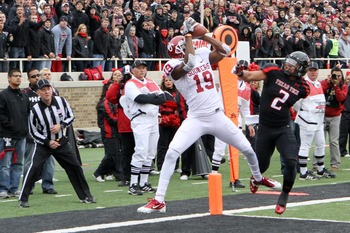 Michael C. Johnson-US PRESSWIRE
After a disappointing loss to Kansas State two weeks ago, the Sooners came into the game against Texas Tech following a bye week. A bye week can be significant for a team that's still trying to find their identity/work out kinks that have hampered their success.
The Sooners' offense has looked confused since Week 1, but they certainly put it all together against Texas Tech. You have to think the bye week had something to do with that.
Landry Jones played with confidence, but a lot of that had to do with the amount of time in the pocket he had to work with. The Sooners' offensive line has had trouble in every game so far this season due to injuries and lack of experience together, but they didn't surrender a sack and opened up holes for the Sooners' running backs.
For as bad as the defense looked in the first half, they turned everything around and looked great in the second. They picked off Texas Tech quarterback Seth Doege three times and got pressure in the backfield that had been non-existent.
Everything worked for the Sooners today. The Sooners need to keep doing whatever they did in practice during that bye week. It certainly helped.
Landry Jones May Not Be Terrible After All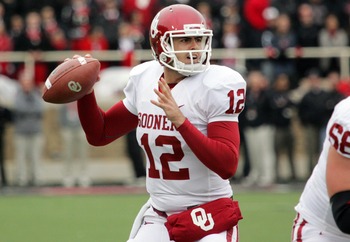 Michael C. Johnson-US PRESSWIRE
I mentioned that Landry Jones played with confidence against Texas Tech in the last slide, but that doesn't even come close to describing how different Jones appeared today. It's like he took all the criticism he received from his embarrassing display against Kansas State and actually tried to improve.
What? Did that really happen? Sorry, Jones haters, but the guy who quarterbacked the Sooners today is, in fact, the best quarterback that the Sooners have to offer. Trust me, I'm not trying to sit here and pretend that I didn't harp on Jones for playing terribly two weeks ago, but you don't bench a fifth-year senior for a sophomore with minimal experience when you're trying to win games.
Jones finished the game 25/40 for 259 passing yards and two touchdowns. These aren't eye-popping stats by any means, but the way he performed proved that he is capable of being a quarterback that wins you games.
He played with so much confidence today it was almost uncanny. Not once, but multiple times today Jones moved around the pocket, avoided the pressure and still completed a pass. These are things we've been waiting to see, but have only seen glimpses of here and there. For the most part, Jones has appeared rattled under pressure, unconfident and unable to get any better.
That wasn't the case this week. Sooner fans can only hope that this Jones is the guy who remains at quarterback for the rest of the season and not two weeks ago Jones.
Damien Williams Is the Right Choice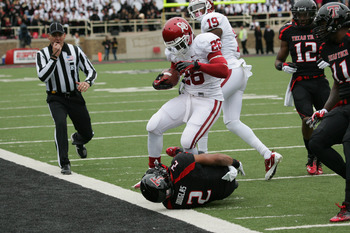 Michael C. Johnson-US PRESSWIRE
I have been pitching Damien Williams as the starting running back since his Week 1 performance against UTEP. He has consistently outperformed every other running back on the Sooners' roster, yet his carries have been equal or less than Dominique Whaley every week.
Not this week. Sooner fans not only received a new Landry Jones, they also received a new starter at running back. Williams got the bulk of the carries, and it was definitely the right choice. However, you'd never be so sure if you were only looking at the box score.
Williams finished with 14 rushes for just 48 yards, which averages out to a season-low 3.4 yards per carry. However, he also caught six passes for 82 yards and showed the same strength and quickness that he's flaunted all season.
Williams will continue to be the starter and it's certainly well-deserved.
Winning at Texas Tech Is Possible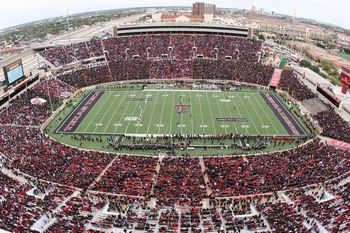 Michael C. Johnson-US PRESSWIRE
If you're a fan of the Sooners, then you are well-aware of how hard it's been for them to beat the Red Raiders. Last season, the Red Raiders proved they could win outside of Lubbock, as they came into Norman and beat a then-undefeated Sooners squad.
Going to Lubbock has been an issue for Bob Stoops and his team for years. Nine years, to be exact. The Sooners hadn't won at Lubbock since 2003, which seems crazy to me.
When you consider the teams that Bob Stoops has had compared to Texas Tech, this doesn't seem plausible. I guess that's the definition of a home-field advantage.
This weekend's victory in Lubbock is huge not only for this season, but for every season in the future. The Red Raiders have been invincible at home, but at least the Sooners can now look back and see that it is, in fact, possible to win on the road.
Having confidence is a big factor in winning—just ask Landry Jones (I really can't get over how confident he played, can you tell?).
The Defensive Line Still Has a Lot of Work to Do
Michael C. Johnson-US PRESSWIRE
Both the offensive and defensive lines for the Sooners have been depleted due to injuries, suspensions and inexperience. The defensive line, especially, has shown signs of ineptitude so far this season and they didn't exactly change that fact against Texas Tech.
In the first half, Red Raiders quarterback Seth Doege had all day to throw. The defensive line was getting absolutely no pressure in the backfield on both the pass and the run. The pressure got better in the second half, but that had a lot to do with the opposing offense feeling deflated.
Coming into the game, the Sooners were dead last in both tackles for loss and sacks.This absolutely has to change if the Sooners want to contend against the likes of West Virginia, Texas and Oklahoma State.
With the amount of great quarterbacks/offenses that are in the Big 12 conference, being able to get pressure in the backfield is going to be a huge turning point in every game.
The Sooners are desperately missing the impact defensive ends Frank Alexander and Ronnell Lewis had on the team last season and losing defensive tackle Stacy McGee certainly doesn't help, either.
Mike Stoops Has Made a Difference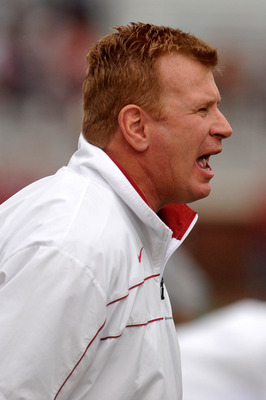 Mark D. Smith-US PRESSWIRE
It was easy to question whether or not the addition of Mike Stoops would actually make that much of a difference to the Sooners secondary. Through four games, I think it's safe to say that his presence has been felt.
Coming into today's game, the Sooners were No. 2 in the country (behind only Texas Tech, actually) in pass defense, allowing just 124 yards per game. Obviously, that number will be much higher after the Red Raiders passed for 271 yards against the Sooners, but even that was impressive considering Doege's yards per game average (297, he only threw for 203 in this game).
Were they perfect against Texas Tech? No way, but the for the most part, they looked much, much better. Doege had only thrown three interceptions to 15 touchdowns in Texas Tech's first four games. Today? Douge matched his interception total while throwing zero touchdowns.
Cornerback Aaron Colvin came up big in coverage and had what is likely to be the weirdest interception of the day (line drive into the stomach). His play garnered this tweet from Sooners ESPN Insider Jake Trotter:
Anyone else think Aaron Colvin might be OU's best player?
— Jake Trotter (@Jake_Trotter) October 6, 2012
I think it's definitely possible.
Roy Finch Is Still Nowhere to Be Found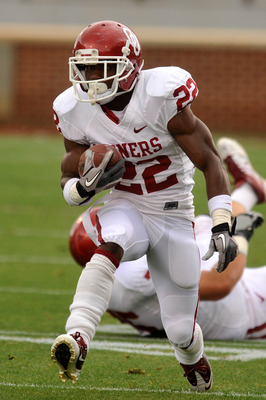 Mark D. Smith-US PRESSWIRE
This is a really tough subject for me to address. I wrote an article earlier in the week describing exactly why Bob Stoops has to start setting Roy Finch free. Whether he's in the backfield or in the slot, he needs to be on the field.
Still, I am completely okay with Damien Williams getting the bulk of the carries. In fact, I encourage that. However, Finch's game-changing ability is undeniable. He needs to be doing more than just returning kicks, especially because 99 percent of kickoffs are touchbacks.
I understand that the offense is crowded with talented players. Williams and Whaley are both deserving of carries. Kenny Stills, Sterling Shepard and Durron Neal all need some time in the slot. Why can't Finch at least be in the rotation? That's all I'm asking.
The guy is averaging 11 yards per carry. He has good hands, which is why he was working out at slot in the offseason. What is keeping him off the field?
Of course, it's even harder to argue after the Sooners play their best game offensively of the season and win by three touchdowns, but the fact remains that Finch is getting the short end of the stick every week.
Tom Wort Better Watch His Back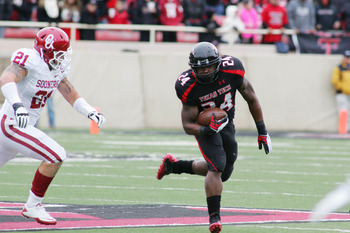 Michael C. Johnson-US PRESSWIRE
Before the season began, middle linebacker Tom Wort would have been the last guy on my list of "Guys who might end up losing their starting job on defense." In the past, Wort has proven himself as one of the hardest working players on the field at all times. He plays with a great combination of heart and reckless abandon.
So why in the world should he be watching his back? If you didn't notice, Wort spent most of the game against Texas Tech on the sidelines. He wasn't getting the job done in the first half, and that has been the case for the first month of the season.
Instead, redshirt freshman Frank Shannon played the majority of his snaps and he proved to be worthy of them. Shannon was constantly busy as he was flying around the field making plays—he actually looked like the ghost of Tom Wort.
Shannon had a huge sack in today's game that really helped swing the momentum in Oklahoma's favor. He didn't look like a redshirt freshman by any means, and that doesn't bode well for Wort's playing time.
I'm sure Wort didn't lose his starting job this week, but he needs to know that Shannon is behind him, waiting to be called on for more and more snaps.
Tress Way Is Still an Underrated Player on This Team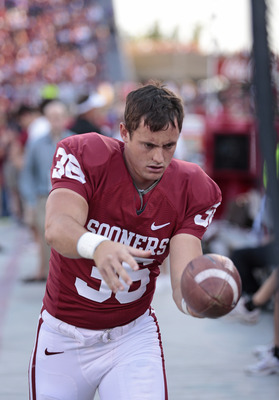 Brett Deering/Getty Images
I've said it once and I'll say it again: Senior punter Tress Way might be the most underrated player on this roster. Way, who has started since his freshman season, has been as consistent as consistent gets in his four-year career.
Today was no different. Even though he wasn't used too much in the first half, when he was called upon, he didn't disappoint. After struggling through an offensive series, Way produced a 71-yard punt that pinned the Red Raiders inside their own five-yard line.
This punt seems insignificant now because the Red Raiders marched down the field with relative ease, but that was after the botched interception by defensive tackle Jamarkus McFarland. That punt made it hard on Doege to get time in the pocket, and it almost resulted in a defensive touchdown.
That's nothing new to Way, though, who finished with four punts for an average of 45.3 yards. He is constantly making things hard on opposing teams. When he graduates, the Sooners are going to miss him more than they might realize.
Winning the Conference Isn't out of the Question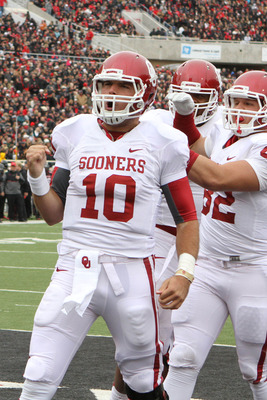 Michael C. Johnson-US PRESSWIRE
Maybe this is jumping the gun considering the Sooners already have one conference loss and have yet to play West Virginia, Texas and Oklahoma State, but I'm not counting them out.
If the Sooners continue to play with the confidence and precision that they played with against the Red Raiders, they will without a doubt contend for the conference championship. They still have some areas that they need to work on—namely their offensive and defensive lines—but they are getting better.
The team that beat Texas Tech is miles ahead of the team that lost to Kansas State. A little of that definitely has to do with Kansas State being a better team than Tech, but literally everything was better this week. That includes the play calling by offensive coordinator Josh Heupel, who really tried to switch things up between run and pass instead of airing it out 50-plus times.
The Sooners have the pieces to compete. They're talented at every position, they just have to figure out how to utilize their talent to produce the best results. The win at Texas Tech was a good start, they just have to keep building on that success.
Keep Reading

Oklahoma Sooners Football: Like this team?