MMA Results: Dave Bautista's MMA Debut Live Blog & Analysis
Photo courtesy of MMAFighting.com

Former World Wrestling Entertainment superstar Dave "Batista" Bautista makes his professional mixed martial arts debut tonight on pay-per-view, and Bleacher Report will bring you the results and analysis from the main card beginning at 9 p.m. ET.
Bautista, who owns a Gracie jiu-jitsu school in Florida, faces Vinnie Lucero in the main event. Former UFC star David Loiseau also appears on the card.
For all of the results and notes on the action, stay tuned to this post beginning at 8:30 p.m. ET as I bring you a quick wrap from the preliminary card.
After the fight, Lucero and Bautista exchange words. Bautista is upset over something, but we're not sure what.
The crowd is heavily booing Bautista. He and Lucero shake hands as cooler heads prevail.
Lauzon interviews Bautista. He says his nerves got the best of him and that Lucero hits like a horse. He also says he wants to fight again, and hopes the next time he won't be so nervous. He says he's a lot better than he showed tonight. He thanks his team and everyone under the sun. He thanks Stephan Bonnar and says Bonnar is going to beat the hell out of Anderson Silva next week.
A few post-fight thoughts: Well, there's not much to say. Bautista looked terrible standing, like a total amateur. He looked much more comfortable on the ground, but I think it's safe to say that he has zero future in mixed martial arts, even if he fights again. And perhaps that's the way it should be.
DAVE BAUTISTA vs. VINCE LUCERO
Here we go with round-by-round updates.
ROUND 1: Bautista is a physical freak. They touch gloves to start. Lucero lands several big punches and backs Bautista against the cage. Bautista looks lost. They're clinching against the cage. The ref just told both of them to stop talking during the fight. They separate. Lucero lands more shots. Bautista has the worst standup I've ever seen from a fighter. More punches land from Lucero, pushing Bautista against the cage. Bautista has zero defense. Bautista pushes Lucero against the cage. Bautista lands an elbow, but Lucero grabs him and presses him against the cage. Lucero is dancing and the ref separates them. Takedown from Bautista and he's in side control. He pins down Lucero's left arm with his knee and then moves into mount, then goes to Lucero's back. He lands a few nice punches. He's trying to flatten Lucero out for a choke but can't get it. He's back in the mount and landing big punches, then takes his back again, albeit briefly. More ground and pound from Bautista. This one is over as the ref calls a halt.
Dave Bautista d. Vince Lucero by TKO, round 1
After a horrid rendition of the national anthem, we finally get the ring introductions.
Lucero is 300 pounds, while Bautista weighed in at 265.5. And I'm not kidding, again, when I tell you that Lucero is one of the fattest fighters I've seen in a long time.
Bautista looks like he's in great shape. And by that I mean he's gigantic. That may not translate well to having great cardio.
He steps in the cage, and we're moments away from the big fight of the night.
Bautista makes his way to the cage. I can't hear the entrance music, so no updates on that front.
The announcers are listing Bautista's accomplishments in WWE as part of his resume. They actually said he last fought in Rhode Island a few years ago for WWE. This is amazing.
I want to note again that Lucero is incredibly fat.
Before the fight starts, a group of girls comes in the cage with a military color guard. Looks like they're going to sing the national anthem.
Bautista's opponent Vinne Lucero makes his way from the back and walks to the cage. He's a hefty fella.
TODD CHATTELLE vs. CHANDLER HOLDERNESS
Well, this one didn't last long. Holderness ran out with an immediate flying knee that landed, then got on top and landed roughly 30 unanswered elbows before the referee stopped the fight.
And NOW...it's time for Bautista.
Chandler Holderness d. Todd Chattelle by TKO, round 1
I was wrong: the Bautista fight isn't up next. Instead, we'll get Todd Chattelle vs. Chandler Holderness, which was scheduled for earlier in the evening but didn't happen.
DAVID LOISEAU vs. CHRIS MCNALLY
Loiseau is a long-time UFC veteran. He challenged Rich Franklin for the UFC middleweight title back in 2006. He's also one of the nicest human beings I've ever met.
Chris McNally is, well, Chris McNally. His two most notable opponents were Derek Brunson and Eliot Marshall, and he lost both fights. That doesn't bode well for him here.
Note: This fight is at a 195-pound catchweight.
This one didn't last all that long. Loiseau opened up a nasty cut on McNally's forehead in the first round, and he immediately started gushing blood all over the place. The doctor wisely called off the fight.
Next up: The MMA debut of Dave Bautista.
David Loiseau d. Chris McNally by TKO, round 1 (doctor stoppage)
JOHN HOWARD vs. BRETT CHISM
Howard is a former UFC veteran, of course. He's gone 3-0 since being released from his contract after losing to Matt Brown in January 2011. Chism's claim to fame is a loss to Phil Davis back in 2008.
Howard cut open Chism's face early in the first round, and that played into the finish in the second when Howard unloaded ground and pound on Chism's face until the ref decided it was time to stop the bloodletting.
The win moves Howard to 4-0 since leaving the UFC. He might be on their radar again, especially if the injury bug continues to decimate fight cards, which means this was a very big win for Doomsday.
John Howard d. Brett Chism by TKO, round 2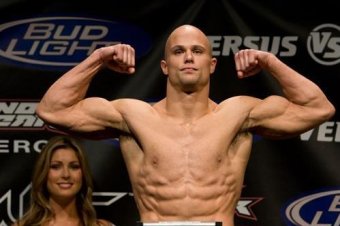 MIKE CAMPBELL vs. GEMIYALE ADKINS
Campbell is a former WEC vet; he actually lost to Anthony Pettis back at WEC 41 in 2009 (and Danillo Villefort prior to that).
These two guys apparently don't like each other, and that played out in the fight as they threw murderous punches at each other's faces. Campbell used effective jabs and leg kicks throughout the first and second rounds, and most of the strikes came from countering Adkins. Indeed, Campbell spent much of the fight backing up, but was still able to land plenty of strikes.
One quick aside: the color commentator on this show—and I have zero idea who he is—is the most New England color commentator of all time.
Campbell turned on the engines in the third round, landing a nice spinning back elbow before picking up Adkins and tossing him to the canvas. Campbell then took Adkins' back and continually worked for the rear-naked choke, but couldn't get it as the time expired. This was a fun fight.
Mike Campbell d. Gemiyale Adkins by unanimous decision
SAUL ALMEIDA vs. CALVIN KATTAR
Kattar mostly dominated this fight and nearly finished it in the third round with an armbar/triangle combo, but Almeida deftly defended it and survived to see the end of the fight. Almeida needed a finish after dropping the first two rounds, though, and wasn't able to get it. A good fight from the featherweights.
A quick note: the production of this show is terrible. It's essentially a local promotion using local promotion filming techniques, except they're on DirecTV PPV.
Calvin Kattar d. Saul Almeida by unanimous decision
The announcer just notified everyone that they'll get a chance later on to see the debut of Dave "Brass Body" Bautista, so it looks like that's his official nickname.
Not sure about that one. I get that it's a movie tie-in, but still.
MARC STEVENS vs. LUIS FELIX
The Ultimate Fighter and Strikeforce veteran Marc Stevens and Luis Felix put on quite a lightweight show, especially in the last 15 seconds of the fight when the pair exchanged reversals, culminating with Felix raining down punches from a standing position.
Felix captured the decision win over Stevens, pushing his record to a pedestrian 8-6. But still, it's a win over a guy who has appeared on UFC television, and that counts for something.
Luis Felix d. Marc Stevens by unanimous decision
The first fight of the main card is UFC veteran Marc Stevens vs. Luis Felix. Looks like we have seven fights on the main card, as opposed to the 5 that I originally posted.
I'll do brief writeups of each of the main card fights in a single update, followed by a more detailed live blog of the Bautista/Lucero fight. Stay tuned.
Here are the ongoing CES MMA: Real Pain preliminary card results.
Kevin Horowitz d. Tyson Chartier by unanimous decision
Nate Andrews d. Leon Davis by submission, round 2
Andre Soukhamthath d. Rob Costa by TKO, doctor's stoppage
Brennan Ward d. Shedrick Goodridge by TKO, round 1
Greg Rebello d. Chris Guillen by submission, round 1
Tyler King d. Josh Diekman by unanimous decision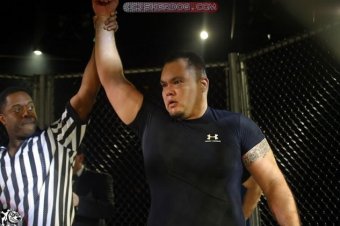 For Dave Bautista, tonight is an experiment.
We don't know if he'll fight again beyond this one time. He wanted to have a professional MMA fight, and so that's what this is: a way for him to get in the cage and have a fight. As far as I know, he has no aspirations of ever making it to the UFC or making a career of this.
Tonight is also a tough way to make your debut.
Vince Lucero, his opponent for the evening, is not a good MMA fighter. In fact, I'd say he's a fairly terrible one, as his 22-22-1 record would indicate. But the major problem he presents for Bautista is simply the fact that he's an experienced fighter, terrible or not. There's also the fact that he outweighs Bautista by over 35 pounds.
Those who have trained with Bautista—like UFC light heavyweight Stephan Bonnar—say he's an excellent grappler for someone at his experience level. And he's been training various striking disciplines for a long time. But still, you have to think he's going to be out of his element here, and there's also the fact that he's 43 years old and carries around a ton of muscle. He's far smaller than he was during his WWE days, but still, he's a giant of a man and his cardio is going to be a question.
I'd love to see Bautista string together a few wins and make a remarkable run to the UFC. I don't see it happening, but it would certainly be interesting, and he'd lend a major dose of star power to the UFC's largest division. But first, he has to get by a journeyman tonight, and there's no guarantee that he will.
We're still a little more than an hour away from the start of the live PPV broadcast. That is, of course, as long as the folks running Bautista's live stream pay per view website work out the kinks. As of right now, at 7:47 p.m. ET, the website is down due to traffic overloads. Let's hope they work out the kinks.
In the meantime, here's the full card for tonight's televised event.
Dave Bautista vs. Vinnie Lucero
David Loiseau vs. Chris McNally
John Howard vs. Brett Chism
Mike Campbell vs. Gemiyale Adkins
Todd Chattelle vs. Chandler Holderness
I'll post quick preliminary results in the next update, which will happen before the start of the pay per view.
This article is
What is the duplicate article?
Why is this article offensive?
Where is this article plagiarized from?
Why is this article poorly edited?