Cincinnati Reds vs. San Francisco Giants Game 1: Live Score, NLDS Analysis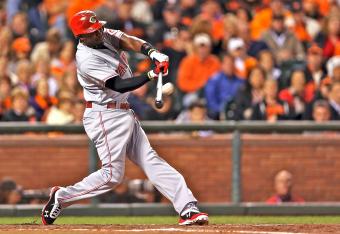 The National League Division Series kicked off tonight as the Cincinnati Reds visited the San Francisco Giants for Game 1.
Brandon Phillips and Jay Bruce hit homers to put Reds on top. Buster Posey responds in the sixth to put the Giants on the scoreboard. In the end, the Reds held on, 5-2.
UPDATE:
Reds starter Johnny Cueto left the game in the 1st with back spasms. As if losing your ace is not bad enough news already, Game 3 starter Mat Latos has pitched four innings in relief and has looked pretty good.
SCORE UPDATE:
FINAL: Reds 5-2 Giants

Reds come together after the loss of Cueto in the first inning. Brandon Phillips looks like the guy who will determine how the Reds do each game. As he goes, so do the Reds.
Reds' Bullpen: 8.2 IP, 2 ER, 7 hits, 5 Ks.
Had Casilla not given up those two runs in the eighth, I think the Giants play the ninth a little differently.
STRIKEOUT TO END THE GAME!!!
WILD PITCH...Giants pull within three, 5-2.
Posey is up...this is what everyone wanted.
Bases loaded with one out after the walk...JJ Hoover heading to the bullpen. Hoover was acquired in the deal that sent Juan Francisco to Atlanta.
A rightly called infield fly rule.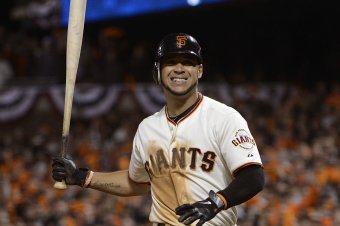 Thearon W. Henderson/Getty Images
Runners on first and second...is it rally time in San Francisco?
Single to start the inning is a good start...it would stink to see Nady ground into a double play right now.
<blockquote class="twitter-tweet tw-align-center">
This game is upsetting me. My boys don't play like that. #SFGiants
— Kaitie Brooks (@kaitieebeeee) October 7, 2012
Apparently they do!
No consolation really with the strikeout.
The Cuban Missile is on the mound next.
Wild pitch scores another
The Reds are now up 5-1 after that wild pitch.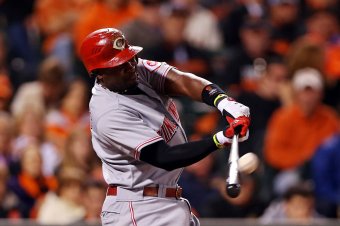 Jeff Gross/Getty Images
Brandon Phillips RBI single.
Yeah, I just called that.
Broken bat single by Xavier Paul...Phillips up...I have a feeling some insurance is about to come.
Surprise, Surprise...Drew Stubbs strikes out again. That's 167 strikeouts on the year for a guy who wants to be the leadoff hitter.
Hanigan base hit with one out.
As of note, Aroldis Chapman has only blown one save this year. He's faced the Giants once this year, going one inning with two strikeouts.
STRIKEOUT!!! How do you sit there and watch something that close?
There's a walk...runners on first and second, two outs...Gregor Blanco up.
Posey with his second hit of the game...Pence up with one out.
Fly out to deep right.
Ball hit on the button, but right to Cozart...one out.
Jonathan Broxton...the right-handed CC Sabathia? Did the announcer really just say that? Isn't Sabathia a starting pitcher?
We move to the bottom of the eighth...do the Giants have a chance?
This article is
What is the duplicate article?
Why is this article offensive?
Where is this article plagiarized from?
Why is this article poorly edited?