Tennessee Titans vs. Minnesota Vikings: Final Grades & Analysis for Minnesota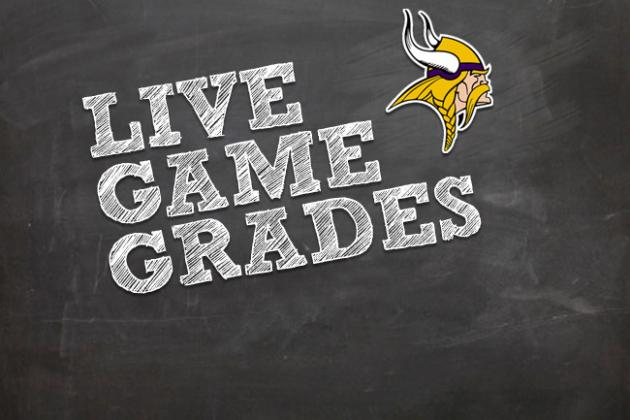 Final Score: Minnesota Vikings 30 Tennessee Titans 7
We'll just get this out of the way quickly: The Minnesota Vikings are for real.
Minnesota put together its best 60 minutes of football in a completely dominating performance over the Tennessee Titans, winning 30-7, improving to 4-1, and staying tied atop the NFC North.
There are plenty of bouquets to go all around for the purple, but this must be said too: That is one sorry football team they have in Tennessee.
As for the Vikings, it was a near flawless game. The running game took awhile to get going, but it ended up grinding out 175 yards. The defense was totally dominant, bottling up the Titans all day long, completely shutting down the running game and limiting the passing game.
Minnesota Vikings 30 Tennessee Titans 7
The Vikings answer the Titans score by rolling right down the field and getting a touchdown of their own. Toby Gerhart does they yeoman's work with two nice runs and then Christian Ponder throws a beautiful 15-yard touchdown pass to Kyle Rudolph, putting it only where Rudolph could catch it.
A nice drive and great call; it seemed the Vikings were content to just kill clock and ram it down the Titans throats with Gerhart, then they throw a ball in the end zone and it pays off.
Minnesota Vikings 23 Tennessee Titans 7
Well, look who finally showed up to the game! The Titans put together their first sustained drive of the game and get on the board in the fourth quarter. Matt Hasselbeck finishes off a nice drive with a 10-yard touchdown pass to Jared Cook.
It's too bad, the Vikings defense deserved a shutout.
Minnesota Vikings 23 Tennessee Titans 0
The Vikings continue to dominate on both sides of the ball and the offense finishes off a brilliant drive with a pretty 10-yard catch and run that had the Titans grasping at air.
Minnesota Vikings 16 Tennessee Titans 0
The Vikings add Blair Walsh's third field goal of the game, this time from 26 yards, to extend their lead to 16-0 over the Titans.
The Vikings moved down the field on a big 22-yard run by Toby Gerhart and then a catch and run for a first down by Percy Harvin.
Halftime Score: Vikings 13 Titans 0
The Minnesota Vikings completely dominate the Tennessee Titans in the first half, out-gaining them 226-87 in jumping out to a 13-0 lead.
It feels like they should be up by more than just 13, and they'll have to keep their foot on the gas in the second half.
Blair Walsh has added his second field goal of the second quarter to push Minnesota ahead of Tennessee 13-0 in the second quarter. Walsh's 36-yard field goal was perfect, matching his earlier 42-yard FG.
The Vikings have extended their lead to 10-0 over the Titans after an Antoine Winfield interception gave Minnesota the ball in Tennessee territory.
The Vikings stellar rookie safety, Harrison Smith has been ejected from the game for making contact with an official. Smith was having a huge game, making a blow-up hit on Kendall Wright to stall a Titans drive, and then recovering a fumble in the second quarter.
The Minnesota Vikings have jumped out to a 7-0 lead on the Tennessee Titans late in the first quarter after an impressive 90 yard drive. Percy Harvin took it in from five yards out after bouncing off a pair of tacklers at the line of scrimmage.
Stay with us all afternoon as we provide instant grades and analysis as the Vikings try to stay atop the NFC North.
Begin Slideshow

»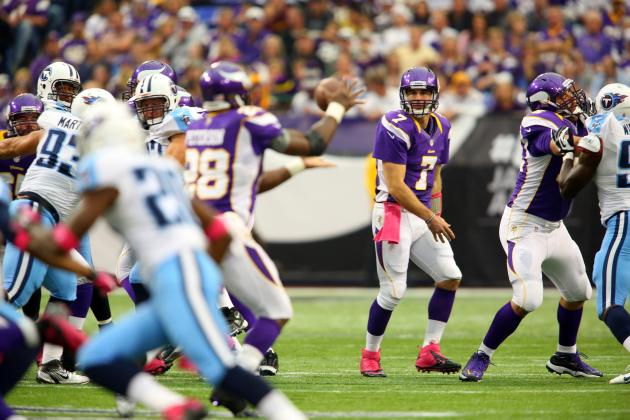 Adam Bettcher/Getty Images

Final Grade: A
It's funny what a couple of interceptions can do.
Christian Ponder finished off Sunday's game against the Titans with a pretty average quarterback rating of 87.6.
Don't let that fool you, Ponder played his best overall game as a pro.
He spread the ball around to eight different receivers. He ran when it made sense to run, picking up 31 big yards on three carries.
Yes, he threw two interceptions and probably should have had at least two more picked off, but he only made one dumb throw, and there's a difference.
After he threw the two interceptions on consecutive passes, Ponder didn't get gun shy, he just kept on slinging, making smart decisions and letting his receivers make plays.
He took a couple of shots downfield, but mostly just took what the defense gave him, a recipe that has been working well all season long.
Ponder continues to mature before our eyes and is really starting to look like a franchise quarterback.
4th Quarter Grade: A
Just a one possession quarter for Ponder, but do you remember when I said his fade to Harvin was his prettiest pass as a pro? He might have topped it with his perfect 10-yard touchdown pass to Kyle Rudolph in the fourth quarter.
Ponder threw it high, where only the 6'6" Rudolph could get his hands on it, and he threw it with the perfect amount of touch, so that it was a very catchable ball for Rudolph.
Ponder shook off his first two interceptions of the year and played perfect ball from that point on.
3rd Quarter Grade: A-
No, he couldn't stay perfect, but he didn't need to throw two picks in a row either. A great sign that Ponder brushed it off and played flawlessly in the third quarter after the second interception. He's making quick decisions and throwing with velocity and confidence.
2nd Quarter Grade: B
Well, we knew Christian Ponder's streak of not throwing an interception couldn't go on forever. He was finally picked off by Robert Johnson on his 145th attempt of the year.
Not a great second quarter for Ponder, although he had a couple of nice throws, completing passes to Percy Harvin and Devin Aromashodu and made another nice run to pick up a first down.
His passing in the second quarter wasn't great, he missed some open targets and should have been picked off twice before he finally was.
The last interception kept the lead from being 16 points.
1st Quarter Grade: A+
Ponder was brilliant in moving the Vikings 90 yards in nine plays to jump out to a 7-0 lead. He started the drive with 13 yard run on first down that gave the offense some breathing room. Ponder made the decision early to take off and showed impressive speed in picking up a first down.
He followed that up with a nice 15-yard throw to Michael Jenkins after checking off his initial target.
Ponder then made his best throw of the year, a beautiful fade route to Percy Harvin who was in one on one coverage. Ponder couldn't have dropped it in any better, hitting Harvin in stride for a 45-yard gain.
Ponder then found Jenkins again for 12 more yards down to the Titans 4-yard line, setting up the Vikings for their first score.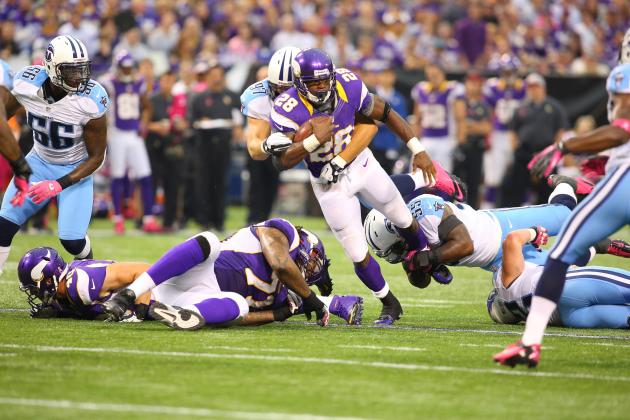 Adam Bettcher/Getty Images

Overall Grade: A
Christian Ponder played smart, efficient football. Adrian Peterson was juking and jiving like the good old days. Percy Harvin was Percy Harvin.
The offensive line manhandled the Titans defensive line. Included were two small, simple things Matt Kalil did that show why he's as highly touted as he is: Before the huddle to start the drive after Ponder had thrown two straight interceptions, Kalil gave Ponder a little head tap, as if to say, "don't worry about, we've got your back." The second one was earlier in the game, when a Titans defense lineman had jumped into the neutral zone and Kalil immediately moved, forcing the refs to call the infraction on the Titans. You don't see those types of things from veterans, much less rookies in their fourth games.
The headliners certainly did their thing, but kudos also go to Toby Gerhart, Rhett Ellison, Michael Jenkins Devin Aromashodu and the entire offensive line.
Fourth Quarter Grade: A
Finished off a great game with a chew-up-the-clock drive that culminated in Ponder's perfect throw to Kyle Rudolph for a touchdown.
Third Quarter Grade: A
Percy Harvin continues to be the best and most versatile wideout in the league. Adrian Peterson is running like a madman again, bursting threw holes and making people miss. Rookie Rhett Ellison even got in on the action with two catches and a broken tackle that led to a big gain.
Things are purring.
Second Quarter Grade: B
Christian Ponder had a shaky quarter, missing some open targets and throwing his first interception of the year, but he also made some nice throws that lead to six points in field goals.
Adrian Peterson got untracked in the second quarter and showed some burst on a 22-yard gain that got the Vikings out to midfield.
The unit needs to finish off at least one of those drives with a touchdown, but overall a good quarter.
First Quarter Grade: A
No field position to speak of on their first two possessions, the Vikings went a quick three and out on their first possession.
The offense got it's feet wet on the first drive and then dominated on their second drive, moving 90 yards in nine plays to jump out to a 7-0 lead.
Adrian Peterson didn't do much in his attempts, but hasn't had anywhere to run as of yet.
Ponder was brilliant in his passing, mixing it up nicely between Michael Jenkins, Kyle Rudolph and Percy Harvin. The fade to Harvin was the prettiest pass of Ponder's career to date.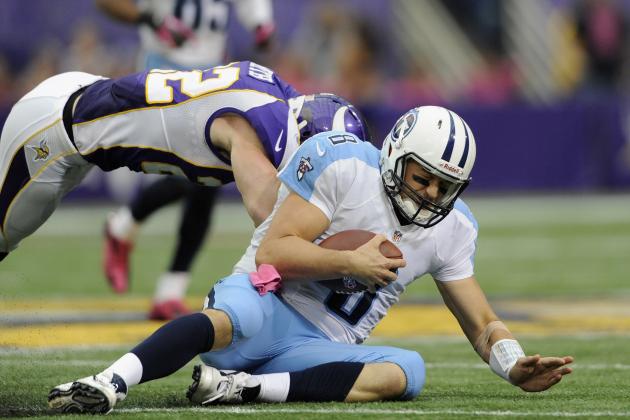 Hannah Foslien/Getty Images

Overall Grade: A+
Chris Johnson had 15 carries for 24 yards. Any questions?
The Titans added about 150 yards in junk time, but other than that, the Vikings defense just completely smothered them.
Matt Hasselbeck was only sacked twice, but he was under heavy pressure all day long and had a handful of passes batted down by Vikings rushers.
Robert Blanton took over at safety after Harrison Smith was ejected and he was brilliant in his first meaningful snaps of the year. As for Smith? Wow, is he going to be fun to watch over the next decade. The hit he put on Kendall Wright set the tone for the entire game.
The Vikings defense was impressive all day long, gang tackling Johnson and dropping Titans receivers right after they made catches.
The day might have been summed up by a simple play by Josh Robinson. The Titans were driving and Matt Hasselbeck hit Javon Ringer in the flat for what could have been a big gain. Robinson closed fast, broke down and made a great stop on Ringer, who was unfortunately hurt on the play.
It was a textbook sort of tackle that we haven't seen out of the Vikings defense the last couple of seasons.
4th Quarter Grade: A
The Vikings defense surrendered their first score of the day, but bounced back from that to earn an A grade for the quarter.
The Titans were knocking on the door again late in the game, but the Vikings stuffed them on 4th and one from the Vikings 9-yard line. Robert Blanton broke through the line and tied up Chris Johnson and then got help finishing the play off from Chad Greenway.
Sometimes it's tough to play defense when you are on the right side of a route, but the Vikings defense did just enough bending and no breaking.
The Titans added some meaningless yards on their last couple of possessions, or the final numbers would have added up to one of the best performances by a Vikings defense in years.
3rd Quarter Grade: A+
Well, the Titans did get a first down in the third quarter. One.
The Vikings defense is simply swallowing up Chris Johnson and not letting any of the Titan receivers get open.
Dominating.
2nd Quarter Grade: A+
Not only did the Vikings defense pitch another shutout in quarter number two, they picked up a couple of turnovers to boot.
Harrison Smith continued to be a dominant player and recovered a Chris Johnson fumble. Smith got his hands on the ball and rolled away from the pile with strength, a veteran move out of a head's up rookie. Smith was ejected from the game after Antoine Winfield's interception, a loss that hopefully won't hurt too bad, but it's bad just because the kid is so fun to watch.
Jared Allen blew by his overmatched tackle in an obvious passing down and rope-tied Matt Hasselbeck to give the Vikings offense one more opportunity with the ball.
An absolutely dominant half for the purple defense.
1st Quarter Grade: A
An early missed sack by Kevin Williams was quickly forgotten as rookie Harrison Smith has stepped forward big time with a bone-jarring hit on Kendall Wright to end one Titans drive and a big sack by Brian Robison to end another.
The Titans are obviously trying to get running back Chris Johnson going, but so far the Vikings have kept him bottled up.
The hit by Smith was textbook and momentum changing.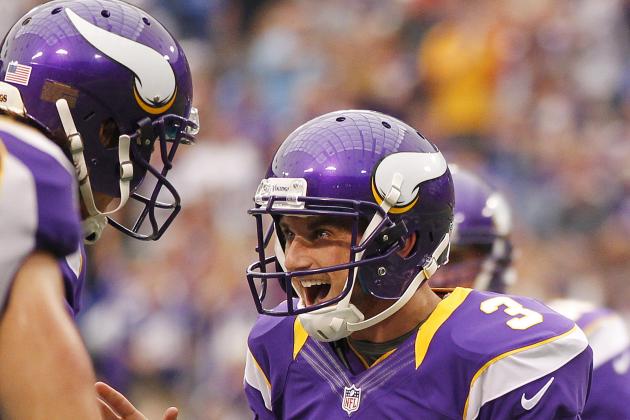 Andy King/Getty Images

Final Grade: A
Blair Walsh was a perfect 3 for 3 on field goals and had 5 touchbacks on kickoffs. The kid was certainly worth a 6th round pick.
Josh Robinson had a missed tackle on a punt return and a stupid hold all the was across the field that negated a good punt return by Marcus Sherels, but other than that, everything was solid.
And I'll add that Robinson more than made up for his special team gaffes on defense.
4th Quarter Grade: A
Chris Kluwe with a nice 52-yard punt added to another kickoff out of the end zone by Blair Walsh. You couldn't ask for more.
3rd Quarter Grade: A
Walsh makes another field goal. Nothing to speak of in the return game on either side of the ball.
2nd Quarter Grade: B+
Darius Reynaud was the special teams player of the month for September, but he's not going to get any chances to return kickoffs with Blair Walsh booming them out of the end zone.
Walsh is also two for two in his field goal attempts, hitting from both 42 and 36 yards.
Unit gets kept from an A grade because Josh Robinson held on a punt return that cost the Vikings Marcus Sherels' nifty 26-yard punt return.
First Quarter Grade: B
Not a ton of action for the special teamers in the first quarter. Blair Walsh boomed the opening kickoff out of the end zone, keeping it away from dangerous return man Darius Reynaud.
Josh Robinson was the first man down on punt coverage, but missed a tackle on Reynaud and the coverage team gave up a 14-yard return. If Robinson would have made the tackle, the group would have received an A.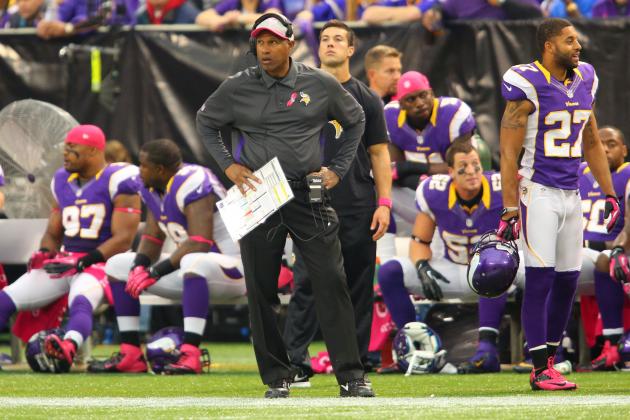 Adam Bettcher/Getty Images

Final Grade: A+
Everyone was calling it a trap game. It certainly didn't turn out that way.
Every move the Vikings made seemed to work. The defense was never caught off guard by anything the Titans did and the offense was able to rip off yardage every time they needed to.
They got the ball into Percy Harvin's hands in the red zone and he didn't let them down. The let Ponder take a shot on the fade to Harvin and then on the touchdown to Rudolph and he didn't let them down.
They ground down the clock when they needed to. They avoided stupid mistakes and penalties.
Right now this is just a well coached football team.
Fourth Quarter Grade: A+
Mistake free football from the sidelines always helps. Brilliant move to pull Adrian Peterson from the game and give Toby Gerhart some carries. Brilliant to grind the ball down the Titans throats, the Vikings staff saw their team just manhandling the guys on the other side of the ball and they let them continue to do it.
And then the shot at the end zone on the last touchdown was a great call.
Well done all the way around.
Third Quarter Grade: A-
Ok, I'm completely nitpicking here, but a few of the play calls on offense have been a little too predictable. Running Adrian Peterson two plays in a row after he ripped off a 40-yarder was probably dumb. They might be going to the quick hitter to Percy Harvin a little too much.
See, I'm nitpicking.
Solid job.
Second Quarter Grade: A
The Vikings were tasked with putting a beat down on a team that's just not as good as they are, and they're playing them in their own house.
Coming out flat would have been unforgivable and they didn't.
Both the offensive and defensive units have looked ready and coached up. Nothing the Titans do seems to catch anyone on the Vikings side of the ball by surprise and almost everybody is executing.
First Quarter Grade: A
Brilliant call on the fade to Harvin that picked up 45 yards. The defensive scheme looks to be solid as the Vikings are showing that they aren't going to let Chris Johnson beat them.
Nothing to dock them for in the first quarter.