Packers vs. Colts: Final Report Card, Player Grades for Green Bay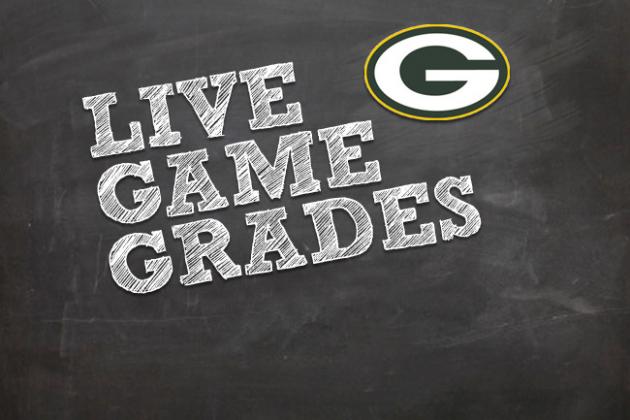 The Green Bay Packers lost 30-27 to the Indianapolis Colts as Mason Crosby missed a potential game-tying field goal with eight seconds left. The Packers fall to 2-3 on the season and head into a hostile environment next week against the Houston Texans.
After taking a 21-3 lead into halftime, the Packers got outplayed in the second half by an inspired Colts team. Despite playing a terrible half, the Packers had a shot to take the game to overtime.
Let's take a look at the Packers' final postgame grades and evaluations.
Final Score
Packers- 27
Colts- 30
Begin Slideshow

»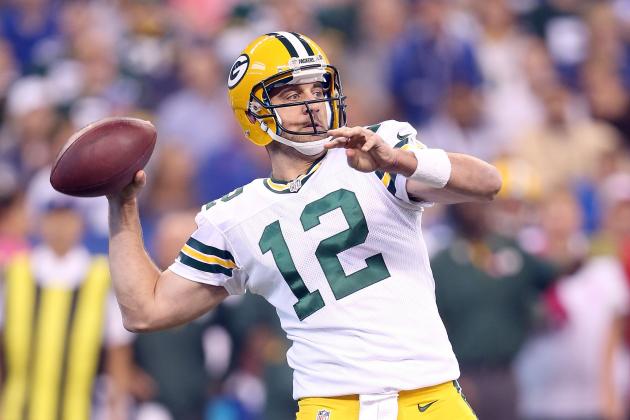 Andy Lyons/Getty Images

Rodgers continues his struggles this season. Most quarterbacks in the league would settle for Rodgers' numbers, but this just isn't the same player as last season. Far too many throws were inaccurate and the interception was uncharacteristic as well. Rodgers did put together a decent stat-line, but the lack of production during the third and early fourth quarter was fatal.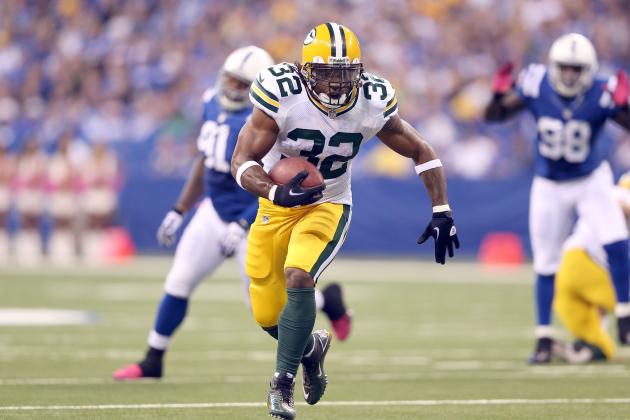 Andy Lyons/Getty Images

Cedric Benson–B
Benson was doing a very nice job before leaving the game with an ankle injury. His seven carries for 20 yards isn't that impressive, but the running threat was opening things up for Rodgers in the passing game. A lot rests on Benson's ankle and the diagnosis.
Alex Green–B
Green struggled the majority of the game outside of his 41-yard run that set up the Packers' final score. There is a definite difference between Green and Benson, as Green struggles to find the holes that Benson is able to. Green looks great in the open field as a home-run threat, but he's not the type that can get you four or five every time.
John Kuhn–A-
Kuhn made the most of his opportunities with two carries for nine yards and a touchdown and also one reception for six yards. Kuhn did a nice job in pass protection, often giving up to chip the outside rushers.
Jonathan Daniel/Getty Images

Jordy Nelson–D
Nelson failed to have an impact on the game, something that is becoming all too common when Greg Jennings is out of the lineup. The Packers can't afford to have Nelson get lost in a game and barely have an impact.
James Jones–B+
Jones had another solid game with four catches with two of those for touchdowns. Jones is becoming the major red zone threat, simply by taking advantage of his opportunities in that area. Jones ran a poor route on Rodgers' interception, but the fault is on both.
Donald Driver–C-
Driver had a bad drop early on, but somewhat made amends for it with a clutch, fourth quarter catch that set up the Packers' missed field goal. Driver can't afford to be dropping passes or his limited playing time will become even less.
Randall Cobb–B+
Cobb had a solid game with four catches, including a 31-yard touchdown. Cobb is a threat to take any pass to the house, but he needs to focus on getting open throughout a game and work back to Rodgers when the play breaks down.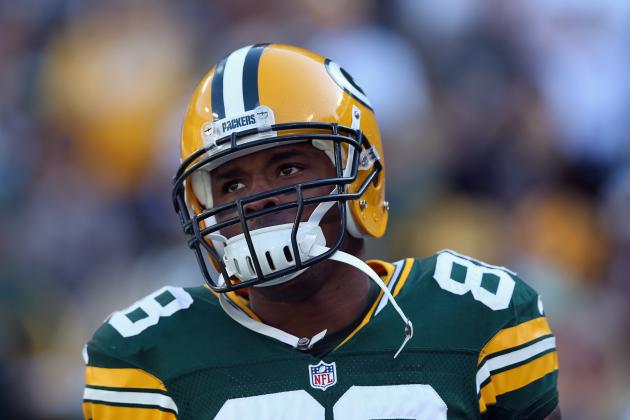 Jeff Gross/Getty Images

Jermichael Finley–F
Finley had a tough outing and will surely feel the heat after more drops. Finley was targeted five times and came up with three catches for only 11 yards. For a supposed game-changer, Finley is surely changing the game in the opposite direction.
D.J. Williams–D
Williams didn't do much better filling in for Finley. He also had a bad drop and struggled in pass protection. He finished with four catches for 22 yards, but it wasn't enough to overcome the negative plays.
Tom Crabtree–F
Crabtree will want to find all the game tape and burn it. Crabtree struggled in pass protection, giving up a number of pressures including a sack. Crabtree was also whistled for a hold that killed the Packers' first drive of the third quarter.
Jonathan Daniel/Getty Images

Marshall Newhouse–C-
Newhouse played a very good first half, but like much of the team, failed to keep the intensity going into the second half. Having to block Dwight Freeney is a tough task for any tackle, and Newhouse did alright for the majority of the game. He did give up a sack on third down that forced a punt.
T.J. Lang–B
Lang did a good job against the Colts, limiting the interior pass rush for the Colts. After being flagged a couple times early in the season, Lang went the entire game without a penalty.
Jeff Saturday–C
Whether it was the team getting to the line late or what, the center exchange between Saturday and Rodgers on the final drive cost the Packers a chance at shortening the field goal attempt by 5-7 yards. For the most part, Saturday did a good job with line calls.
Josh Sitton–B
Sitton had a good game, giving up a limited amount of pressure and being without a penalty. While the Packers gave up five sacks in the second half, a number of those were coverage sacks where Rodgers held the ball too long.
Bryan Bulaga–C-
Bulaga had a great first half, but faltered in the second half. He struggled to keep an edge and the pocket collapsed quickly for Rodgers. Bulaga needs to see what changed in the second in order to make sure that doesn't happen again.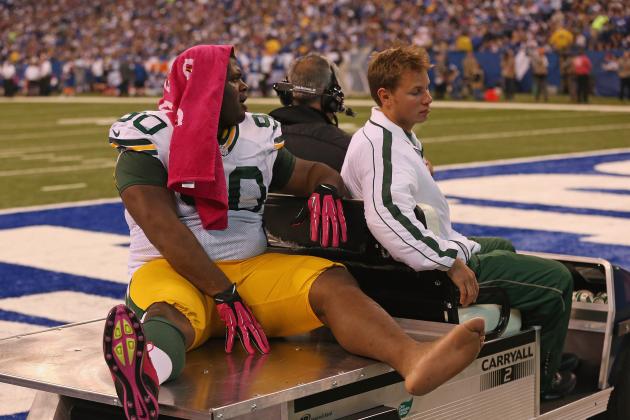 Jonathan Daniel/Getty Images

B.J. Raji–B
Raji was playing well before getting his ankle caught in the turf and twisted. He was doing a good job of getting some initial push on the snap. The Packers' defensive line looked fairly bad after Raji was forced to exit the game.
Ryan Pickett–C+
Pickett did a decent job of getting push on rushing downs and forcing the running backs outside. The problem was that the Packers had trouble setting the edges and the Colts were able to exploit this.
Jerel Worthy–D
Worthy was largely unimpressive and a big reason why the Packers struggled to shut down Luck. Worthy not only struggled to get any pressure, he was whistled for two false start penalties, one of which was accepted and the other was offset by a Colts' penalty.
Mike Neal–C-
Neal did register a sack in his first game of the season, but outside of that, struggled to get anything going. Neal will likely take some time to adjust to the speed of the game, but at times did look good. It was just that too often, he didn't look very good.
C.J. Wilson–D
Wilson was nowhere to be found on the afternoon. He struggled to get anything going on the line outside of one hit on Luck. Wilson needs to improve or Neal might start to steal playing time.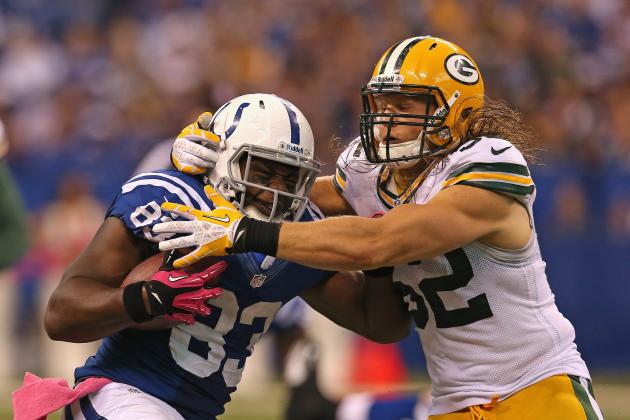 Jonathan Daniel/Getty Images

Clay Matthews–C-
Matthews struggled to impact the game. For the majority of the game, he was swallowed up by the Colts' offensive line. He got credit for a sack that probably should have been ruled an incomplete pass. Matthews didn't get much help from the rest of the Packers' front seven, but Matthews can play better.
Nick Perry–D+
While there appeared to be some saying it was a bad call on Perry's hit on Luck, the ruling was the correct one and Perry should have been penalized. The rule is that you can't lead with the crown of your helmet on a defensiveness receiver. Outside of that play, Perry struggled to get pressure on the quarterback.
A.J. Hawk–C
Hawk was more aggressive than usual and always around the football. He didn't have any major errors and did a decent job of wrapping up on his tackles. He finished the game with eight total tackles.
Erik Walden–B
Walden got the start instead of Perry and continued to play well, getting two hits on Luck. He created some of the only pressure that the Packers got on the afternoon. Walden finished the game with three total tackles.
D.J. Smith–B
Smith played a decent game, but also had some visible struggles. Smith got one of the Packers' four sacks of Luck and had some other big hits. He separated Reggie Wayne from the ball on what would have been a first down catch. On other plays, Smith looked slow and his effort was questionable.
Dezman Moses–INC
Moses didn't get enough playing time to get a full grade. He didn't have an impact on the game, but didn't get many opportunities either.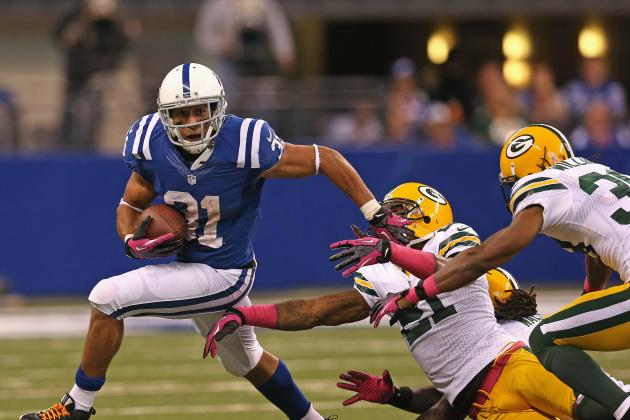 Jonathan Daniel/Getty Images

Tramon Williams–D
Tramon Williams had opportunities to come up with two interceptions and dropped them both. One came during the final drive and happened in the end zone. If Williams is able to come up with either of those plays, the Packers have a much better chance to win the game.
Sam Shields–D
Shields was often, but not always, matched up against Reggie Wayne. The stat-line for Wayne was 13 catches for 212 yards and a touchdown. Shields was responsible for a number of those completions. On a positive not, his tackling continues to be better than last year.
Charles Woodson–D+
Woodson did some good things, but his coverage was lackluster and he was flagged for two penalties. He finished the game with eight total tackles, but his play in the passing game just wasn't very good for what Packers fan have come to expect from Woodson.
Casey Hayward–B
Hayward made the most of his opportunities with a beautiful interception of Andrew Luck. Hayward did what the other Packers' corners failed to do in coming up with a turnover. The offense failed to do anything after the takeaway, but Hayward gave them the chance.
Morgan Burnett–C-
Burnett led the team in tackles with 10 total, but was often abused by Reggie Wayne. I can't tell you why Burnett was constantly asked to cover Wayne, but he failed to do the job asked of him. When he was getting burned by Wayne, Burnett was in clean up duty or around the ball on running plays.
Jerron McMillian–D+
McMillian struggled as well, most notably getting beat by Reggie Wayne deep. Luck missed the throw, but it should have been points for the Colts in the second quarter.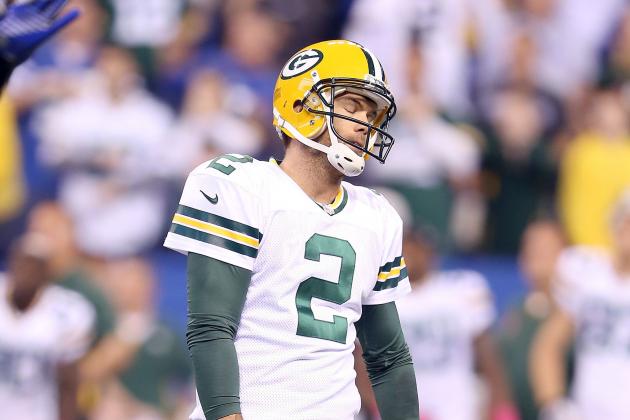 Andy Lyons/Getty Images

Mason Crosby–F
Two missed goals truly hurt the Packers. The loss doesn't fall on Crosby's head, but the final field goal attempt was definitely makable. The fact that it wasn't even close is worrisome and could point to a lack of composure during those tense moments.
Tim Masthay–A
Masthay had another solid game and is becoming one of the best punters in the league. There isn't much doubt when Masthay is asked to punt or down a team inside the 20-yard line.
Randall Cobb–C+
Cobb had some good returns, but wrongly decided to take a kickoff from nine yards deep in the end zone. It hurt the Packers as Cobb didn't reach the 20-yard line. He showed his potential with a 35-yard return, but other than that it was a fairly average performance from Cobb.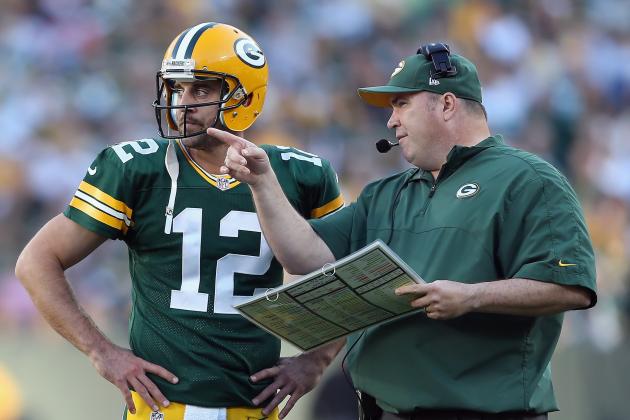 Jeff Gross/Getty Images

Mike McCarthy–D
The Packers are struggling right now as a sloppy, undisciplined football team. Whether right or wrong, that's a reflection of the head coach. McCarthy hasn't had a good start to the season. Against the Colts, he too quickly went away from the run game in third and early fourth quarter. Those drives stalled and cost the Packers points.
Dom Capers–F
The Packers' defense played a very good first half, giving up only three points. The second half was absolutely miserable with a complete inability to get pressure on Luck or guard Reggie Wayne. Whether it's scheme or execution, Capers needs to make some adjustments before his seat gets even hotter.