Michigan vs. Purdue: Live Game Grades and Player Analysis for the Wolverines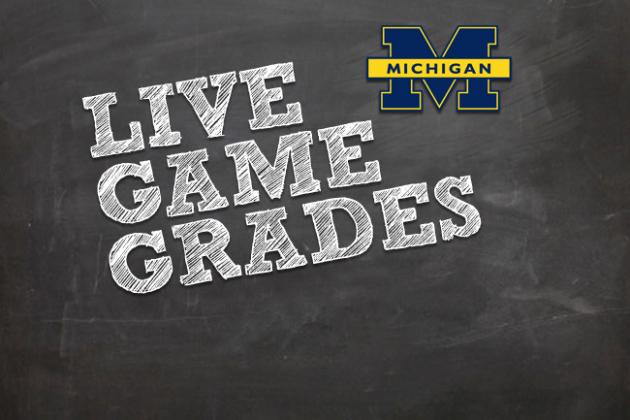 Michigan (3-2, 1-0 Big Ten) took it to the Purdue Boilermakers and took out some of their early-season frustration in their conference opener, winning 44-13 on the road.
Wolverines quarterback Denard Robinson was a force on the ground as he rushed for 235 yards and added 105 yards through the air. The defense stepped up and even got in on the scoring while stifling the Purdue offense completely.
A slew of second half field goals helped to cement the Michigan victory in their first Big Ten game of the season.
Let's take a look below at the final game grades for the Wolverines.
Begin Slideshow

»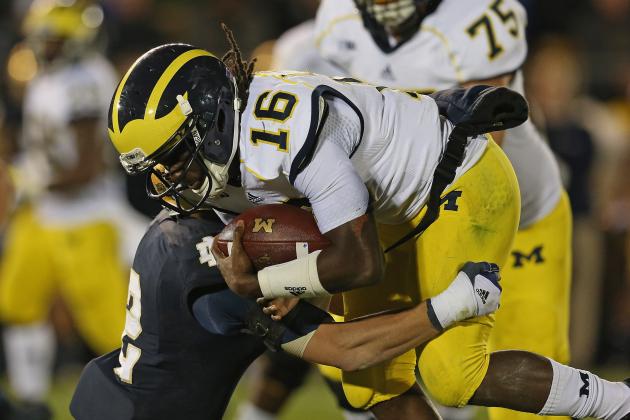 Jonathan Daniel/Getty Images

OVERALL GAME GRADE: B+
Purdue's defense never found a stop for Denard Robinson in this game, and it showed as he gashed their defense over and over to amass 235 rushing yards on 24 carries.
Robinson certainly had a run-first day, but he still found some impact through the air as he finished 8-for-16 with 105 yards.
The Wolverines will need this sort of production from Robinson every game if they want to live up to their preseason aspirations.
Q4 - B
Michigan didn't need much from Robinson in the fourth quarter. He was able to pad his stats and make the win go down as easy as possible for Wolverines fans.
Q3 - B-
Robinson's Wolverines weren't been nearly as potent in the third quarter, but Robinson gashed Purdue yet again with a 46-yard run that put Michigan in position for their only three points of the quarter.
He's having some trouble in the second half stringing together completions, but then again, they aren't really looking to with such a big lead.
Q2 - A-
Michigan's offense has flown through Robinson, but he's only had to throw six completions in this game to give his team a 28-3 lead.
He has his legs to thank for that, as he's notched 84 yards on the ground in the first half. Robinson has been able to make all of the right decisions in this game, and has given his team a huge lead.
Q1 - B+
Robinson has done a great job of managing the game and allowing his feet to make big plays to extend these Wolverines drives.
He's currently at nine carries for 64 yards, to go along with 3-for-4 passing for 32 yards through the air.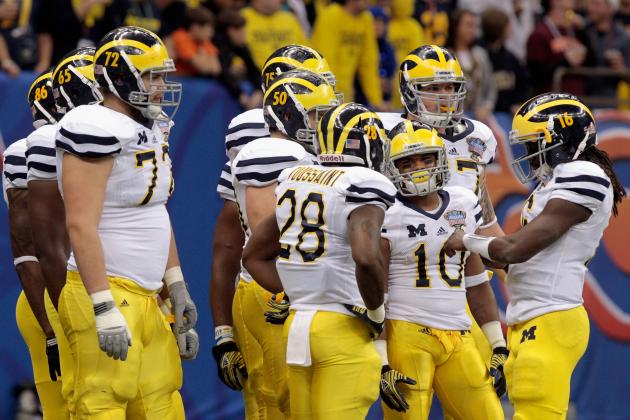 Chris Graythen/Getty Images

OVERALL GAME GRADE: B+
There's always room for improvement, but Michigan's coaching staff can be ecstatic with their offensive performance Saturday.
Against one of the better Big Ten defenses, the Wolverines were able to hang up 44 points mainly on the ground and could've easily scored more, but opted for field goals because of their big lead.
One place where Michigan must improve is the running back position. Toussaint had just 19 yards on 17 carries.
Q4 - A-
Despite the game already being decided, their offense was still able to run their offense with ease and score some easy points to help seal the deal.
Q3 - C+
Michigan would've loved to have come out and run the ball with authority in this second half, but they aren't getting much contribution from Toussaint. They're one big play away from going scoreless in the third quarter.
With that said, they're still cruising to an early win based on the work they did in the first half.
Q2 - A
The Wolverines offense got off to a slow start, but they exploded in the second quarter with big plays.
Another one-yard touchdown run by Toussaint put the Maze and Blue up two scores, and a Robinson touchdown pass was complimented by a pick-six on defense.
Michigan's offense won't need to do much more for them to escape Purdue with a conference win.
Q1 - B
Michigan's offense had trouble getting going early in the run game, but some big plays by Robinson and solid short-yardage gains by Fitzgerald Toussaint have gotten them out in front early.
The option is working well and helping notch first downs, and Toussaint scampered into the endzone for a one-yard score to put the Wolverines up 7-0.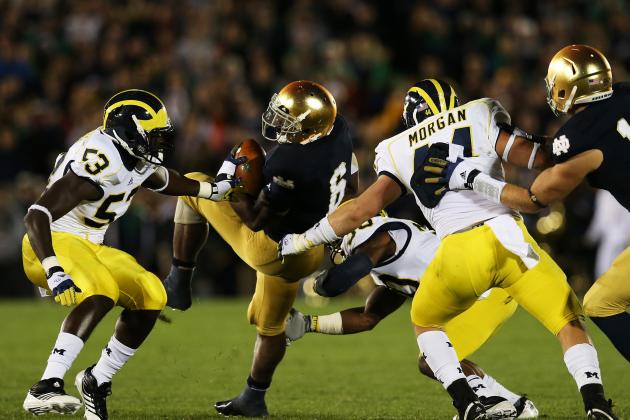 Jonathan Daniel/Getty Images

OVERALL GAME GRADE: A-
Michigan's fans couldn't have asked for much better of a performance from their defense.
They forced turnovers, stopped drives and even helped to score for their team. A 63-yard interception return for a touchdown by Raymon Taylor was the exclamation point on a solid performance overall from this Michigan defense that was highly touted heading into the season.
Q4 - B+
Michigan's stifling defense put the game away in the fourth quarter and didn't allow Purdue to sustain any drives in what was a very strong final quarter for the Wolverines.
Q3 - A-
The Wolverines defense is shining bright Saturday.
Michigan held Purdue scoreless in the third quarter, when the Boilermakers very well could've put together a couple of scoring drives and made this game interesting. These are the types of defensive performances the Maze and Blue need to garner the success they had last season.
Q2 - B+
Michigan's defense allowed the Boilermakers to get on the board with a 40-yard field goal and their first touchdown of the game, but they made up for it with an interception return for a touchdown by Raymon Taylor that amassed 63 yards.
If the Wolverines defense can close out Purdue strong and head back to Ann Arbor with a blowout win, it'll do mounds for their confidence heading into a trivial part of their schedule.
Q1 - A-
Many were wondering if Michigan's defense could get back to the level of play that garnered preseason talk, and they seem to be heading in that direction in their conference opener.
Purdue has had little to no success moving the ball against the Wolverines defense, as they only notched one first down in the opening quarter and have just four minutes of possession.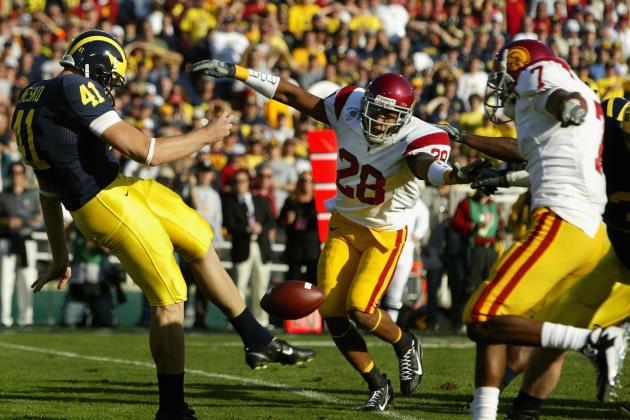 Christian Petersen/Getty Images

OVERALL GAME GRADE: B
Michigan got some help from kicker Brendan Gibbons, who knocked in three of four field goals and five extra points.
A muffed punt brought down the Wolverines' grade, but the second and final punt soared for 57 yards.
Dennis Norfleet made an impact in the return game to help give the Wolverines a shot in the arm.
Q4 - B+
Michigan tacked on two field goals in the fourth quarter to help their special teams grade, and didn't have to punt because their offense was moving so well.
Q3 - B
Norfleet got the Wolverines off to a great start to the second half with a 38-yard kickoff return, but all wasn't pretty for Michigan's special teams in the third quarter.
A muffed punt by Matt Wile caused for a switch for their second punt of the game, which was bombed 57 yards by Will Hagerup. So those two plays can cancel each other out.
A made field goal gives Michigan a B for the third quarter.
Q2 - B-
The Wolverines have been solid on extra points, but missed their only field goal opportunity of the day in the second quarter.
They've still yet to punt, whereas Purdue has punted three times after being stopped on offense. Dennis Norfleet notched a solid 19-yard punt return, but we haven't seen special teams do much to alter the course of this one.
Q1 - B
Michigan hasn't had to punt yet in this game, which is a major indication of their control on this one.
They've yet to impact the game in special teams, but forcing two Purdue punts is always a good thing.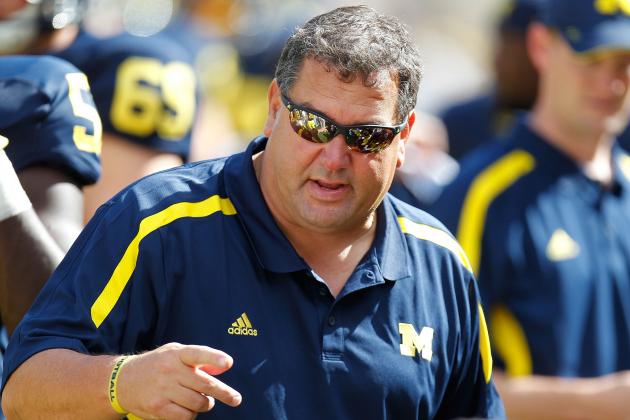 Gregory Shamus/Getty Images

OVERALL GAME GRADE: A-
It had all the looks of a grind-it-out game early, but Michigan's coaches did a great job of exposing the holes in Purdue's defense to get out to a big lead early.
After that, they didn't change a thing and continued to have success running the ball with Robinson. They could've folded and allowed the Boilermakers back in the game, but they took it to them for four quarters and that's something that Brady Hoke can be proud of.
Q4 - A-
Michigan's coaches did a good job of not swaying from the master plan late in the game and continued to notch effective drives to add to their lead.
Q3 - A-
This isn't the type of game that is all too tough to manage at the moment, but Hoke's coaching staff is doing a good job of getting out of Purdue with a big win.
A punting switch seems to be a genius move, as we saw a 30-yard improvement between the first and second punts.
Q2 - B+
Michigan's play-calling is having a massive impact on this game and they had no trouble exposing Purdue's holes in the second quarter.
The Boilermakers defense couldn't stop the bleeding and Hoke showed that he's certainly been doing his homework on one of the conference's better defensive units.
Q1 - B+
Hoke's ability to run the option offense has allowed us to give him some credit, and solid play-calling on offense has resulted in multiple long scoring drives.