Michigan vs. Purdue: Live Scores, Analysis and Results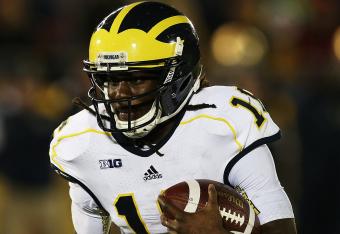 The Wolverines need Denard Robinson to be Denard Robinson today.
Jonathan Daniel/Getty Images
Michigan 44, Purdue 13 -- final

Michigan did exactly what it had to do today at Purdue -- and that was win its Big Ten season opener.
The Wolverines dominated from start to finish. Denard Robinson became Michigan's fifth-leading rusher while also setting a Big Ten quarterback record for rushing yards.
Purdue couldn't establish a happy medium against the Wolverines. No ground presence and shaky play from quarterback Caleb TerBush most certainly did in the Boilers.
Be on the lookout for my follow-up piece. I'll cover 10 things from today's game that we learned or were reminded of.
Thanks for tuning in to the live blog -- it was fun, as usual. See you next week.
Follow Bleacher Report's Michigan Wolverines football writer Adam Biggers on Twitter @AdamBiggers81
Score update: Michigan 44, Purdue 13
Flint's own Thomas Rawls scores his first touchdown of the year. Kid is a monster.
There you go, Thomas Rawls. I love watching this kid run because he likes to hit more than the linebackers do.

— Adam Biggers (@AdamBiggers81) October 6, 2012
BTN analyst says: "I think Danny Hope has realized that this game is a little out of reach."
Yeah, I'd agree with that. But I think Hope knew that in the first half, to be honest.
Denard Robinson is shaken up on the sideline, looks like his hand got knocked around.
Purdue asked some kid from the stands if he wanted to play quarterback, so that's why you're seeing another guy under-center for the Boilers.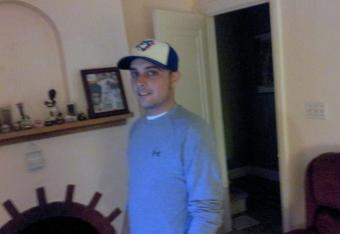 Score update: Michigan 37, Purdue 13
I woke up to a Brendan Gibbons field goal. Time for nap -- again. Wake me up when this is over.
Denard Robinson has 3,901 rushing yards, a Big Ten record for a quarterback.
Michigan has this in the bag after Thomas Gordon's interception -- not that it was ever in question, but the outcome of this game should be obvious to all of you watching.
Score update: Michigan 34, Purdue 13
Brendan Gibbons' 43-yard field goal helps the Wolverines close the door -- for good? -- on Purdue. Still a little time left, but the Boilers haven't shown the ability to score quickly.
Denard is ridiculous. He goes for a 60-yard run, stopping and changing direction in the meantime to grab a little extra ground.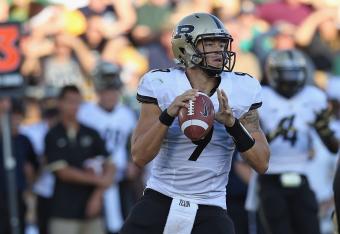 Score update: Michigan 31, Purdue 13
Another field goal from Paul Griggs inches Purdue a little closer -- a quarterback change still didn't give Boilers desired result, though.
"Jake Ryan had some nice penetration," says BTN analyst.
Well, I don't know about that, but he did knock out a couple fillings from Robert Marve's mouth on that hit.
BTN crew points out how Denard Robinson is stepping up in pocket and putting more on his throws. Robinson hasn't thrown this well since UMass game; he's really showing that he can deliver darts every now and then.
Jeremy Gallon wanted that one -- Michigan probably wants that one back! Going for the kill right there.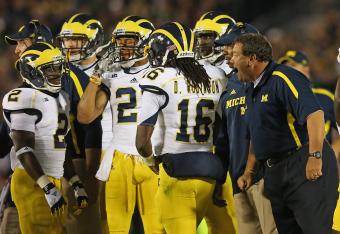 Score update: Michigan 31, Purdue 10
Not smart play calling right there. Why go with an option pitch? Run the ball at Purdue. Michigan gets just a field goal out of that drive which was highlighted by a 46-yard trot by Denard Robinson.
Denard's knee doesn't hurt, apparently. He goes off for a 46-yard scamper. This is the time Michigan has to use wisely, put together a touchdown drive and seal the deal at Purdue.
Denard Robinson looked like he just took a shot to the knee -- very close. That could have been serious.
Nice open-field tackle by Courtney Avery -- really good kid, by the way.
I interviewed him during 2011 UM Media Day during my time at The Flint Journal. His family moved from Ohio to Grand Blanc (near Flint). Really one of those guys you want to see get a shot and make something happen.
Great play calling, poor throw by Denard Robinson to Devin Funchess, who didn't exactly run the route to perfection.
Norfleet will break off a kick return for touchdown this year. He's too fast and sneaky not to do that.
Michigan can't take its foot off the gas here -- time to go for the knockout blow on this drive.
"We're going to get the football, and we're going to score," Wolverines coach Brady Hoke said during halftime interview with BTN reporter.
Have to like his simplistic confidence. Hoke knows how important this game is to Michigan.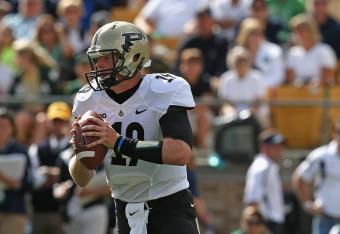 I was rough on Purdue during the first half.
This is why:
A team that lost 20-17 to Notre Dame is struggling to hang around a team that produced just six points against the Irish (Michigan had two field goals courtesy of Brendan Gibbons).
The Boilers need to score on their first drive of the second half, obviously, and focus on getting stops defensively. Sounds pretty easy, but if Michigan is allowed to dictate the tempo of this game like it did in the first half, it's going to end with a Wolverines victory.
Score update: Michigan 28, Purdue 10
Purdue's Caleb TerBush connects with OJ Ross for an eight-yard touchdown pass. Will it be enough to get Boilers going?
Kenny Demens wasn't playing that game. Great tackling today by the Wolverines -- especially since they've hardly tackled well all season.
Everything is clicking for Michigan. And I mean everything.
Score update: Michigan 28, Purdue 3
This. Game. Is. Finished.
I'm being serious.
Denard Robinson throws another nice ball -- this time it results in a Devin Gardner touchdown. Nice 23-yard slant route, too.
Look at those blocks from Devin Funchess. Do your thing, big guy.
Jeremy Gallon is due for a huge play.
Hopefully Michigan takes care of this game quickly. I want to be watch the Tigers.
This article is
What is the duplicate article?
Why is this article offensive?
Where is this article plagiarized from?
Why is this article poorly edited?

Michigan Wolverines Football: Like this team?