Oakland Athletics vs. Detroit Tigers: ALDS Game 1 Live Score and Analysis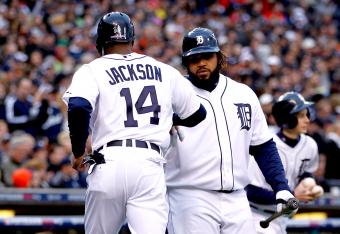 The Detroit Tigers took Game 1 of the ALDS from the Oakland Athletics tonight in Detroit.
Justin Verlander led the Tigers with a strong performance on the hill.
Scroll down for updates from throughout the game.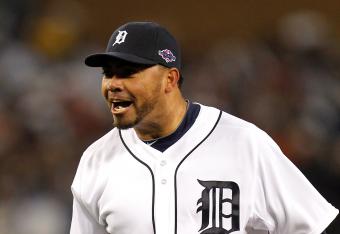 GAME 1
DETROIT 3
OAKLAND 1
TIGERS LEAD BEST-OF-FIVE SERIES 1-0
George Kottaras pinch-hits and he pops up to Prince Fielder in foul ground to end it.
Tiger pitchers struck out 14 tonight and Alex Avila's home run gave Detroit enough cushion to hang on.
Justin Verlander gets the win, striking out 11 over seven innings.
Jarrod Parker takes the loss despite a solid effort and Valverde closes the door in order for the save.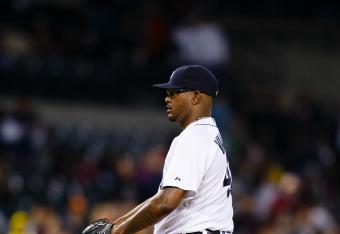 Everyone is waving towels now as Valverde strikes out Smith.
Detroit's pitching has been in a groove.
Valverde celebrates behind the mound as he strikes out Donaldson to start the inning.
TOP 9, 1 OUT DETROIT 3 OAKLAND 1
Josh Donaldson, Seth Smith and Derek Norris are due up against Valverde.
Jose recorded 35 saves this year, going 3-4 with a 3.78 ERA.
Yes, he did his triple water spit on his way in and away we go.
Garcia stays in the game in right and Andy Dirks shifts to left.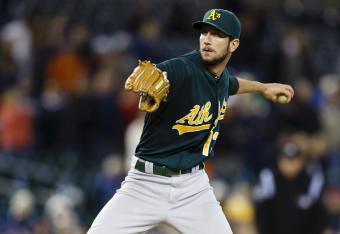 Blevins is not a hard-thrower and Miguel Cabrera has crushed a couple balls fouls down the left side.
Blevins spins him into flying out to Reddick in right and has looked solid so far.
Fielder skies out to left and Blevins does his job.
Oakland faces Valverde next.
AFTER 8, DETROIT 3 OAKLAND 1
Jerry Blevins, the left-hander, starts the eighth and pinch-hitter Avisall Garcia lines one to Stephen Drew at short.
Garcia pinch-hit for Quintin Berry to hit against the lefty.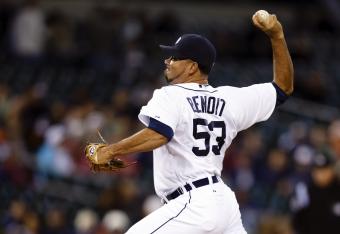 Benoit strikes out Reddick and sets the table for Jose Valverde to slam the door.
It did not look like an hour ago that we would see just three Tiger pitchers, but things have fallen into place and Valverde will take at least a two-run lead into the ninth.
MIDDLE 8, DETROIT 3 OAKLAND 1
Cespedes lines one into left-center for a single and Oakland is business.
Brandon Moss nearly tied the game taking Benoit's first pitch to the track in right-center.
Benoit now gets Reddick and is an out away from doing his job for the night.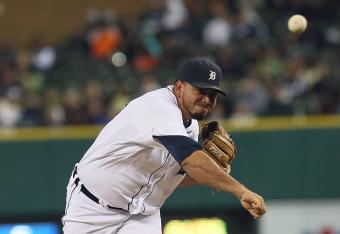 It is indeed Joaquin Benoit that starts the eighth inning for Detroit.
He induces a comebacker from Stephen Drew to start the eighth.
Omar Infante reaches on a fielder's choice as Stephen Drew's throw for a 6-3 double play is a hair late.
Austin Jackson bats with two outs and runners on the corners.
Neshek strikes out Jackson on three pitches and emotionally slams the door.
AFTER 7, DETROIT 3 OAKLAND 1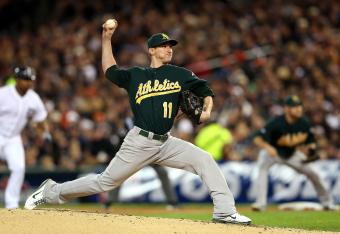 Jarrod Parker goes 6.1 innings and allows seven hits. He has given up three runs, two earned and is responsible for both the runners on base. After 96 pitches, he struck out five and walked just one.
A solid outing for his first playoff start.
Alex Avila bloops a single into left and that is it for Jarrod Parker.
Neshek comes in to keep the Tigers at bay.
BOTTOM 7 1 OUT DETROIT 3 OAKLAND 1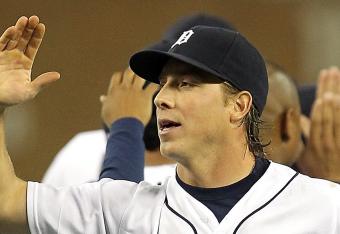 Andy Dirks leads off the inning with a single and Parker becomes focused on keeping him close to the bag.
He strikes out Jhonny Perelta to register his fifth strike out for the first out.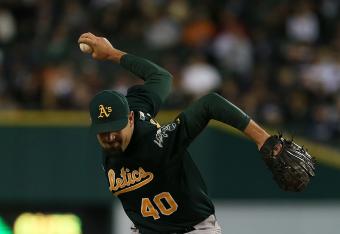 As Jarrod Parker starts the seventh, Pat Neshek warms in the pen.
If you are not familiar with Neshek's story, he recently lost a child the day after he was born.
The Athletics are wearing a memorial patch with the child's initials on the uniform.
First double-digit strikeout game in the postseason since . . . Verlander vs. Yankees last year. Last by anyone else: Lincecum in 2010.

— DKnobler (@DKnobler) October 7, 2012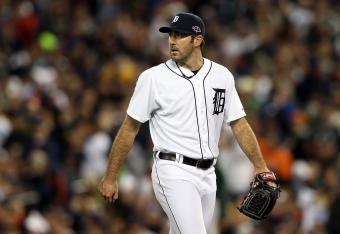 Verlander walks Pennington, but Crisp grounds out to Fielder.
Joaquin Benoit is ready in the pen and that should be the night for Verlander who will probably end up allowing just three hits and striking out 11.
MIDDLE 7, DETROIT 3 OAKLAND 1
Verlander starts the seventh registering his 10th strike out of the game as he throws his 108th pitch.
He still is hitting 97 on the gun as he gets Derek Norris to offer at a splitter.
Norris becomes the 11th victim on a 98 m.p.h. heater inside.
Verlander has struck out six in a row.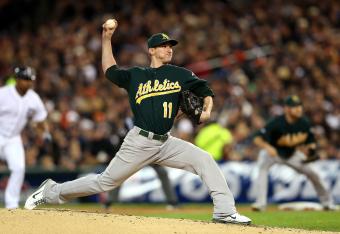 Jarrod Parker strikes out Delmon Young and gets the Tigers in order on just 10 pitches.
No reason he should not be out to start the seventh inning.
AFTER 6, DETROIT 3 OAKLAND 1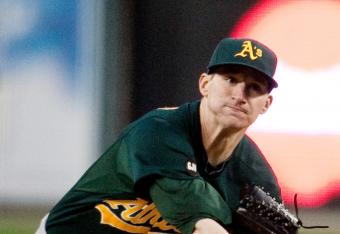 Despite being on the wrong end of a 3-1 game, Jarrod Parker had only thrown 72 pitches through five innings.
He has the meat of the order here in the sixth and gets Cabrera to fly out to right and Fielder to line out to short with one pitch.
Verlander now has two career playoff starts w/ 9+ SO -- matches Newhouser for most by Tigers pitcher in club post-season history. #tigers

— Brian Britten (@BBritten_Tigers) October 7, 2012
Verlander retires Reddick and Donaldson on strike outs.
He now has rung up nine on 104 pitches through six.
A sign of a great pitcher is his ability to adjust when things are not going well.
Verlander has done exactly that tonight.
MIDDLE 6, DETROIT 3 OAKLAND 1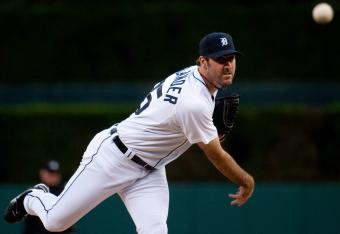 Verlander starts the sixth inning with an easy four-pitch strike out to Brandon Moss.
Justin looks stronger as the game goes on which is standard operating procedure for him when things are going well.
These runs have relaxed him a bit.
A Quintin Berry out ends the inning, but a big run for the Tigers goes on the board.
Detroit only has five hits after five while Oakland has just three.
AFTER 5 DETROIT 3 OAKLAND 1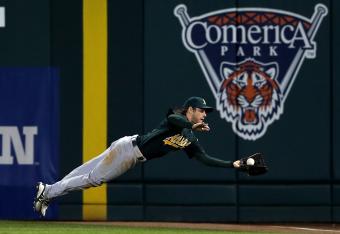 Josh Reddick robs a double from Austin Jackson on the right field line.
That ball was curling away from Reddick as he dove and a miss with Jackson's speed probably meant a triple.
This article is
What is the duplicate article?
Why is this article offensive?
Where is this article plagiarized from?
Why is this article poorly edited?